Indian Food 101: Your Guide to an Indian Restaurant Menu
This Indian food guide is a cheat sheet for Indian restaurant menus. It covers the most popular Indian dishes — what they are, how they're served & more!

WHY WE CREATED THIS GUIDE TO POPULAR INDIAN FOOD
I love Indian food. All Indian food. However, when I ask people what their favorite Indian dish is, the answer more often than not is "chicken tikka masala." 
This has always bothered me a bit. Now, don't get me wrong, chicken tikka masala is AMAZING! 
In fact, if I had to pick one Indian dish with which to introduce someone to the cuisine, it would probably be chicken tikka masala. But there is so much more to Indian food!
The more I questioned people, the more I found out that it wasn't that they didn't like other Indian dishes. They simply felt intimidated by the names and did not understand them.  The irony here is that Indian food names are quite simple.  The dishes are usually named after the main components or where they come from. But given that fact, if I did not understand the language, I'd be confused too.
Consider this my effort to make things right. Here's a rundown of what you commonly find on a typical Indian restaurant menu. Now next time when you go to your favorite Indian restaurant to enjoy a meal, use this guide to the most popular Indian dishes and order something outside of your comfort zone. There's a good chance you'll be surprised to learn how much goodness you were missing out on!
If you would like to enjoy Indian food at home, take a look at our variety of products, such as our curry sauces — a delicious shortcut way to make amazing curries in just 15 minutes! Purchase online, or find our products in a store near you.

Indian Appetizers
Being the foodie country that India is, there's a meal planned around every time of the day and food available on every corner. Appetizers served in Indian restaurants are typically popular Indian street foods.
Bhaji: Bhaji (or pakoras) are crispy deep-fried dollops of spicy chickpea batter served with spicy condiments called chutney. Onion bhaji features thinly sliced onions that have been added to the chickpea batter and then deep fried to crispy perfection. Think of it as our version of onion rings! Other popular bhajis are cauliflower, potato, and paneer.
Samosa: Another popular Indian street food is samosa. Samosas contain a small amount of spicy potato or meat filling that is then wrapped in dough and deep-fried until crispy and flaky.
Vada Pav: Vadas are deep-fried fritters or flattened patties of potato, and a pav is just a dinner roll. Vada pav is essentially a spicier vegetarian version of sliders where the fritter or patty is sandwiched between two halves of a dinner roll. Often, condiments are added to the sliders, like onions, green chilies, garlic chutney, and mint and cilantro chutney.
Indian Breads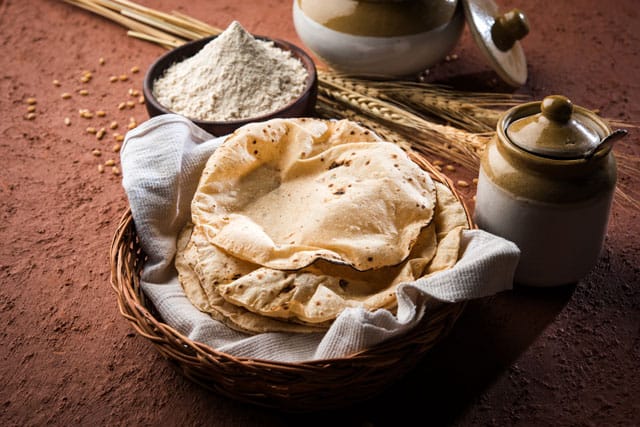 Breads in India are mostly flatbreads. It's the cooking method or flour base that determines what they're called.
Naan: Naan is one of the most popular Indian flatbreads. To make naan, wheat flour dough is prepared either by allowing it to rise using yeast or by the addition of yogurt to the dough. That dough is then rolled into flatbreads and cooked in an Indian oven called a tandoor.
Roti: Naan is popular on Indian restaurant menus, but roti is a staple in Indian homes. Roti is a no-fuss Indian bread, typically made with whole wheat flour that's kneaded into a soft dough, then rolled into thin circles, and cooked on a tava (Indian skillet) on the stovetop. 
Paratha: Paratha is a flatbread that is layered and pan-fried. They are made with wheat flour, and ghee or oil is smeared between layers of dough while rolling them. But there are many ways in which you can make a paratha, especially stuffed paratha. In a stuffed paratha, the filling is stuffed into a ball of dough and then rolled into a flatbread.
Aloo Paratha:

With spicy potato filling

Gobi Paratha:

With spicy cauliflower filling

Vegetable Paratha:

With a variety of vegetables stuffed
Poori: Poori is flat circles of dough that have been deep fried in ghee or oil until they puff and become slightly crispy on the outside. Typically served with aloo ki sabzi (curried potatoes) or chana masala (curried chickpeas), this is a beloved comfort food in northern India.
Indian Meals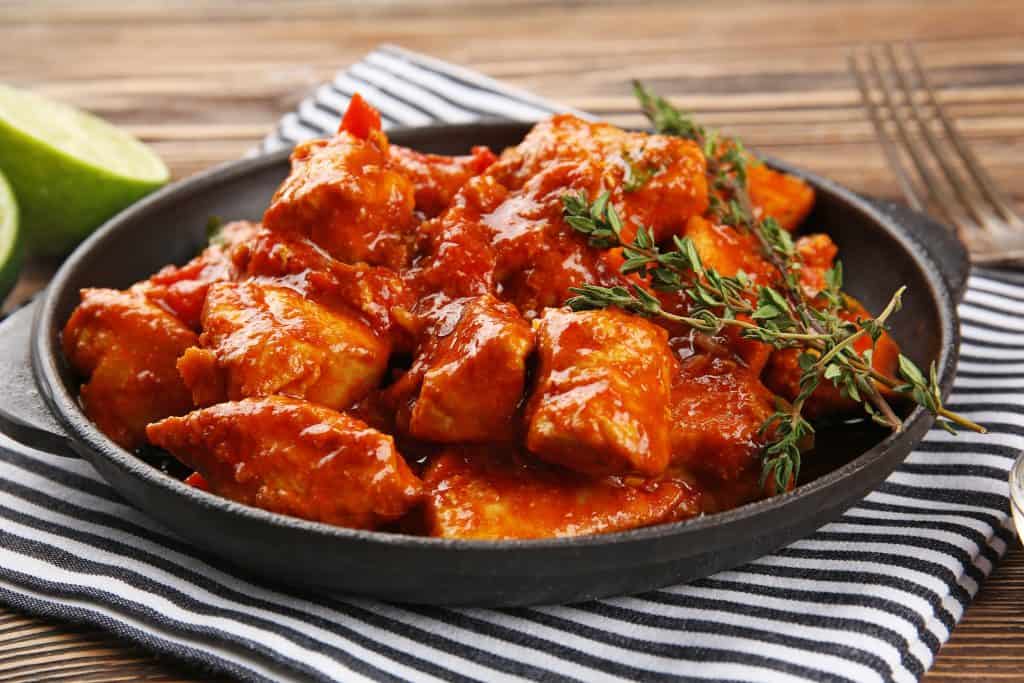 Tikka Masala: Tikka is the Hindi term for "small chunks," and masala means a spice blend. So when small chunks of chicken are cooked in a sauce with a particular spice blend, it is called chicken tikka masala. When paneer comes to the play, it is called paneer tikka masala. The world-famous sauce used in tikka masala is mainly tomato-based, with some richness added by cream or thick yogurt.

Chana (Chole) Masala: Chana or Chole is the Hindi name for chickpeas. Chana masala is simply chickpeas cooked in an onion, ginger, and garlic-based sauce with garam masala added to it. This is a popular North Indian curry; it's spicy and packs a punch. It's typically served with soft and flaky bread called bhature, or with a baked, pillowy bread called kulcha.

Saag Paneer: Saag is simply the Hindi name for leafy green vegetables like spinach, collard greens, mustard greens, and more. But this particular dish refers to a delicious curry where spinach is cooked with spices, and then diced paneer (an Indian cheese) is added to the dish. At some Indian restaurants, you can also find this dish under the name of palak paneer, where palak is the Hindi word for spinach.

Korma: Korma is a nutty, creamy curry often made with crushed cashews or almonds. In most korma dishes, protein is cooked with a yogurt-based sauce flavored with ginger and garlic. Fried onion is added to thicken the sauce and also gives it a hint of sweetness.

Navratan Korma (Navratan translates to "nine," so this dish is made with nine different types of vegetables, dried fruits, nuts, and sometimes paneer.)

Chicken Korma

Vegetable Korma (vegetarian)

Rogan Josh: This dish hails from the beautiful northern state of India, Kashmir. With its roots in Persian cuisine, this dish is traditionally cooked with lamb or goat. Rogan josh consists of pieces of lamb or mutton braised with a gravy flavored with garlic, ginger, and aromatic spices (cloves, bay leaves, cardamom, and cinnamon), and some versions incorporate onions or yogurt.

Mutton Roganjosh or Goat Roganjosh

Vindaloo: When the Portuguese came to India and established their colony in Goa, they also brought with them their cuisine. And when that Portuguese food married with Indian flavors, several good things happened. Vindaloo curry is one of the products of that. Fiery and flavorful, vindaloo is traditionally made with pork marinated in wine vinegar and garlic.

Pork Vindaloo

Lamb Vindaloo

Shrimp or Fish Vindaloo 

Dal: Dal is the Hindi name for lentils, and it broadly refers to all lentil soups in Indian cuisine. Typically, the lentils are pressure-cooked with water and then mixed with onions, tomatoes, and a variety of spices (ginger, garlic, turmeric) to give more flavor to the dish.

Dal Makhni:

2-3 varieties of lentils/beans cooked with spices and cream or butter added for richness. Makhni refers to the use of

makhan (butter)

or cream.

Tadka

: Dal with a mild tempering of whole spices like cumin seeds, mustard seeds, etc.

Chana Dal:

light and zesty Split Bengal lentil soup; this dish is much lighter than dal mahkni.

Dhaba Style Dal:

Dhaba

are roadside food joints by the freeways in India. The food served there is pretty popular because it is homestyle cooking, but with an extra amount of butter or cream! It's so delicious and popular that the dal served in those dhabas somehow made their way into more upscale Indian restaurants.

Biryani: A very popular Indian rice dish with its roots in the Mughal empire in India, biryani is a rice dish prepared with several layers of rice, some kind of spiced meat, paneer or vegetables, and some added richness with ghee or yogurt, and then finally slow cooked to perfection. It is topped with caramelized onions and saffron for a rich taste. There are a variety of options when it comes to biryani:

Hyderabadi Dum Biryani (this tends to be one of the spicy varieties and usually uses chicken)

Goat Biryani

Lamb Biryani

Shrimp Biryani

Paneer Biryani or Vegetable Biryani

Aloo gobi: A widely loved Indian vegetarian dish made up of spiced cauliflower and potatoes. This is a dish people often make at home because it is easy to make, and the combination of cauliflower and potatoes makes it a very filling entreé.
Indian Drinks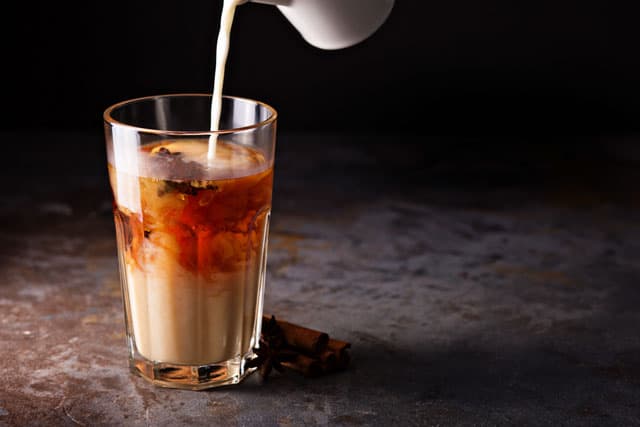 Chai (Tea): The Indian name for tea is chai. Chai is made by boiling black tea in water, then adding milk and sugar and bringing to a boil again before straining and serving. And yes, when you order a "Chai Tea Latte" at Starbucks, you're ordering a "Tea Tea Latte."
Masala Chai: This is when you add some kind of spice (masala) to the concoction above, and that makes it masala chai. Typical masala chai has a blend of cardamom, cinnamon, cloves, and ginger cooked in chai. While it's regularly shortened to "chai" in cafés and coffee shops around the globe, masala chai is actually the beverage that many non-Indians have fallen in love with.
Lassi: A sweet yogurt drink traditionally made by thinning out yogurt with milk or water and then sweetening it for more flavor. Cream is added to the drink too to make it richer. Lassi can be made into different flavors simply by adding various fruits, additional flavorings, etc. For example, mango lassi is made by mixing mango and yogurt, whereas strawberry lassi contains fresh strawberries, etc.
Chas: Savory yogurt drink, similar to lassi though slightly thinner. Chas is infused with cumin, mint, and rock salt acids. It's best enjoyed after a heavy meal to help with digestion.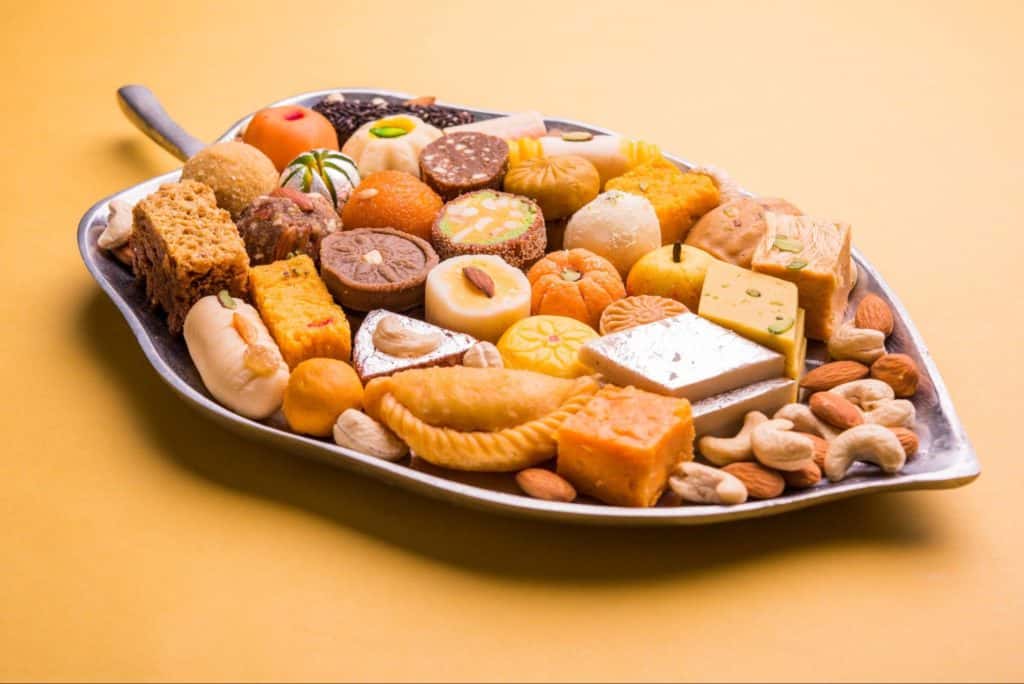 Indian Desserts
Gulab Jamun: If chicken tikka masala (or some might say butter chicken ) is the king of Indian curries, then gulab jamun is definitely the king of desserts. Milk powder and wheat flour are kneaded with milk to form a smooth dough. The dough is then rolled into small balls, deep fried, and dunked into sugar syrup until the balls absorb the syrup and become soft and juicy.
Halwa: Halwa is a pudding made with any variety of flour — like chickpea flour, wheat flour, semolina, or root vegetables — that's cooked with sugar, ghee, and water/milk.
Gajar Halwa:

Carrot pudding, made by cooking freshly grated carrots along with sugar, milk, and ghee.

Besan Halwa:

Besan is the Hindi name for chickpea flour. This pudding is made by cooking chickpea flour in rich sugar syrup.

Mung Halwa:

Made with mung bean flour.
Barfi: Barfi has a fudge-like texture made from condensing milk with ghee and sugar, and it is flavored with nuts or spices like cardamom or saffron. In this dish, a sweet batter is thickened and then set to cool and cut into smaller pieces. There are many different varieties of barfi (also called mithai), with the dessert varying widely from region to region.
Kaju Ki Barfi (Kaju Kathli):

Kaju is the Hindi name for cashews. So this Kaju barfi is made with a sweet cashew paste.

Besan Barfi:

Made with gram (chickpea) flour.
Coconut Barfi:

Made with shredded or finely ground coconut.
Almond Barfi:

Made with almonds.

Pista Barfi:

Made with pistachios
Doodh Peda: Doodh is milk, and peda is a circular barfi. To make doodh peda, sweet milk is thickened and flavored with spices like cardamom or saffron, and then small portions are rolled into small discs.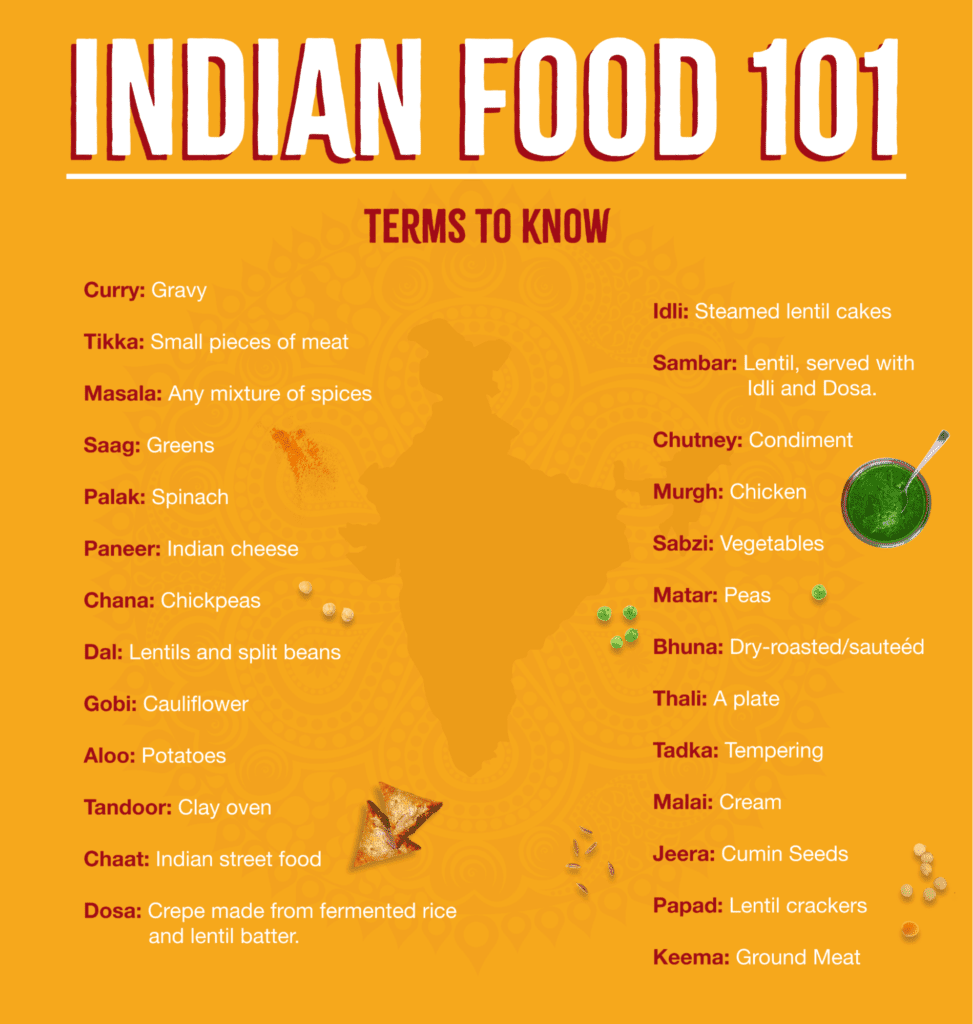 Other Indian Food Terms to Know
Curry: Often confused with the term "curry powder," the word curry just means gravy. There is no flavor associated with "curry," but traditional Indian curries have very little in common with the Curry Chicken Salad at your local grocery store.
Tikka: Small pieces or cutlets of chicken/meat.
Masala: Any mixture of spices.  One of the most common is "garam masala," which translates to warm or hot.  These are the spices that make the body warm.
Saag: Greens. Most often spinach, but can also be mustard or other greens. "Palak" is specifically spinach.
Paneer: Indian Cheese. The only cheese used in Indian Cooking.
Chana: Chickpeas.
Dal: Lentils and split beans.
Gobi: Cauliflower.
Aloo: Potatoes.
Matar: Peas.
Tandoor: Clay oven. Anything that comes out of the clay oven will usually be preceded by tandoori. (tandoori naan, tandoori dish, tandoori chicken, etc. )
Chaat: The all-inclusive word for Indian Street Food.
Dosa: South Indian crepe made from fermented rice and lentil batter.
Idli: Steamed lentil cakes made from fermented rice and lentil batter.
Sambar: South Indian Lentil, served with Idli and Dosa.
Chutney: Condiment. Most people are familiar with fruit chutneys, like mango, but some of the best chutneys are herb-based, like cilantro and mint.
Murgh: Chicken
Sabzi: Vegetables
Matar: Peas
Bhuna: dry-roasted or sauteéd
Thali: Literally means a plate, but in the context of Indian cuisine, it mainly refers to a way of serving food. Several dishes are served on the same plate, and you essentially start with an appetizer and finish off with a dessert or a cooling drink.
Tadka: Tempering
Malai: Cream
Jeera: Cumin Seeds
Papad: Lentil crackers
Keema: Ground Meat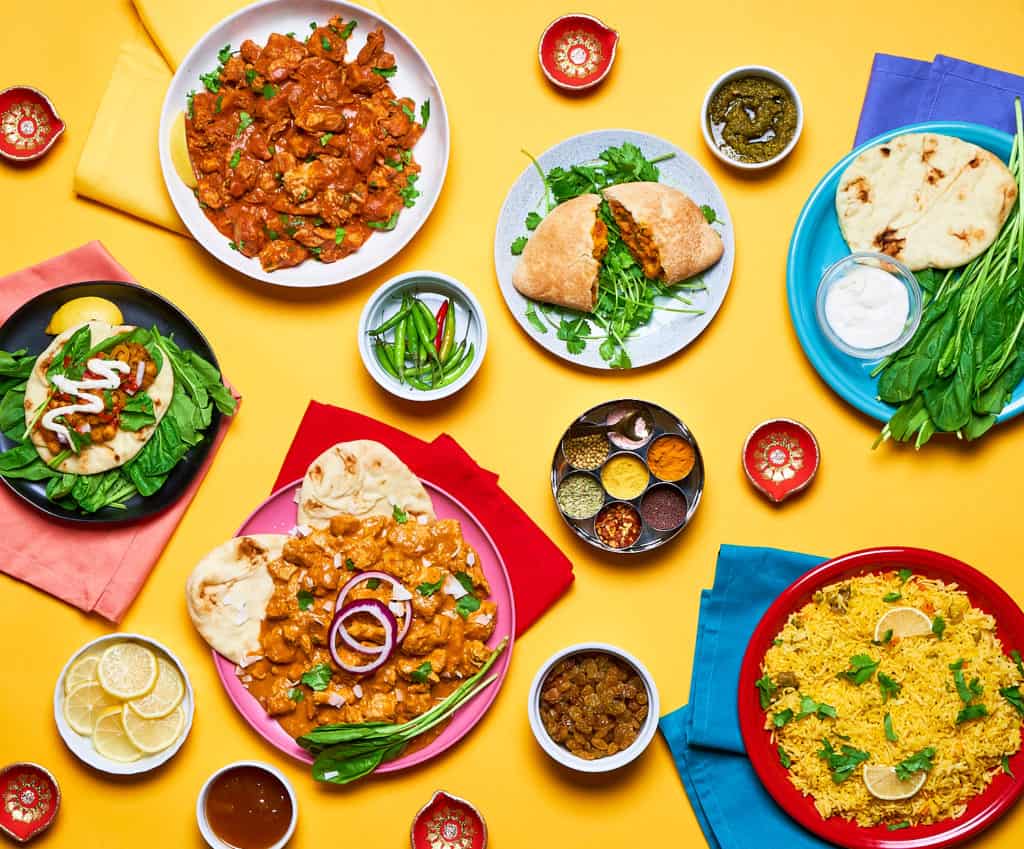 Learn All About Food In India With Sukhi's
Learning more about Indian cuisine isn't a one-time crash course — it's a lifelong education. 
Fortunately, you don't have to bury your nose in a book. Instead, your "classes" can include  visiting your local Indian restaurants and browsing our extensive entreés, naanwiches, sauces, and so much more!
To dive deeper into the world of Indian food, browse our blog to learn more about the different types of curry and the difference between North and South Indian cuisine.