The Ultimate Guide to Chaat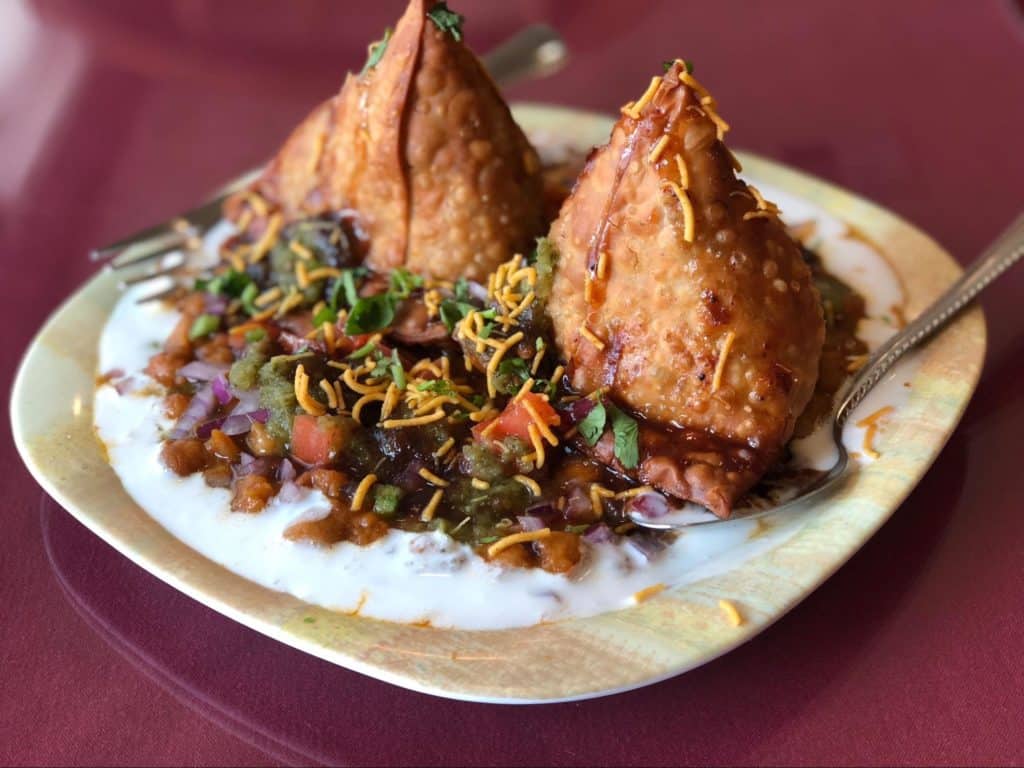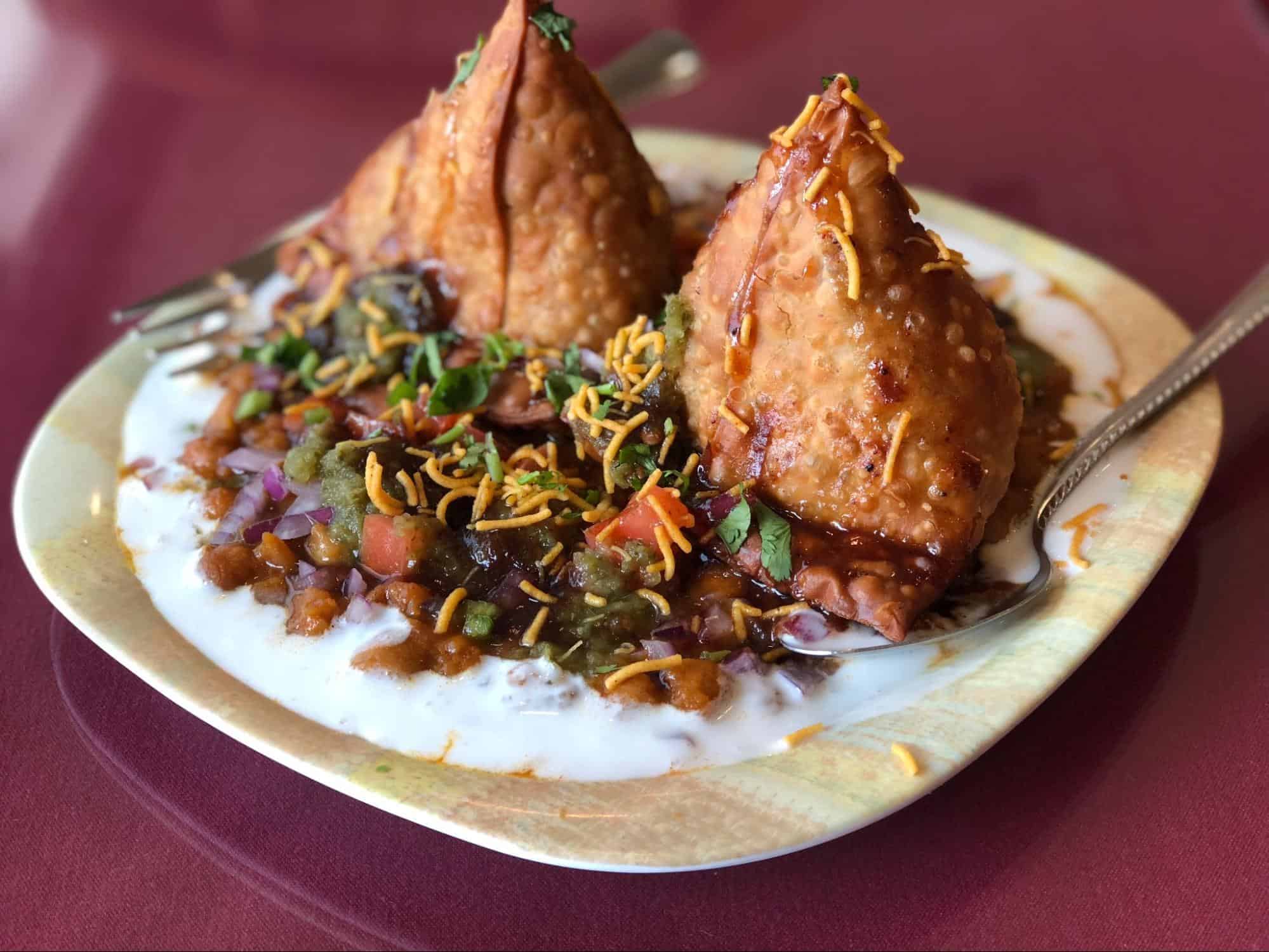 Many fell in love with Indian food on their first bite of spicy vindaloo, creamy palak paneer, or decadent butter chicken. 
While these dishes capture the allure of northern Indian eating, some of the greatest menu items within Indian cuisine are rarely served on a porcelain plate. Instead, they're found on the street in the form of sweet, savory, endlessly snackable chaat.
With hundreds of dishes ranging from crispy fried wafers, puffed rice salads, to creamy potato pastries, the wide world of chaat is diverse and delicious.
Read on to learn all about what makes a great chaat and why you should seek out chaat for your next bite of mouthwatering Indian cuisine.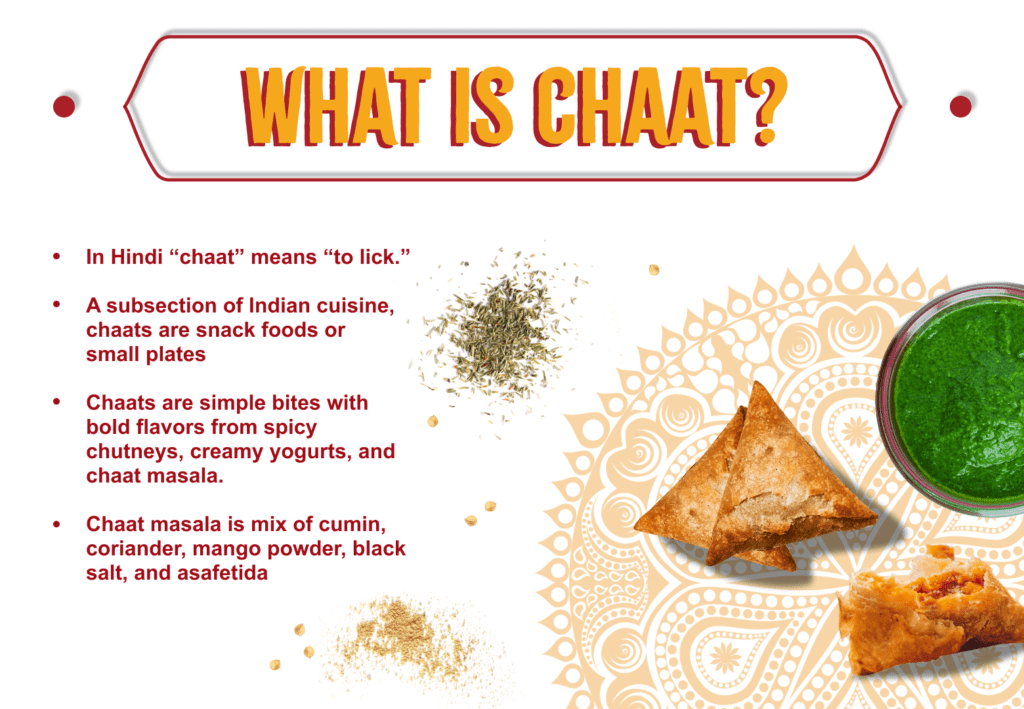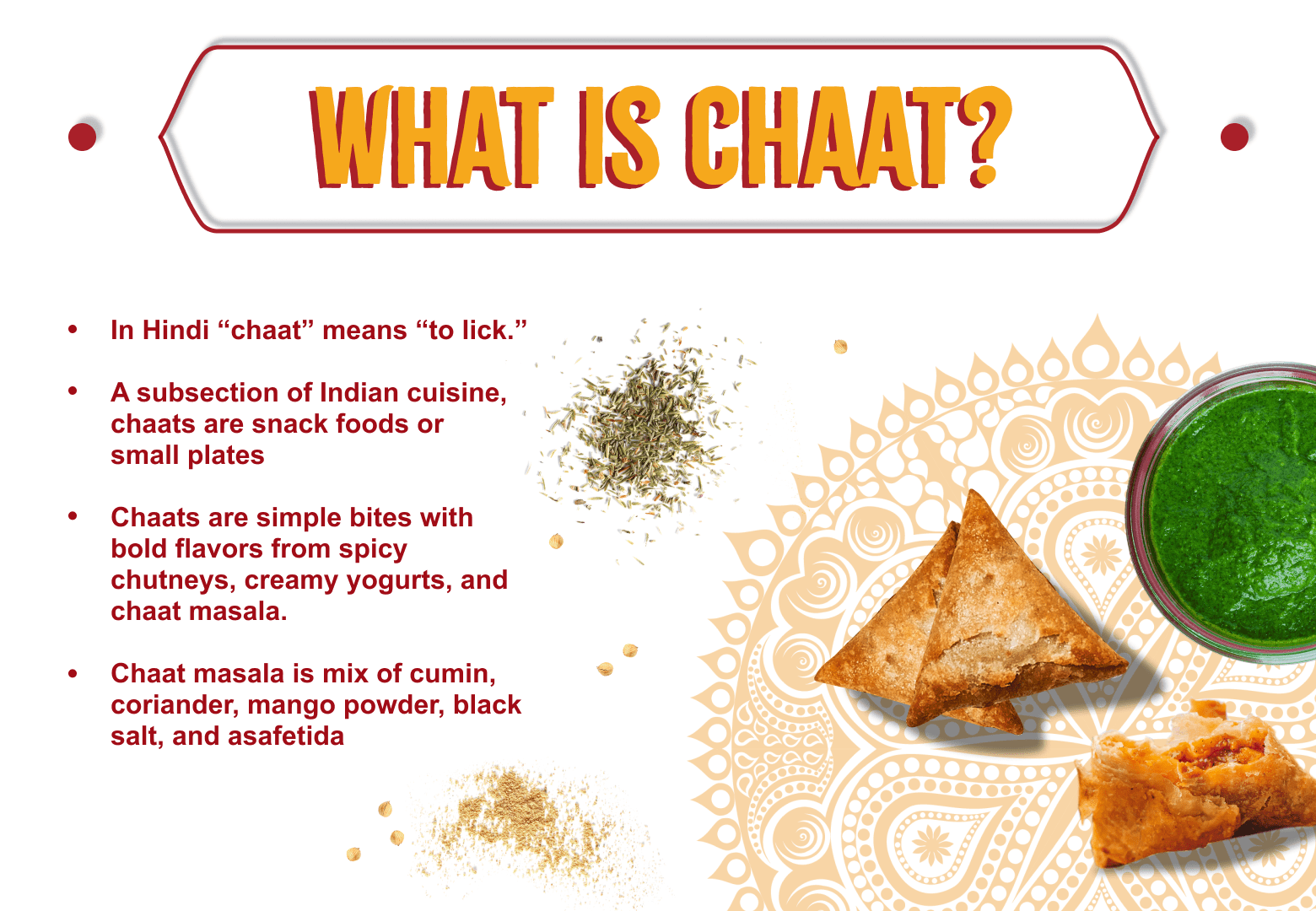 What is Chaat?
We'll have to turn to translation to answer the question, "What is a chaat?" Translated from Hindi, "chaat" means "to lick."
So, when you think of chaats, think of those snacks that make your mouth start to water, your eyes widen, and your stomach rumble.
Chaats are bursting with those mouthwatering tastes that make it difficult to stop munching on our favorite snacks — sweet, savory, spicy, or crunchy. Some chaats are all of these at once!
In essence, chaat is more than just a snack. It's a whole subsection of Indian cuisine that captures what makes our favorite foods so delicious.
The Basics of Chaat
The beauty of chaat is in its simplicity. As long as you have key Indian ingredients on hand like spicy or tangy chutneys, creamy yogurts, and chaat masala, you can probably whip up an appetizing chaat.
Chaat masala is a key component of many chaat dishes. Roughly translated as "snack spice," this blend is a mouthwatering mix of cumin, coriander, mango powder, black salt, and asafetida. This mix adds a delicious tang to whatever you sprinkle it on, including a simple serving of roasted vegetables.
While all chaats are different, there are generally five key factors that unite all chaats:
Starch Base — Samosas, puffed rice, or fried fritters
Veggies — Sharp onions, fresh, diced tomatoes, or boiled potatoes.
Chutney — An evergreen topper, the most common chutneys you'll find are tamarind chutney, mint chutney, and red garlic chutney.
Chaat Masala — Nearly every chaat is coated with a light dusting of chaat masala.
Crispy Topping — Delivering a satisfying crunch, the most common crispy toppings are fried chickpeas or sev (thin fried chickpea crisps) along with fresh cilantro.
Seven Delicious Indian Chaats
The diverse world of chaat can be intimidating at first. There's so much to choose from — how can you possibly know where to start?
That's why we're here.
Sukhi's guide to chaat will make it easy for you to navigate these delicious Indian snacks and help you fall further in love with chaat with each new bite.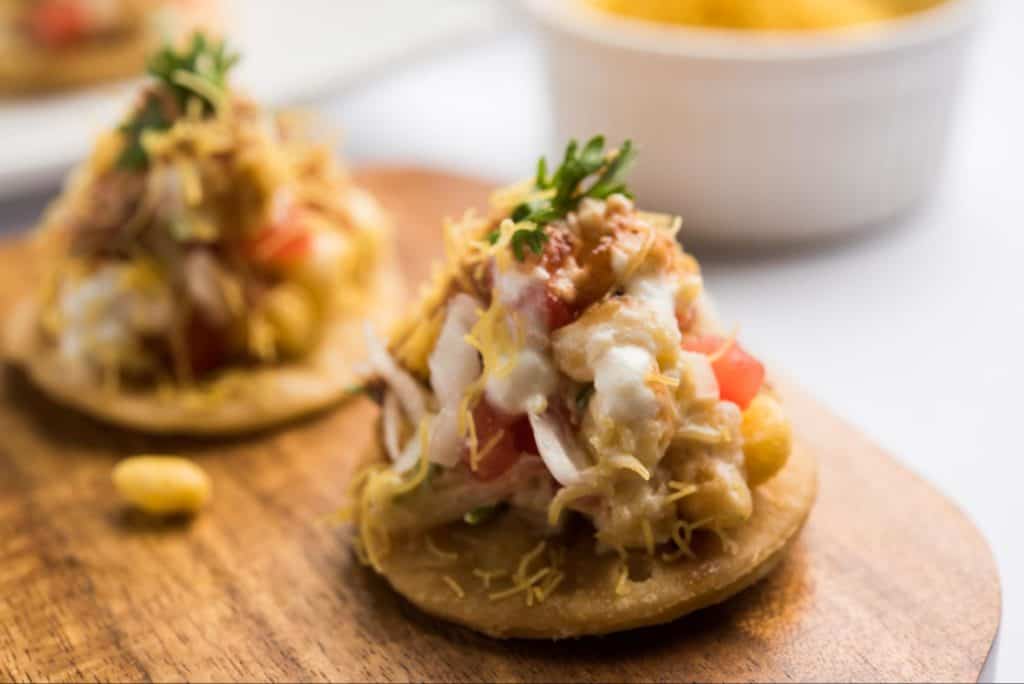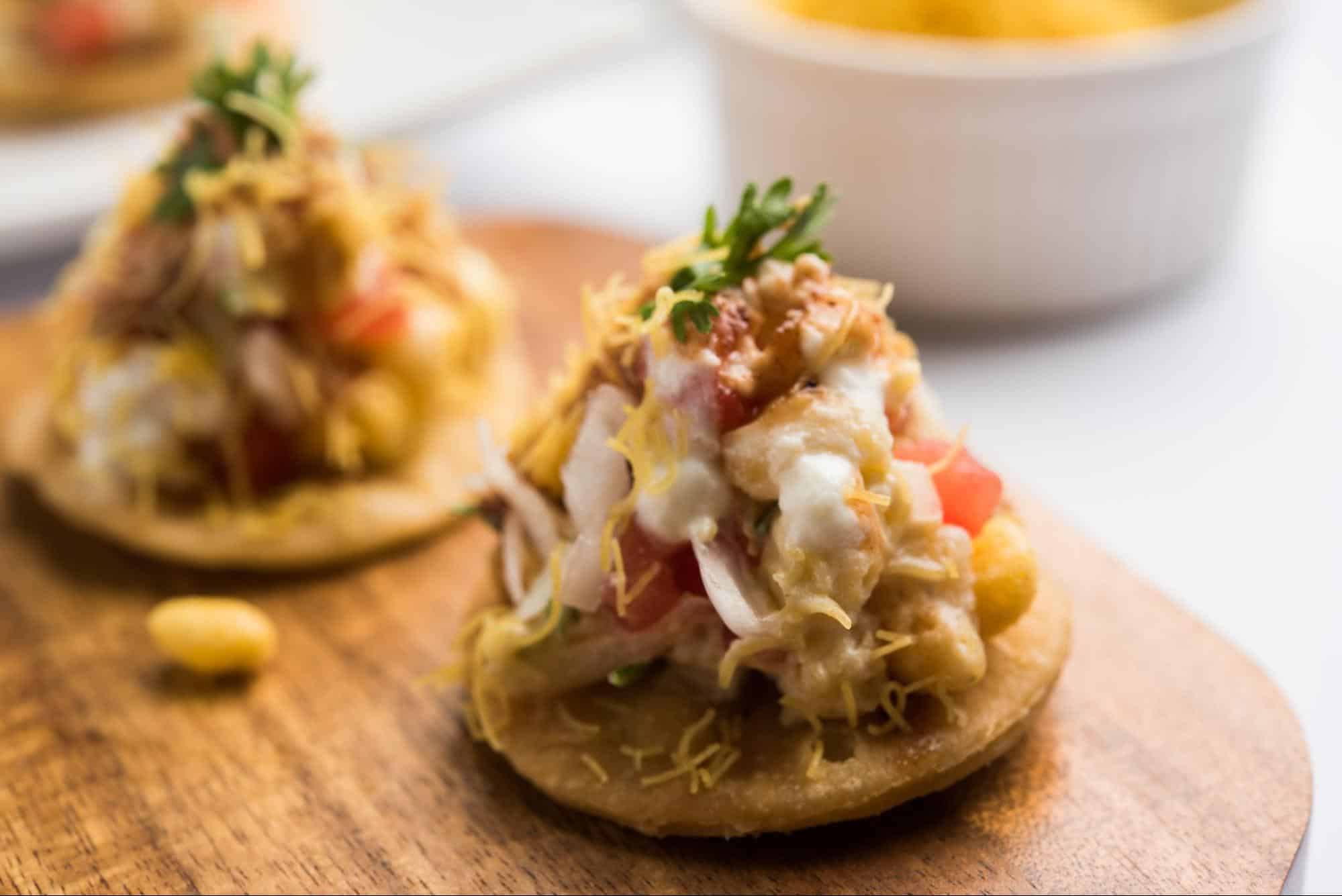 Papri (Papdi) Chaat
Most popular in northern India, papri chaat has changed form countless times as its spread from community to community. No matter what form this dish takes on, each bite promises scrumptious wafer crunch and the chickpea crisp that comes with thin strips of sev.
With a base of papri, crispy wafers made from fried dough, this dish is topped with filling boiled potatoes and mashed chickpeas along with crunchy sev, delicious tamarind (sweet and tangy) and cilantro chutney (savory and herbaceous), and chaat masala.
If you order some Papri Chaat in North India, you'll find it's often topped with creamy thinned-out yogurt.
Dahi Vada
These timeless balls of fried dough are one of the many staples of Indian street food.
These delicious fritters start with a base of vadas, delicious fried dumplings often made from a base of crushed lentils or chickpeas. After soaking, the legumes are mashed into a thick batter and mixed with spices before finally landing in the fryer.
Once the vadas are finished, they're coated with a healthy serving of yogurt and layered with a light dusting of tamarind chutney, salt, black pepper, chili powder, and chaat masala.
Dahi vada makes a strong case that some of the most delicious and sophisticated Indian cuisine might be just around the street corner.
Bhelpuri
Bursting with a dozen different tastes and textures, bhelpuri is a scrumptious salad sure to please. It's also one of the crunchiest chaats and one of the few that's prepared without yogurt. If you're not a fan of yogurt, then definitely try out some bhelpuri!
Made up of a fluffy base of puffed rice (bhel) and crunchy strips of fried dough (puri), this dish becomes even better when it's topped with flavorful tamarind and green chutneys.
To make bhelpuri really shine, be sure to add in diced cilantro, a generous splash of lime juice, diced onions and tomatoes, and a handful or two of crispy sev and roasted peanuts.
Samosa Chaat
Even if you've never stepped foot in an Indian restaurant, you've probably heard of samosas. These savory pastries are stuffed with crisp vegetables and spicy potatoes to form a perfect snack fit for every occasion.
They can be enjoyed on their own or with a side of chutney. But when they're turned into a chaat, these crunchy pastries become next-level delicious!
Samosa chaat takes these crunchy pastries to the next level.
With a hearty base of chopped-up samosas, this dish is topped with chutney, creamy yogurt, and crispy sev (thin fried potato). The only problem you're likely to have with samosa chaat is knowing when to stop.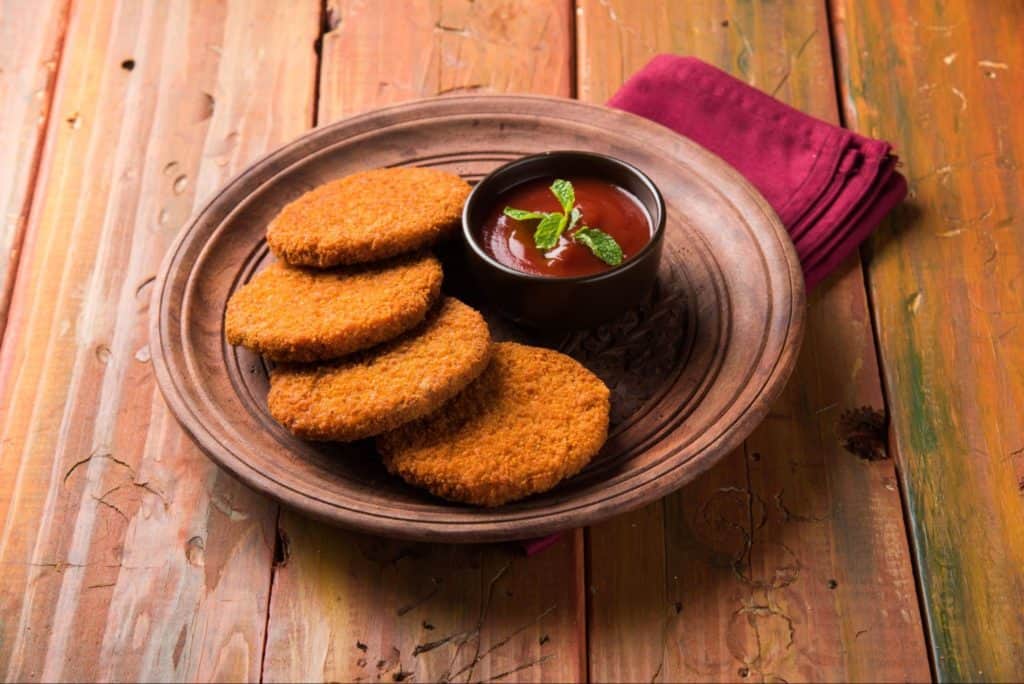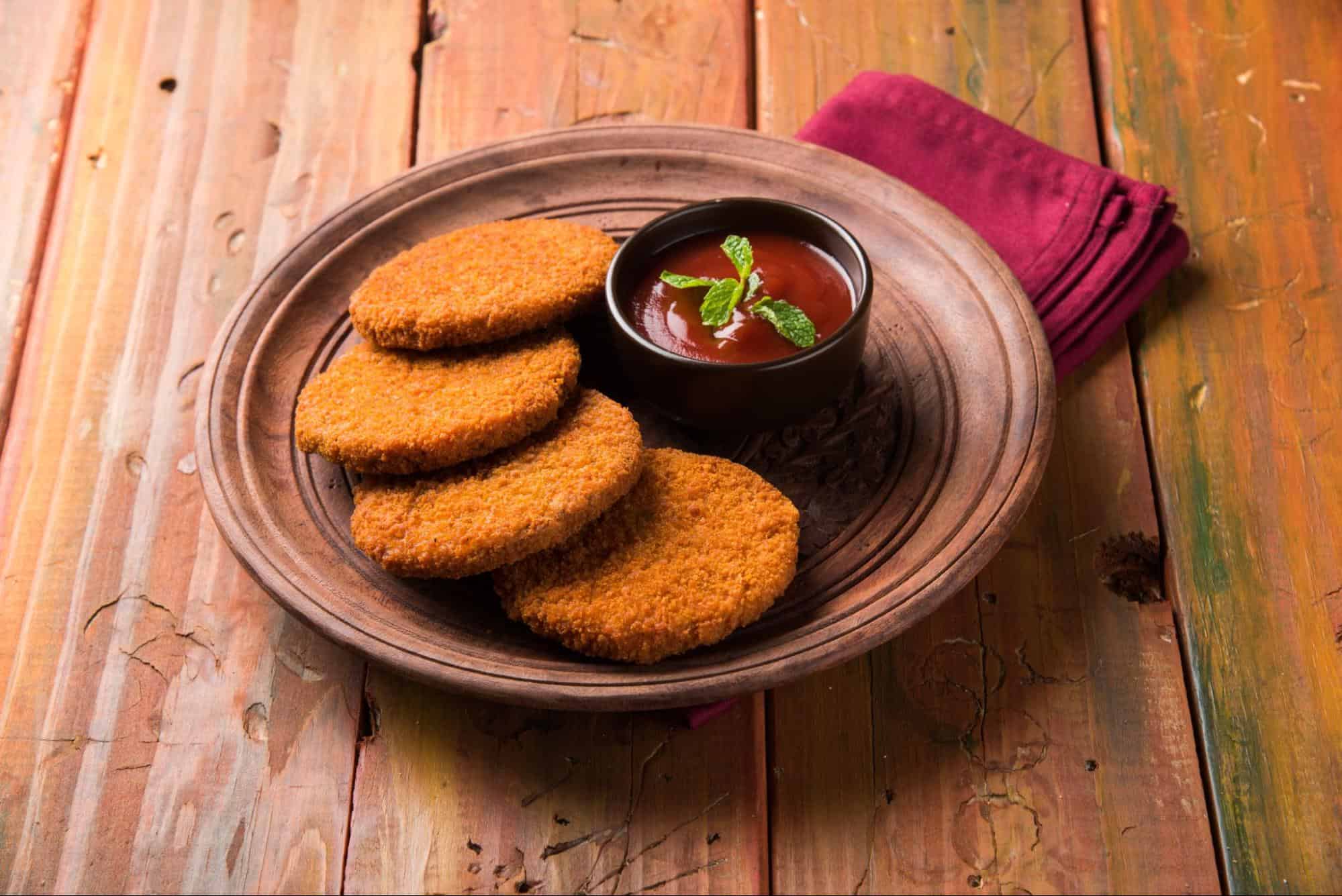 Aloo Tikki
Often thought to resemble a modern hash brown or a latke, aloo tikki carves out a unique role in the world of chaat.
This savory snack pairs mashed, boiled potato along with hearty vegetables like peas, sharp onion, and scrumptious spices. The mixture is then flattened and fried into small patties and served with chutney to form a snack perfectly suited for the street.
Pani Puri (Puchka)
Pani Puri, loosely translated, means "water fried dough" (pani = water and puri = fried dough). This is a sensational dish that feels like a flavor bomb exploded in your mouth! If you've never tried it, you may be in for a bit of a surprise at first.
Pani Puri is also called Gol Gappa or Puchka, depending on which region of India you're visiting. This chaat dish may seem a little difficult to eat, but with a few easy steps, you will be a pro.
Start with a round, hollow sphere-like fried crisp. Next, poke a hole on the top just large enough to fill with diced potatoes, mung beans, and onions (optional). Then dip the puri into a bowl of spicy and tangy flavored water. Finally, you pop the entire pani puri into your mouth and experience the tangy water mix with the textures of the puri and other fillings.
It may just be one bite but it sure is packed with flavor!
Street vendors will serve you 5-6 puris with fillings at a time and give you a little bowl of flavored water (pani) alongside it, so you can dunk and savor each puri at your own pace. However, it is very tough to stop after just one serving, and many people will ask the street vendors for seconds and thirds. There are even pani puri eating competitions to see how many you can eat in a set amount of time!
Sev Puri
Similar to Papri Chaat, sev puri is made from flat, crispy puris (or papri) that resemble a thick cracker.
These disc-shaped flat puris are then layered with potatoes, onion, tomatoes, and then topped with chutneys, chaat masala, and loads and loads of sev (crispy, thin noodles made from chickpea flour). The crispy sev adds the perfect crunch to this dish and balances out the soft textured potatoes and tomatoes.
One of the lighter options on this list, sev puri is perfect if you're looking for an afternoon snack or an appetizer before dinner. In some regions of India, street vendors will also add juicy tropical fruit like mango and pineapple, and a generous dusting of salty chaat masala.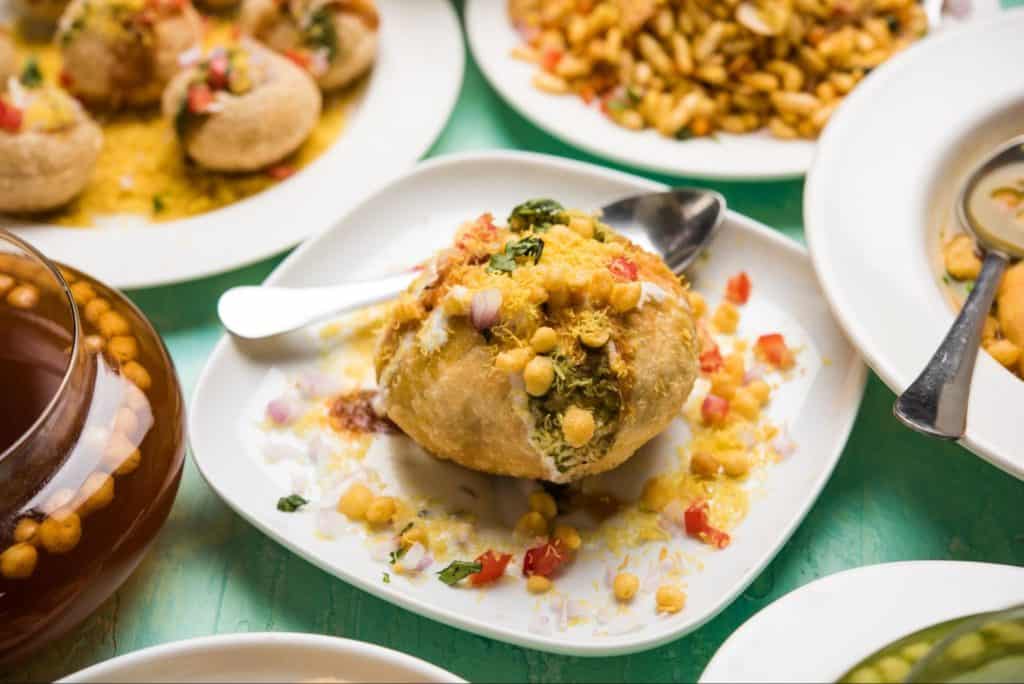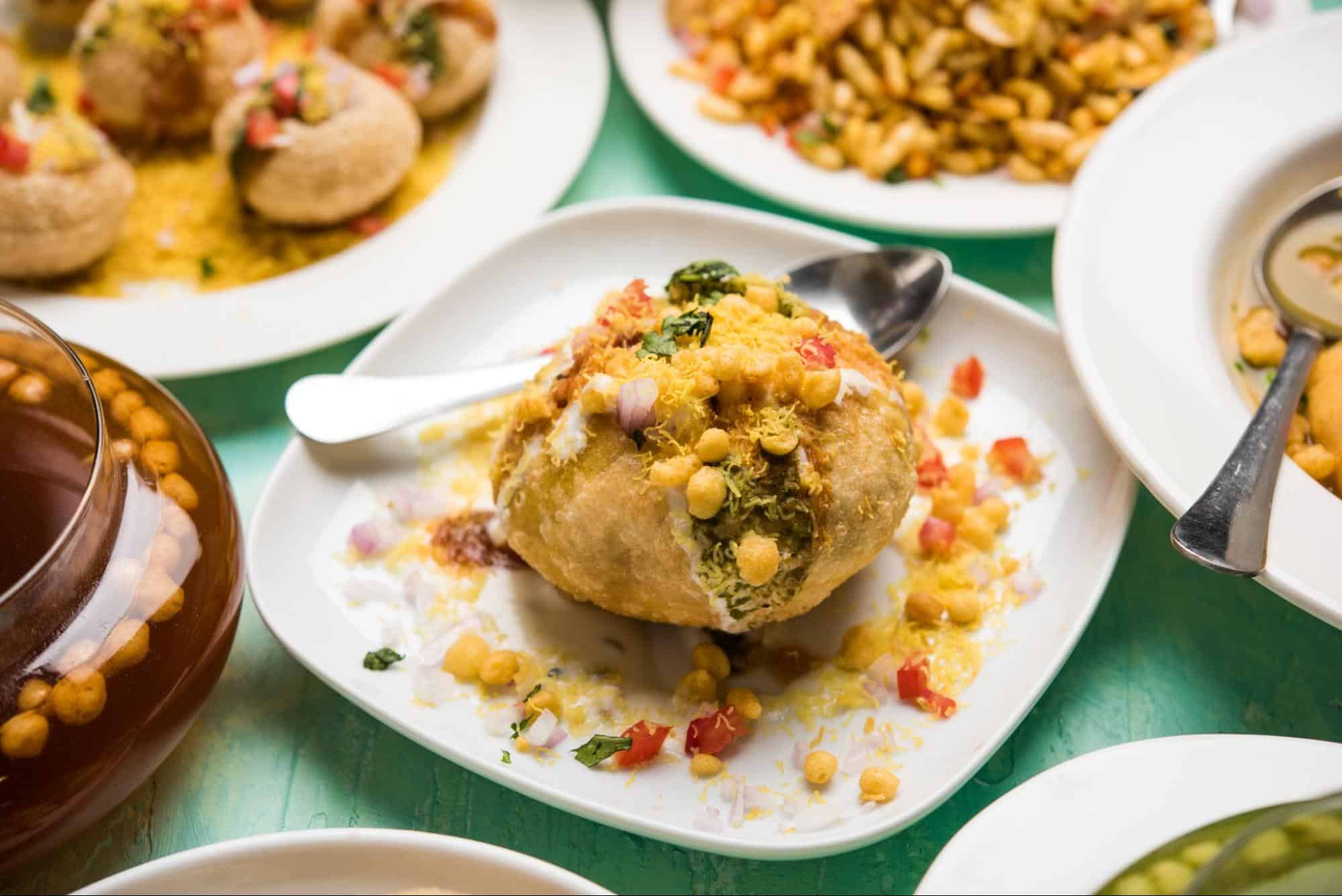 Sate Your Chaat Hunger With Sukhi's
For many of us, our introduction to Indian food came in the form of Northern Indian delights like Chicken Tikka Masala or Potato Samosas.
While these foods are undoubtedly delicious, they only represent a fraction of what's on offer in the wide world of Indian cuisine.
If you're ever in the mood for something savory, sweet, crunchy, and crispy all at once, there's no better way to sate your hunger than with a delicious chaat.
Once you've cleaned your plate and licked the chaat masala off your fingers, browse our blog to learn everything there is to know about Indian cuisine from dozens of mouthwatering recipes to the rich history of your favorite dishes.