What is a Dosa? All About This Indian Crepe
Who wouldn't be interested in a giant, crispy Indian-style crepe?! In this guide, we'll cover everything you need to know about this popular Indian street food, including what is dosa, common dosa ingredients, how to make dosa, how to eat dosa, and dosa's Indian food side dishes.

What Is An Indian Dosa?
In its most simple form, dosa is crispy and crepe-like and is a very popular street food in India. Dosa is famous for its simple ingredients and savory, slightly bitter flavor. It can be eaten as a snack, breakfast, or anytime you're in the mood for a delicious, savory meal! 
Originating in southern India, the crispy dosa has been around since the 5th century AD. It's said that dosa was first referenced by Chalukya King Somesvara III in Tamil literature in 1054 AD. Like many Indian foods, dosa varies depending on region and occasion. 
Common Dosa Ingredients 
Usually, a mixture of rice flour and black gram flour with a little bit of salt makes up the base of the dosa batter. The real variety of dosa comes in different flavors. This might mean a different type of batter or a different type of filling. 
First, let's explore the different types of dosa batter.  
Regular dosa

— Made up of a simple base of rice and lentil flour.
Neer dosa

— The word

neer

literally means

water

in the Tulu language.  Neer dosa batter is made from rice flour from Mangalore; the texture is watery and not thick like a typical dosa batter.

Rava dosa

—Made up of Rava (semolina), rice flour, and all-purpose flour (maida).
Pesarattu dosa

— Made from a mixture of moong dal flour and rice flour.
Of course, there are also versions of dosa distinguished by their different fillings: 
Masala dosa

— Made up of rice, lentils, potato, methi (fenugreek), and curry leaves. Served with chutneys and sambar.

Cheese dosa

— Cheese dosa is typically prepared with fermented lentils, rice, and cheese.

How to Make Dosa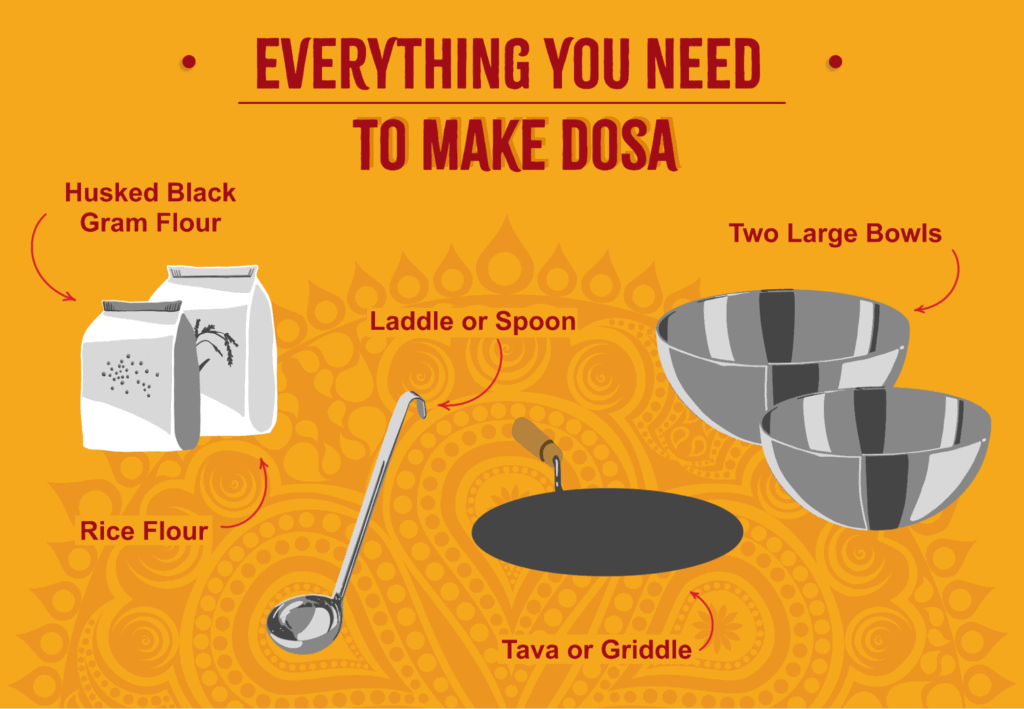 Once you know which type of Dosa you want to make and have all of the Dosa ingredients, you're ready to start cooking! If you're looking to make a simple Dosa, you can follow this recipe by Veg Recipes of India:
Add 1.25-1.5 cups rice flour with 3/4 cup husked black gram flour into a mixing bowl.

Pour about 2.5 cups water and mix well. It must be smooth and evenly mixed into a thick battery that still flows. 

Pour batter into another bowl, cover, and ferment at room temperature either overnight or for about 9-10 hours. 

Once fermented add salt to taste and mix well.

To make Dosa, heat an iron griddle or tava and heat up a small amount of oil.

Take spoon or ladle and spread Dosa batter in circular rounds. Drizzle oil on top and sides and let one side cook.

When browned, flip and cook the other side.

Fold and serve hot! Use leftover batter within four to five days.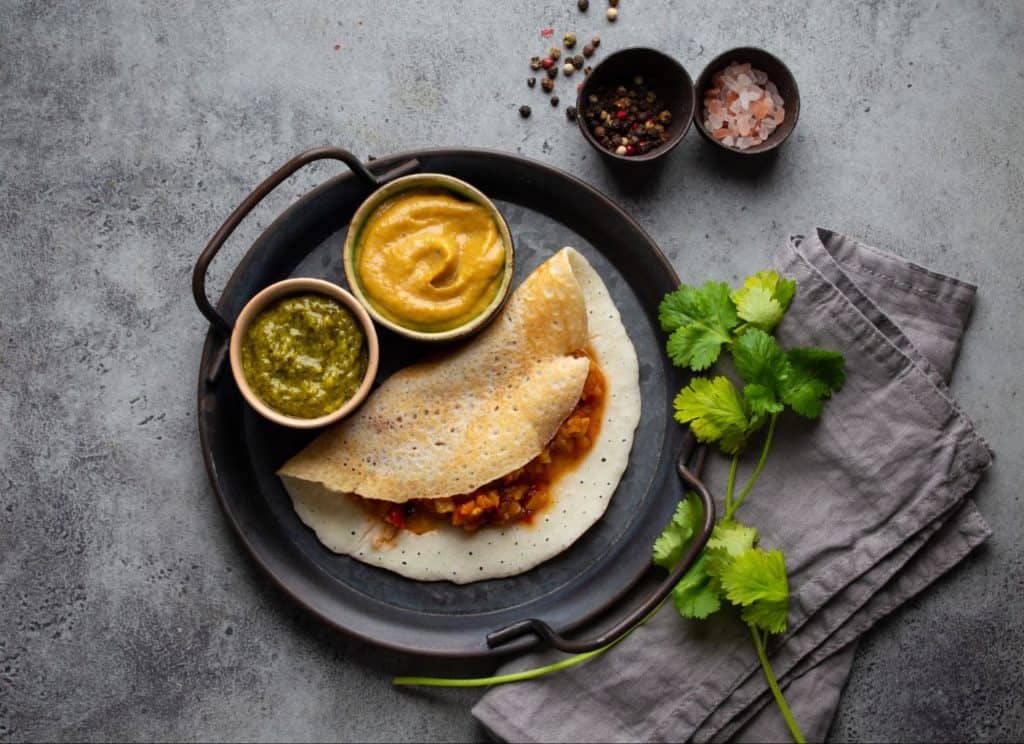 How to Eat Dosa 
Once you've cooked dosa, it's best if you serve it up hot! It's customary in Indian culture to eat dosa with your hands. I like to tear it off and eat it in small bites. If served with a dip or chutney, you can tear pieces off and dunk them into the dip or sauce before eating, or you can leave it whole and dip as you go! 
If it's served with potato masala, I like to wrap the dosa around the masala and eat it like a mini sandwich. I have a favorite dosa masala recipe that I have to share with you because, without it, this post on dosa just can't be complete. 
It's a simple recipe of spiced potatoes that are very similar to the rustic breakfast hash we often serve with an American breakfast. Only these potatoes have all Indian flavors, but you sure can enjoy them as your "American breakfast hash." 
So back to the ways of serving your dosa. If served with chutney, you can use a knife to spread some over your dosa and eat it bit by bit. No matter how you eat your dosa, make sure you enjoy every bite!
Accompaniments For Dosa 
If you're struggling brainstorming what to serve with your dosa, look no further than some of my favorite sides:
Masala

— While not technically a side, "masala" is the dosa filling. One of the most popular dosa masalas is aloo masala (potato with onion, turmeric, curry leaves, and black mustard seeds).

Sambar

— thin, soup-like dal with vegetables.
Chutneys

— These spiced condiments can elevate any Indian dish. When it comes to dosa, we love coconut chutney, tomato peanut chutney, and

green cilantro chutney

. 
As dosa's greatness spreads across the globe, it's quickly making a name for itself across different nationalities and culinary audiences. You might come across delicious dosa dishes like paneer-filled dosa and egg bhurji (scrambled eggs and spices) dosa, as well as more unconventional mash-ups like pesto dosa or pizza-filling dosa. 
However you choose to dosa, let us know in the comments below!