MIXED VEGETABLE PAKORA: VEG-FRIENDLY RECIPE
Who doesn't love a freshly fried fritter? This fried pakora recipe is chock-full of onion, zucchini, and cauliflower and is flavored with a mixture of dried herbs and spices.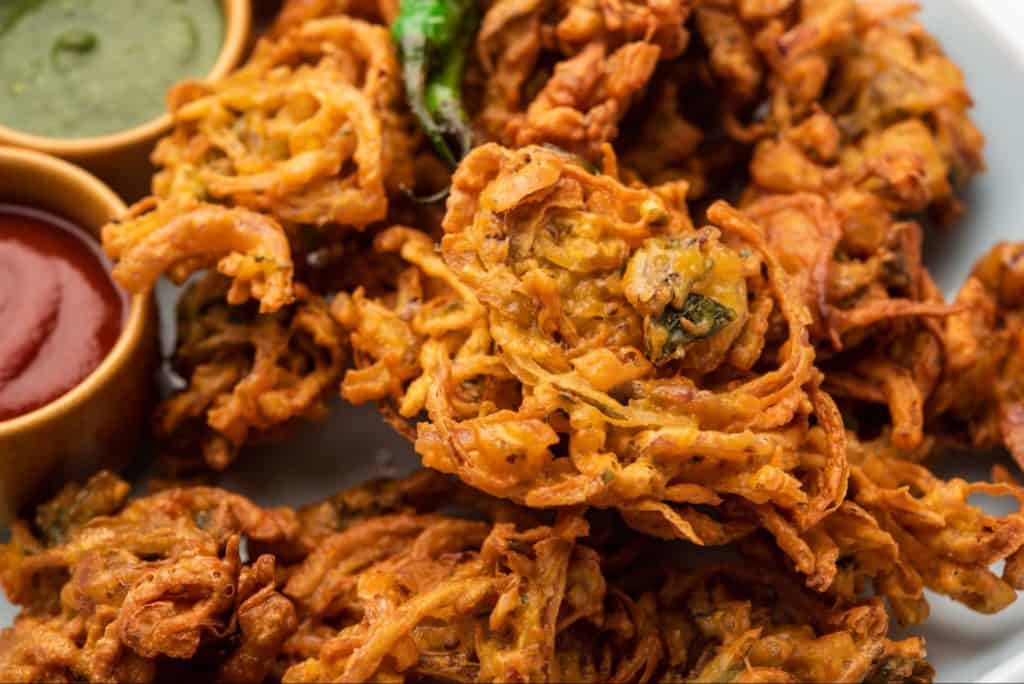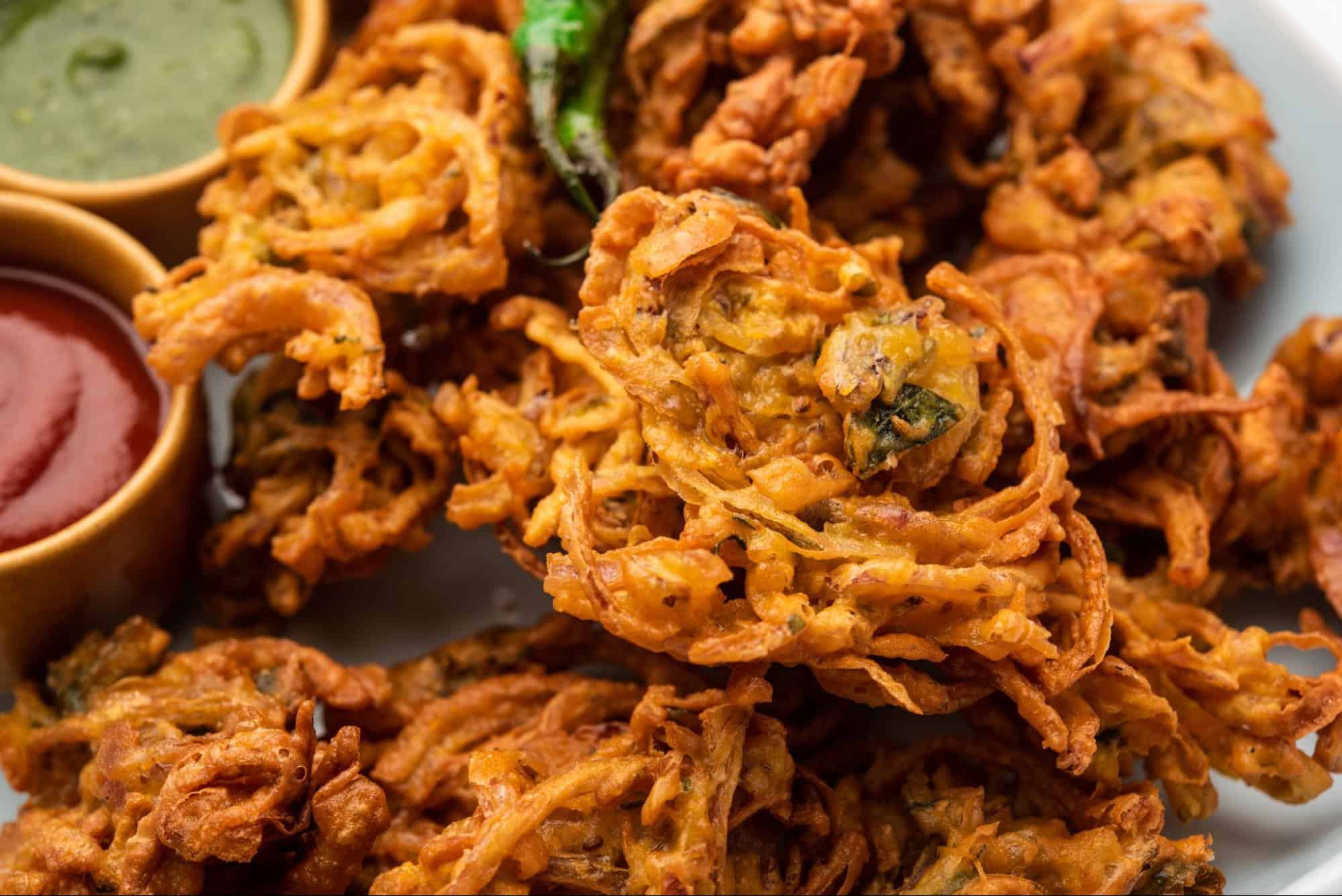 What is Pakora?
Pakora is a classic Indian dish of vegetables that have been coated in batter and fried until golden and crispy. The veggies are fried in a chickpea flour batter, which makes these fritters naturally gluten-free. 
You can use any vegetable to make pakoras, but this vegetable pakora recipe uses a mixture of zucchini, onion, and cauliflower, along with a few key spices to add a lot of flavor. Other popular pakoras feature paneer, potato slices, or mirchi (green chili pepper) for those who like it a bit hot!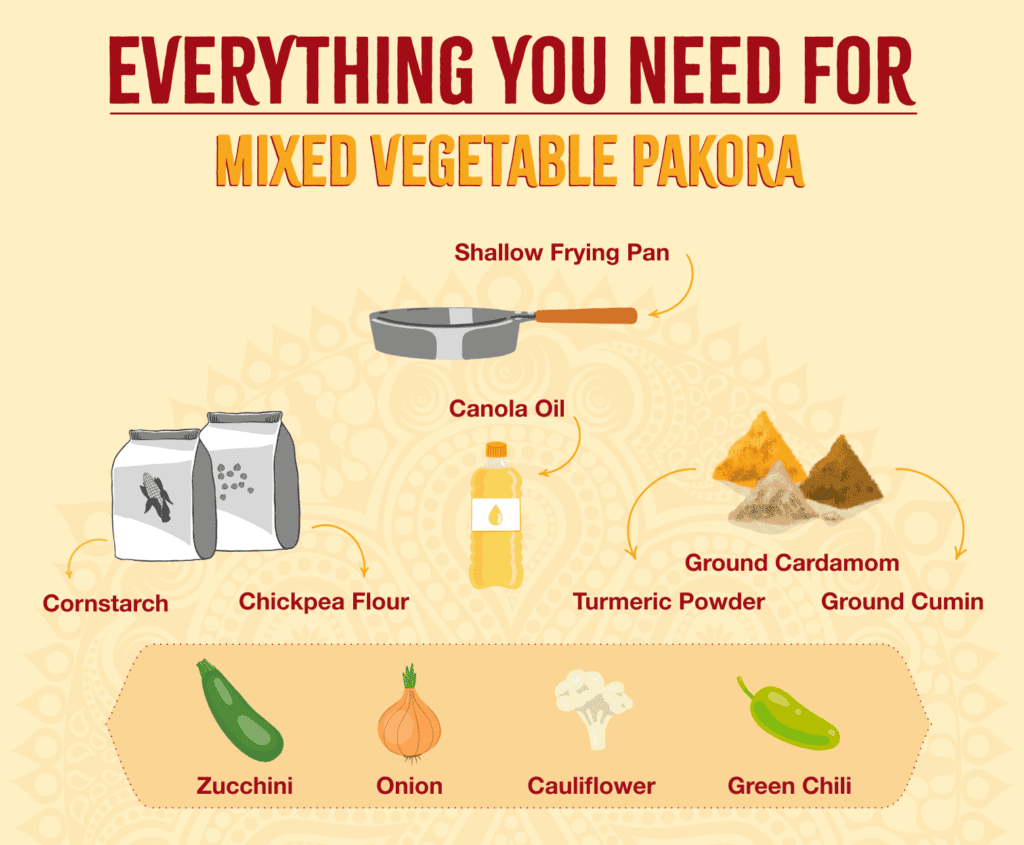 Mixed Vegetable Pakora Ingredients
Pakora recipes will vary, but the main ingredients in this veg pakora recipe include:
Mixed vegetables (onion, zucchini, and cauliflower)

Chickpea flour

Spices (red chili powder, turmeric, cumin, cardamom, fenugreek leaves, and carom seeds)

Cornstarch

Water

Salt

Oil for frying
Adding a bit of cornstarch or rice flour is essential to these Indian pakoras, making them extra crispy. However, the carom and dried fenugreek leaves are optional, but they are worth seeking out as they add a nice herbaceous and fragrant flavor to the pakoras.
If you haven't heard of carom seeds (ajwain in Hindi) before, they infuse each dish with a slightly bitter, pungent flavor similar to anise or oregano.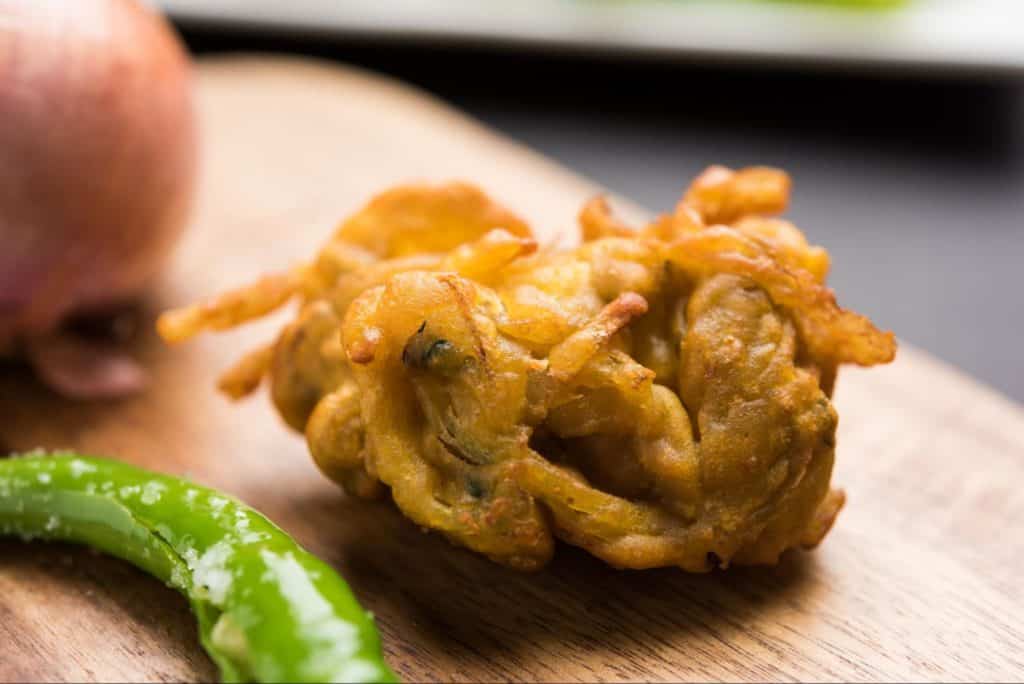 How to Make Pakoras at Home
This vegetable pakora recipe is incredibly easy to make at home. You'll first need to prepare the vegetables and fresh chili pepper and toss them together in a bowl. Then, combine the chickpea flour, cornstarch, spices, and water in a large bowl and mix to create the batter. 
Add the mixed vegetables to the batter and toss to coat. Drop the batter-covered vegetables one at a time into a skillet filled with hot oil and fry for 2 to 3 minutes on either side or until golden brown all over.
Because vegetable pakoras are fried, they're best enjoyed while still hot. Pakoras don't reheat well, so scale down this recipe as needed if you'll be feeding a smaller crowd.
Tips for the Best Pakoras
If you're skittish about frying, the main thing to remember is to ensure the oil is hot enough. If your oil isn't at the right temperature, your fritters will sit too long, soak up the oil, and taste soggy.

When spooning the vegetables into the hot oil, ensure the pakoras don't touch one another. Otherwise, they'll stick together.

Sprinkle with a bit of Chaat Masala or Himalayan pink salt as soon as they come out of the oil.

Serve vegetable pakoras with a squeeze of fresh lime and

cilantro

or

tamarind chutney

.

Seeking other vegetables that taste delicious in homemade pakoras? Pack in some starchy potato or fresh spinach leaves!

Mixed Vegetable Pakora
Who doesn't love a freshly fried fritter? This vegetable pakora recipe is chock-full of onion, zucchini, and cauliflower and is flavored with a mixture of dried herbs and spices.
Ingredients
1

medium onion

peeled, halved, and cut into half-moons

1

small zucchini

coarsely grated

1.5

cups

cauliflower

cut into small florets

1

small green chili such as Thai or jalapeño

seeded and minced

2

cups

chickpea flour

1/4

cups

cornstarch

1

tbsp

ground turmeric

1/8 - 1/4

tsp

ground cardamom

1/4

tsp

ground cumin

1

tsp

ajwain or carom seeds (optional)

2

tsp

dried fenugreek leaves (optional)

gently crushed between fingers to release fragrance

1

tsp

salt

1.5

cups

water

canola oil for shallow frying
Garnishes
finely chopped cilantro

lime wedges

cilantro or tamarind chutney

chaat masala

Himalayan pink salt
Instructions
Combine onion, zucchini, cauliflower, and green chili in a small bowl; set aside.

Combine chickpea flour, cornstarch, turmeric, cardamom, cumin, carom, and fenugreek leaves, if using, and salt in a large bowl and mix to combine. Slowly add water, mixing with a whisk to combine. Add more water as needed (mixture should be like pancake batter); set aside.

Pour oil to about 1/2 inch in a large cast iron skillet. Heat oil until shimmering and just before it starts to smoke. You can also use a deep-fry thermometer; let oil rise to 350°F.

When oil is ready, combine vegetables with batter and gently lower large tablespoonfuls of mixture into the hot oil, being careful not to splatter hot oil.

Let cook for a total of 5 to 6 minutes, turning once during the cooking process. If they start to brown too quickly, turn down the heat a bit. Drain pakoras on paper towels and sprinkle with finishing salt. Serve immediately with lime wedges, cilantro, and Sukhi's Mango Chutney.
Notes
To test if the oil is hot enough, add a tiny bit of the batter into the oil. The batter should bubble and rise to the top.

Make sure the pakoras do not touch one another in the hot oil, or they will stick together.
SERVE UP YOUR VEGETABLE PAKORAS SUKHI'S STYLE
At their best, pakoras transform your favorite veggies into crispy, golden brown fritters that'll satisfy your cravings for some comfort food. In India, pakoras are often served during afternoon tea. There's nothing quite like hot pakoras with some fragrant and creamy chai! 
If you want a veggie-friendly delicacy you can cook up in time, browse our product pages for dishes like Roasted Tomato Curry with kale and chickpeas and crispy Samosas stuffed with potatoes and peas.
If you'd like to discover more easy Indian recipes to make at home, read through our blog page to discover our guides to whipping up fluffy naan and seven mouthwatering vegetarian Indian dinner ideas. 
And if you're interested in more appetizers and snacks like this mixed vegetable pakora, be sure to check out our Samosa Sliders and Lemony Rice and Pea Salad.