Sukhi's Quick and Easy Gobi Aloo Recipe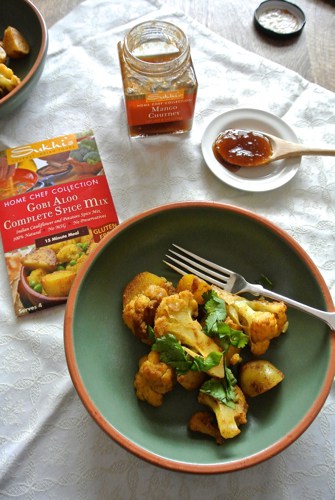 Indian cuisine enjoys a well-deserved reputation for elevating vegetables, and Gobi Aloo, a traditional Punjabi restaurant favorite, spiced with coriander, turmeric, and ground pomegranate seeds, is one such example. Super easy to make at home, just add fresh cauliflower, potatoes and a packet of Sukhi's Complete Gobi Aloo Spice Mix. Of course, you can always swap in your favorite vegetables, like green peas, onions, broccoli, and spinach.
Sukhi's Quick and Easy Gobi Aloo Recipe
Ingredients
2 to 3

tbsp

canola or vegetable oil

1

cup

cubed and steamed potatoes

1

cup

cauliflower florets (raw or lightly steamed)

salt to taste

fresh cilantro, for garnish

Other optional vegetables: green peas, green beans, red bell pepper, broccoli, spinach, etc.
Instructions
Heat oil over medium-high heat in a large pot. Add Sukhi's Gobi Aloo Spice Mix and stir to combine with oil. Add vegetables and stir to coat with spices. Add salt and about 2 tablespoons water. Cover and let cook until vegetables are tender, adding a bit of water every few minutes so vegetables do not stick to bottom of pan. This is not a saucy dish, so be careful not to add too much water. Garnish with cilantro and serve, if desired, with steamed rice and raita or Sukhi's Chutney.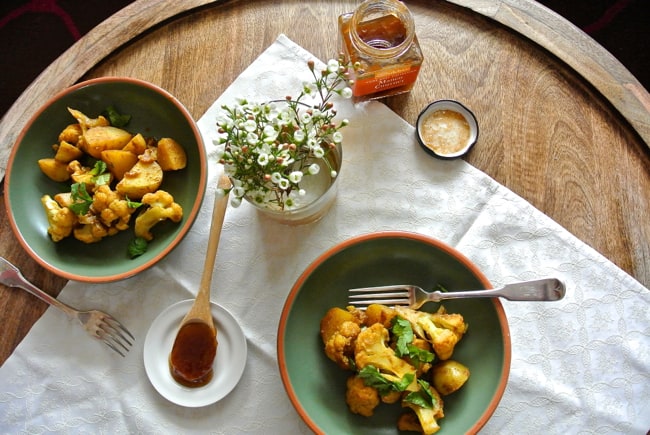 Photos by Kim Sunée.
Another popular way of cooking your potatoes with Indian flavors is Bombay Aloo, on bombay potatoes. This recipe by Pavani is a good one!