What Exactly Is Tandoori Cooking?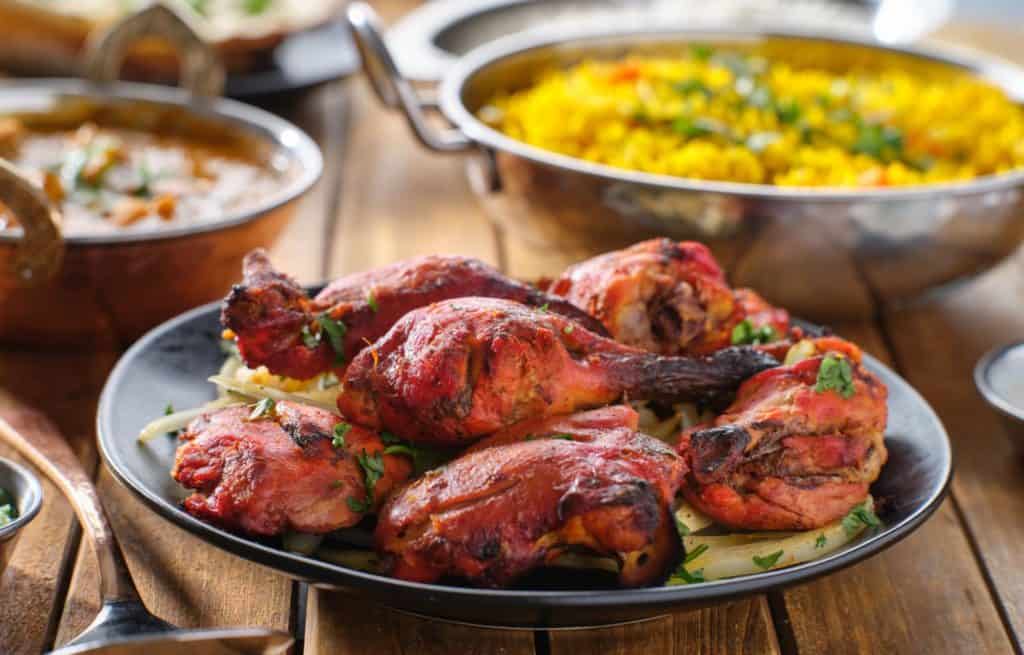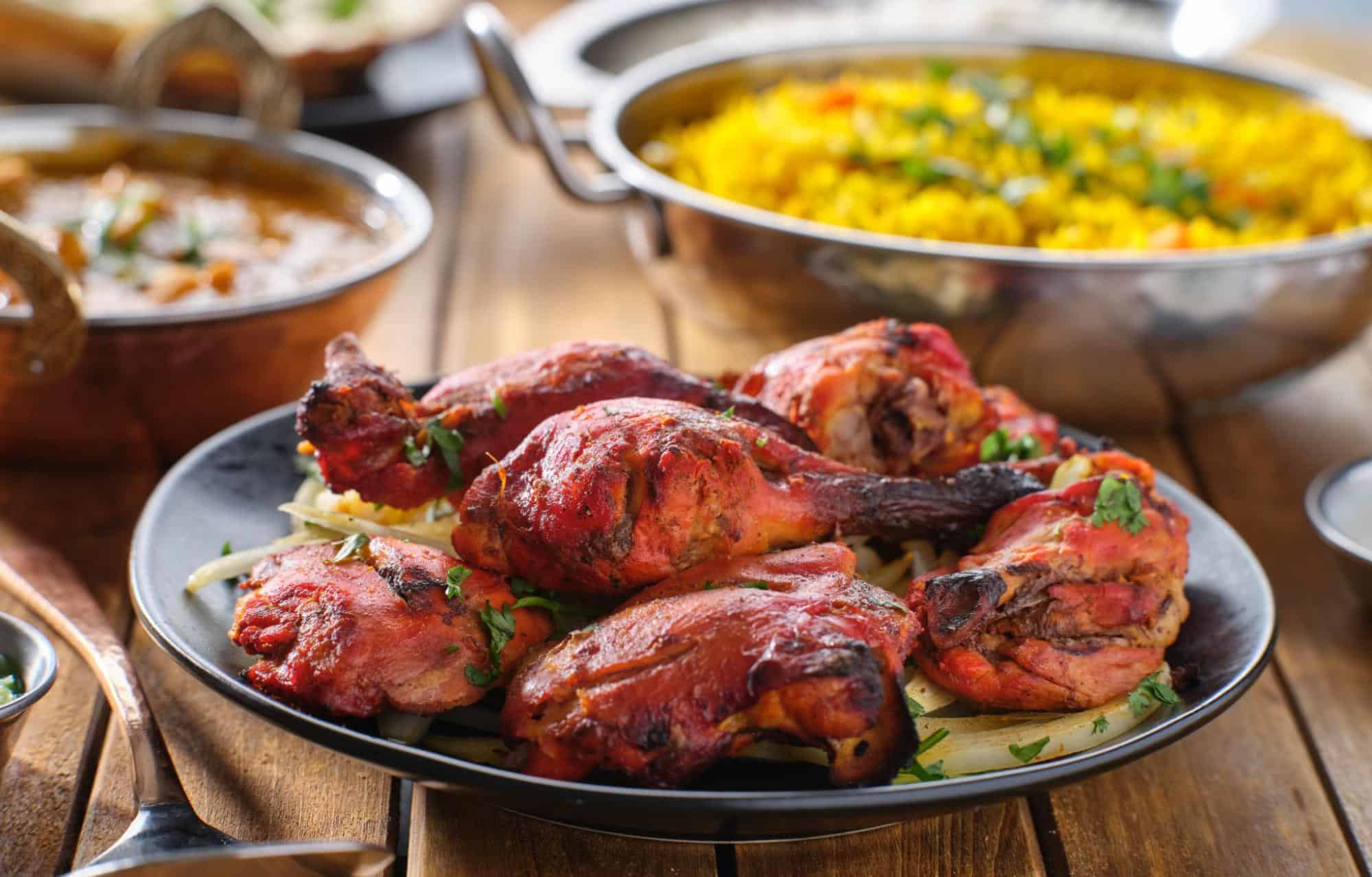 Often, we can survive and even thrive in the world knowing just one or two languages. However, a lack of translating ability really comes into question when we sit down to order at a new restaurant or browse the grocery aisle for new cuisines.
After all, do you truly know what pad thai means? How about chorizo? And what about tandoori?
When someone first comes across the term "tandoori," their mind might wonder what it might mean.
Maybe it's a specific recipe? Or a dish? Or perhaps it's just a positive adjective like "tasty?"
Those are good questions, and we've got the answers.
Tandoori is a high-heat cooking method with roots in Indian cuisine that creates some of the most delicious dishes around the globe.
But why do we call this cooking method "tandoori?" And what exactly makes tandoori dishes so exquisite?
Read on to learn all about this masterful method of cooking and why a knowledge of tandoori cooking might transform your recipe book forever.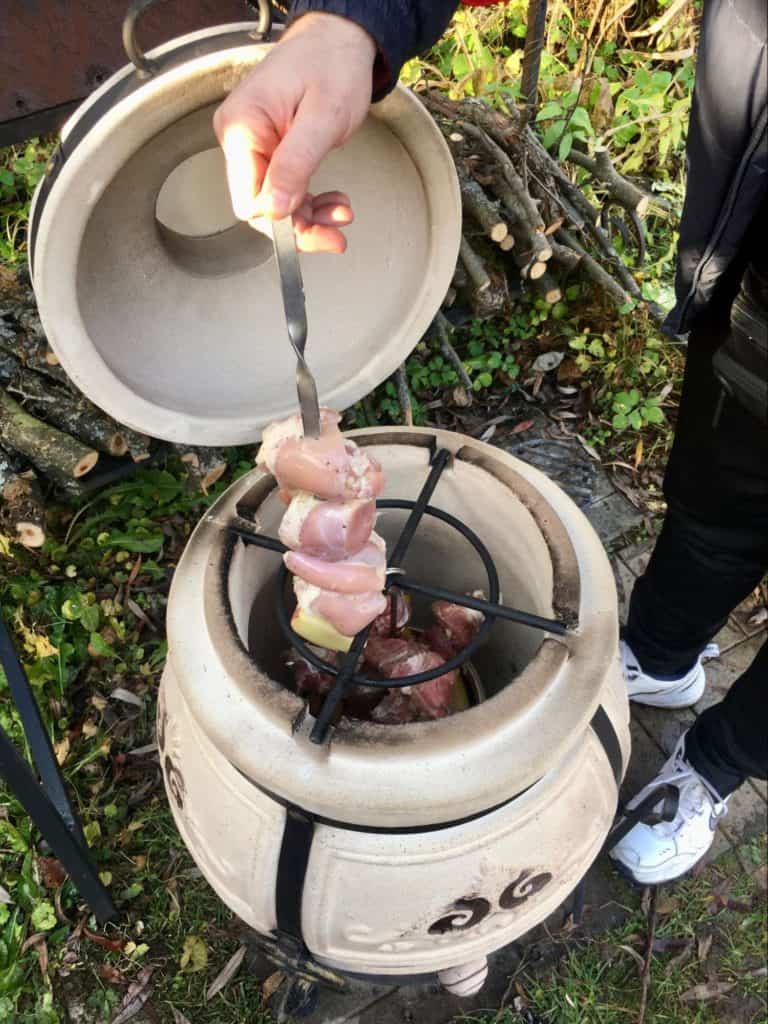 What Exactly Is A Tandoor?
To start, let's define tandoori.
This term refers to a specific style of cooking in which food has been grilled inside a tandoor (clay oven). If you've never come across a tandoor oven before, imagine a hollow drum standing upright with a small fire heating from the bottom.
Meat is lowered into the oven on long metal skewers and cooked quickly in a smoky, high-temperature environment to seal in juices and flavor.
Typically, a tandoor is built within an enclosure or even dug into the ground to provide maximum insulation. The key to proper tandoori cooking is only allowing the heat to escape through the top vent.
The temperature within a tandoor is kept to just below 500° C or a whopping 900° F. The extreme heat reflects and amplifies off the ceramic sides within the clay oven and creates a truly sweltering cooking environment.
Remember — with greater heat comes even juicier flavor!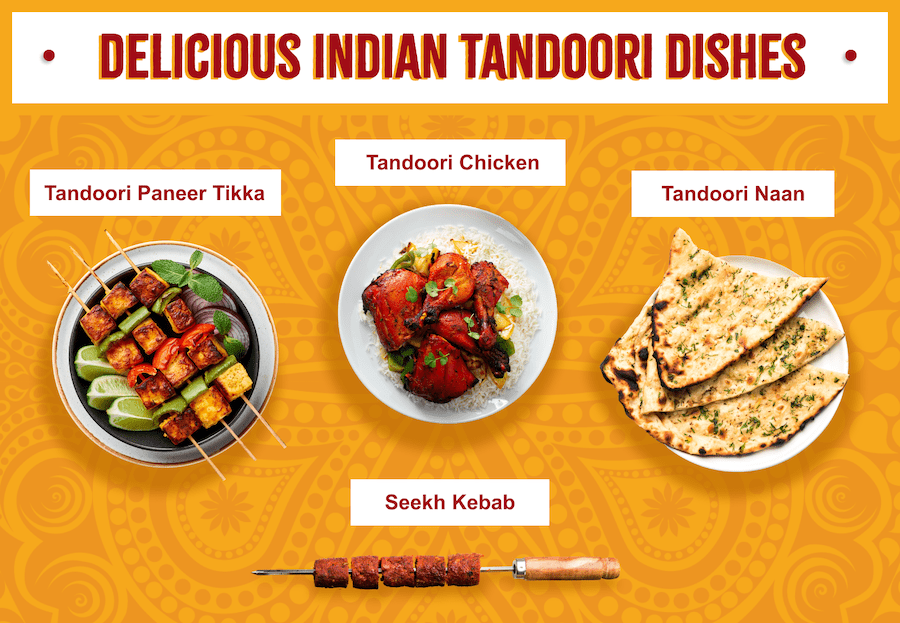 Delicious Indian Tandoori Dishes
While marinated meat dishes are often the most popular within tandoori cuisine, many other dishes are often overlooked.
Tandoori flatbreads like tandoori roti, tandoori naan, and tandoori lachha paratha (layered flatbread) are all infused with extra flavor and extreme crispness due to the high temperatures only achievable within a tandoor.
Let's dive into some of our favorite dishes made possible within tandoori cooking.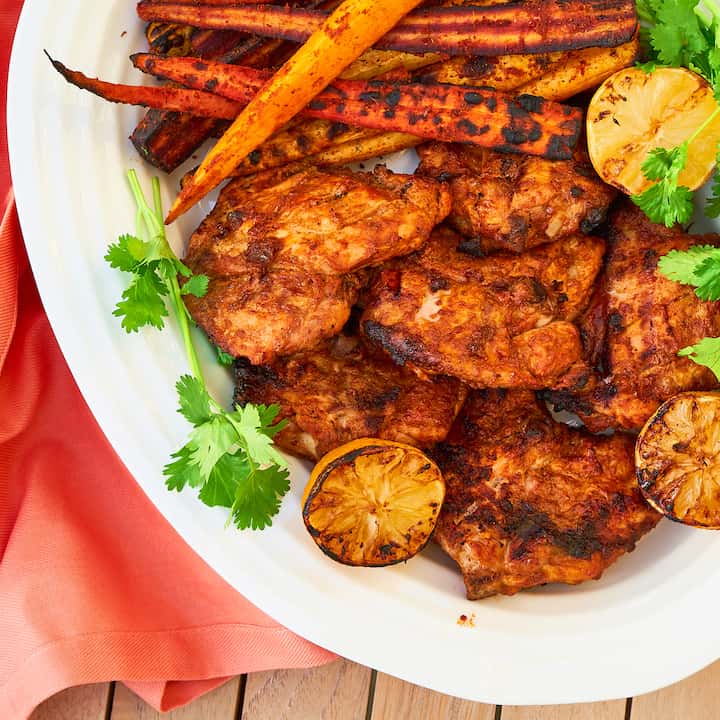 Tandoori Chicken
This Grilled Tandoori Chicken Recipe truly earns the title of a crowd-pleaser. At its best, tandoori chicken is rich in smoky flavor yet light in texture with a juicy chicken that practically melts in your mouth.
While tandoori chicken is best made within a traditional tandoor, you can easily make it at home if you have access to an outdoor grill that can reach 650-900° F and a packet of Sukhi's Tandoori Marinade.
While many renditions of this dish use artificial coloring to improve the appearance, our marinade is made with all-natural ingredients that infuse a burst of spice and flavor like cayenne, ginger, fenugreek, and paprika.
After preparing and marinating your chicken with your tandoori chicken marinade for 4-12 hours, you'll simply cook your meat on the grill at medium-high heat for about 15 minutes. Once your meat is fully cooked and juicy, garnish with cilantro and lime and serve alongside raita, naan, or our signature Mango Chutney.
It's one of the easiest, tastiest chicken recipes you're likely to find. But what if you want tandoori chicken without a substantial time investment?
That's exactly why we created our Sukhi's Tandoori Spiced Chicken Street Wrap.
With all the delicious, juicy flavor only found within tandoori cooking made in only two minutes, this meaty wrap allows you to enjoy a scrumptious meal among family and friends in a fraction of the time.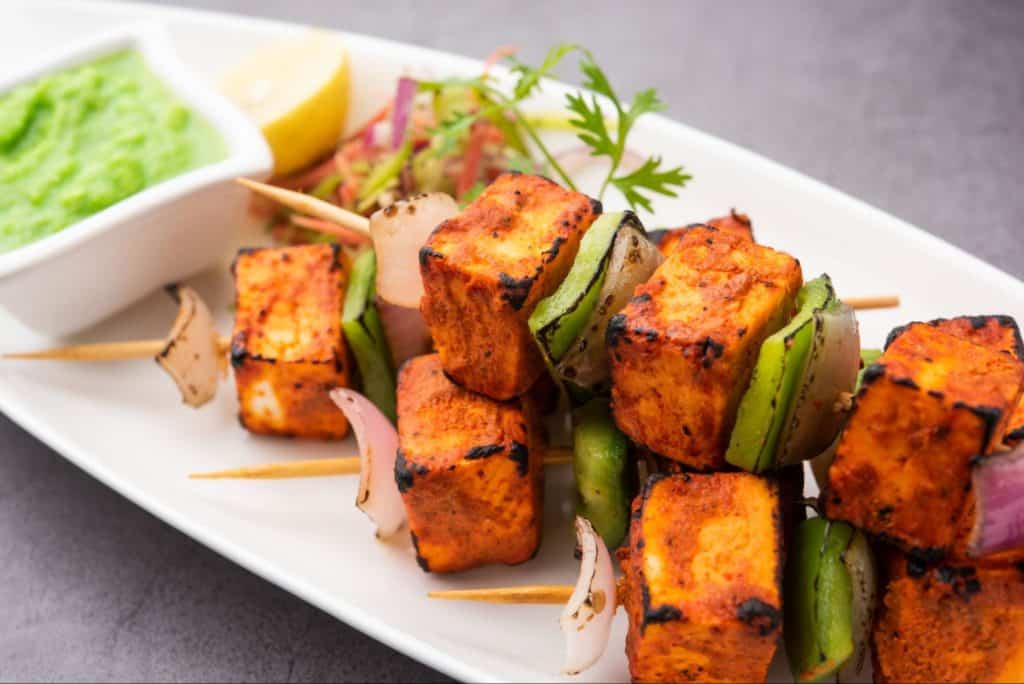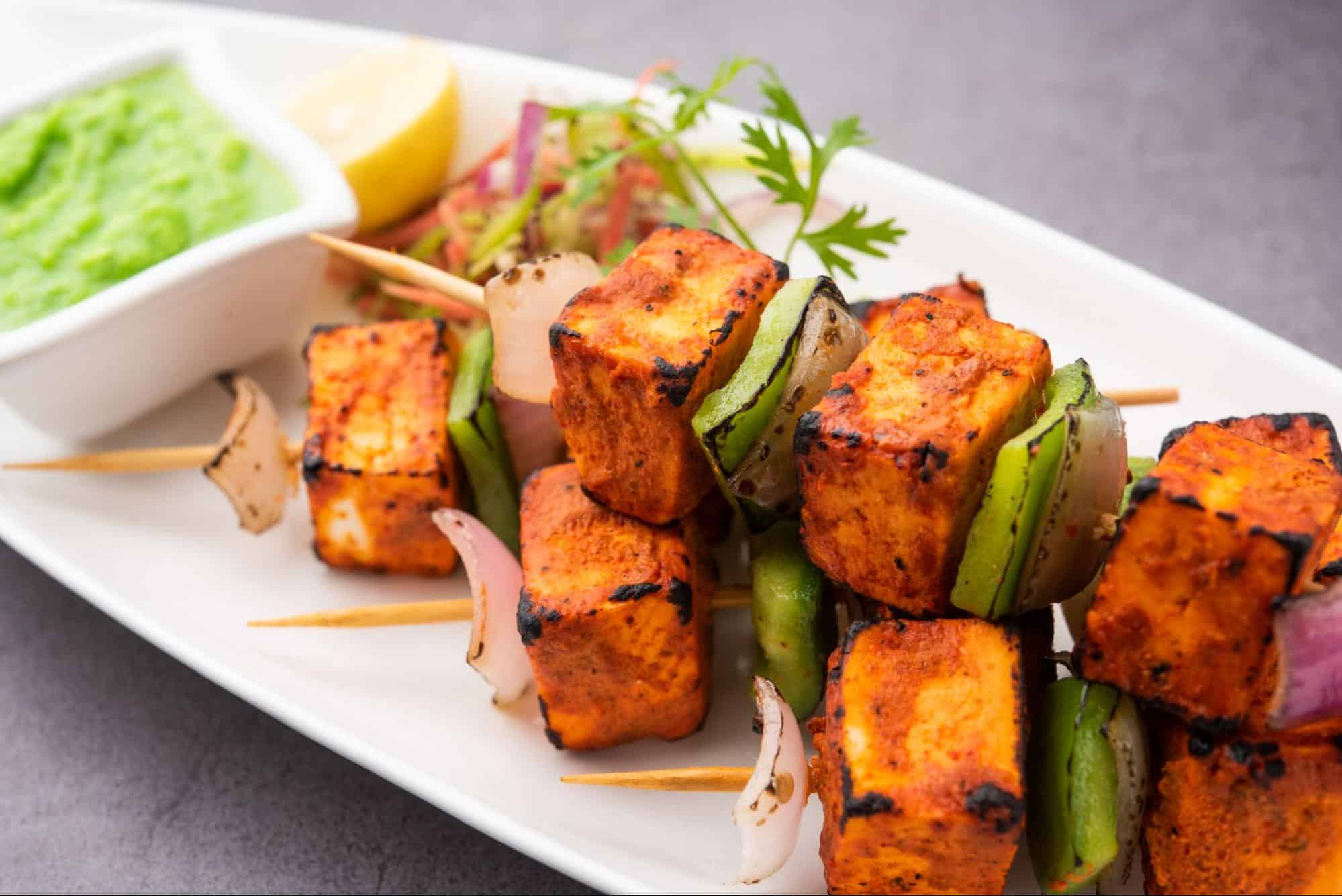 Tandoori Paneer (Paneer Tikka)
This is the perfect vegetarian alternative to tandoori chicken. These Indian specialty cheese curds become even tastier when skewered, marinated in a spicy, flavorful tandoori masala, and grilled at high heat.
Teeming with the aroma of signature tandoori seasoning and a burst of smoky flavor, tandoori paneer tikka is a spicy, juicy dish sure to please the cheese-lovers among us.
Use Sukhi's Tandoori Marinade along with your paneer, onion, bell pepper, and some chopped cilantro or lime for some fresh herbaceous flavor.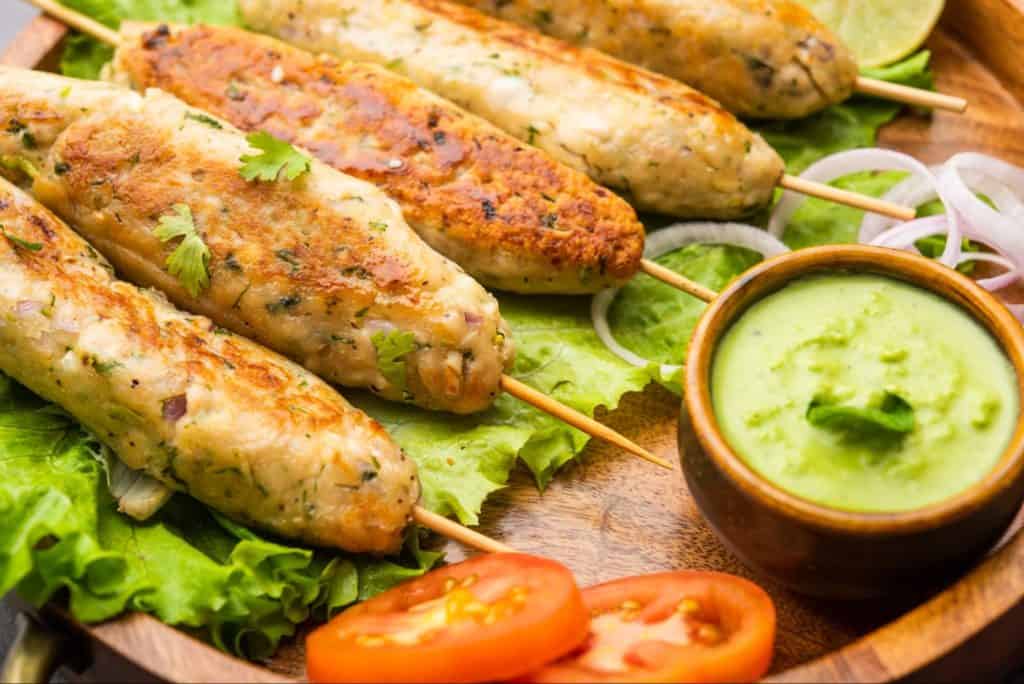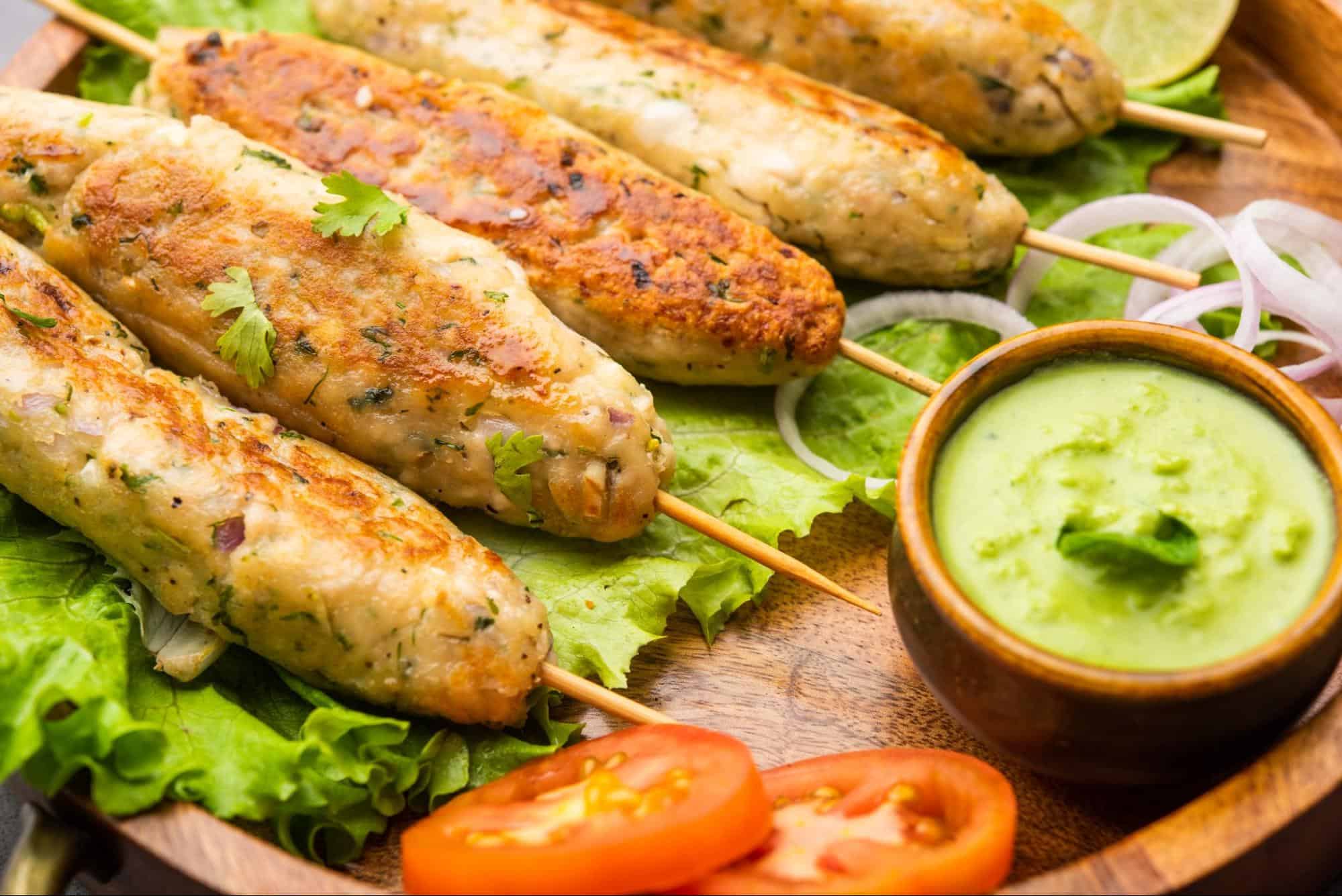 Seekh Kebab
The recent surge of kebab popularity in Europe and the states is long overdue. These meaty snacks combine mouthwatering herbs and spices with your favorite, juicy meats and high-temperature cooking to craft the perfect afternoon snack.
Seekh kebab is a delicious take on the kebab with minced lamb (or chicken or beef) serving as the base along with plenty of garlic, ginger, and chopped chilies for extra spice and zest.
To make your own seekh kebab, simply mold your minced meat of choice and chopped onions onto kebabs, lightly coat in Sukhi's Tandoori Marinade, and cook at high temperatures in a tandoor or outdoor grill until golden brown and juicy.
That's all there is to it!
Of course, don't forget to serve your seekh kebab alongside refreshing sides like cucumber raita or mango chutney.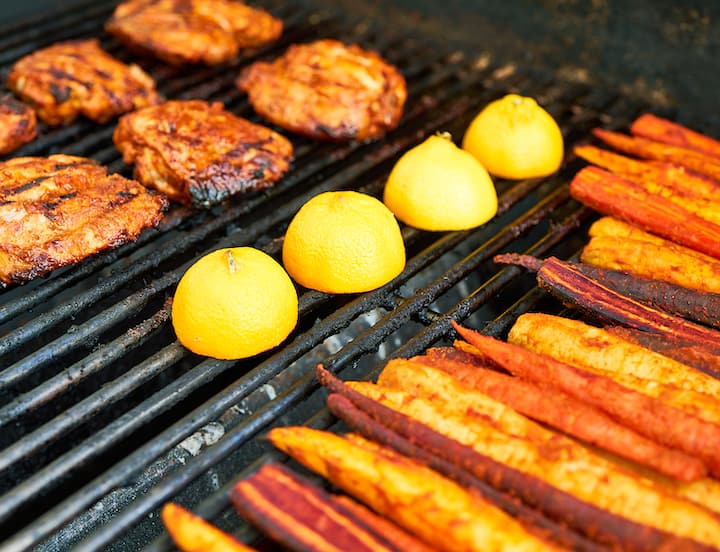 Easy Tandoori Cooking With Sukhi's
With extremely high temperatures designed to lock in juicy flavor, tandoori cooking is one of the best cooking methods to whip up perfect meat dishes as well as flatbreads.
These Tandoori dishes are some of the most popular at weddings and special events, where people set up tandoor ovens outside and serve delicious Tandoori dishes fresh off the grill.
If you're making your own, be sure to complement your Tandoori cooking alongside creamy raita, flavorful flatbreads, or a fluffy bed of saffron rice for an effortless entrée certain to please.
To enjoy Tandoori cooking without a tandoori oven or any of the fuss, be sure to pick our Sukhi's Tandoori Marinade or Tandoori Spiced Chicken Street Wrap.
Our marinade makes homemade tandoori cooking easy with all the natural spices and juices you crave. If you don't quite have the time to make your own Tandoori Chicken, look towards our Tandoori Spiced Chicken Street Wrap for a scrumptious, meaty meal that's ready in less than two minutes.
Browse our blog to learn all there is to know about Indian cuisine and discover simple, delicious recipes to make among friends and family. Sukhi's strives to cut down on the time required to share delicious food amongst loved ones and create memories that will last a lifetime.