Chai (Indian Tea) – Complete Guide
What's the difference between chai, chai tea, and tea? Is there even a difference?  We're navigating the somewhat confusing narrative and investigating this pressing matter of tea today!

What is Chai?
Chai is essentially an Indian word for 'tea.' In the USA, 'chai tea' is known as a hot, spiced tea beverage with milk and sugar. However, in other cultures, tea is just known as 'chai.' Have we lost you yet? Let's take a closer look!
Origin of Chai: Indian Chai vs Chinese Chai
Tea originally came to India from China. It's worth noting that chai dates back somewhere between over 5000 – 9000 years and was created for use in Ayurveda, a traditional medical practice where spices and herbs are used for healing purposes. Traditional chai is nothing like the sugary drink Starbucks hands you in the drive-thru window. In fact, it's far from it. Like many other Indian dishes, Indian chai has a very distinct, bold flavor that never falls flat. Chai is a coveted drink in India and is treasured not only because of how robust and delicious it is but also for its healing properties. Authentic Indian chai, or Masala chai,  is made with water, milk, sugar, black tea, and spices which usually consist of cardamom, cinnamon, ginger, and fennel. Traditional Chinese chai is black tea and hot milk, but what makes Masala chai is the addition of spices, as it literally translates into 'spiced tea.'
What is Chai Tea Latte?
'One tea tea latte, please!' Have you ever ordered your drink like that in the morning? Are you sure?? Chai comes from the Hindi word meaning 'tea,' which is derived from the Chinese word for tea, 'cha.' It's so common, especially in the USA, to order a chai tea or a chai tea latte. So while you thought you might have ordered a chai tea, you actually ordered a 'tea tea.' Oops. Don't feel bad though, the root of the word chai is a common misconception, so you're not alone! Khushbu Shah wrote a whole article on why you should never use the phrase "Chai Tea".  Check it out here!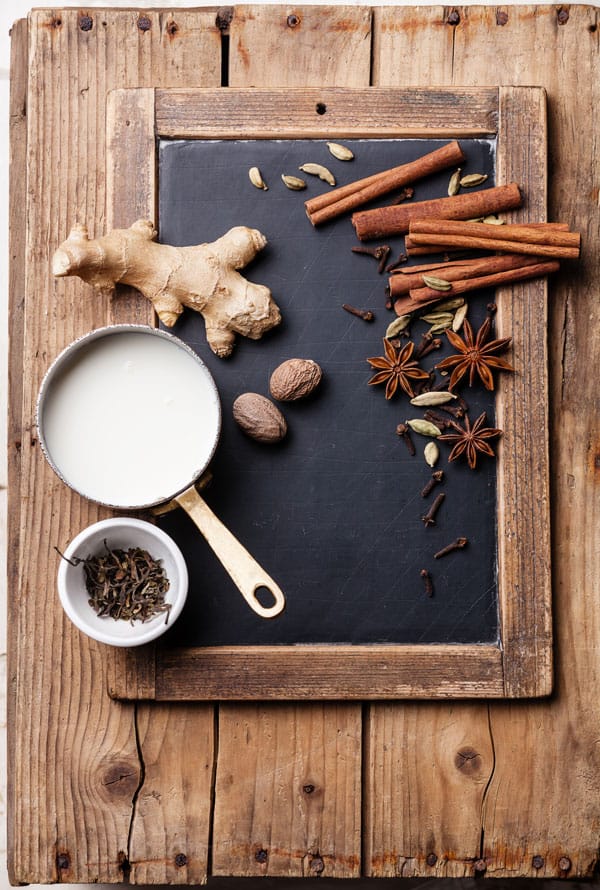 Health benefits of chai
Since chai was originally developed for its healing purposes, it makes too much sense that one cup is bursting with health benefits. A remedy for mild ailments, it can be served hot or cold. Today, it serves up some serious positives for tea drinkers everywhere.
Let's start with the obvious one – it can help wake you up! Naturally caffeinated, the black tea leaves in chai are known to perk you up and the negative side effects are known to be less than that of coffee. Ginger is the host of many benefits, including gut health and helping with digestion. It's also known to alleviate nausea and as well as minor aches and pains. Speaking of aches and pains, cloves are another spice found in chai that can assist in healing those sore spots.
Cardamom is perhaps a holy grail in supporting your immune system. It has high doses of Vitamin C and contains antioxidant and antimicrobial properties – so say goodbye to that cold you've been harboring for weeks on end! Since chai has many antioxidants, it helps to eliminate free radicals and aids in your overall health. Some studies also show that black tea can aid in heart health – so bottoms up!
How do you make chai?
Cozy on up and make your own health booster in a cup! There are many different recipes and variations of chai today, but the processes in creation are very similar. To make a traditional Indian chai, bring your milk, water, and spices to boil in a saucepan on your stovetop. Reduce heat or remove it from heat and add tea to steep about 3 minutes. Strain into your favorite mug and add sugar to taste. It's that easy. Highway to health, here we come!

Indian Masala Chai
Masala Chai is simply chai, cooked with a few spices to spike up the flavors. Like so many Indian recipes, a recipe for masala chai also varies from region to region depending on the set of spices being used. The underlying basic recipe for masala chai still remains the same where it uses a mix of water of milk, chai leaves added to it and then a few spices but then a Gujrati chai (something commonly served in the eastern state of Gujrat) will be different from a Punajbi chai (served in the north). So if the process of making chai ever intimidated you, cheer up, because there is no strict rule to make a chai.
Below if my recipe for a masala chai. This is inspired by a chai served in the state of Gujrat in India and some might call it a Gujrati Masala Chai.
Masala Chai
Masala Chai is simply chai cooked with spices. In this recipe you use a variety of spices which you can also mix together and store beforehand, to have it handy when making chai.
Ingredients
Ingredients for Masala
5

no.

cloves

5

no.

peppercorns

3

no.

green cardamom

1

tbsp

cinnamon powder

1/2

tsp

nutmeg powder

2

tsp

ginger powder
Ingredients for Chai
2

cups

water

2

cups

milk

whole milk

2

tsp

masala chai mix

2

tablespoon

Chai leaves

use loose english tea or tea bags work equally well.

3-4

tsp

sugar

can also substitute with honey
Instructions
How to make chai masala:
Bring all the ingredients together.

Transfer to a mortar and pound to make a coarse powder.
Masala Chai
Bring water and milk together in a sauce pot. Bring the liquid to a rolling boil on medium high heat.

Add chai masala and chai leaves into the pot. Mix well. Cover. Turn off the heat. Let the spices and tea steep into the liquid for 5 mins. Stir in sugar or sweetener of choice.

Strain into a tea cups. Serve hot.