Complete Guide to Chai (Indian Tea)
What's the difference between chai, chai tea, and tea? Is there even a difference?  We're navigating the somewhat confusing narrative and investigating this pressing matter of tea today!

What is Chai?
In Hindi, chai's meaning translates to "tea." Linguists believe the word spread from China, where tea is known as "cha."
In the modern United States, "chai tea" or "chai latte" is known as a hot, spiced tea beverage with milk and sugar. However, in other cultures, tea is just known as 'chai.' 
Simple enough? Good — now let's take a closer look!
Modern Chai's Ancient Origins
Tea originally came to India from China. Chai dates back somewhere to around 2700 BCE or nearly 5000 years ago. It was created for use in Ayurveda, a traditional medical practice where spices and herbs are used for healing purposes. 
Traditional chai is nothing like the sugary drink Starbucks hands you in the drive-thru window. In fact, it's far from it. Like many other Indian dishes, Indian chai has a very distinct, bold flavor that never falls flat. Chai is a coveted drink in India and is treasured not only because of how robust and delicious it is but also for its healing properties. 
Authentic Indian chai, or Masala chai, is made with water, milk, sugar, black tea, and spices, usually consisting of cardamom, cinnamon, ginger, and fennel. 
Avoid Saying Chai Tea Latte
'One tea tea latte, please!' Have you ever ordered your drink like that in the morning?  
It's so common, especially in the USA, to order a chai tea or a chai tea latte. So while you thought you might have ordered a chai tea, you actually ordered a 'tea tea.' Oops. 
Don't feel bad though, the root of the word chai is a common misconception, so you're not alone!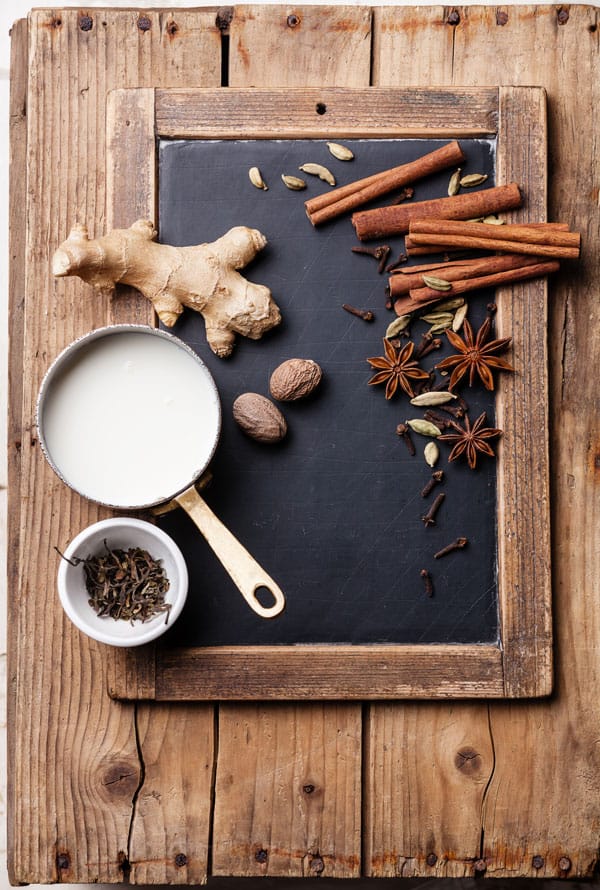 The Health Benefits of Chai
Since chai was originally developed for its healing purposes, it makes sense that one cup is often used as a remedy for mild ailments as an all-purpose health boost. It's traditionally served hot, though Western drinkers have recently taken to drinking iced chai. 
Today, this beloved drink serves up some serious positives for tea drinkers everywhere.
Let's start with the obvious one – it can help wake you up! Naturally caffeinated, the black tea leaves in chai can perk you up and leave you with less of that notorious hard crash that comes with a late-afternoon coffee.
Ginger is another primary ingredient in chai, and this spice is a hub for many different health benefits, including gut health and helping with digestion. It's also known to alleviate nausea and as well as minor aches and pains. Speaking of aches and pains, cloves are another spice found in chai that can assist in healing those sore spots.
Cardamom is another holy grail when it comes to bolstering your immune system. It has high doses of Vitamin C and contains antioxidant and antimicrobial properties – so say goodbye to that cold you've been harboring for weeks on end! 
Some studies also show that black tea can aid in heart health – so bottoms up!
How Do You Make Chai?
Cozy on up and make your own health booster in a cup! There are many different recipes and variations of chai today, but the processes in creation are very similar. 
To make a traditional Indian chai, first, boil your water and add tea leaves and spices. Reduce heat to a simmer and allow it to steep for about 3 minutes. Then, add milk, and boil once more. If you're seeking a creamier, more "cooked" tasting milk, then you can double boil it after adding the milk. 
Strain into your favorite mug and add sugar to taste. It's that easy. Highway to health, here we come!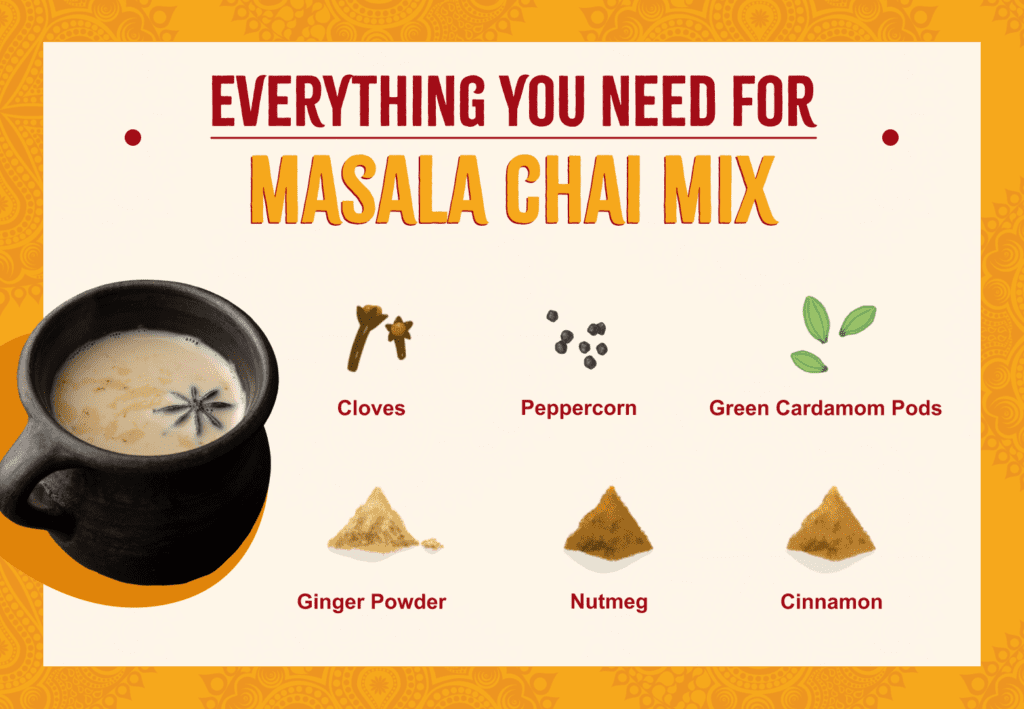 Masala Chai
Masala Chai is simply chai cooked with spices. In this recipe, we'll use a variety of spices that one can mix and store beforehand to have handy when making chai.
Ingredients
Ingredients for Masala
5

cloves

5

peppercorns

3

green cardamom pods

1

tbsp

cinnamon powder

1/2

tsp

nutmeg powder

2

tsp

ginger powder or fresh ginger

sliced ginger or ginger paste/pureé
Ingredients for Chai
2

cups

water

2

cups

milk

2

tsp

masala chai mix

2

tbsp

chai leaves

loose leaf black tea or tea bags work equally well

3-4

tsp

sugar

can also substitute with honey
Instructions
How to make chai masala
Bring all the ingredients together.

Transfer to a mortar. Pound and grind into a coarse powder.
Masala Chai
Pour the water into a saucepan. Bring the liquid to a rolling boil on medium-high heat.

Add masala (spice blend) and chai leaves into the pot. Mix well, cover, and boil. Turn the heat to low so it is barely simmering.

Allow the spices and tea to steep in the liquid for 5 minutes.

Add in milk, and bring to a boil again. Stir in sugar or sweetener of choice.

Strain into tea cups. Serve hot, and enjoy!