Paneer Tikka Masala Recipe (with Homemade Paneer!)
This easy paneer tikka masala recipe features homemade paneer and red bell pepper. This is a simple vegetarian Indian recipe the whole family will love!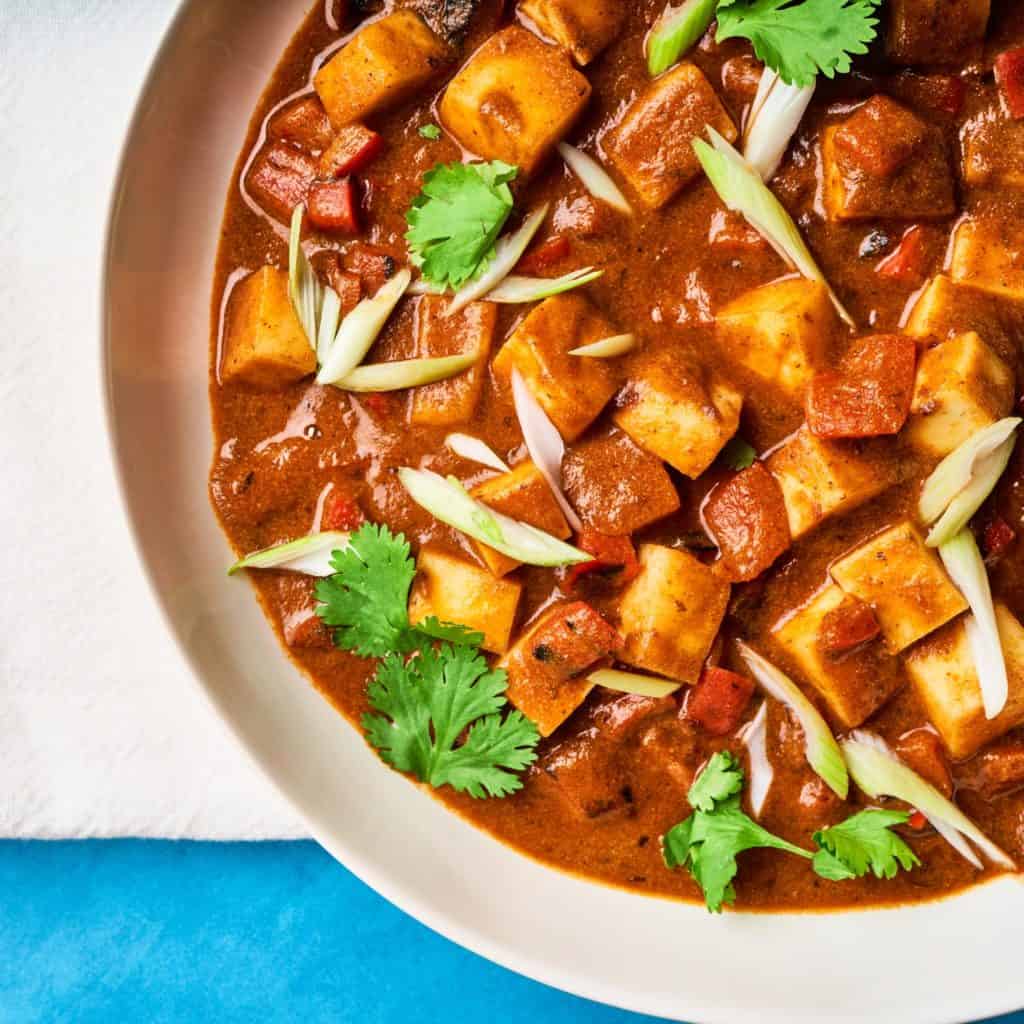 What is Paneer Tikka Masala?
You're probably very familiar with two popular Indian dishes, saag paneer and matar paneer, both of which showcase the delicate, milky taste of fresh curd cheese. However, paneer tikka masala is slightly different from these two dishes because it's creamier, more decadent, and builds upon a base of a spiced tomato-based sauce. 
As a wonderful vegetarian alternative to chicken tikka masala paneer tikka masala is the perfect crowd-pleasing dish to serve at celebrations like weddings and holidays. 
Of course, you can buy paneer at the store, but consider making it at home this one time. Making homemade paneer — by simply adding a bit of acid (vinegar or lemon juice) to milk — is super easy! And by just adding one of Sukhi's Curry Sauces like our classic Tikka Masala, you can have one of your favorite restaurant dishes at home in under an hour.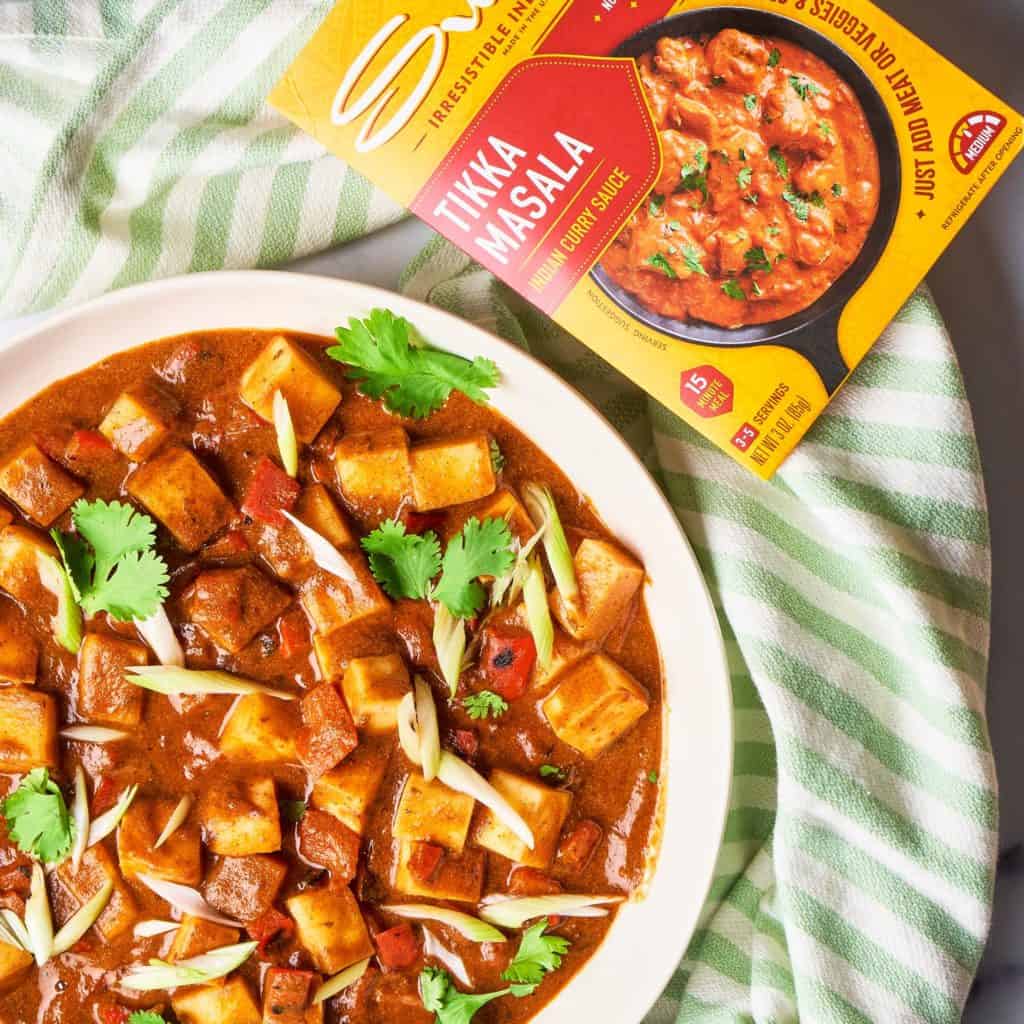 How to Make Paneer
Homemade paneer sounds scary to make, but it's a fairly straightforward process that takes less than an hour to complete. 
To make paneer, you'll need whole milk, buttermilk, and white vinegar, as well as a cheesecloth. First, bring the whole milk to a gentle boil in a large saucepan, occasionally stirring to prevent it from burning. Add the buttermilk to the saucepan and let the mixture sit until milk solids begin to form. Then stir in the vinegar to achieve the final separation.
Next, carefully pour the milk mixture into a cheesecloth-lined colander. Twist the cheesecloth to squeeze out any excess whey, then let it drain over your kitchen sink for a few minutes. 
Once properly drained, place the cheesecloth onto a plate and put another plate on top of the ball of paneer. Stack heavy items (such as a heavy pot filled with water or cast iron pan) atop the plate, and let the paneer rest and firm up for 20 to 45 minutes on your countertop. Note that the longer you let the paneer rest, the firmer the cheese will become.
Paneer Tikka Masala
This easy paneer tikka masala recipe features homemade paneer and red bell peppers. This is a simple, vegetarian Indian recipe that the whole family will love!
Ingredients
Homemade Paneer
1

gallon

whole milk

1

quart

buttermilk

1

tsp

plain white vinegar

Cheese Cloth
Paneer Tikka Masala
1

packet

(3 oz) Sukhi's Tikka Masala Sauce

1

cup

red bell pepper

diced

2

tbsp

canola oil

1/4

cup

whipping cream
Instructions
To make paneer:
Pour milk into a large pot over medium heat and bring to a gentle boil, occasionally stirring to keep it from burning. Add buttermilk and wait for milk solids to start separating; add white vinegar to get the final separation. The final mixture will have a lemony yellow color with a tinge of green.

Remove the pot from heat and carefully pour the milk mixture into a cheesecloth-lined colander. Grab the ends of the cheesecloth and twist the ball of cheese to squeeze out the excess whey. Tie the cheesecloth to your kitchen faucet and allow the cheese to drain for about 5 minutes.

Twist the cheesecloth to form a compact ball; place it on a plate with the twisted part of the cheesecloth on the side (so that your block of cheese is smooth), and set another plate on top. Place heavy dishes or cans of food to weigh it down.

Set aside on the kitchen counter for about 20 minutes (for softer cheese) and up to about 45 minutes (for a firmer and more condensed texture). Unwrap paneer and cut into cubes.
To make Paneer Tikka Masala:
Sauté 1 diced red bell pepper in a little bit of canola oil. Stir in 1 packet of Sukhi's Tikka Masala Sauce with water and whipping cream (according to package directions). Let simmer for a few minutes until peppers are soft but not mushy.

Serve with naan, jeera (cumin) rice or basmati rice, and garnish with fresh cilantro.

Add paneer and stir for 5-6 minutes at a low simmer. This ensures that the paneer is well-coated but still stays firm, without crumbling.

Tips for the Best Paneer Tikka Masala
This vegetarian tikka masala recipe is incredibly easy to make, but there are a few things to keep in mind while making this dish:
Whole milk and real buttermilk are key when making homemade paneer. We don't recommend substituting lower fat milk in this recipe! 

Diced bell pepper adds a pop of fresh flavor to this dish and keeps this recipe simple. However, you're welcome to add in other chopped veggies as well.

If you don't have time to make homemade paneer, feel free to buy pre-made paneer at the store instead.

SIDE DISHES FOR PANEER TIKKA MASALA
Paneer tikka masala is a rich and creamy entreé that deserves good culinary company.
As mentioned in the recipe above, this vegetarian gem tastes delicious when served atop a bed of jeera rice or basmati rice. However, it also pairs wonderfully with different types of Indian bread.
Garlic or butter naan can soak up the creamy curry while simple roti or chapati is a classic Indian flatbread that will never steer you wrong.
More Vegetarian Indian Recipes: