A bite of dal makhani satisfies your taste buds like anything. The creamy and buttery flavor is something that makes you fall for the dal makhani recipe.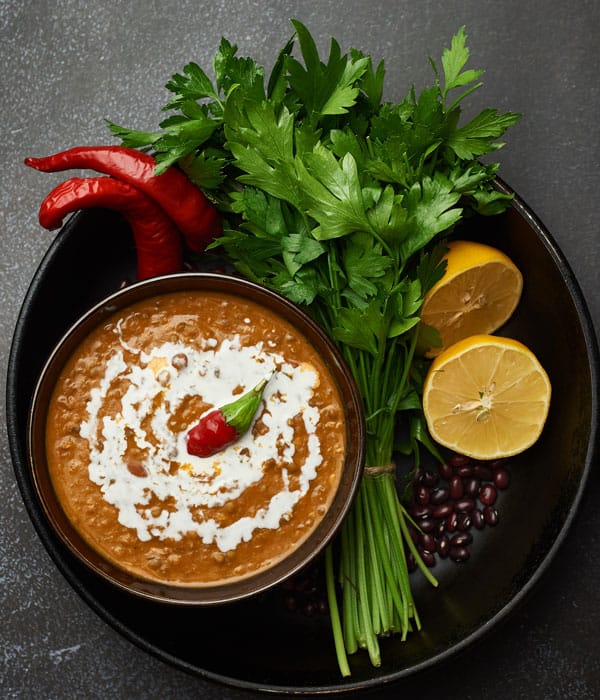 Have you ever tried Dal Makhni (buttery lentil)? No? You haven't? You don't know what you are missing out on! The taste of this tempting dish is widely different from other types of dal dishes. It is more like a soft, consistent paste that has a creamy and smooth flavor. Your taste bud will feel the flavors of dal and kidney beans, the richness of butter, and relish the flavor of spices all at the same time.
If you are thinking of tasting it, why not try to cook it?
Read the article to learn some great, simple, and delicious dal makhani recipes using the cooker, instant pot, and Sukhi's products.
Topics Discussed in this Article
What is dal makhani?
Tips to make best dal makhani
Restaurant-style dal makhani recipe
Instant pot dal makhani recipe
An easy and simple method of Dal Makhni with Sukhi's Classic Indian Curry Sauce
What is Dal Makhni?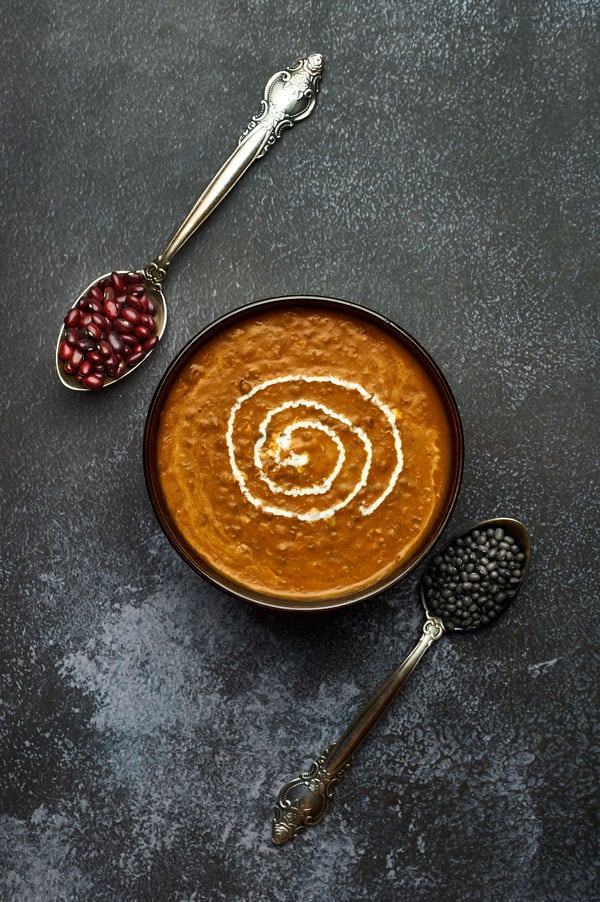 This is a delicious Indian Dish made from black lentils, spices, red kidney beans, cream, and butter. Its origin is from India's province, Punjab. The literal meaning of Dal Makhni is something close to creamy lentil soup. Traditionally, people would cook this mouthwatering meal by simmering lentils on coal fire or wood. People at that time used to cook it for several hours to get a soft, thick, creamy, and buttery taste of this dal.
Dal makhani is an all-time favorite of most Indian people. It is a delicious dish to serve to your guests. Although you will find this dish in restaurants, you can easily make mouthwatering dal makhani at your home. This dish contains a few simple ingredients that are the secret of its rich and strong flavor. Yes, it will take hours to get its original taste and look. But you only need to keep it on the stove. Meanwhile, you can do other things. This dish is great to make your weekends or festive seasons special and unique.
You can serve this dal makhani with jeera rice, tandoori roti, basmati rice, or garlic butter naan. It gives an amazing tasty jolt to your taste buds with any of these side dishes.
Tips to Make Best Dal Makhni
Making a scrumptious and tantalizing dal makhani that tastes exactly like one made by professional chefs is a little challenging for a newbie. However, if you follow the steps exactly and make sure to consider the tips mentioned below, you can surprise your family and guests with your cooking abilities.
Let's learn what you need to do to cook a divine dish.
· Put It on Simmer for a Long Time
To get its best aroma and taste, you need to let it simmer for a few hours on low heat. Yes, it's hard to spend this time in the kitchen in this busy life. But if you can, it's great to simmer the dal for at least twenty minutes. For better results, one or two hours are great.
It will help you to enhance its flavor and make it creamy and extremely delicious. Restaurants that are famous for their dal makhani actually keep it on simmer for the entire day.
· Use Cream and Butter Generously
If you are thinking of making it healthy and with fewer calories, it's not the dish to cut down fat. It's better not to eat it because you will not be able to feel the joy if it's creamy flavors. The cream and butter are a must to make this dish.
So, try to add more than one spoon of butter or cream if you want the Desi restaurant-style taste.
· Less Is Better in Terms of Spices
If you go on the hunt for the best dal makhani restaurant, you will see that all of them are slightly different from each other. But the best one of all of them is the one with fewer spices. The less the spice, the more you will get its buttery flavor.
Ginger, onion, tomato puree, garlic, ghee, butter, and a little amount of spice give you a tremendous flavor of this dish.
· Try White Onion for Subtle and Sweet Taste
People commonly use red onion for this beauty. You can also use it, but they have a strong flavor, which can affect the taste of this dish. On the other hand, white onions don't have sharp flavors that make them the best alternative to red onions.
· Bring Tomato Puree from Store
If you want a creamy texture and look, go with readymade tomato puree. The packaged products are great to get an exact traditional taste while putting in less effort.
If you are going with the regular tomato puree, you can use some tomato paste to make it look like a packaged tomato puree. This is because tomato paste is a little bitter and concentrated.
· Add Pinch of Sugar for a Balance
Confused why you need to add sugar? It's not necessary and totally up to you. But some people use it to give their dish an extra flavor.
If you want, you can use ½ tbsp of sugar in your dal makhani.
· Serve Your Dish with Salted Butter
Salted butter helps you to enhance the taste. Make sure to use it while cooking the dal. And then serve dal again with a piece of butter.
You can see a tremendous difference in using unsalted and salted butter in this dish.
· Add Smoky Flavor with Dhungar Technique
Some people add a smoky flavor to it to get a more rich taste. It gives a unique aroma to the dish.
You can smoke it for 2 minutes only. Make sure not to make it taste smoky overly. However, if you don't have charcoal, you can omit this step.
Restaurant Style Dal Makhni
Making a restaurant-style dal makhani is not as difficult as you think. Of course, chefs in restaurants have years of expensive making dal makhani, which helps them serve a tempting and beautiful dal makhani in front of customers. However, that does not mean you can't make it.
We have mentioned the method which food chains use to cook a tasty Dal Makhni.
Method to Cook Dal and Kidney Beans
Take a large bowl and fill it up with 1 cup of black urad dal and ¼ cup of rajma.
Soak it in water overnight or at least for 8 hours.
Rinse it afterward, and put it in the cooker. Pour 3 cups of water.
Add a pinch of salt.
Cook it on medium flame until you hear 5 whistles. Then, cook dal on low heat in a curry cooker.
Directions for Dal Makhni
Take a large Kadai. Put a tablespoon of ghee to sauté bay leaf.
Add chopped onion, and change its color by sautéing.
Add ginger and garlic paste. Sauté it to decrease the raw smells completely.
Toss chopped tomatoes. Cook to make it soft.
Add coriander powder, turmeric, chili powder, cumin powder, and salt. Cook them for a minute.
Once you start noticing oil, add dal and stir it.
Add 1 cup of water.
Boil it for 30 minutes until the mixture turns thick.
Put 2 tbsp cream.
Sprinkle fresh coriander leaves.
Technique of Tampering
Put tadka pan on the stove and heat it.
Add 1 tbsp or more ghee.
When you notice ghee melting, add hing.
Pour this tampering over your dal.
Mix it well to get a shiny and bright color.
Serve it with roti or rice.
Instant Pot Dal Makhni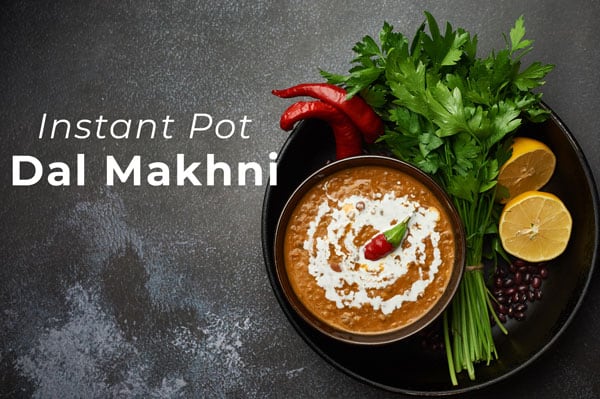 Instant Pot dal makhani is not very different from the restaurant-style dish. However, some steps and choice of utensils are different from each other, which create a lot of difference in their taste. Not to mention, both instant pot and restaurant recipes will not disappoint you.
So, let's learn how you can make a classy and flavorful dish from this instant pot dal makhani recipe.
Method of Dal Makhni Recipe
Toss dal, garlic, ginger, bay leaves, and water in your instant pot. Let it cook for 30 minutes in an instant pot under high pressure.
Once you feel dal is ready, mash it thoroughly. This will give a thick and creamy look to your dal.
In the meantime, take a bowl and add spice and yogurt to it. Mix them all thoroughly.
Take a small saucepan and heat it. Add ghee and melt it. Toss cumin seeds and tomato paste. Cook these for around a minute.
Add this mixture in the dal.
Add yogurt mixture in an instant pot.
You can add little water if needed.
Serve it hot.
Easy and Simple Way to Cook Real Dal Makhni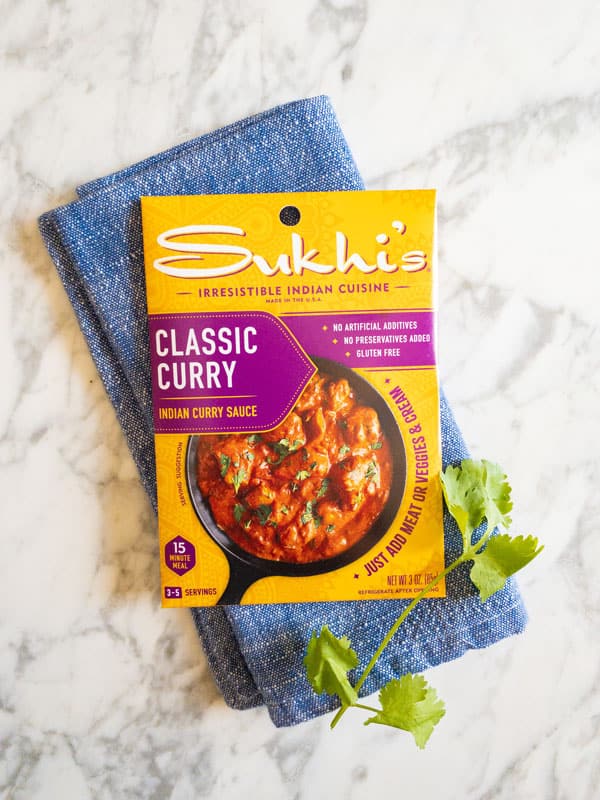 If you want to serve dal makhani to your guests, but there is only an hour or less left in their arrival, don't lose hope. You can still make the utmost delicious and classy dal makhani with the help of Sukhi's instant products.
Yes, you just need Sukhi's Classic Indian Curry Sauce in your home and follow the dal makhani recipe I share below to get its traditional taste. Not to mention, it requires relatively less effort than the recipes mentioned above.
Surprised? You will feel happier after eating it. Let's learn how you can make astounding rich, creamy dal.
Method
Take an instant pot.
Put 1/2 cup black lentils and ¼ kidney beans in it.
Cook it until you notice lentils have become soft.
Add 1/2 packet of Sukhi's Classic Indian Curry Sauce. Stir well.
Add 1 tbsp of butter.
Sprinkle your dish with cilantro.
Serve it hot with naan or rice.