Easiest Dal Makhni: Discover The Perfect Dal Makhni Recipe
This creamy, buttery dal dish is a true staple in Indian cuisine. Discover everything there is to know about this star lentil dish, including Sukhi's dal makhani Instant Pot recipe.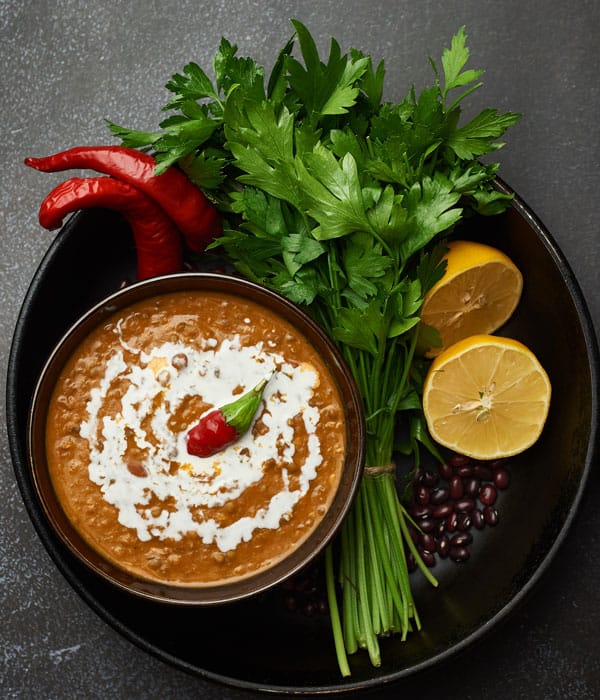 If you've never tried dal makhani (sometimes spelled "dal makhni"), your taste buds don't know what they're missing out on. 
Dal makhani differs substantially from other types of dal dishes. In contrast to more textured and chewy dals, dal makhani's consistency is closer to a thick, creamy soup or chowder. Your taste buds will love the flavors of dal and kidney beans, the richness of the butter, andthe cornucopia of spices all at the same time.
Read the article to learn some great, simple, delicious dal makhani recipes using the cooker, Instant Pot, and Sukhi's classic Indian curry.
What is Dal Makhni?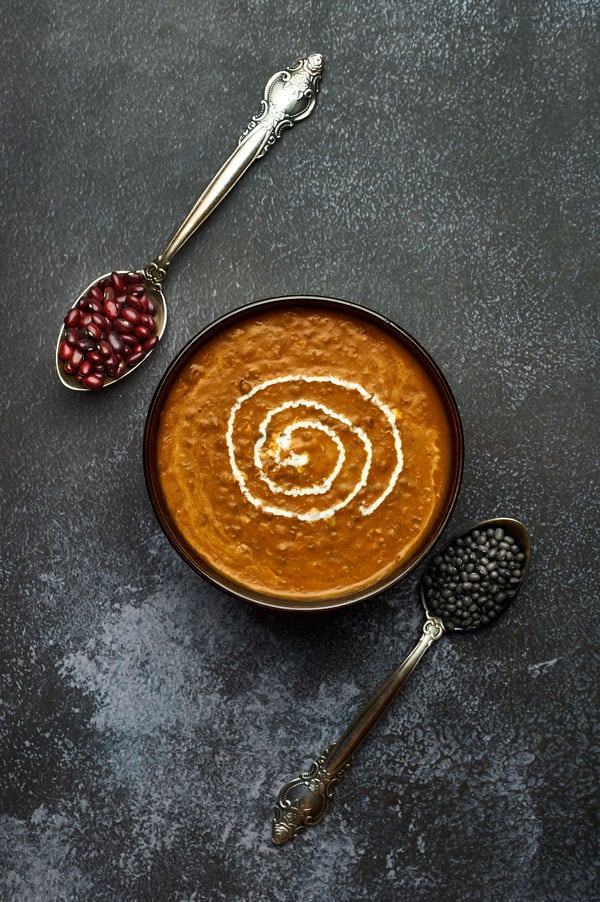 This delicious Indian dish is made from black lentils, spices, red kidney beans, cream, and butter. Dal makhani originated in India's northwestern province, Punjab. Kundan Lal Gujraj, also credited with popularizing butter chicken, tandoori chicken, and paneer makhani, is largely credited with putting dal makhani on the international stage.
The literal meaning of dal makhani is "butter lentil," and a single spoonful (or naan-ful) will illustrate why. Traditionally, this mouthwatering meal is prepared by simmering lentils on a coal or wood fire. Cooking the dish for several hours transforms the naturally chewy lentils into a thick, creamy, buttery texture.
Dal makhani is an all-time favorite of most Indian people and a go-to comfort food when hosting guests. It's a staple dish on many Indian restaurant menus, and you can easily make mouthwatering dal makhani at your home. 
To make a proper, restaurant-quality dal makhani, you will need to invest a bit of time and effort, but trust us, this dish is worth it. Besides, while the dish is simmering away, you can 
If you want to pair your dal makhani, we recommend serving it with jeera rice, tandoori roti, basmati rice, or garlic butter naan.
Tips to Make Best Dal Makhni
Making a scrumptious and tantalizing dal makhani that tastes exactly like one made by professional chefs is a little challenging for a newbie. However, if you follow the steps and consider the tips mentioned below, you can surprise your family and guests with your cooking abilities.
Let's learn what you need to do to cook a divine dal makhani.
1. Simmer Your Dal Makhani For A Long Time
If you're aiming for the best aroma and taste from your dal makhani, you have to budget a few hours to allow the dish to simmer on low heat.
Many restaurants that are famous for their rich, velvety dal makhani simmer the dish for an entire day! 
You might not need a full 24 hours, but simmering for a few hours will transform an ordinary dal dish into a creamy, tantalizing feast.
2. Pack In Extra Cream And Butter
Dal makhani is not the dish to cut down on your fat macros. Hefty amounts of cream and butter are essentials if you want to match restaurant quality and taste.
3. When It Comes To Spices, Less Is More
If you go on the hunt for the best dal makhani restaurant, you will see that all of them are slightly different. But the best one of all of them is the one with fewer spices. The less spice, the more you will get its buttery flavor.
Ginger, onion, tomato puree, garlic, ghee, butter, and a little spice will give tremendous flavor to this dish.
4. Opt For White Onion For Superior Taste
Many dal makhani newbies opt for red onion when whipping up this dish for the first time. 
While it's not exactly a death knell for the dish, red onion adds a bit too much spice and pungency for a buttery dal makhani. Instead, opt for white onions for a more mellow onion flavor and a hint of sweetness.
5. Add A Pinch Of Sugar For Balance
Not sure why you need a pinch of sugar? It's not necessary and is totally up to you. But some people use it to give their dishes extra flavor.
If you want, you can use ½ tbsp of sugar in your dal makhani.
6. Serve Your Dish With Salted Butter
Salt's superpower is in emphasizing flavor. 
Of course, you can always add more salt later, taste throughout and add salt until the flavor is just right. Salted butter helps you to enhance the taste. Make sure to use it while cooking the dal. And then serve dal again with a piece of butter.
You can see a tremendous difference in using unsalted and salted butter in this dish.
7. Add Smoky Flavor With The Dhungar Technique
The Dhungar technique is a South Asian cooking style that infuses extra smoke and buttery flavor using clarified butter (ghee) and hot coals in a lidded pot. 
Rather than cooking the dish using a coal fire, this method simply perfumes a dish with a dusting of chipotle, a smoky flavor. 
Some master chefs opt to finish select dishes by placing a burning coal inside the dish chamber, allowing the food to soak up a light layer of smoke just before serving.
If you'd like to use the Dhungar method in your makhni dal recipe, opt for a minute or two to start, as you don't want to overdo it. This technique is entirely optional, and your dish will likely taste delicious with or without it.
Sukhi's Instant Pot Dal Makhani Recipe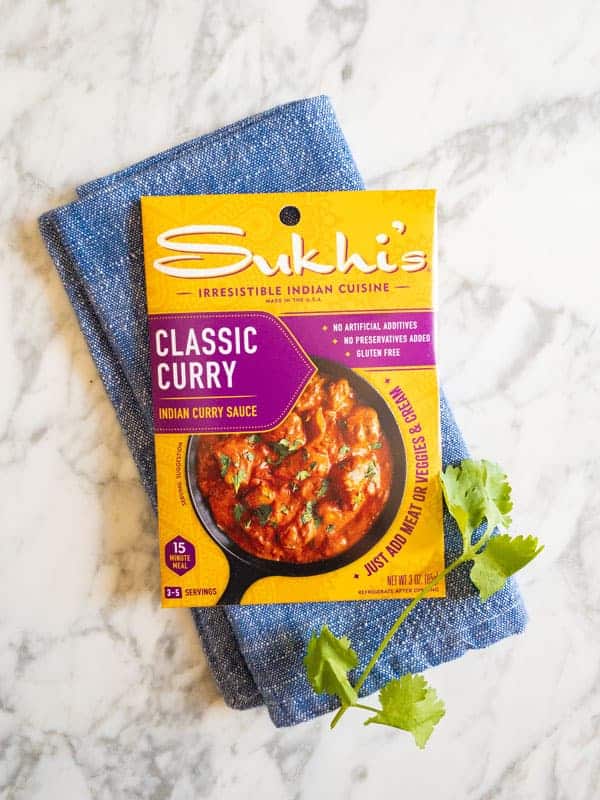 What if you want to craft a delicious dal makhani but you don't quite have the patience for the dish to simmer for hours on end? No problem.
Sukhi's mission is to provide aspiring culinary connoisseurs with the tools they need to enjoy delicious Indian cuisine even when on a time crunch. 
For a time-friendly dal makhani, all you need is Sukhi's Classic Indian Curry Sauce and an Instant Pot. Same velvety, amazing taste for a fraction of the effort. Let's learn how you can make astounding rich, creamy dal in less than an hour.
Sukhi's Instant Pot Dal Makhani
Ingredients
1

cup

black lentils

½

cup

kidney beans

3 ¾

cup

water

3

oz

Sukhi's Classic Indian Curry Sauce

1 packet

4

tbsp

butter

1

tbsp

lemon juice

cilantro
Instructions
Soak and rinse black lentils and kidney beans.

Pour lentils, kidney beans, and 3 cups of water into the pressure cooker.

Lock the lid and set the Instant Pot to pressure cook for 45 minutes. Once the timer goes off, set it for an instant release.

Drain the beans of water and set aside.

Place 2 tbsp of butter, Sukhi's Classic Indian Curry Sauce, and ¾ cup of water into the Instant Pot. Sauté for 3 minutes.

Add the kidney beans, lentils, and another 2 tbsp of butter and set the Instant Pot to cook at low heat. Stir gently for at least 20 minutes or as long as possible until serving to maximize smooth, creamy consistency.

If the dish is too thick, add small splashes of water until reaching the desired consistency.

Stir in lemon juice, garnish with cilantro, and enjoy with naan or rice!
Notes
If you want a vegan version of this recipe, simply replace each tbsp of butter with 1 tbsp of coconut oil.