9 Delicious North Indian Food Recipes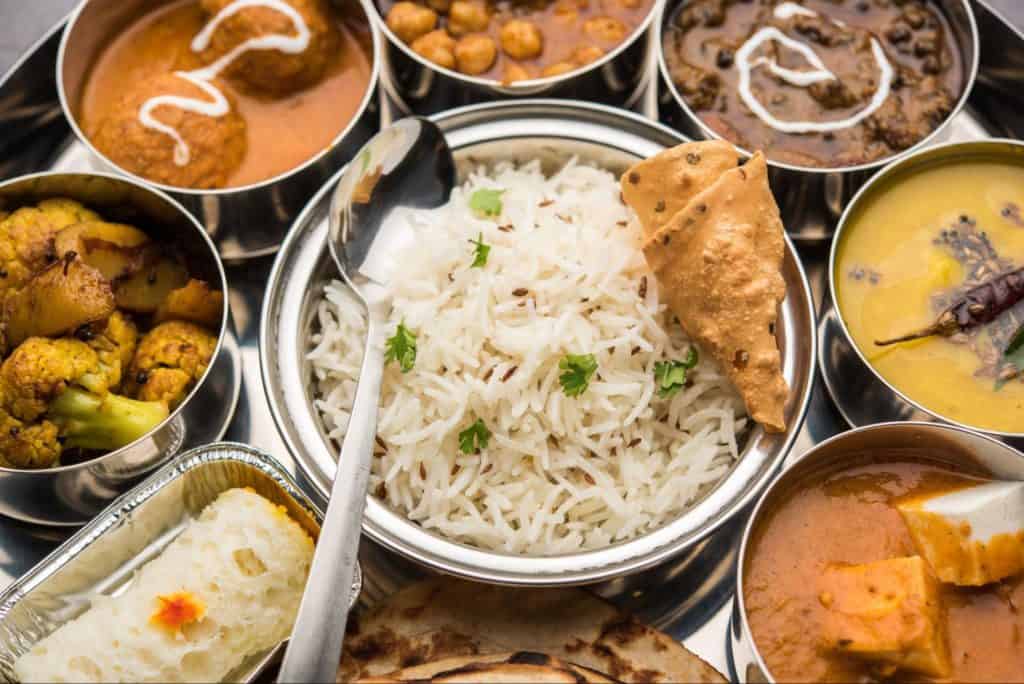 There's no greater joy than re-creating your favorite food from the comforts of your home kitchen.
Unfortunately, many families avoid whipping up their most beloved Indian dishes due to a perception of difficulty or lengthy time investment.
That's where we come in.
Sukhi's mission is to break down those roadblocks, to provide simple yet delicious workarounds to make each night an opportunity to explore another corner of Indian cuisine.
As part of that mission, we've compiled some of our favorite northern Indian recipes, from scrumptious, spinach-based Palak Paneer to melt-in-your-mouth Chicken Tikka Masala to tangy and spicy Chana Masala.
Read on to discover nine delicious meat, lentil, and veggie dishes and start your lifelong journey of mastering northern Indian cuisine.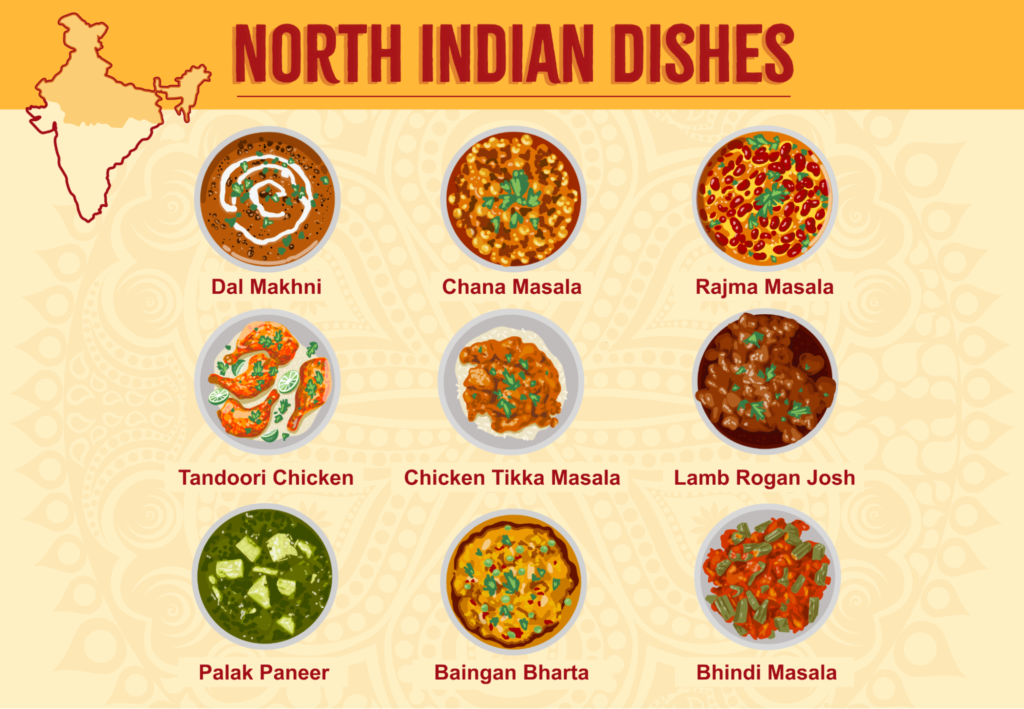 Dal and Lentil Dishes
Dal Makhni
Dal Makhni is a creamy and smooth dish made of crushed black lentils and kidney beans, rich butter, and aromatic spices.
All you need to craft your own dal makhani is black lentils, spices, red kidney beans, butter, and cream. Traditionally, Dal Makhni is cooked over a low flame for several hours to create that signature thick, creamy taste.
Of course, you can also create dal makhani over your home stove or in a pressure cooker in as little as thirty minutes, but the extended time does make a difference in crafting that signature velvety texture.
Once you've prepared the lentils, add generous amounts of sauteéd onions, tomatoes, garlic, and ginger. When it's all set and done, add in a splash of cream and butter along with a pinch of sugar.
There you have it! A delicious, simple bowl of delicious Dal Makhni.
If you're looking for the perfect side, serve Dal Makhni alongside jeera rice, tandoori roti, garlic butter naan, or a simple bowl of steaming basmati rice.
Chana Masala
Also known as chole masala or chholay, Chana Masala is one of the most popular Indian dishes with a melt-in-your-mouth chickpea base.
Flavored with garlic, ginger, coriander, turmeric, and garam masala, Chana Masala is an incredibly simple, mouthwatering dish that can be eaten at any time of day.
To create a Chana Masala with maximum flavor and nutrients, you can always soak your chickpeas the night before. Of course, canned chickpeas will undoubtedly do the trick.
Once you've heated your oil, add in garlic, ginger, and salt. Combine your chickpeas and tomatoes and simmer until the gravy is entirely smooth.
If you want to simplify your Chana Masala recipe, just use Sukhi's Classic Curry. Now that you've got your masala ready, squirt in some lemon juice, chopped cilantro, and diced jalapeños for extra spice!
While Chana Masala can certainly hold its own as a main course, it also tastes delicious as a side to vegetable or meat dishes, served alongside puri, bhatura, or lemon rice.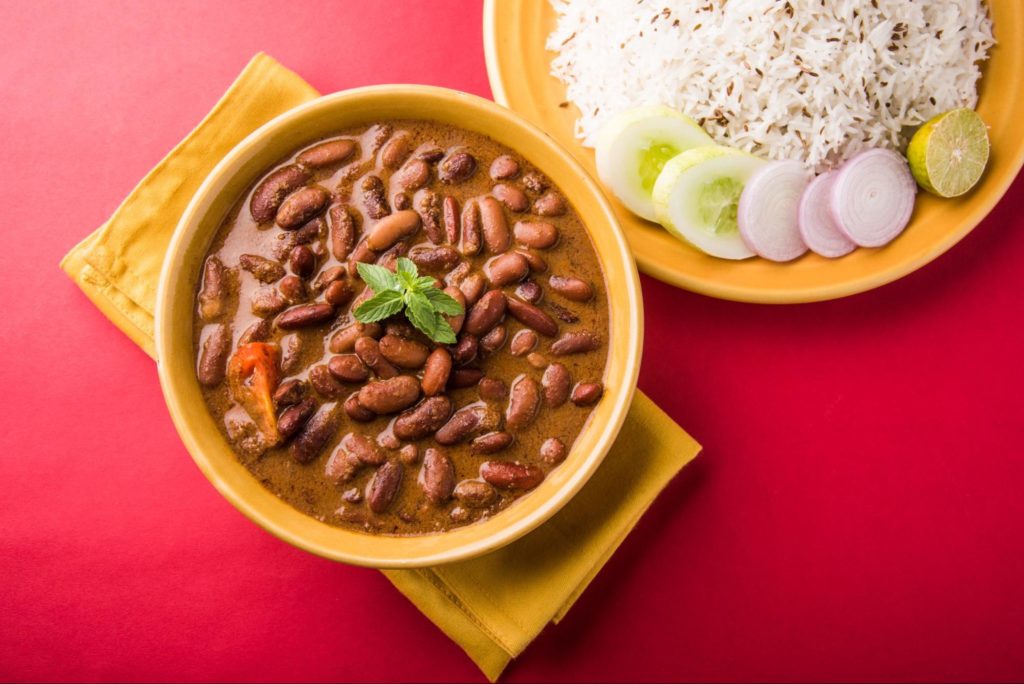 Rajma Masala
Rajma Masala is unique as an Indian staple in that it didn't originate from India. Rajma Masala hails from Mexico!
In the 1600s, Portuguese traders brought Rajma (red kidney beans) to southwestern India and this dish quickly spread all throughout the subcontinent. The dish morphed and metamorphosized as it migrated north and is now known as one of the premier North Indian staple dishes.
This recipe can take anywhere from 10 minutes to 8 hours to finish, depending on your kitchenware (and hunger levels!). If you have an Instant Pot, this dish should absolutely leap to the front pages of your recipe book due to its creamy, kidney bean texture and zesty, spiced aroma.
The key tips to keep in mind while crafting your own Rajma Masala are to drain the excess liquid from your can of kidney beans and to use our Sukhi's Curry Sauce for easy, spicy flavor.
This hearty red kidney bean dish tastes amazing when garnished with cilantro and served alongside long-grain basmati rice or creamy yogurt. It's often served around lunchtime as rajma chawal (rice) and makes a scrumptious comfort food.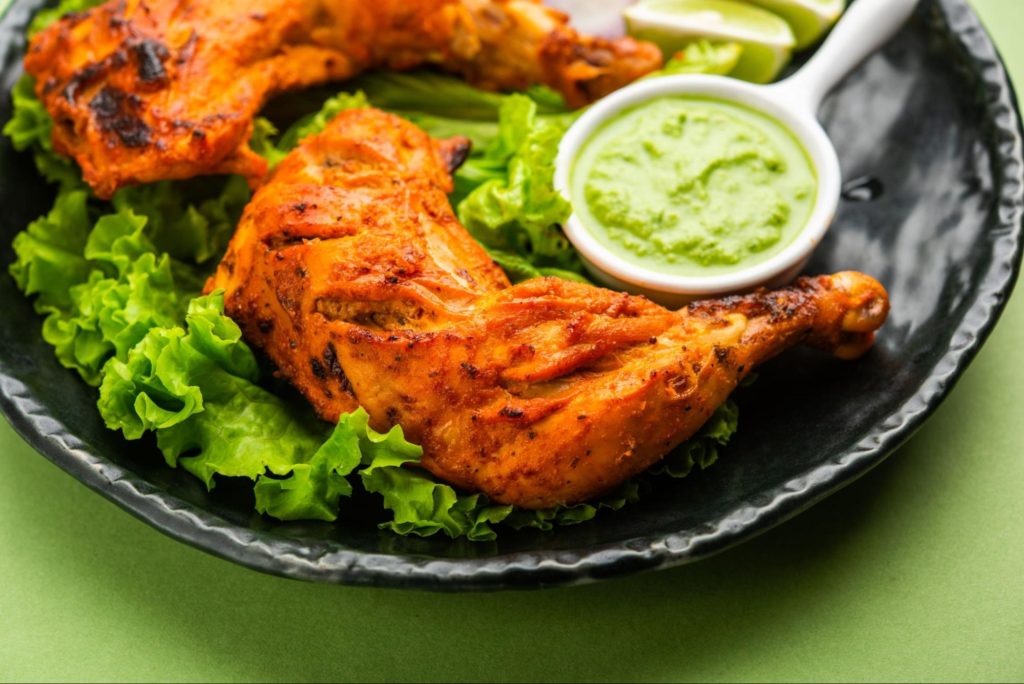 North Indian Meat Dishes
Tandoori Chicken
Perhaps the most well-known dish on this list, Tandoori Chicken is an Indian restaurant staple and it's effortless and rewarding to make at home.
All you need for this Tandoori Chicken recipe are fatty, bone-in chicken thighs, Sukhi's Tandoori Marinade, garlic, ginger, and blended yogurt to tenderize the chicken.
Once you've soaked the chicken thighs in your Tandoori Marinade overnight, pop them in the microwave for sixty seconds before you grill for extra juicy flavor. If you don't have time for overnight cooking, then 4 hours of soaking should still infuse the meat with charred, smoky flavor.
Grill the chicken thighs on your home barbeque, brushing the chicken with melted ghee to imbue the dish with an even richer and smokier flavor. Once the internal temperature of the chicken reaches 165° F, you're ready to eat!
This dish is often served as an appetizer or starter and tastes best when served alongside lemon wedges and cilantro garlic chutney.
Chicken Tikka Masala and Vegan Tikka Masala
This classic chicken dish is often mixed up with butter chicken, and it's completely understandable — the two are some of the creamiest, tastiest chicken dishes available within Northern Indian cuisine.
The difference lies in (you guessed it) the amount of butter used — butter chicken uses a fair amount more fat to give it an extra-rich (and less spicy) flavor when compared to the classic Chicken Tikka Masala.
To craft your own Chicken Tikka Masala from home, all you need to do is broil some chicken tikka (boneless chunks of marinated chicken) and pour some Sukhi's Tikka Masala sauce over it.
Of course, if you're starving and you can't wait to start eating your own dish, you can always pop Sukhi's Chicken Tikka Masala ready-to-eat Entree in the microwave and start eating in minutes!
If you're not in the mood for chicken, craft your own Vegan Tikka Masala with a non-dairy base in the masala sauce along with delicious veggie-friendly dumplings.
Whether you're opting for chicken or veggies, make your tikka masala even tastier by serving it over a steaming plate of basmati rice or alongside some fluffy naan or crispy roti.
Lamb Rogan Josh
Originating from Kashmir, Lamb Rogan Josh is a mouthwatering Indian lamb curry recipe that has transformed many times from region to region.
At its best, Lamb Rogan Josh pairs tender, melt-in-your-mouth lamb with a spiced tomato curry fortified with ghee (clarified butter).
To make Lamb Rogan Josh from home, grab some lamb shoulder from your local grocery store or Indian supermarket. The elegant, marbled fat within this cut of lamb gives each bite of your Rogan Josh a delicious, juicy kick.
Create your Lamb Rogan Josh with onions, potato, oil, and our Curry Sauce and Vindaloo Sauce.
For a full Lamb Rogan Josh feast, we recommend a side of toasty pakoras, a crunchy bowl of cabbage and carrot salad, or even our perfectly spiced samosas.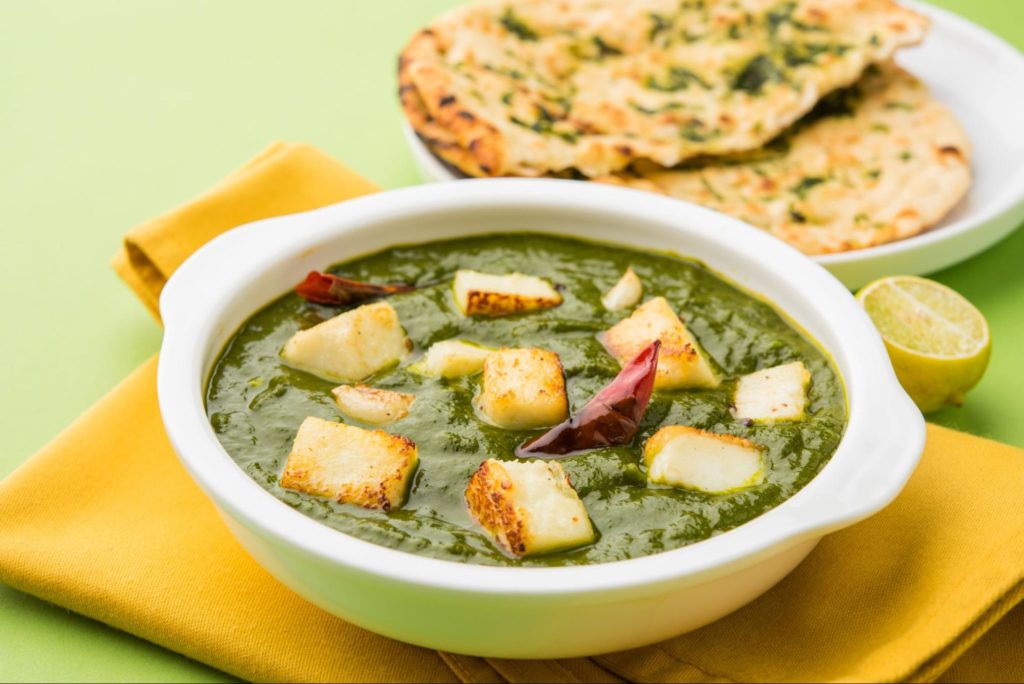 Veggie Dishes
Palak Paneer
Originating from the Punjabi region of India, Palak Paneer is a delicious spinach-based Indian dish with scrumptious cubes of paneer acting as the protein base.
This famous Indian dish is often confused with saag paneer. While Palak Paneer uses spinach exclusively, Saag Paneer is made with collard greens.
Even those who aren't a big fan of spinach often fall in love with the creamy texture of this blended and spiced spinach dish. Serve it alongside paratha, butter naan, or ghee rice.
Baingan Bharta
Roasted eggplant rippling with powerful smoky flavors, Baingan Bharta is another dish hailing from the Punjab region of northern India. If you haven't quite fallen in love with eggplant yet, this vegan and gluten-free Indian staple might persuade you of eggplant's egg-cellence.
To make your own Baingan Bharta, start by cutting slits in your eggplant and tucking in cloves of garlic for a mouthwatering, mellow flavor. Roast your eggplant for approximately ten to twelve minutes over an open flame or in the oven at high heat. Once cooled, peel the eggplants and mash the insides with a fork.
The direct contact with the fire gives this dish its signature charcoal and smoke flavor profile. Once your eggplant is fully roasted, mash it up and cook alongside tomatoes, onion, and ginger. If you'd like to add a bit of extra texture and color, feel free to add some green peas.
That's all there is to it!
For a delicious full entrée and side, serve your Baingan Bharta alongside roti, paratha, or delicious lentil dish like dal tadka or dal makhni.
Bhindi Masala
Hailing from North India, Bhindi Masala is a popular okra dish featuring tangy tomatoes, aromatic spices and herbs, and sharp onions. Delicious, healthy, and relatively simple, Bhindi Masala is the perfect option for those on gluten-free and vegan diets.
For best results for your Bhindi Masala, be sure to add in garam masala, turmeric, and chili powder and maybe a bit of amchur (dried mango powder) for a spicy and tangy boost.
Bhindi masala works a treat alongside nearly every Indian flatbread like fluffy phulka, paratha, dal tadka and steamed basmati rice.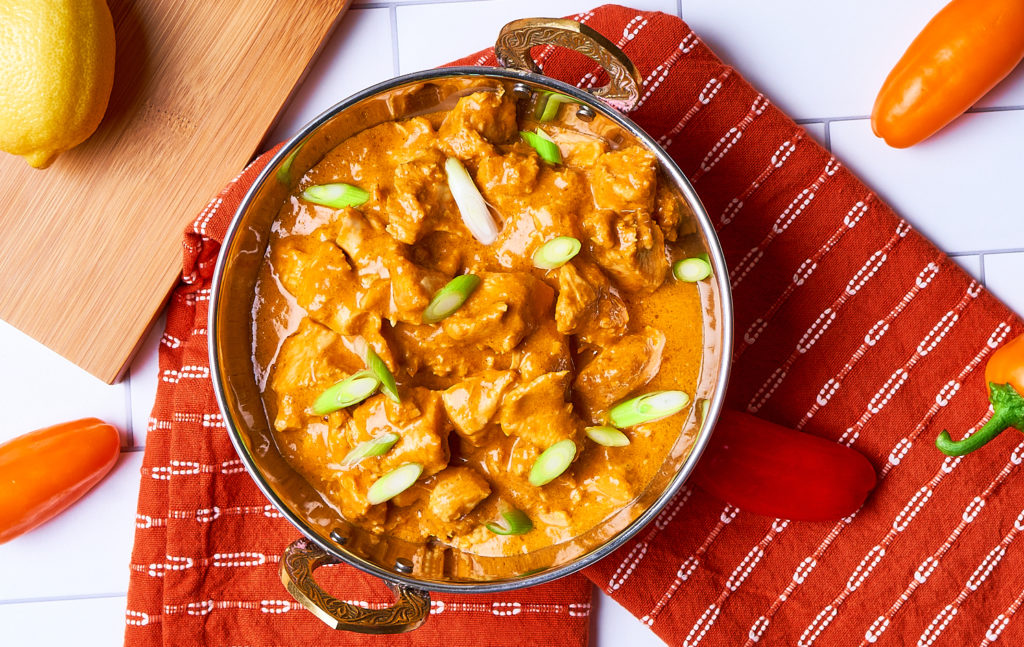 Get To Know Northern Indian Cuisine With Sukhi's
These nine meat, lentil, and veggie dishes only scratch the surface of the delicious eats on offer in Northern Indian cuisine.
Fortified by the rich flavors of ghee and mellowed by fluffy garlic naan and crispy Indian flatbreads, these recipes are the perfect introduction to recreating your favorite Indian dishes from the comfort of your home kitchen.
Of course, lengthy cooking times can always be an obstacle preventing one from home cooking.
That's exactly why Sukhi's set out to make enjoying Indian cuisine a breeze. From our delicious entreés to our cooking sauces, Sukhi's hopes to knock down every roadblock preventing you from enjoying a delicious night of Indian food.
Make your Tandoori Chicken a breeze with our tasty Tandoori Marinade. Use Sukhi's Classic Curry for perfectly-spiced chana masala. Whip up an Indian entrée in minutes with our refrigerated Chicken Tikka Masala.
While you're waiting for your order to arrive, browse our blog to learn about the differences between Northern and Southern Indian cuisine along with dozens of Indian recipes for your family to appreciate and enjoy.