What is Malai Kofta? Learn About This Classic Vegetarian Dish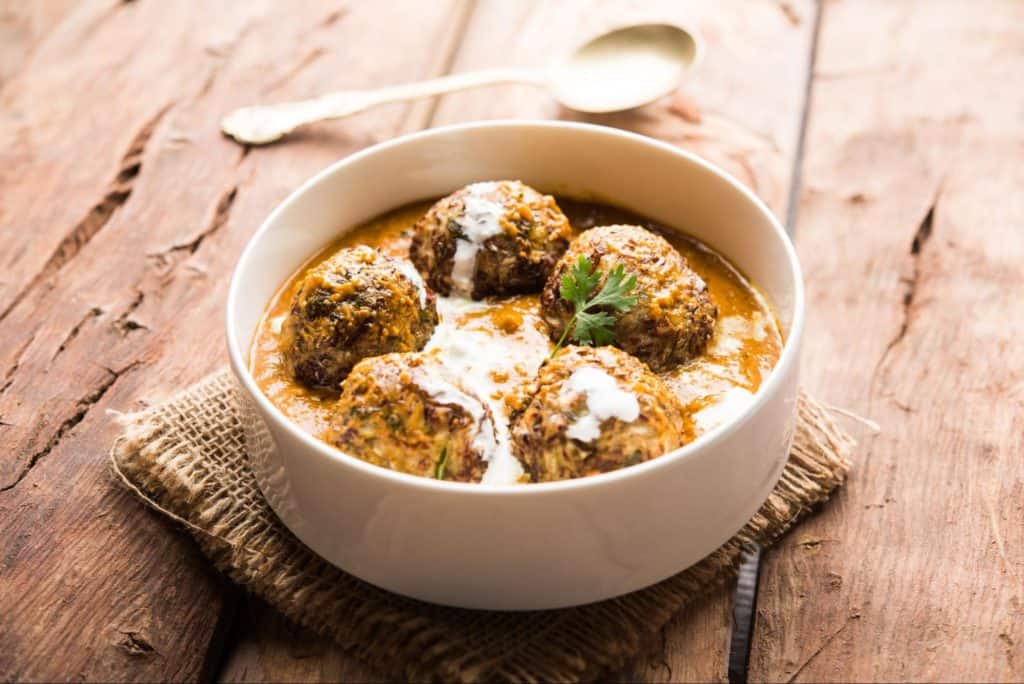 Fried balls of potato, cheese, and mixed veggies covered in a creamy sauce of blended nuts, chopped onions, tomatoes, and fragrant spices.
With delicious deep-fried dumplings dunked in mouthwatering curry, it's no wonder that malai kofta is one of the most popular dishes in Northern Indian cuisine.
Read on to learn everything there is to know about this delicious dumpling dish and how you can master malai kofta from the comfort of your home kitchen.
Defining Malai Kofta
Let's start by breaking down the term "malai kofta."
"Malai" describes the rich and buttery curry that infuses the fried dumplings with irresistible flavor. "Kofta" refers to the dumpling "meat" balls that make up the majority of the dish.
India is hardly the only country to lay claim to this family of meatball or meatloaf dishes known as kofta.
Kofta dishes can be found all throughout the Indian subcontinent as well as other regions ranging as far away as the Middle East, the Balkans, North Africa, and even Romania.
They're also incredibly popular in Turkey and often thought of as a go-to dish for get-togethers or celebrations and ceremonies.
While kofta is often made with minced meat such as mutton, lamb, beef, or chicken, many Indian variations skip the meat entirely for an extra helping of cheese, potatoes, and veggies.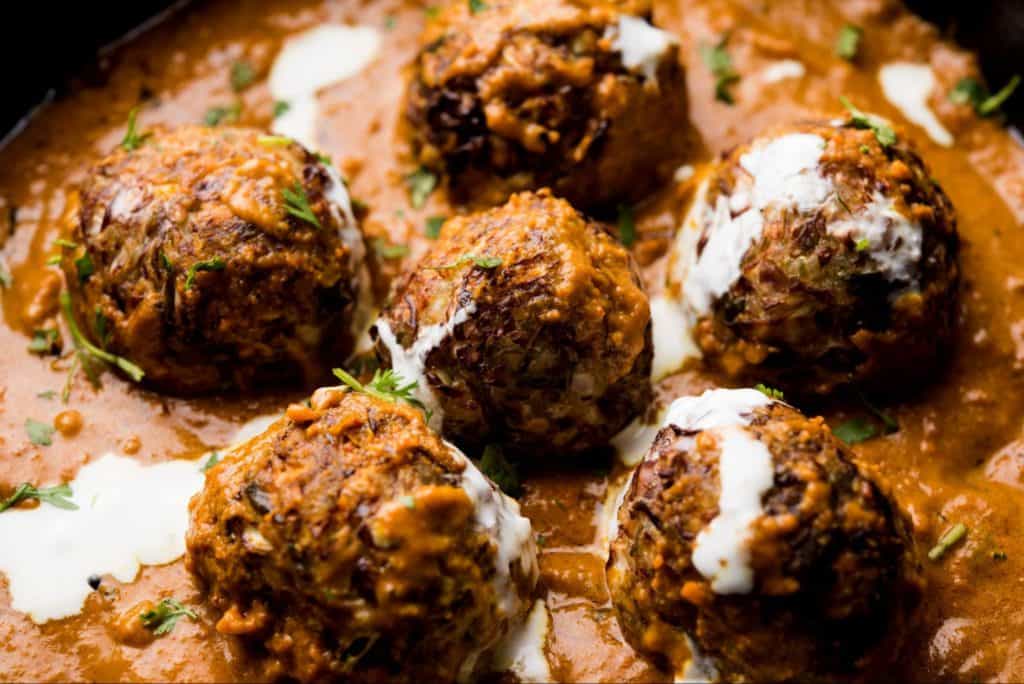 How Does Malai Kofta Taste?
The beauty of malai kofta is in its unique contrast of textures. As opposed to many other classic Indian dishes which derive their rich texture from ghee, malai kofta is fully vegan-friendly with a cashew base chock-full of healthy plant-based fats.
In a master-level malai kofta dish, you'll find dumplings that are crunchy and crispy on the outside yet creamy and velvety on the inside. After the delicious fried dumplings are dunked in a sweet and lightly spiced curry, they ascend to heavenly status.
Becoming a master of malai kofta can take months or even years, but all the hard work is worth it in the end. Once you learn the ins and outs of this vegetarian delicacy, you'll be able to satisfy taste buds of all persuasions.
What Side Dishes Go Well With Malai Kofta?
With its creamy curry and crispy dumplings, malai kofta tastes delicious alongside steamed rice or crispy naan and paratha.
We also love our malai kofta served alongside a simple plate of steamed jeera rice or our citrus-infused, incredibly tasty lemon rice.
Some Tips For Making Homemade Malai Kofta
One of the more popular dishes to order at Indian restaurants, Malai Kofta may seem overwhelming at first to recreate at home. But with our step-by-step recipe and time-saving tips, we are confident that you'll be satisfied with the delicious outcome!
Here are three tips for making a delicious dish of malai kofta for yourself at home.
1. Plan Ahead
To make your malai kofta crafting experience a breeze, split the cooking over two nights.
Make the koftas the night before and store them in the fridge in an airtight container while you prepare the gravy to fully devote your attention to the task in front of you.
Not only will this cut your stress levels in half, but it might lead to a tastier end result as you're able to fully focus on each component of the dish wholeheartedly.
2. Make Homemade Paneer
If you're making malai kofta with paneer and you've never made this delicious Indian cheese from scratch before, take a shot at making homemade paneer. Of course, you can also buy a block of paneer from your local Indian grocery or even Costco or Whole Foods.
Similar to cheeses like ricotta and ricotta cheese, paneer is unique for its dryer texture. It holds its shape when cubed or cooked, providing delicious chewiness to any curry or tikka masala dish.
3. Strain The Gravy
One of the secrets to replicating restaurant-style malai kofta is to remember to strain the tomato and onion gravy.
After the mixture is fully pureéd, strain the gravy through a fine sieve to remove any larger pieces of cashews for a truly velvety texture.
Homemade Malai Kofta Recipe
Alright, now let's apply what we've learned about malai kofta to make some delicious malai gravy and crispy potato-and-paneer-based kofta.
Making the Kofta Balls:
Boil 6 medium potatoes. Cool and then peel the skin before grating them.
Get out a mixing bowl and add
2 cups of grated potatoes
2 cups of grated paneer
5 tablespoons of cornstarch
1 teaspoon of garam masala
2 teaspoons of ginger pasta
2 green chilis
4 tablespoons of coriander
1 teaspoon of salt
Add 2 tablespoons of chopped raisins and cashews. Mix the ingredients and divide the mixture into twelve or sixteen smooth balls. Pro tip: Lightly oil your hands before rolling the koftas between your palms.
Heat oil in a pan. Once the oil is hot and simmering, lower the flame to medium heat and fry each kofta for about three to four minutes or until golden brown.
There you go! Your kofta balls are done! Once they're cooled, store them in an air-tight container until you're ready to mix them into the curry the next day.
Now let's move on to crafting the curry.
Making the Malai Kofta Curry:
Heat your pan with two tablespoons of oil.
Add 2 cups of diced yellow onions, 6 garlic cloves, an inch of whole cinnamon, and 6 green cardamom pods. Sauté for three to four minutes.
Add 3 cups of chopped tomatoes and 30 cashews. Sauté for two to three minutes.
Add in a cup of water and cover until everything turns soft. Remove the cinnamon stick before cooling and transferring to a blender.
Blend and strain the mixture to create a pureé. Set this aside for now.
To make the gravy, heat 4 tablespoons of oil in a pan.
Add 1 bay leaf, an inch of whole cinnamon, and 4 green cardamom pods. Once they sizzle, add 3 teaspoons of ginger garlic paste and sauté for one minute.
Set the heat to low and add 2 teaspoons of red chili powder and garam masala, along with 2 teaspoons of coriander powder and salt. Sprinkle in 1.5 teaspoons of sugar and pour in the tomato-onion-cashew pureé.
Mix everything until completely integrated and sauté for 4 minutes.
Pour 1 and a half cups of water and mix until integrated.
Cover your mixture and cook for ten to fifteen minutes, or until the gravy thickens.
Add 2 teaspoons of Kasuri methi (sun-dried Fenugreek leaves) and mix in well.
Lower the heat further and add six to eight tablespoons of heavy cream.
Now, all there's left to do is combine your malai and kofta!
Combining Your Malai Gravy and Kofta:
Carefully place your koftas in a hot pan of malai gravy to warm them up thoroughly. Be sure not to stir too much, as you don't want to break them up.
Transfer the koftas and malai gravy to your favorite serving bowl.
Garnish with a drizzle of cream and chopped fresh coriander leaves.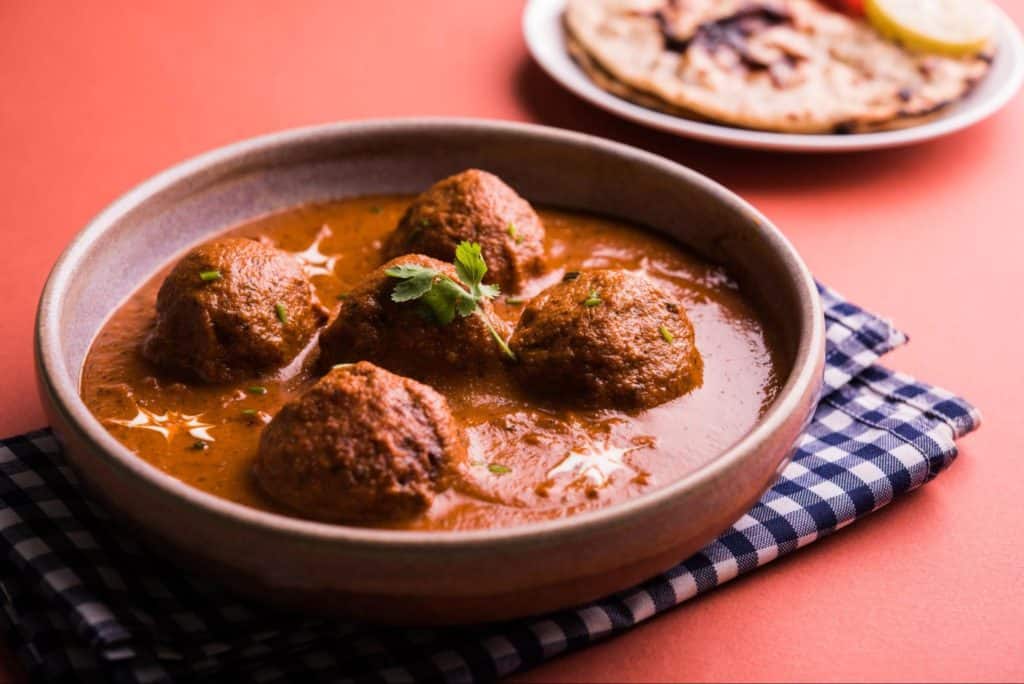 Master Malai Kofta With Sukhi's
Malai kofta's beauty lies in its perfect balance. The combination of crispy, deep-fried dumplings and rich and creamy malai gravy makes this dish one of the great vegetarian options in Indian cuisine.
Once you have a malai kofta in front of you, be sure to surround it with some delicious sides like our vegan and plant-based Lemon Rice. Or pair it with a side of some of our toasty samosas, from our veggie Potato Samosas to our delectable Mango Coconut Chicken with cilantro chutney.
While you're cooking up your next batch of malai kofta, be sure to browse our blog to learn everything there is to know about Indian food, from tantalizing Northern Indian recipes to how you can easily fit an Instant Pot Indian dish or two into your next family dinner night!