WHAT IS VINDALOO? SUKHI'S CHICKEN VINDALOO RECIPE
Vindaloo is one of the most widely-used recipes in Indian culture! It's one of the tastiest dishes in modern Indian cuisine and suits meat or vegetarian styles equally well. Explore everything you need to know about this spicy curry dish, from the meaning of "vindaloo" to its favorite side dishes.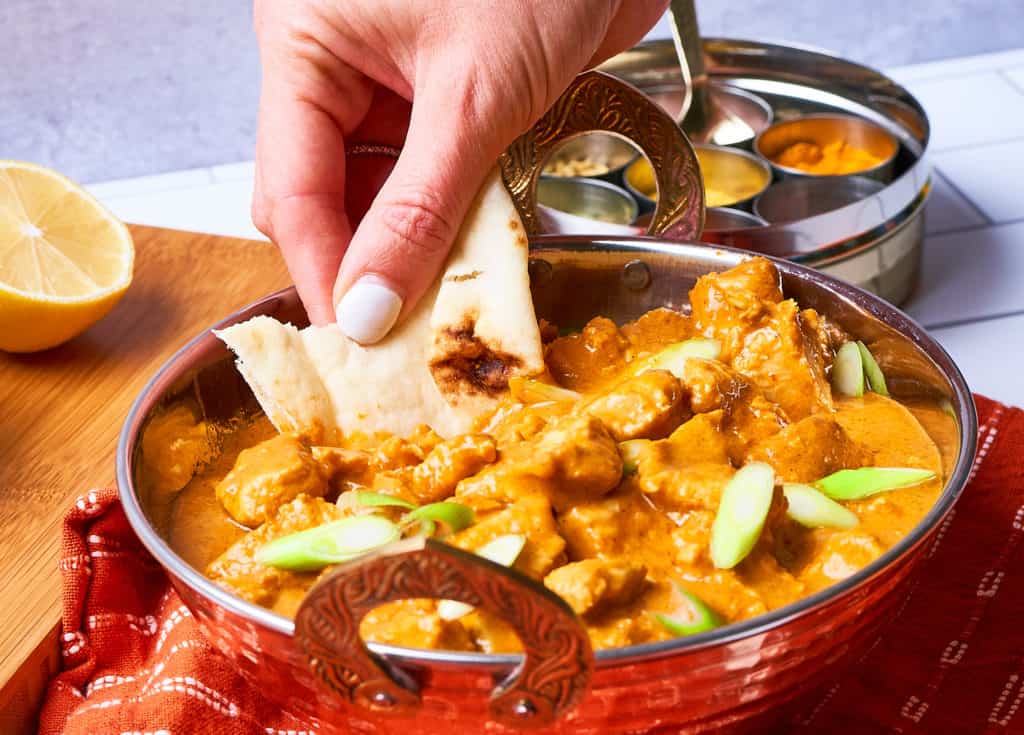 What is Vindaloo?
Vindaloo is a spiced meat or vegetarian dish and one of the most popular Indian dishes today. 
Vindaloo's Meaning and European Origins
While this spicy dish is certainly one of the most popular in modern Indian cuisine, its origins likely extend beyond the Indian subcontinent. 
Indeed, vindaloo's home likely stems back to Portugal in the 15th century. As explorers like Vasco da Gama and Magellan charted the globe, they brought their cuisine and cultures with them, including a very popular Portuguese dish known as carne de vinha d'alhos (meat in garlic marinade).  
Sound familiar? Many Indian food scholars today believe that vindaloo is actually an Indian variation of this ancient European meat dish.
As the dish spread in Indian regions like Goa, the dish took on new ingredients like palm wine, cardamom, and tamarind, while incorporating imports from the Americas like chili peppers. The result is a dish rich with slow-cooked meat or veggies swimming in incredible, spicy flavor.
Common Vindaloo Ingredients:
Before you start cooking your Indian vindaloo, you will need the right ingredients!
Typically, vindaloo is made up of vindaloo sauce, which is usually made from caramelized onions, curry paste, coconut milk, vinegar, ginger, chilies, jalapeño, garlic, chickpeas, lentils, and other spices like garam masala, salt, pepper, paprika, and turmeric. 
If you want more texture or ingredients in your Indian vindaloo, you could add chicken breast, tofu, or even more veggies like zucchini, potatoes, and bell peppers. You could also adjust the amounts of chilies and jalapeños you put in depending on how spicy you like your food!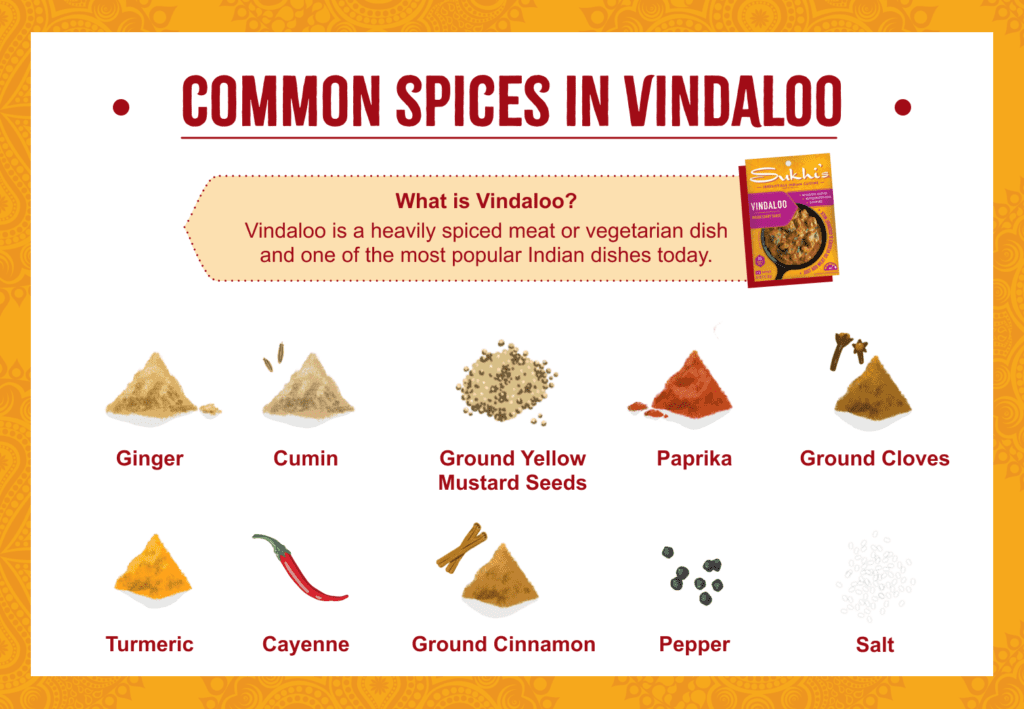 Which Vindaloo Spices to Use
When making vindaloo, the most important ingredients are arguably the spices. The most common spices to use in vindaloo are:
Ginger

Cumin

Ground yellow mustard seeds

Ground cinnamon

Ground cloves

Turmeric

Cayenne pepper

Paprika

Salt

Pepper
Other ingredients that you might use are ghee, dried tamarind, lemon juice, and brown sugar. 
If you're in a pinch, you could always go with a more convenient option and buy Sukhi's Vindaloo Sauce. Fortunately, this shortcut doesn't skimp in the flavor department. 
Rippled with golden caramelized onions, tangy vinegar, and all of your favorite Indian spices like cumin and turmeric, a simple 3-ounce packet is all you need to elevate a simple protein base into a mouthwatering entreé.
How Is Vindaloo Made?
Vindaloo can be made in several ways, depending on your time and budget. 
If you're using

Sukhi's Vindaloo Sauce

, simply add 1.25 lbs of meat or veggies into a saucepan with the sauce and sauté. 

Once hot, add ⅓ cup of water, cover, and simmer on high heat.

When the chicken is fully cooked, add ⅓ cup of coconut milk, reduce to your preferred consistency, and enjoy!

If you have an Instant Pot, you can follow this quick recipe by

Two Sleeves

and have a meal ready in just 30 minutes.

If you want to whip up a chicken vindaloo recipe from scratch, then just follow our recipe for vindaloo chicken below!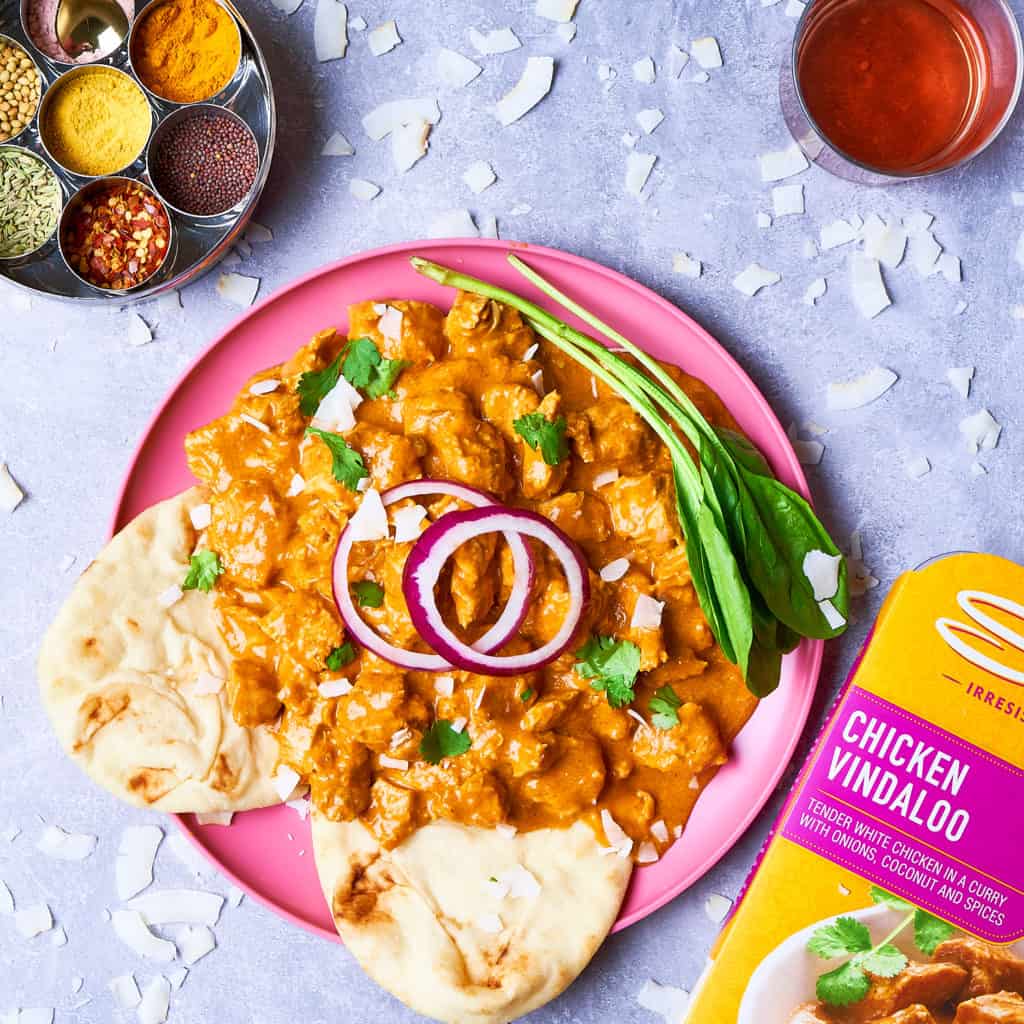 Sukhi's Chicken Vindaloo Recipe
Sukhi's Chicken Vindaloo
Ingredients
Vindaloo Masala Paste
10

dry Kashmiri red chilies

2

tbsp

whole coriander seeds

4

cloves

1-inch

cinammon stick

3

green cardamom pods

10

black peppercorns

1

tsp

cumin seeds

1

tsp

mustard seeds

10

cloves garlic

peeled

1

tbsp

white vinegar

2

tbsp

tamarind paste
Curry
½

cup

vegetable oil

2

cups

chopped yellow onions

2

lbs

skinless chicken breast or thighs

cut into 1-inch chunks

½

cup

tomato paste

3

tsp

salt

1

tsp

turmeric powder

½

tsp

granulated sugar
Instructions
Vindaloo Masala Paste
Add a splash of oil in a skillet and set to medium-high heat.

Add peppercorns, cumin, mustard seeds, cardamom pods, cinnamon, cloves, coriander, and chilies to the pan. Roast for about 3 minutes or until slightly browned, stirring often.

Remove the skillet from heat and add roasted spices to the blender with tamarind paste, white vinegar, garlic, ginger, and ½ cup of water. Blend until smooth.

Once it's smooth, your vindaloo masala paste is done.
Curry
Add the vegetable oil to a large pot. Set to medium-high heat.

Once the oil is simmering, add onions. Stir frequently and cook for about 10 minutes or until golden brown.

Add chicken to pot and cook for about 4 minutes, stirring often.

Add tomato paste and vindaloo masala. Mix well.

Add 1 cup of water, turmeric, and salt. Mix gently to incorporate.

Cover the pot and cook at a simmer for 45 minutes.

Add granulated sugar and cook for two more minutes.
What To Serve With Vindaloo?
So, you've made your Indian vindaloo — now what? There are many tasty sides to serve with your curry. 
Hungry eaters in Goa often serve their vindaloo with pav (fluffy rolls) while others pair it with laccha or Kerala paratha (layered flatbread).
Here are some of the most popular sides to serve with your vindaloo:
Potatoes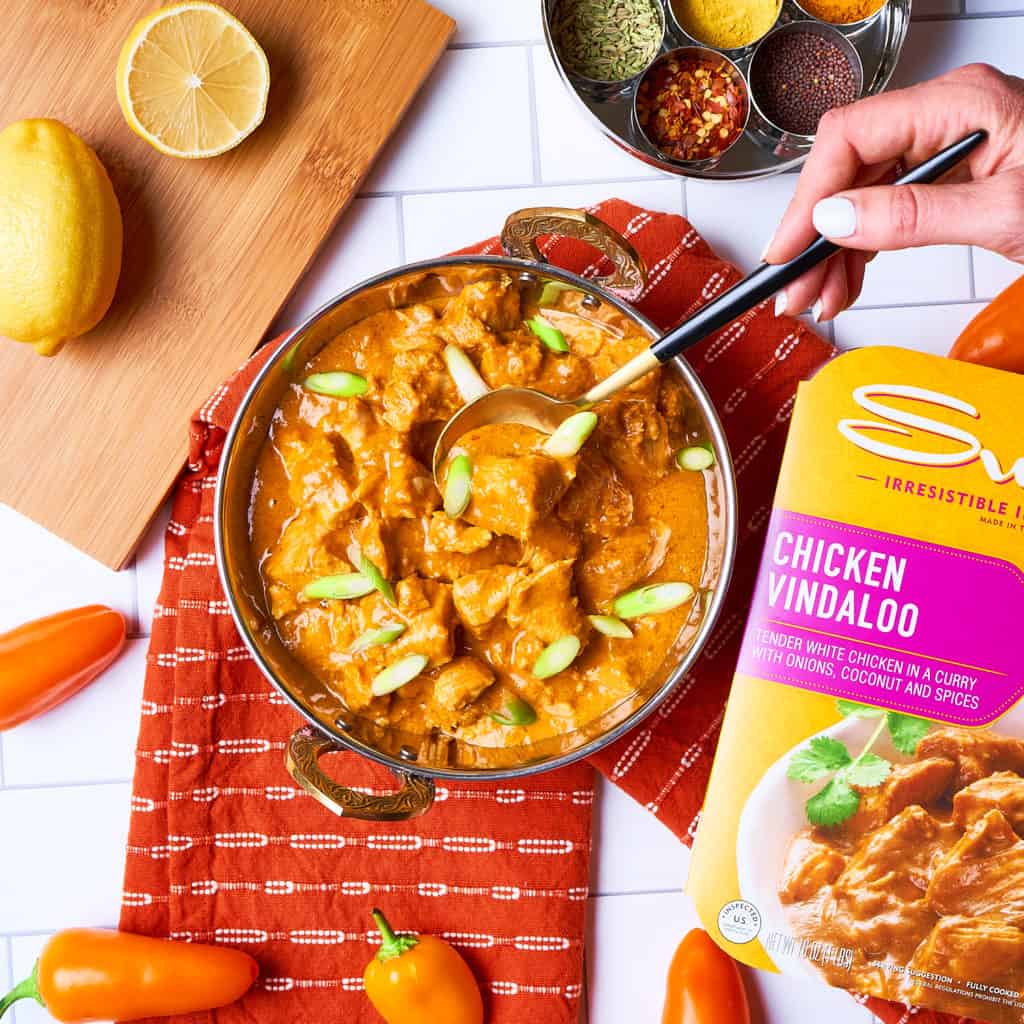 SERVE UP YOUR VINDALOO IN STYLE
From its Portuguese origins to its modern Indian success story, Vindaloo is one of the most beloved dishes in modern Indian cuisine.
Whether you love slow-cooked meats like chicken, fish, or pork, or you stick to a vegetarian lifestyle, there's a vindaloo for everyone's taste buds.
At Sukhi's, we love keeping it simple and easy for those who want to enjoy mouthwatering spices and cuisine without eye-popping cooking times. Our Chicken Vindaloo immerses tender white chicken in a delicious curry bursting with ginger, garlic, and chili flavor.
Oh, and each serving delivers a healthy 22 grams of protein! While you're at it, try one of our other recipes or learn more about Indian cuisine!