Spiced Dal Soup (Indian Lentil Soup)
This dal soup recipe is a vegetarian lentil soup that's flavored with Indian spices. It takes less than 30 minutes to make and is full of flavor!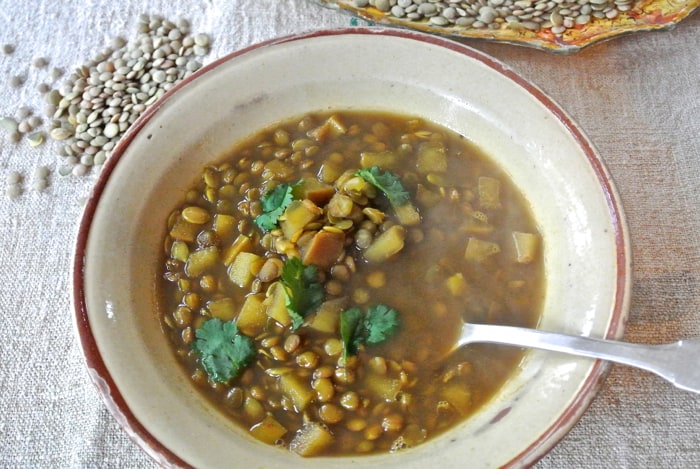 I cook a lot, both for business and pleasure, and work with fellow chefs and home cooks and often hear how much people love Indian food, but that making the dishes at home seems daunting and time consuming. I always respond that what's so great about Sukhi's spice mixes is they all have the right balance of spices for whatever you're cooking, whether it be Vindaloo or a Classic Curry.
And the Dal Spice Mix is no different. Cooler evenings beckon for a bowl of protein-rich and satisfying vegetarian lentil soup, made super easy with Sukhi's Dal Complete Spice Mix. It's easy to follow the directions on the back of the packet, and I sometimes add a bit of diced apple or onion as well.
Dal Soup Ingredients
For this Indian lentil soup, you'll need seven simple ingredients:
Lentils (you can use yellow, green, or red)
Water
Apple
Salt
Canola oil
Sukhi's Dal Spice Mix
Turmeric
Fresh cilantro, for garnish (optional)
How to Make Lentil Soup
Dal soup is arguably the easiest soup recipe you can make. You'll first need to core and dice the apple. Once that's done, simply combine all the ingredients except the spices in a large pot. Bring the mixture to a boil, then let the lentils cook for 25 minutes, or until soft.
In a separate pan, sauté the dry spices in a little canola oil until they become fragrant and begin to froth. Stir the spices into the lentil mixture, then taste to see if the soup needs more salt. This vegetarian dal soup can be enjoyed as is, or for a more complete meal you can serve it alongside steamed basmati rice or roti.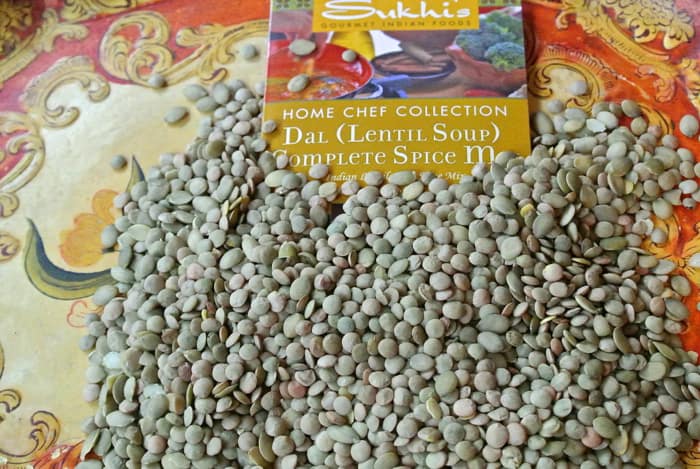 Dal Soup Variations
This dal soup recipe is super simple, but if you have a few minutes to spare there are some ways you can amp up this recipe. If you prefer a creamier lentil soup, you can puree half of the vegetarian lentil soup in a blender and then add it back into the pot (or you can use an immersion blender if you have one).
You can also chop up some fresh cilantro and garnish your bowl of steaming lentil soup with it. A drizzle of heavy cream or a dollop of plain yogurt would also make delicious garnishes.
Tips for the Best Lentil Soup
Yellow, green, and red lentils all cook at roughly the same rate. If you only have brown lentils on hand, it's fine to use them. However, you'll likely need to cook the lentils for longer.
Be sure to rinse and sort the lentils before adding them to the pot for the best flavor.
Add more water to the lentils as they're cooking, if needed. You'll want to check the pot every 10 minutes or so.
Don't skip the step that asks you to sauté the spices in oil! This wakes up the spices and makes this Indian lentil soup even more flavorful.
More Vegetarian Indian Recipes: