The Ultimate Guide to Indian Food Pairing with Beer and Wine
This guide explains how to choose the perfect beer or wine pairing when eating Indian food. Whether you prefer some chilled porters, lagers, stouts, or a nice glass of chardonnay, riesling, or pinot, we have you covered!
Wine and Beer – A Rich History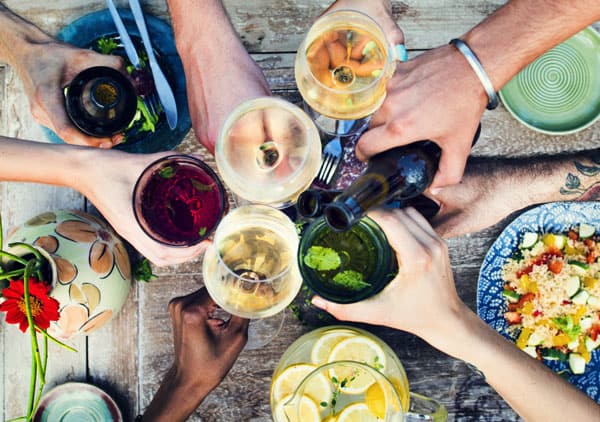 It's common knowledge that alcohol, namely, wine and beer, date back to the days well before Instagramming your home-brew became the societal norm. In fact, the first winery dates back to 4100 B.C in Ancient Armenia. It then moved on to Egypt in 3100 B.C., and then to Israel, across the Mediterranean, and eventually made its way to The New World around 1492-1600. From there, the Spanish brought wine to present-day Americas, where we continue to enjoy wine by the bottle.  
But it wasn't until 1619 that the French began to grow vineyards in Virginia from imported grapevines. And although it didn't immediately take off from there, it was the beginning of a lucrative business we now know to be very popular in the rich hills of the Americas. 
Today, vineyards are a popular attraction for tourists and locals alike. A unique experience, each vineyard, and even two grapes from different sections of that vineyard, have a distinct taste. It's common for things like cold, sun, rain, and soil, to affect how each grape tastes, and explains how different batches of wine, aged or not, can offer new aromas and flavors.
Wine tasting is somewhat of a cultural phenomenon, with vineyards opening their doors and offering even the average person an opportunity to experience a taste of luxury. 
As beer culture catches up with the fine wine industry, beer aficionados are becoming the sommeliers of a beverage with ever-increasing popularity. These days, a fine brew is as complex, rich, and interesting as anything the world's best wineries have to offer. Craft beer is an exploding market, spreading across North America, Europe, and Asia. 
Craft beer has its origins hundreds of years ago in Bavaria, where the beer purity law insisted that beer only be made using three, eventually amended to five, ingredients: barley, hops, yeast, wheat, and water. Nothing else could be used. The craft of brewing under these strict requirements has manifested today in what is called 'abbey beer,' since these ancient Bavarian recipes were brewed by friars in abbeys. Today, of course, a myriad of flavors and ingredients are used, but many still abide by the old purity laws.
The modern craft beer, however, arguably began with the India Pale Ale, or IPA, in 1970s America. Hoppiness as a flavor was practically unheard of in most standard, large-batch brews, which tended to be pale lagers and light ales. Hops added a dry, crisp finish to the IPA, and over time brewers found ways to increase this hoppy flavor without overpowering the beer, leading to the double and even triple IPAs we know now.
Today, however, there are more than just IPAs. We have craft porters, stouts, amber ales, hefeweizens, dunkels, brown ales, scotch ales, and practically every sort of beer you can imagine. With such a diverse selection, and with such innovative art behind their creation, it only makes sense that beer has taken on a new role in the culinary world. Connoisseurs are known as cicerones, and they can say as much or more about a pint of beer as a sommelier can about a glass of wine.
Pairing Indian Food With Wine and Beer
In this spirit, we wanted to create a beer and wine-food pairing guide for you to reference the next time you're eating Indian food. Pick out your favorite Sukhi's dish or whip up your go-to recipe, and we'll help you find the perfect beer and wine match.
Whether you're enjoying a delicious, creamy dish of chicken tikka masala or a fiery hot vindaloo, taking it in with the right beer or wine will take your dining experience to the next level. But while you may enjoy some beers or glasses of wine on their own or with a light meal, not all of them go so well with richness, heaviness, or spiciness. Let's dive into some of the beer and wine categories and pair them with our favorite Indian cuisine!
Best Beer With Indian Food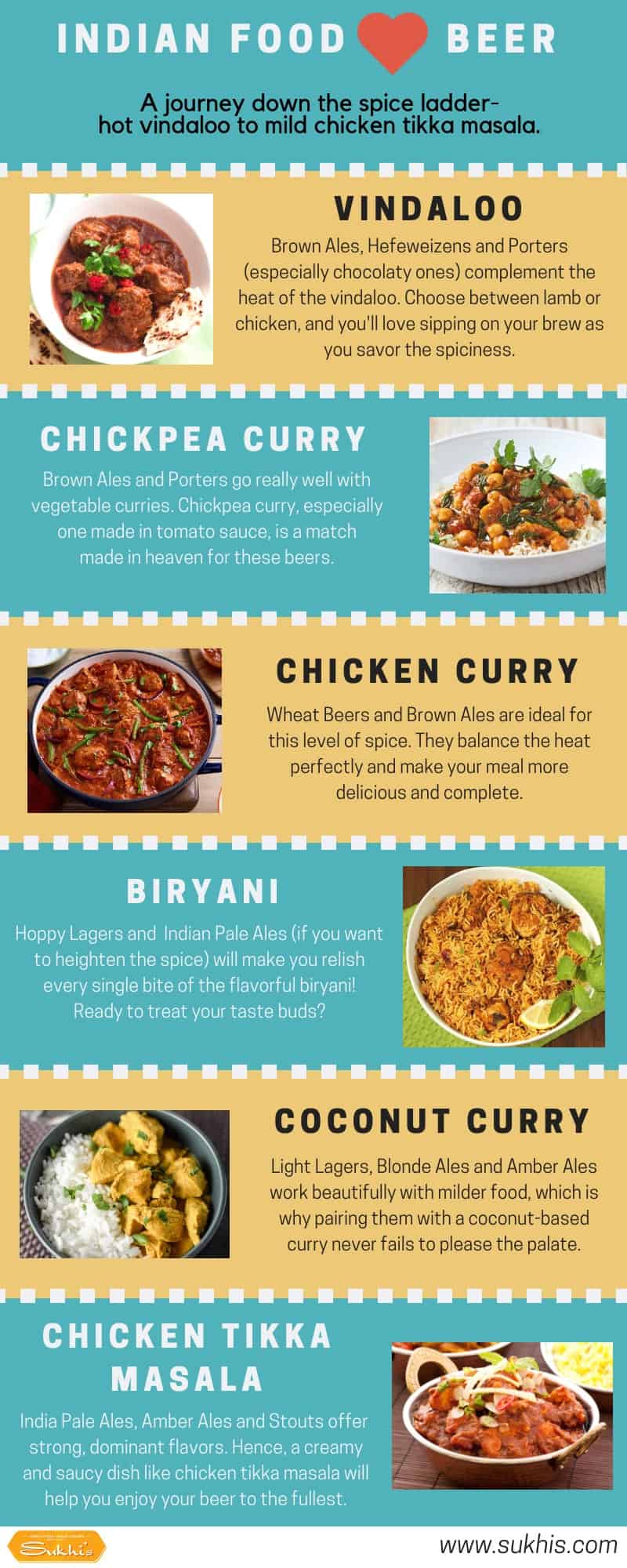 LIGHT LAGERS AND BLONDE ALES
The lighter beers, such as blonde ales and pilsners, pair best with lighter foods. This means salads, seafoods, appetizers, and vegetable-heavy dishes without too much spice. 
For Indian cuisine, it translates into paneer, mild vegetable curries, coconut- or cashew-based curry, and even a mild butter chicken would qualify.
Lagers pair well with these meals as well, and so does a good Kolsch. The richer the meal, though, the more flavorless the lighter beers become, so when we move into tikka masala territory, for instance, we'd better move on!
HOPPY LAGERS AND INDIA PALE ALES
Hops have made their comeback, and IPAs are here to stay. They're some of the most popular beers in the world, so if you like Indian food, you'll want to know about some good pairings to go with your favorite hoppy brew. We can think of nothing better than the fried delicacies found on most Indian menus, such as pakoras and samosas.
Fried foods and hoppy beers were practically made for each other. The oilier, the better! Chicken tikka masala and biryani go well with a good IPA, too, but be careful with spice – hops have a sharp, bitter taste, which will only amplify the heat of your dish!
WHEAT BEERS
A good wheat beer, or hefeweizen, pairs excellently with seafood, and it's the best light beer to go with a spicy dish, too. Prawn curry, anyone? Most wheat beers are served with lemon, and many variants include citrus or other fruit infusions in the beverage itself. They do pair well with both fruits and citrus, so go ahead and load up on the chutneys when deciding which delicious meal to pair with your hef.
Biryani, on the other hand, while matching up fine flavor-wise, can be a rice heavy dish, which when combined with a wheat beer can become filling and heavy, unless you're in the mood to binge!
AMBER AND BROWN ALES
These will be your mainstay with heavy dishes like rich chicken curry or lamb/chicken vindaloo. Typically, the more malt in the beer, the better it pairs with spice, so that means these are great with hot dishes. 
We recommend an amber ale for rich, creamy, and sweet dishes, while a brown ale goes best with grilled meat, earthy flavors, and tandoori food. Brown ales also complement the taste of tomatoes and root vegetables, so those vegetarian curries are just asking to be enjoyed alongside.
PORTERS AND STOUTS
Remember, the meatier, the better with these hefty brews. Porters, stouts, scotch ales, and a few others are among the heaviest beers you can find. Some can be sweet, such as a rich chocolate porter, while others are incredibly dry, like an oatmeal stout. 
These would call for a vindaloo or an extra spicy tikka masala, respectively. The sweeter the beer, the better it pairs with spice, while the drier the stout, the better it pairs with a rich, sweet, saucy meal.
There are, of course, numerous other beers and numerous other Indian dishes, many of which go great together. Let's just say these are a few of our handpicked favorites. 
We hope this article has you as excited to dive into your next beer and food pairing as we are! There is truly nothing better than sitting down to a crisp glass of beer and a piping hot plate of delicious Indian food. Bonus points if you pair your Indian dish with an Indian beer. Bon appétit!
Wine With Indian Food 
What wine goes with Indian food? Well, the answer depends on which Indian dish you plan on digging into. We break down the best wine with Indian food based on popular Indian dishes.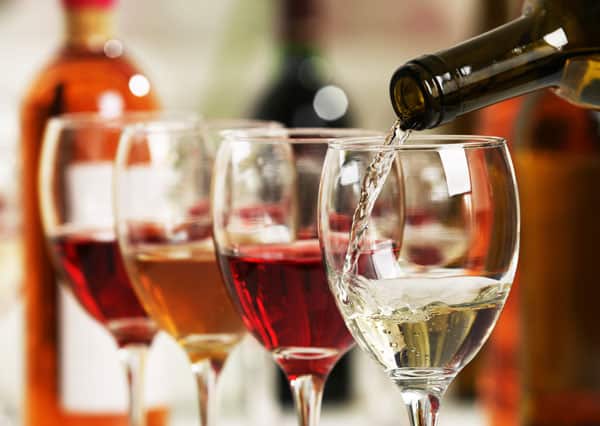 SAUVIGNON BLANC
Sauvignon Blanc is a white wine that is often described as crisp and light. It typically has notes of citrus, which is why it's a very acidic wine. It's not a very sweet wine like its friend, Riesling, but we'll get more into that in a bit. 
This wine pairs well with heavily herbed, citrus, or light cream Indian dishes, such as Palak Paneer, or even a samosa. This wine would also taste great with other Paneer dishes, such as Paneer Tikka Masala, featuring homemade paneer and fresh bell peppers. It's an easy vegetarian dish that would really balance well with the Sauvignon Blanc. 
CHARDONNAY
Let's keep it going with the white wines! Chardonnay pairs well with risotto-type dishes, fish or shellfish, or creamy vegetable soups. Since it tends to be a dry, medium to full-bodied wine, it has moderate acidity and goes great with vegetable dishes. 
It's important to note that no two Chardonnays are the same, and that can make a difference if you're choosing a medium-bodied wine versus full-bodied. Chardonnay would pair well with Indian foods like Roasted Tomato Curry over rice, Veggie Samosa, or a shellfish dish like this Shrimp Fried Rice. It also pairs well with puddings, such as this Creamy Carrot and Rice Pudding.
RIESLING
Riesling is known to be all over the board with flavors, so it depends on which region you're in and where you're purchasing it from. European Riesling is rarely sweet, much unlike the typical Riesling you'd buy in the U.S. The good news about Riesling is that it's really great at balancing out spicy dishes. 
When thinking about which Indian dishes pair well with Riesling, you should think about smoked flavors, spicy dishes, chili dishes, and other heavily-herbed meals. Riesling would pair well with a bold dish like Chicken Vindaloo or with this Tandoori Marinade with chicken or tofu. 
PINOT NOIR
Moving into red wines, Pinot Noir is a medium-bodied red that is versatile in its pairings. An extremely aromatic wine, Pinot Noir has earthy flavors of cherry, spices, herbs, and raspberries. Even though it's not a full-bodied wine, you can still pair it with some rich flavors because it can hold its own.
Since it's an earthy wine, it pairs great with mushroom-based dishes, like Spring Vegetable Pulao. Your Pinot Noir can also pair well with lighter red sauces, such as Chicken Tikka Masala served over basmati rice.
SHIRAZ
Shiraz is a dark red wine made from dark-skinned grapes — if you can imagine that! It's often described as a dry wine, full-bodied, and brisk. It has a big flavor and works well with herbs, barbeque, duck, and grilled meat with vegetables. 
In order to pair your Shiraz with an Indian dish, you might want to try pairing it with a slightly richer meal, like the Chicken Tikka Masala Wrap.  You could also try pairing it with this Veggie Turmeric Melt Naanwich. 
MERLOT
Merlot is known for coming from red fruits and having a soft and smooth finish. Depending on what your Merlot has to offer, it's common to play up the flavors in it! Typically, Merlot pairs well with steaks, ahi tuna, mint, rosemary, caramelized onions, and tomatoes. 
If you're looking to pair your Merlot with Indian meals, we recommend trying it with Chilled Yogurt Soup with Cucumber and Mint or Samosa Sliders. You can also pair it with Chicken Vindaloo for a fun twist!
CABERNET
Last, but not least, we're exploring everything that is Cabernet Sauvignon. One of the most popular wines in the world, Cabernet Sauvignon is bold and fruity but doesn't cut like many other full-bodied wines. It's dry and can pair well with many different meals. 
Cabernet goes well with cheddar cheeses, tomatoes, black cherries, meaty stews, and saucy curries. This wine would go great with Chicken Coconut Curry, Chicken Tikka Masala, Roasted Tomato Curry, or really any of these other curries.
There are, of course, numerous other beers, wines and Indian dishes, many of which go great together. Let's just say that these are a few of our favorites. We hope this article has you as excited to dig into your next beer or wine and food pairing as we are! Bon appétit!
MORE INDIAN FOOD POSTS: