Creamy Indian Rice Pudding with Carrots
This Indian rice pudding is made with grated carrots, basmati rice, and heavy cream. Flavor with your choice of cinnamon, ginger, cardamom, and more!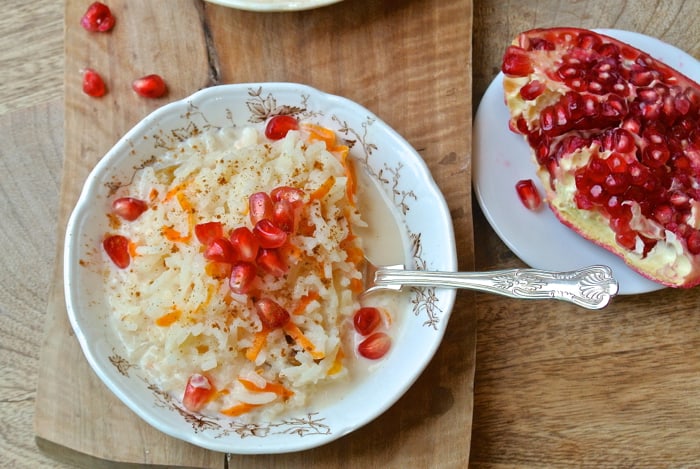 Rice for dessert? So many cultures include rice as a staple in their daily meals, so I wanted to feature this hardworking, humble cereal grain by adding a twist to kheer, a traditional Indian sweet rice dish.
This simple and comforting Indian rice pudding can be the backdrop for a variety of flavor combinations. For warmth, think fresh grated or crystallized ginger, ground cinnamon or cardamom. Also, try adding a few threads of saffron to boost the color. Vanilla bean (or extract) also plays well with these flavors.
Most importantly, experiment and try the spices you love best. Here, I've added some fresh grated carrot for color and flavor, and topped it with fresh pomegranate arils; chopped almond, pistachio, or toasted coconut would also be lovely. For creaminess, I like a mixture of whole milk and heavy cream, but part coconut milk would also work.
With any of these combinations, you can easily elevate kheer just enough to make this an impressive dessert offering for your favorite guests. Personally, I love to eat it as a late-morning snack with some fresh fruit added to the mix.
Indian Rice Pudding Ingredients
For a basic creamy rice pudding, you'll need:
Water
Basmati rice
Salt
Whole milk
Heavy cream
Sugar
Grated carrot
Vanilla extract
And the optional add-ins include golden raisins, ground cinnamon or cardamom, chopped pistachios, etc. Play around with the flavor combinations to see which you like best!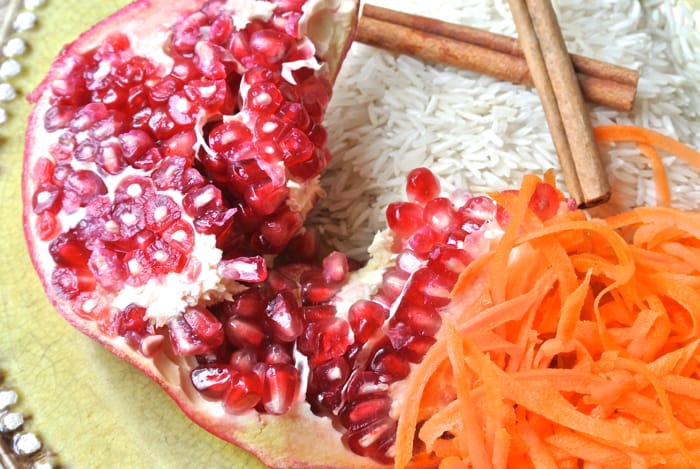 How to Make Rice Pudding
This Indian rice pudding couldn't be simper to make! Just cook the rice in the water and salt like you normally would, then stir in the milk, cream, sugar, carrot, and vanilla extract. Let the mixture simmer until it thickens up and the rice is fully cooked through.
Serve the creamy rice pudding with your toppings of choice, plus some crushed nuts or pomegranate arils for added texture. The rice pudding will continue to thicken up as it cools, and it makes for great leftovers! I enjoy eating this rice pudding both cold and warm, so don't think you need to reheat it over and over.
Do I Have to Use Basmati Rice?
No, any white rice should work in this recipe. I don't recommend using brown rice, as it's much heartier than white rice and takes longer to cook.
Tips for the Best Rice Pudding
Because Indian rice pudding keeps well in the fridge, you can prep this dessert the morning before a family dinner or potluck.
Don't omit the heavy cream in this recipe, it's what makes the homemade rice pudding so creamy!
Try adding a combination of spices to your rice pudding — all the spices I've listed in the recipe card below go well together.
More Indian Recipes: