The Ultimate Guide To Vegetarian Indian Food
Many Indians practice some form of dietary restrictions, whether it means avoiding a certain animal or even a certain type of root vegetable.
So, there's a long history of substituting the base of delicious meat dishes with suitable vegetarian ingredients. And, of course, there's also a wide array of classic vegetarian dishes.
In our vegetarian guide to Indian cuisine, we'll uncover the history and practices of vegetarianism in India and explore some of our favorite vegetarian options, from snacks and appetizers to entreés and desserts.
The History Of Indian Vegetarian Dishes
Many of the most widely practiced religions in India prescribe certain dietary restrictions. For instance, many Hindus avoid eating beef as cows are considered sacred, while most Muslims avoid pork.
Nearly 81% of Indian adults practice some form of dietary restrictions. About 40% of the country describes themselves as vegetarian, one of the highest proportions in the entire world.
One of the biggest predictors of vegetarianism is the person's religious beliefs. The vast majority of Jains (92%) describe themselves as vegetarian, while a small minority of Muslims and Christians (8-10%) claim the same. Hindus split the difference, with about 45% describing themselves as a vegetarian.
Due to India's broad spectrum of religious beliefs and dietary restrictions, there's a long history of Indian chefs catering to taste buds of all persuasions.
So, if you love a classic Indian meat dish but have recently become vegetarian or are just trying to reduce your meat intake, you'll have no problem finding delicious veg-friendly substitutes!
If you're unsure about whether a dish is truly vegetarian or not, your best bet is to check the ingredients label or ask the waiter if you're dining out.
Vegetarian Snacks And Appetizers
Aloo Chaat
This popular Indian street food combines roasted potatoes and coriander leaves with sev (crispy, fried potato strips) to form a salty, irresistible, vegetarian-friendly snack.
We love serving aloo chaat alongside a sweet, cooling condiment like tamarind chutney.
Pakora
There's no better way to win over the veggie-skeptical than with a fried veggie fritter.
This Indian vegetable dish is an incredibly addictive snack made up of fried potatoes, veggies, and toasty spices like turmeric and mirchi (green chili pepper) to make a crispy snack that rivals the French fry in flavor and likability.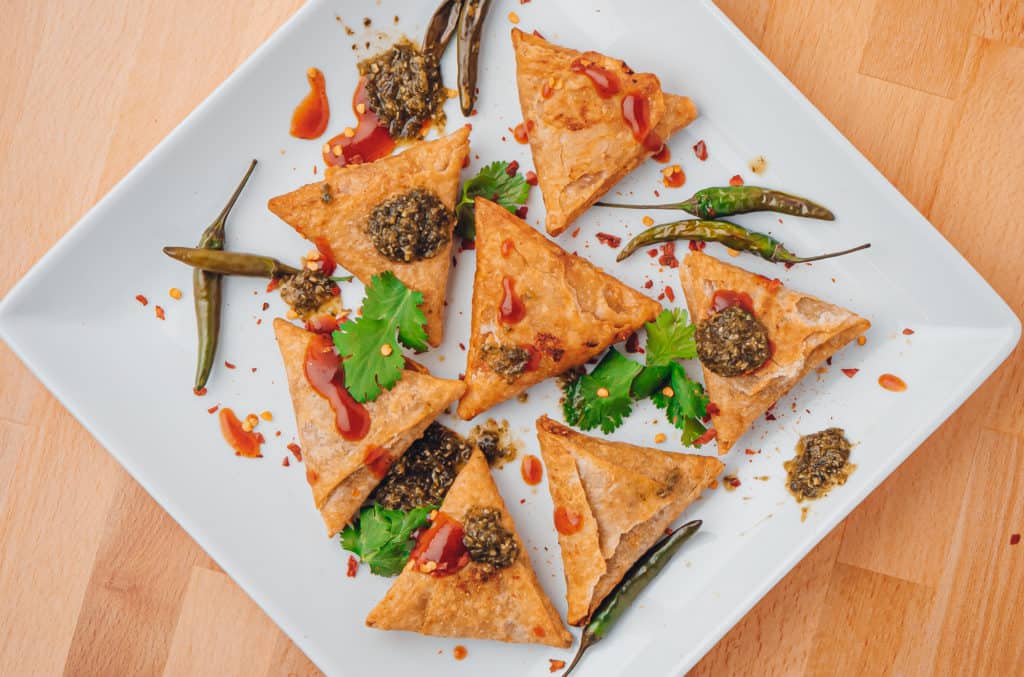 Samosas
Samosas are many non-Indians' first introduction to the wonders of Indian cuisine. We think these little toasted triangles make a pretty great first impression.
While you can find samosas with savory meat fillings like our Chicken Tikka Masala Samosas, you can also find dozens of veg-friendly samosas like our mouthwatering Potato And Pea Samosas.
Once you dig into the crispy, crunchy shell, your taste buds will find potatoes and veggies enriched by a host of Indian spices like coriander, garlic, and ginger to make a meal you won't forget.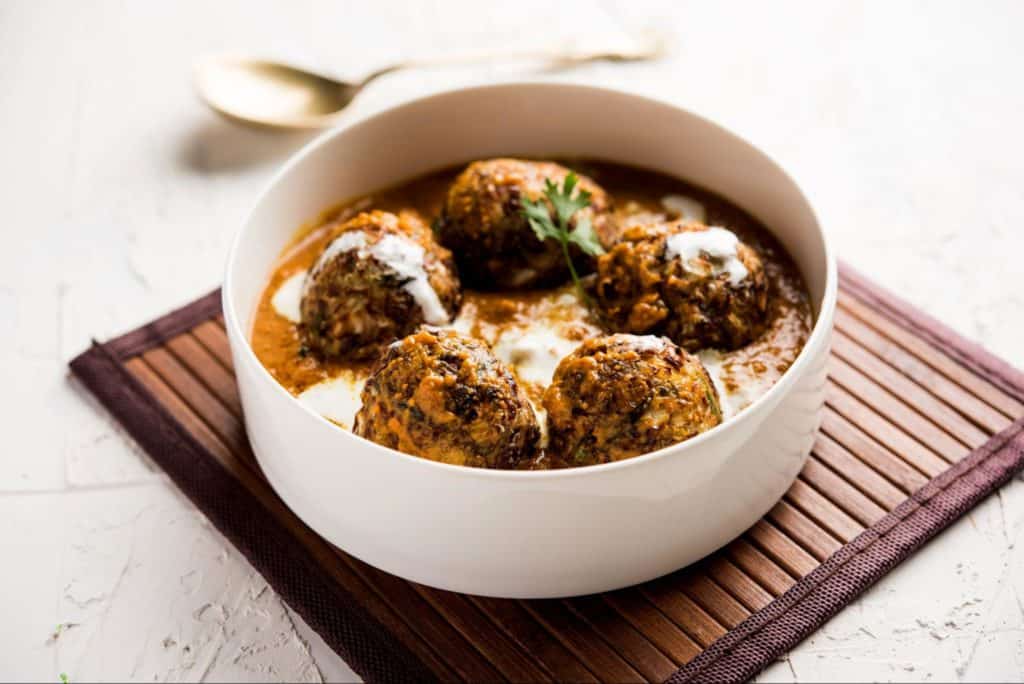 Vegetarian Entreés
Malai Kofta
Even meat lovers would struggle to resist a masterful bowl of malai kofta.
This dish submerges fried balls of potato, cheese, and mixed veggies (kofta) in a creamy sauce (malai) of blended nuts, tomatoes, and spices. The result is a veg-friendly delicacy that brings together people of all different dietary restrictions.
Chana Masala (Chickpea Curry)
Chana masala should be in every Indian cuisine lover's repertoire — especially if you're a vegetarian.
This simple, curry-based dish soaks chickpeas in a spicy tomato and onion-based sauce infused with classic Indian spices. Try Sukhi's modern take on chana masala, our Roasted Tomato Curry with Kale and Chickpeas. It takes this traditional dish and gives a twist by adding kale for a healthier, more vibrant texture!
Serve over a hot bed of basmati rice for a hearty meal that illustrates the potential of chickpeas to carry a dish all on their own.
Palak Paneer and Paneer Tikka Masala
If tofu is the go-to meat substitute in Chinese cuisine, then paneer is a vegetarian's favorite protein in Indian cuisine. Instead of juicy cuts of meat in traditional meat dishes like chicken tikka masala or butter chicken, enjoy delicious cheese in a thick curry of pureéd spinach with palak paneer or fire-roasted and smoky paneer with paneer tikka masala.
Of course, the bases are only the beginning. Palak paneer lives and dies on its combination of spices, while a great paneer tikka masala requires a savory tikka masala.
Fortunately, Indian spices never let you down. Sprinkle in a healthy serving of cumin, cardamom, and spice mix like garam masala to infuse your palak paneer with a flavorful kick, and use Sukhi's Tikka Masala sauce to make restaurant-quality paneer tikka masala a reality.
Vegetarian Sides And Sauces
Dal
There are dozens of variations of dals, though each refers to the same thing — a delicious, spiced lentil (or pulse) chock-full of dense, plant-based protein, perfect for vegetarians or anyone looking to cut down on their meat consumption.
You can find dal dishes that suit your taste buds perfectly. If you love dishes with a buttery texture, then opt for a dal makhni. If you want a dal with robust flavors and incredible spices, then you can't go wrong with a dal tadka.
Whichever form of dal you choose, serve over a bed of basmati or lemon rice for a savory side for lunch or dinner.
Rice and Rice Dishes
While a steamed bed of basmati rice can provide the perfect foundation for nearly every curry under the sun, we also love Sukhi's Lemon Rice, especially when paired with our Roasted Tomato Curry with Kale and Chickpeas.
If you're seeking a rice entreé, then you can't go wrong with Vegetable Biryani. This scrumptious, seasoned rice dish is infused with Indian spices like cinnamon, anise, and saffron, with recipes differing significantly from region to region.
Chutney
With over 2000 years of history, chutney is one of India's most ancient vegetarian-friendly dishes.
These mouthwatering spiced condiments condense some of your favorite flavors, like coconut, tamarind, cilantro, and mango, into a delicious dip that works with nearly every dish.
You'll find flavors of smoke, spice, and sweetness all in one bite. The perfect chutney can elevate your favorite dishes, whether you love a crunchy samosa or tender naanwich.
Not only are they delicious, but chutney is also vegetarian-friendly, so don't hesitate to dive into the world of chutney!
Vegetarian Desserts
Indians often refer to sweet dishes as mithai, and most are naturally veggie-friendly with bases of milk, sugar, ghee, and yogurt. Unlike many Western dishes, most Indian desserts are egg-free as eggs aren't considered vegetarian-friendly. Instead, they build predominantly upon bases of milk, sugar, ghee, and yogurt.
If you're vegan, you can add in some plant-based alternatives like coconut milk or cashew butter, or check out our ultimate guide to vegan Indian food.
Kheer (Indian Rice Pudding)
If you've never tried kheer (Indian rice pudding), you're in for a veg-friendly treat.
This simple, delicious dessert mixes rice with milk, heavy cream, and sugar to create a sweet dessert staple.
You can make kheer in practically every flavor you want. If you love the taste of vanilla, add a few drops of vanilla extract. If you want a warm, spiced dessert, add some freshly ground cinnamon or cardamom.
Gulab Jamun
Gulab jamun roughly translates to "rose water" or "black plum." You'll discover why if you bite into one of these fried balls of dough.
These soft and delicious Indian sweets resemble oversized berries. They are composed of a mix of milk solids, leavened flour, and a sugary base of rose sugars.
Shrikhand
Shrikhand is a staple dessert dish from Gujarat and Maharashtra, Indian states in the western region.
This delicious sweet is a simple mixture of hung curd (drained yogurt), milk, sugar, cardamom, and chopped pistachios. The result is a cool, creamy, sugary sweet dessert dish that can please just about any picky eater.
Halwas
These melt-in-your-mouth desserts represent some of the richest and sweetest dishes you can find in all of Indian cuisine.
Building off a base of semolina flour, grains, and nuts, halwas also incorporate sugar, ghee, flour, and classic dessert ingredients of vanilla, nuts, and cardamom to take on incredible, decadent flavor. You can find all types of halwas from mango halwa, walnut halwa, and even chana dal halwa.
Halwas taste delicious whether served delightfully chilled or warm and toasty. So, whip up one of these desserts if you want a bite of tasty temperature regulation.
Gajar Halwa (Indian Carrot Pudding)
This next dessert is commonly served during Diwali — a religious festival celebrating good's supremacy over evil.
Indian carrot pudding comprises a simple concoction of milk, sugar, ghee (clarified butter), carrots, and mixed nuts.
We recommend serving alongside a piping-hot cup of masala chai.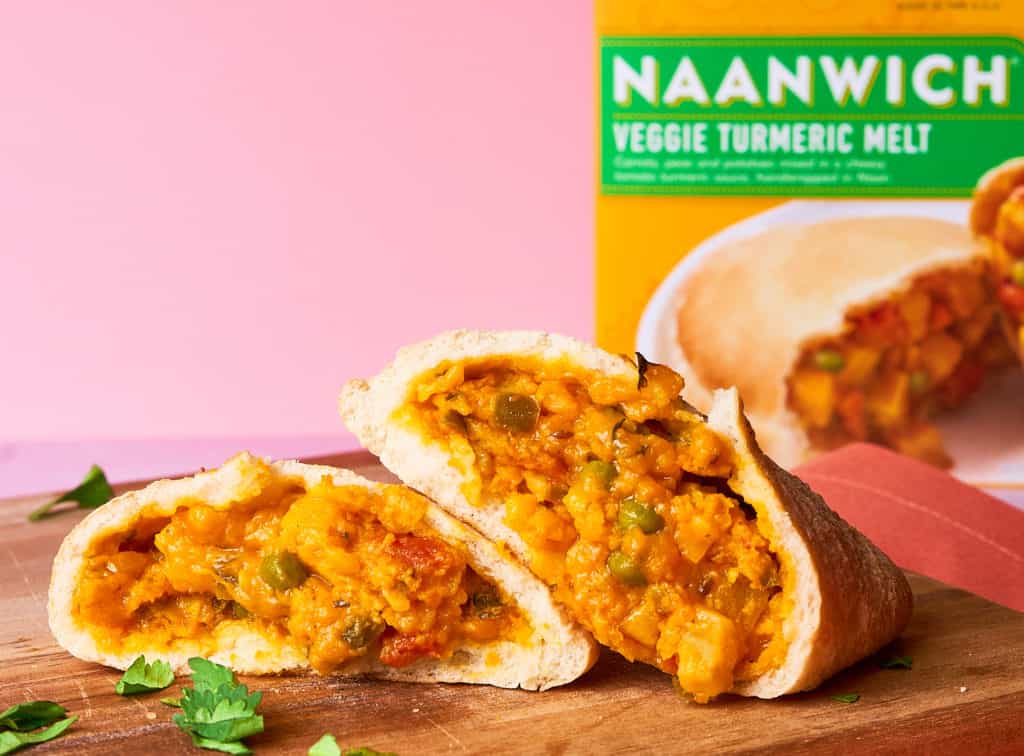 Try Sukhi's Indian Vegetarian Recipes
Unfortunately, many believe that vegetarian dishes struggle to match up to the juicy flavors of a well-prepared meat dish.
Fortunately, we know how to prove them wrong.
Browse through Sukhi's Indian food recipes and vegetarian options like our Samosas, Roasted Tomato Curry with Chickpeas, or Veggie Turmeric Melt Naanwich.
Need to sate your hunger while your order's in the mail? Then read through our blog to discover delicious Sukhi's vegetarian recipes, like our delicious dal makhni and savory samosa chaat.