What Is Diwali? Learn How To Have A Happy Diwali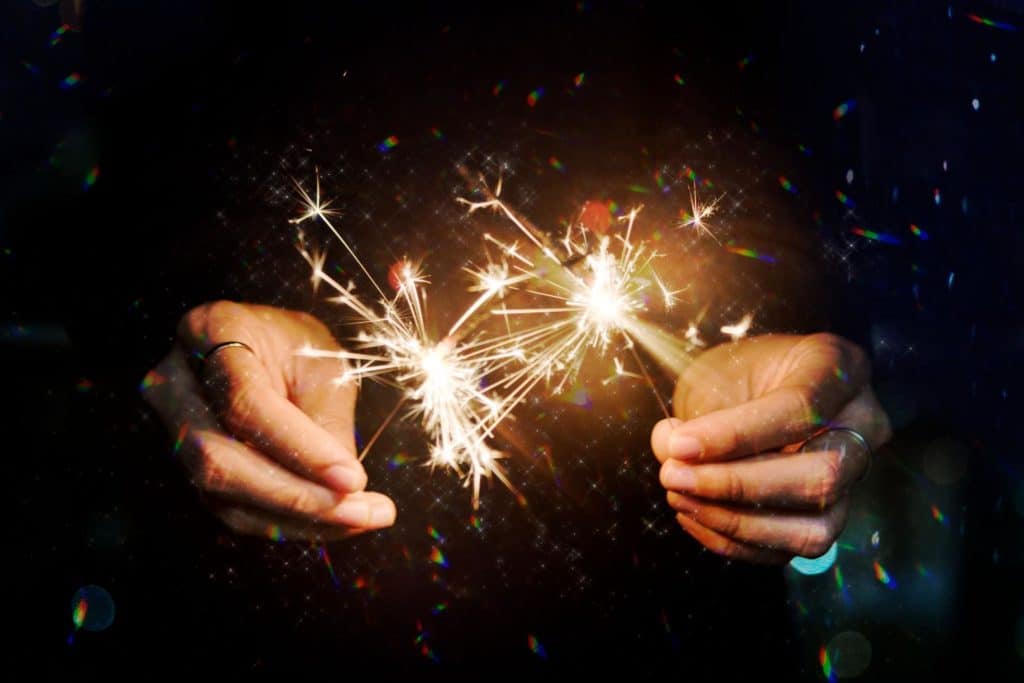 Diwali, the Indian festival of lights, is celebrated with gusto the world over.
This festival (known as Diwali in North India and Deepavali in South India) is one of the biggest holidays and religious festivals in Hinduism and other faiths like Sikhism and Jainism. The name originates from "dipavali" a Sanskrit term that roughly translates to "row of lights."
Today, the festival is celebrated in almost every Indian household in the form of pujas (prayers) that are meant to bring home wealth and prosperity. While the country celebrates the festival in unique ways in various regions, it still brings everyone together to share joy and cheer.
In total, Diwali lasts for five days, charting the end of one year on the Hindu calendar and bringing in the new. Because the holiday is based around a lunar calendar, the date shifts from year-to-year. On the Gregorian calendar, it usually falls somewhere from mid-October to mid-November.
In 2022, the main day of the holiday, will come around on Monday, October 24th — so mark your calendars for a Diwali countdown!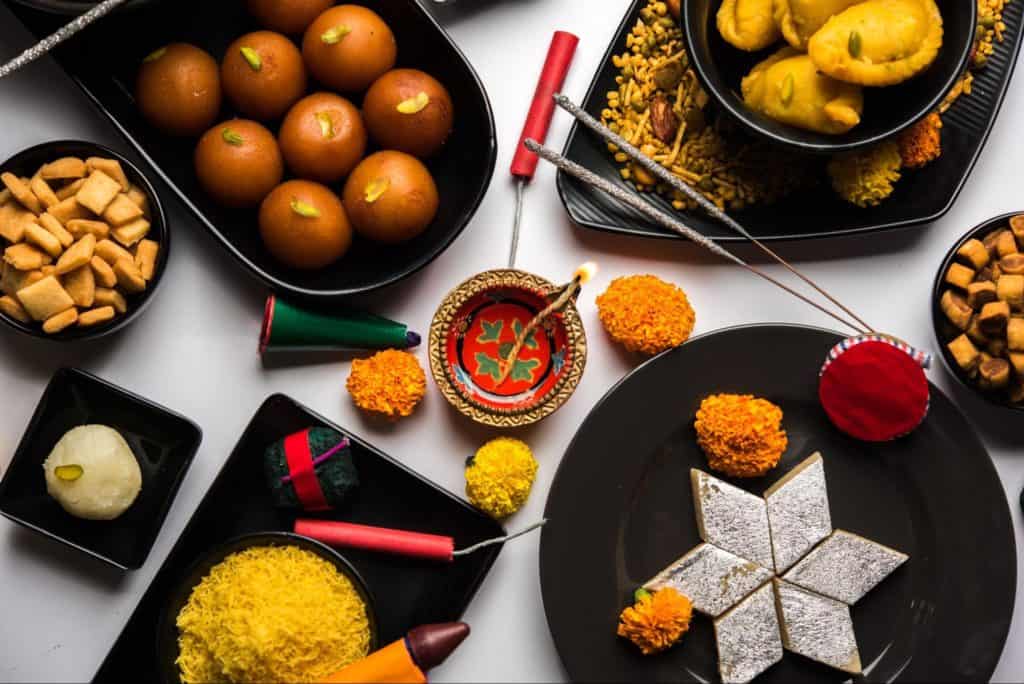 Significance of Diwali
Diwali is celebrated by over a billion people worldwide. And just like Christmas, the traditions and customs might differ widely depending on where you're celebrating.
Families make grand preparations to usher in the festivities each year before and during Diwali. From the ritual of annual home cleaning (many go to the extent of getting their houses whitewashed), lighting up the house with 'diyas' or earthen lamps to putting together elaborate feasts, the five days of celebration can be best expressed as a time of unparalleled love and happiness.
Some celebrate Lakshmi (the goddess of wealth), others worship Ganesh (the god of beginnings) or Rama (the seventh avatar of Vishnu), and others still simply enjoy the opportunity to be amongst friends and family.
One of the beauties of the holiday lies in Diwali's decorations. Many furnish their homes with rangoli, patterned art made with colored sand, rice flour, flower petals, or other materials. Many also leave their doors and windows open to invite Lakshmi and her blessings inside their home.
The significance of the festival varies drastically in different regions and religions. The common, overarching symbolism is 'the victory of light over darkness, which is also interpreted as the victory of good over evil and knowledge over ignorance.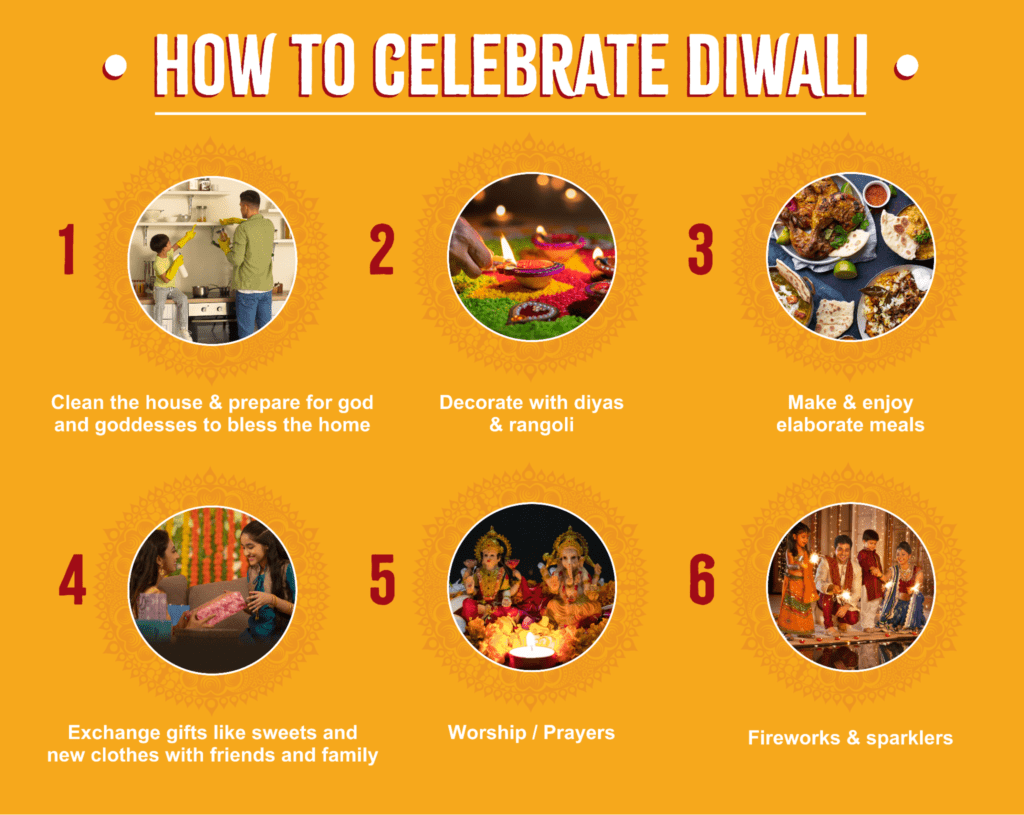 The Days Of Diwali
Like many other holidays worldwide, Diwali takes place over many days, with each day holding its own significance and meaning.
1. Dhanteras
During Dhanteras, the first day of Diwali, many families dedicate their days to purchasing small items of gold or kitchen utensils and cleaning their homes to celebrate Lakshmi, the goddess of wealth.
2. Naraka Chaturdashi
On this day, otherwise known as Choti Diwali, Indians celebrate Krishna's destruction of Narakasura (powerful demon). Many decorate their homes with rangoli and clay lamps.
3. Lakshmi Puja
The third day of Diwali is when the festivities really kick off.
On this day, families light candles, fireworks, and diyas to seek blessings from Lakshmi to provide prosperity for their loved ones. Once everyone's together, the food and fireworks become the stars of the show, with many exchanging sweets like boxes of mithai and ladoos.
4. Goverdhan Puja
Ring in the new year.
This day is also known as Balipratipada or Annakut, and it celebrates the first day of the Vikrama (Hindu) calendar as well as Krishna's defeat of the king of the gods, Indra.
Gift-giving often occurs on this day, with friends and family wishing each other the best of luck in the coming year.
5. Bhai Dooj (AKA Bhai Tika or Bhai Bij)
One of the first days of the new year brings the focus back to the family.
Bhai Dooj celebrates the bond between siblings, relatives, and other family members, with families uniting once more around a delicious feast.
How Other Religions Celebrate Diwali
Diwali isn't only a celebration for Hindus.
It's also a very important holiday for those who follow Jainism. For Jains, Diwali draws heightened attention to Mahavira's moksha (liberation) from the mortal cycle of life and death. In the Jainist faith, Mahavira is the most recent Jain Tirthankara (enlightened spiritual teacher).
Lighting lamps signifies Mahavira's bright wisdom.
Sikhs also celebrate Diwali to remember Guru Hargobind (the sixth Sikh guru) and his journey from prison and captivity in Gwalior back home to Amritsar.
And while Diwali isn't the most significant of days within the broader Buddhist community, some celebrate Emperor Ashoka's conversion to Buddhism over three thousand years ago. For instance, the Vajrayana Buddhists in Nepal commemorate the day by worshiping the Buddha, decorating their temples, and lighting lamps.

Happy Diwali From Sukhi's
Diwali is a wonderful time to look forward to the coming year surrounded by your loved ones. It's also a terrific opportunity to share and appreciate your favorite dishes.
That's why we make it easy to enjoy great food year-round with our mouthwatering entreés, toasty samosas, and juicy street wraps.
If you want to whip up a new, flavorful dish to impress your friends, take a page from Sukhi's recipe book and cook up a bowl of Malai Kofta or Dal Makhni.
While you're at it, read through our blog to learn everything there is to know about Indian holidays and celebrations, like the meaning of Raksha Bandhan (Rakhi) and Holi, India's festival of colors.