Biryani- A Complete Guide and Recipe
If you love Biryani but aren't sure how to recreate the dish in your kitchen, then you are at the right place! This post on Indian Biryani is a complete guide on the topic with everything you need to know about the dish along with an easy Chicken Biryani recipe.

WHAT IS BIRYANI?
Biryani, also known as biriyani, biriani, birani or briyani, is a delicious Indian seasoned rice dish. Yum. It can be made with meat, fish, or vegetables.
TYPES OF BIRYANI
All biryani have rice in common, but that's about it! There are many different kinds of biryani that feature different meats, spices, and cooking styles. Here are just a few variations of this dish.
Lucknowi biryani, also known as Awadhi biryani, originates in Northern India and uses spices like anise, cinnamon, and saffron. It's oftentimes used as a celebration dish and is typically cooked 'dum' style.

Kolkata biryani


Kolkata biryani is flavored with mild spices in the rice and spicy chicken and originates from, you guessed it, Kolkata, India.

Sindhi Biryani


Sindhi biryani originated from Sindh (modern-day Pakistan) and gets its bold flavor from chilies and spices and has potatoes added in as well.

Memoni biryani


Similar to Sindhi biryani, Memoni Biryani is made with potatoes, chilies, and spices, but typically also uses lamb and tomatoes. Hyderabadi biryani Hyderabadi biryani comes in two forms: Pakki (cooked) and Kacchi (raw). Here, you cook the rice and meat separate from each other and then combine. Whether you're laying the raw or cooked meat in between the rice, both kinds are then slow-cooked to perfection.

Malabar biryani


Malabar biryani comes from the Malabar region of Kerala and features a paste made of green chiles, cinnamon, cloves, fennel, cardamom, and peppercorns.

Thalassery biryani


Another popular Kerala dish, Thalassery biryani uses roasted cashews for a nutty flavor. Thalassery biryani also uses short grain rice instead of long grain.

Ambur biryani


Ambur biryani is also made with short grain rice and gets a lot of its flavor from the chicken added to the dish as the rice is mildly spiced.

Dindigul biryani


Dindigul biryani has a tangy flavor thanks to lemon and curd. This biryani usually has lamb or chicken incorporated in it.
IS BIRYANI INDIAN OR PAKISTANI?
It's unclear where exactly biryani originated from and there are a few different theories as to who created the notable rice dish. Many historians believe that biryani originated from Persia and was brought to India by the Mughals. 
Another version says that biryani was brought by the Arab traders to Malabar in South India. Both India and Pakistan have their own versions of the popular dish and they can vary from region to region.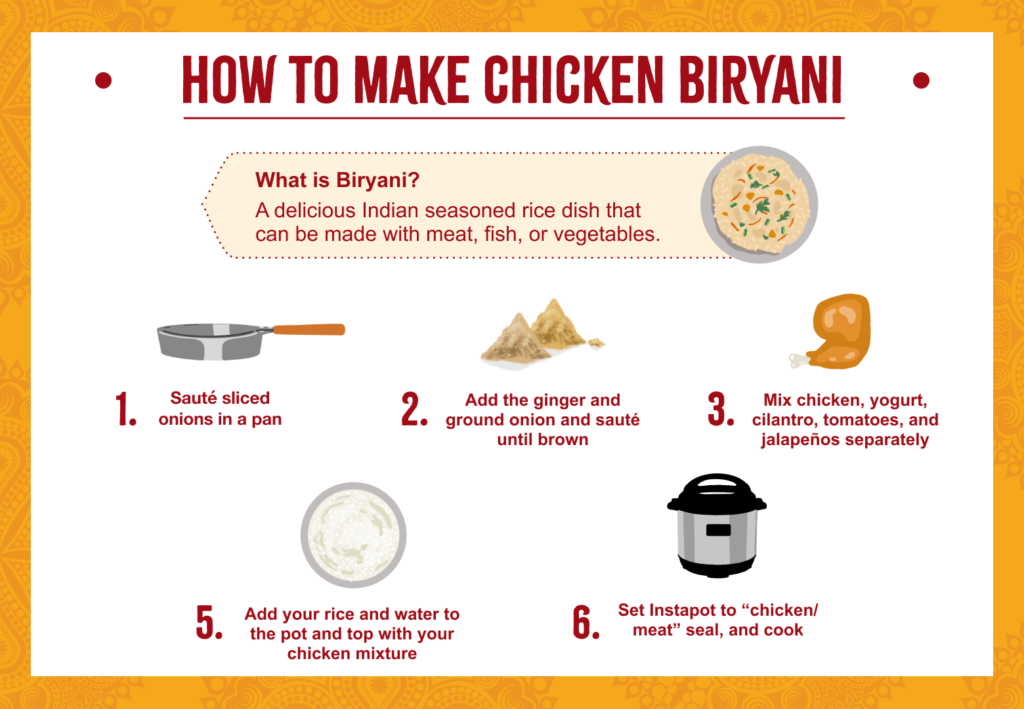 HOW TO MAKE CHICKEN BIRYANI
If you're into authentic cooking that's also quick and easy, Chicken Biryani is for you! Let's run through how to make biryani: 
You sauteé the sliced onions in oil in your Instapot. Set aside. Then add the ginger and ground onion and sauteé until brown. Add all of the spices and mix well. Then, mix chicken, yogurt, cilantro, tomatoes, and jalapenos separately. Add your rice and water to the pot and top with your chicken mixture. Set Instapot to "chicken/meat" seal, and cook. 
You can serve it up in a casserole dish and garnish it with sliced brown onions, cilantro, and mint leaves.
CHICKEN DUM BIRYANI VS QUICK CHICKEN BIRYANI
In case you're not familiar with the term, Chicken 'Dum' Biryani is more like the original way biryani was prepared. While the ingredients are virtually the same, this recipe calls for you to slow cook the meal in a sealed, heavy-bottomed vessel for hours or even overnight.
According to NDTV food, this process is traditionally known as dum pukht and is not just restricted to just biryanis, but various other preparations such as korma, nihari, haleem, raan, other meat curries, and even dal.
While this slow-cooking method is reliable, it's not always convenient. We made this Chicken Biryani recipe with you in mind so you can have meals in an instant! It's much quicker and easier than the 'dum' version, so you can have more time back in your day.

WHICH RICE IS BEST FOR CHICKEN BIRYANI
We know there are a lot of options to choose from when shopping for rice, but this recipe typically calls for long-grain rice like Basmati. It's best to choose a high-quality Basmati, so if your local grocer doesn't have any, check your Indian grocery store or order some online.
WHAT DO YOU EAT CHICKEN BIRYANI WITH
Because Chicken Biryani is considered to be a complete meal, you wouldn't necessarily have to serve it with anything on the side! However, if you'd like, you can serve it with Raita. Raita is an Indian side dish of yogurt with chopped cucumber or other vegetables and spices. You could also serve it with Bagharay Baigan, which is an eggplant curry with coconut and peanuts.

INSTANT POT CHICKEN BIRYANI RECIPE
Our Instant pot Chicken Biryani recipe takes considerably less time, thanks to modern technology! Instead of having to wait several hours or even overnight for your Chicken Biryani to come together, you could have it ready to go in under one hour. Best day.
This recipe is so easy. Once you brown the onions, you basically put everything into your Instant pot and set it to the chicken setting. In around 30 minutes, your meal should be cooked and ready to go! Make sure you let the pressure in your Instant pot release naturally, as it's not recommended to try and rush this process for your own safety.
Instapot Chicken Biryani
Instapot Chicken Biryani recipe takes considerably less time thanks to modern technology! Instead of having to wait several hours or even overnight for your Chicken Biryani to come together, you could have it ready to go in under one hour.
Ingredients
1/3

cup

oil

1

medium onion

sliced

1

medium onion

ground

1

cups

cilantro

chopped

3

green cardamoms

3

star anise

4

cloves

whole

3

bay leaves

2

cinnamon sticks

1.5

inch

ginger

julienned

1-2

Roma tomatoes diced

1

Jalapeno chopped

1.5

t

salt

1

t

cayenne

1

t

cumin seeds

1

t

coriander ground

½

t

black pepper

½

cup

yogurt

1

lb

boned chicken thigh skinned and cut into 1-2 inch pieces

1.5

cup

rice

1.5

cup

water
Instructions
Set instapot to sauté mode. Add oil and sliced onions. Brown the onions and set aside.

Without washing pot add ginger and ground onions. Sauté until ground onions become brown. About 5 minutes

Add cardamom, star anise, cloves, bay leaf, cinnamon sticks, salt, cayenne, cumin seeds, coriander, black pepper, mix well

And chicken, yogurt, cilantro, tomatoes, and jalapeno mix well

Set chicken mixture aside

Add rice and water and top with chicken mixture. Set instapot to "chicken/meat" seal and cook

Serve in a casserole dish. Garnish with sliced brown onions from step 1, cilantro, and mint leaves

Enjoy!
If you like this recipe, you might also enjoy Spring Pulao Recipe, Easy Tandoori Chicken Recipe, and Chicken Tikka Masala Nachos.
Still not sure if you want to cook some yourself? Try our Chicken Biryani. 
Sukhi's Chicken Biryani is a flavorful rice dish with tender, succulent chicken on a bed of fragrant rice, seasoned with aromatic spices like turmeric, garlic, and ginger.