6 Chutney Recipes You Need To Try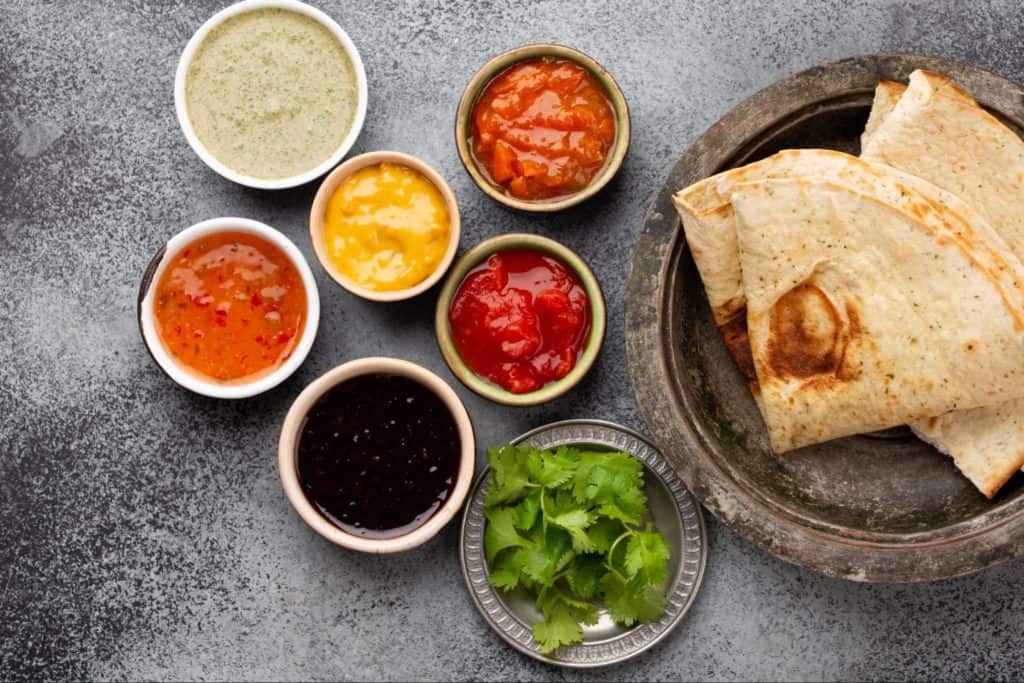 Picture this — your favorite fresh fruits, crispy veggies, aromatic herbs, and savory spices.
Mouth watering yet?
Now, condense all of them down to a single condiment, a simple sauce bursting with every imaginable combination of the smoky, spicy, tangy flavors you've fallen in love with.
Are you ready for the big reveal? It's not fantasy. It's chutney.
Originating from India over 2000 years ago, chutney is one of the staple sides and sauces in Indian cuisine, similar in texture to pesto or chimichurri. Chutneys are mouthwatering spiced condiments that can elevate many different Indian dishes from samosas to dosa to chaat and many veggie and meat curries.
From the staple cilantro chutney to the fruitier fig and mango chutneys, every new recipe is an adventure waiting to be discovered. We've compiled 6 of our favorite mouthwatering recipes from tamarind to coconut, so get your samosas and naanwiches ready!
It's time to chutney.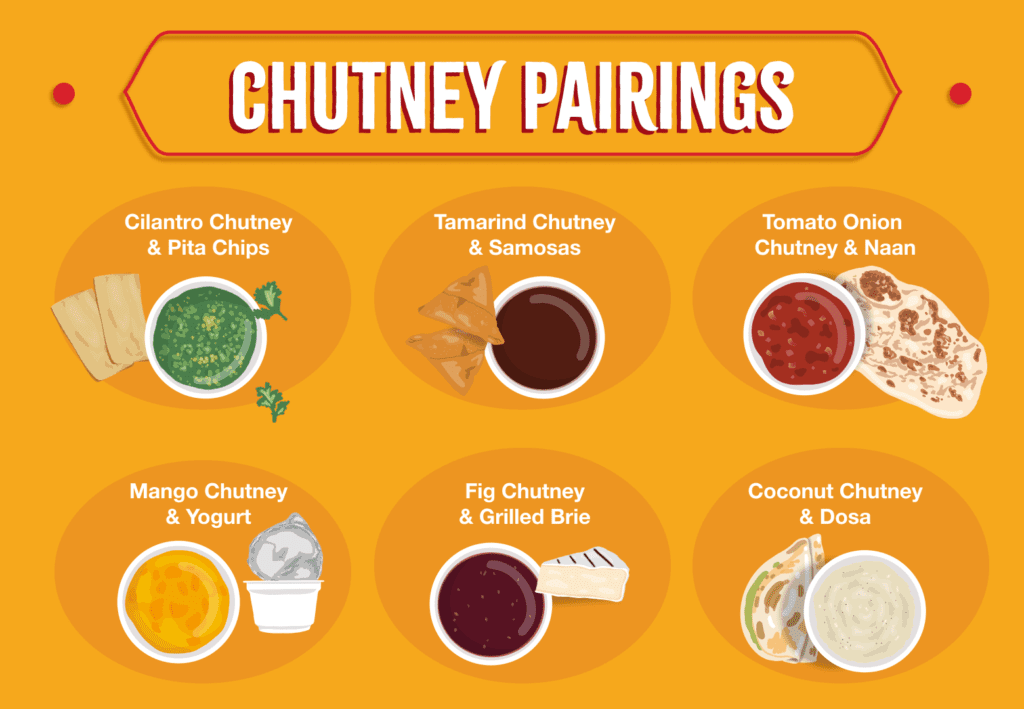 Building on a base of cilantro and diced chilis, green chutney isn't just one of the oldest and most popular in all of India — it's also one of the simplest to make.
Here's everything you'll need to whip up your own scintillating cilantro chutney:
Chopped cilantro
Diced chilis
Garlic
Ginger
Salt
Sugar
Distilled white vinegar
Lemon juice
Water
Are you ready? Put everything into the blender and pureé until smooth. That's it! If you'd like to add even more cooling, refreshing flavor to this green chutney, sprinkle in a few sprigs of chopped mint.
If you're seeking a pair for this cilantro chutney recipe, think juicy burgers and chicken sandwiches, crunchy vegan tacos, or a fresh veggie-filled salad. Add a bit of this green chutney to crispy pita chips to make a fantastic, filling snack.
Wherever you would typically use a refreshing condiment, add a scoop of cilantro chutney instead.
2. Tamarind Chutney
Tamarind chutney is perhaps the second most popular type of chutney in India for a good reason — it sits squarely at the balance of sweet and tangy.
Tamarind chutney features in many different chaats (street food and snacks) along with dahi vada (fried flour balls soaked in yogurt) or perfectly spiced samosas and pakoras. You can also use it as a glaze for meats and seafood (think BBQ sauce that is sweet and tangy)!
Ingredients:
1 cup packed tamarind paste or pulp (usually found jarred in Asian or Indian grocery stores)
3 cups water
1 and ½ tsp sesame oil
⅓ tsp cumin seeds
1 cup jaggery or brown sugar
⅓ cup white sugar
⅔ tsp cumin powder
⅔ tsp red chili powder
⅔ tsp black salt
⅓ tsp salt
⅓ tsp ginger powder
To make this tamarind chutney, add in your tamarind and water and bring the mixture to a boil. Once it's boiling, turn off the heat and let it sit for half an hour. Transfer to a blender and pureé. Heat oil in a saucepan on medium-high heat, and add your cumin seeds.
Now, mix in your tamarind paste and add in sugar and jaggery, mixing for three minutes to incorporate. Add in the rest of the ingredients and mix well, simmering the chutney for another 7 minutes until the mixture thickens. Let it cool, and you're all set!
If you'd like to give this tamarind chutney some extra fruity texture, you can add golden raisins, seedless dates, or banana slices.
This tantalizing Tomato Onion chutney puts a quick twist on a classic recipe.
Building off a base of onion, garlic, and Kashmiri red chilies, this onion and tomato chutney is one of the most versatile on this list. The tamarind adds a tart tang while the browned onions and garlic add mellow, delicious flavor.
The whole dish comes together in less than an hour and can be canned and kept for a couple of weeks in the fridge. Serve over a citrus-infused side like our lemon rice, as a dipping sauce for crispy naan and roti, or even as a flavor-packed marinade for your next meat dish.
4. Mango Chutney
If your taste buds want a vibrant chutney bursting with natural sugars, then this mango chutney recipe is the one for you.
Ingredients:
2 tbsp sesame oil
8-10 peeled and diced mangoes
4 cups white sugar
2 cups white vinegar
4 tsp minced ginger
4 cloves of garlic
2 Kashmiri red chilies
2 tsp ground coriander
1 tsp cumin
½ tsp turmeric powder
½ tsp ground cardamom
½ tsp cloves
½ tsp ground cinnamon
½ tsp salt
Sauteé red chilies, ginger, and garlic, along with all of those toasty to bring out their powerful aromas. Add in your diced mango, white sugar, and bitter vinegar, and you'll be left with a tantalizing, tangy mango chutney sure to please.
But what if you want the perfect chutney right away? What if your taste buds can't wait another second?
That's why we're here.
Our Mango Chutney strikes the perfect balance between sweet and spicy, making it the ideal companion for a cheese plate, as a spread on toast, bagels or sandwiches, or as a mix-in for yogurt and so much more!
Figs might taste like a sugary treat, but they're chock-full of fiber and other essential nutrients. These sweet tree fruits are the perfect guilt-free base for a sweet and savory fig chutney.
The simple ingredient list for this charming chutney is chopped figs and pecans, sugar, salt, ginger, cayenne, garam masala, and white vinegar.
All you have to do is toss the ingredients into a saucepan and simmer on medium-high heat. Stir slowly for about ten to fifteen minutes until the liquids have fully reduced.
When it's ready, you'll be left with a thick, glossy, absolutely appetizing chutney that makes a delicious pair to many light and savory snacks and entreés.
Think cheesy dishes like grilled brie, spread on paninis or grilled cheese sandwiches, or roasted chicken stuffed with goat cheese and fig chutney. This fig chutney also adds a sweet contrast to flaky meat dishes like braised duck or a leg of lamb.
6. Coconut Chutney
If you like a bit of texture in your dips and sauces, then this next chutney just might be for you.
Coconut chutney is perhaps best known for its frequent appearances around the breakfast table in South India, joining classic dishes like idli sambar, dosa, and uttapam (thick crepe with veggie toppings).
Coconut chutney is made up of a base of ground coconut meat and dry chilies. Garlic and ginger add some spiced depth while crisp curry leaves and cracked mustard seeds infuse an extra burst of flavor.
Ingredients:
1 and ½ cups grated coconut
2 garlic cloves
3 green chilies
½ tsp salt
1 tsp cumin seeds
½ cup water
Add all of the ingredients to a blender and pureé until smooth. Gradually add water until the texture is thick and can be spooned out of the blender. Add tempered dried red chilies, black mustard seeds, and curry leaves as desired.
If you'd like to make it in the Tamil Nadu style, add 3 tablespoons of roasted chana dal to your coconut chutney. The blackened, split chickpeas add an extra layer of plant-based nuttiness, while some roasted sesame seeds or a scoop of tamarind add some crunchy texture and subtle sweetness.
Serve this refreshing chutney with dosa, idli, and other favorite South Indian dishes. We also love pairing it with our Lemon Rice!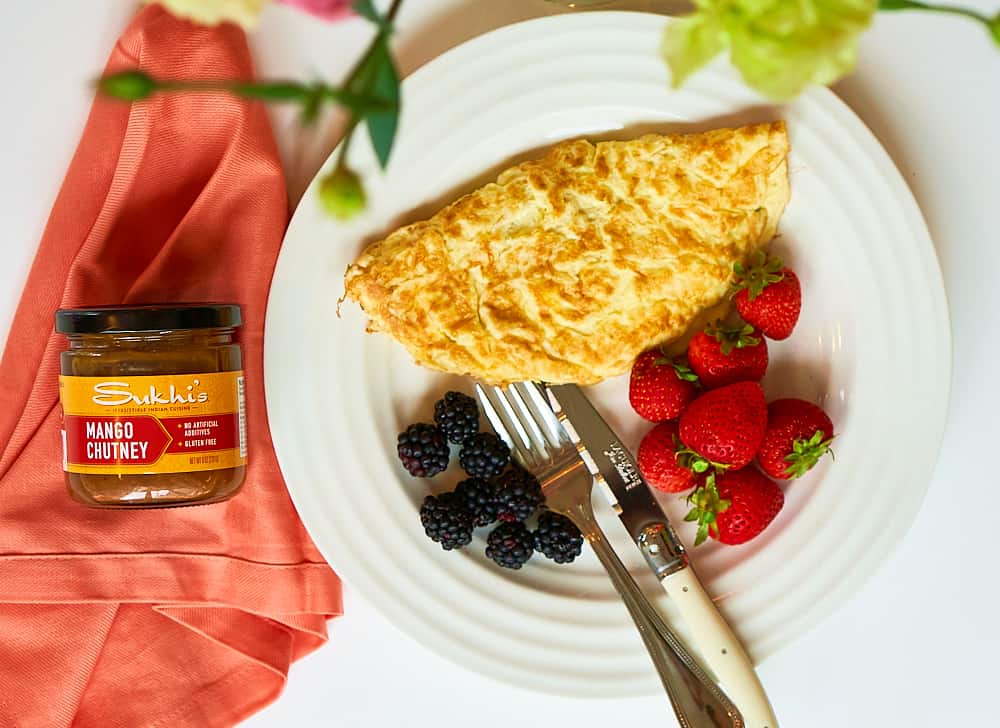 Cherish Your Chutney With Sukhi's
Once you dive into the world of chutney, you'll never want to go back.
While these seven chutney recipes can undoubtedly satisfy your taste buds, there are hundreds of different recipes of chutney to be discovered and enjoyed.
Create your own cilantro or coconut chutney and pair it with our scintillating samosas or mouthwatering street wraps.
If you're short on time and high on hunger, we've got you covered. Seek out a jar of our sweet and spicy Mango Chutney, perfect for any cheese plate, curry dish, or simply spread on crackers or crispy toast.
Feel free to browse through our blog while you're waiting for your order to arrive. Learn even more about the origins of chutney or discover some of the most popular bread types spread throughout the Indian subcontinent.