As the weather gets warmer and the flowers bloom, it's the perfect time to bring a taste of spring to your dining table with our Spring Radish Rice Bowl. Luckily, the bowl is both simple and delicious.
This fresh and flavorful dish features Sukhi's Lemon Rice as the star ingredient, providing a delicious tangy base. The dish combines this with vibrant radishes, earthy beets, and aromatic fennel to make a perfect harmony of flavors. If you love Indian food but are looking for a more versatile way to enjoy it, this recipe is perfect for you! It's light and easy to throw together for lunch or as a side during dinner!
Let's dive into the flavors of this delightful bowl. We'll show you how easy it is to make, how it varies per region, and why it can complement almost any nutritional diet!
What is a Spring Radish Rice Bowl?
The Spring Radish Rice Bowl is a perfect example of Indian cuisine's many diverse and vibrant flavors. This dish uses traditional Lemon Rice and gives it a unique twist with the addition of radishes, beets, fennel, and yogurt – making it perfect for springtime!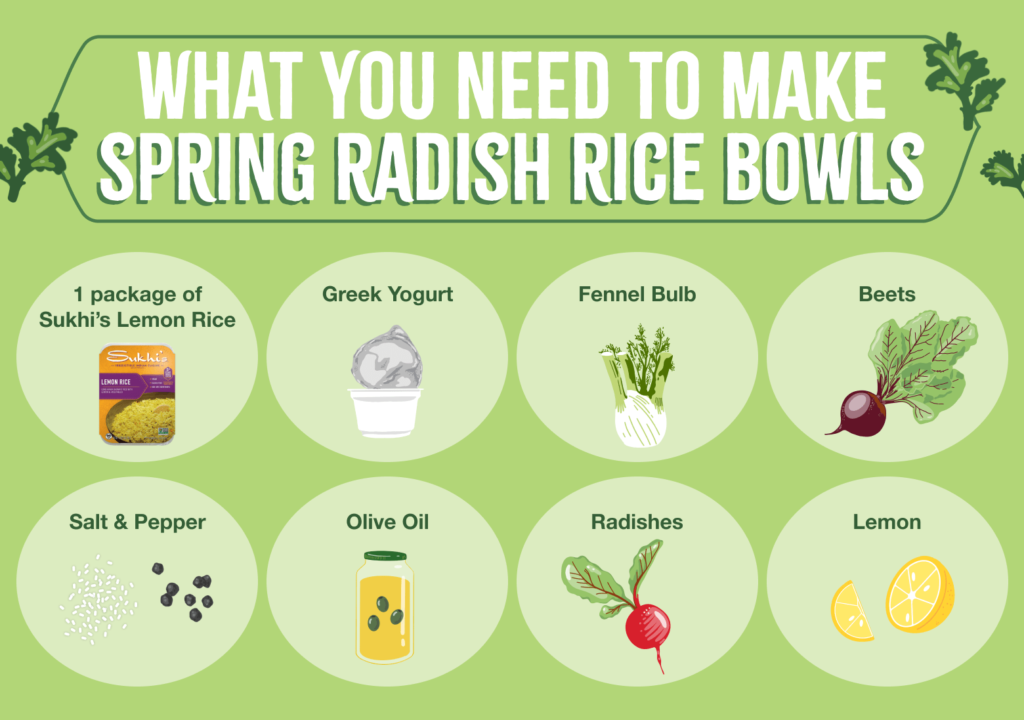 Breaking Down the Taste
This bowl provides a harmony of irresistible flavors. Our lemon rice provides a tangy and aromatic base, while the beets add a touch of earthy sweetness. The fennel slices bring a subtle hint of licorice-like flavor, and the finely sliced radishes provide a refreshing crunch. Finally, the yogurt dressing adds a creamy and tangy element to combine the flavors.
If made correctly, the combination creates a delightful balance of flavors, making it a perfect option for those who enjoy Indian cuisine, but want something light and refreshing.
Regional Variations
One of the many beauties of Indian cuisine is its versatility, allowing for endless variations according to your tastes and preferences. Indian cuisine is incredibly diverse, with each region of India having its own unique culinary traditions and flavors.
While the Spring Radish Rice Bowl is a modern fusion dish, it can be adapted to incorporate these differences. For instance, in the Northern region of India, you may find additions of spices like cumin, coriander, and cinnamon, while the Southern region may provide coconut milk and curry leaves.
You don't have to stick to tradition. Feel free to customize it with whatever spices you like and whichever vegetables are in season.
Nutritional Benefits
Besides its delicious flavor, this bowl is healthy too! The dish is packed with nutritious ingredients that contribute to its overall goodness. Vegetables are rich in essential vitamins, minerals, and antioxidants. The Spring Radish Rice Bowl is also gluten-free!
Preparing Your Spring Radish Rice Bowl
We hope you're eager to try this delicious Spring Radish Rice Bowl. Let's get into the details of how to make it at home. The recipe is simple and easy to follow, making it accessible for anyone who wants a homemade meal.
Spring Bowl Ingredients
Let's get down to it. Luckily, your ingredients list will be pretty minor.
½ cup Greek Yogurt
1 beet
1 fennel bulb
2-3 radishes, finely sliced
Salt and pepper to taste
2 tbsp olive oil
Juice of 1 lemon
Spring Bowl Recipe
Once you have your ingredients, it's time to dive in. Start by preheating your oven to 375 degrees. From there, chop your beet and fennel bulb into slices, placing your fennel fronds aside. You'll want to line your baking sheet with foil before drizzling beets and fennel bulb slices with olive oil.
Place the concoction in the oven for 10-12 minutes. When you remove it, allow it time to cool. Follow the instructions on your Sukhi's Lemon Rice. The package should be simple and easy to make, allowing a quick base for your dish. Again, allow time to cool.
It's time to make the dressing. Mix the yogurt, lemon juice, and fennel fronds. From there, pour the mixture on top of the rice and stir until the rice is coated. Add salt and pepper (and any other ground spices you like) to taste. Before serving, garnish the dish with roasted beets, fennel bulbs, and fresh sliced radishes.
This dish comes together easily, but is sure to impress anyone that tries it! Great for a crowd, a small family dinner, or just a solo lunch during a busy workday!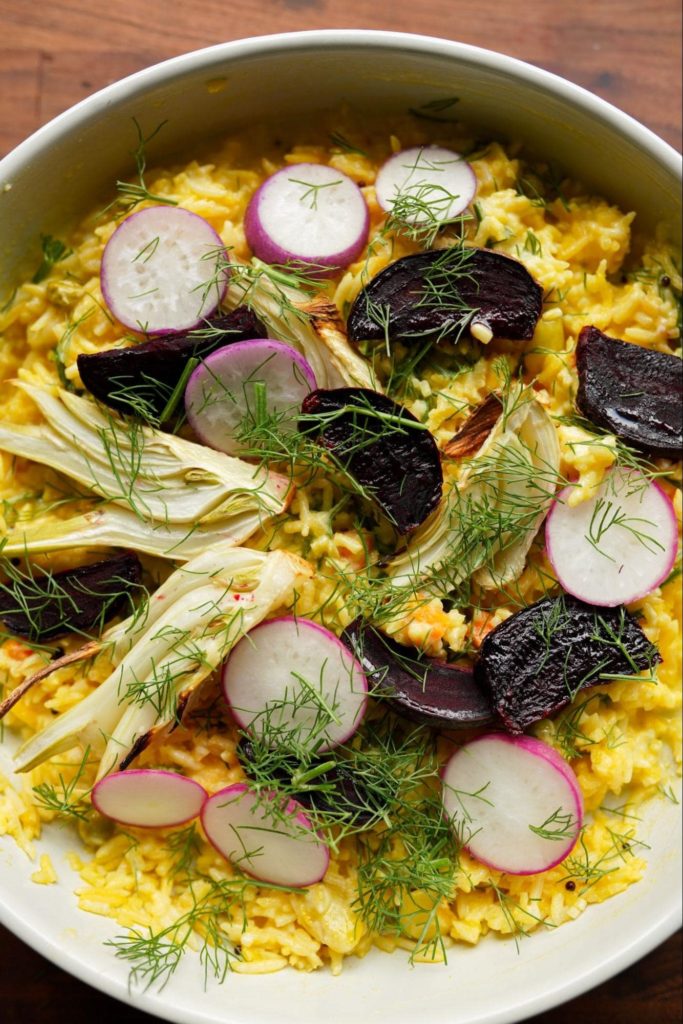 Seasonal Recipes
If you liked our seasonal recipe, we have a few more to recommend. Any of the following dishes will perfectly complement your changing year!
No matter what Sukhi's recipe you cook, you can't go wrong.
Carry on with Sukhi's
We hope our recipe provides the dish you need to make your springtime sing.
At Sukhi's we provide Indian food for wherever and whenever– at any level of convenience! If you're looking for a culinary experience, try your hand at our wide selection of entree recipes. In the meantime, our blog keeps you chock-full of all the cooking tips you need to know, like our favorite side dishes and how to make paneer at home. 
Don't worry if you don't have time to cook or just want a more convenient option without sacrificing flavor! We all need a pre-cooked meal now and again. Our online store hosts a wealth of healthy and delicious foods, that can be made in your microwave or oven. Branch out with our Roasted Tomato Curry and Chicken Biryani. For maximum flavor, we recommend keeping your sauce pantry stocked.
Don't hold back on starting your culinary journey. The recipe is simple and easy to make, so why wait? Elevate your home-cooked meals with new flavor heights!