Chimichanga Wraps: A Delicious Blend of Flavors
Do you love Indian flavors and Mexican cuisine? Do you like trying fusion foods like Korean BBQ tacos or Mexican pizza? Our chimichanga wraps are for you!
Our Chimichanga Wrap fuses these two culinary traditions to make a flavor-packed dish.
To make your Chimichanga Wrap, you'll need some essential ingredients such as sour cream, guacamole, cilantro, salsa, and a Sukhi's Street Wrap of your choice. The steps are simple and easy to follow, involving thawing the wraps and assembling them with delicious toppings.
In this article, we'll show you how to make a mouthwatering Chimichanga Wrap using Sukhi's Street Wraps.
Fusion Chimichanga Wraps
As the culinary world evolves, chefs and home cooks constantly experiment with new flavors and techniques to create unique dishes. These fusion chimichanga wraps offer an irresistible blend of flavors that pushes the boundaries of Indian and Mexican cuisine.
The warmth and depth of Indian spices, such as cumin, coriander, and turmeric, complement Mexican salsa's tanginess and guacamole's creaminess. If you're a fan of both cuisines, our fused Chimichanga Wrap will surely be a mouth-watering delight.
Our street wraps form the basis for this delicious dish. Explore each option to determine which you'll like most. You can't go wrong no matter which you choose to fill your Chimichanga Wrap.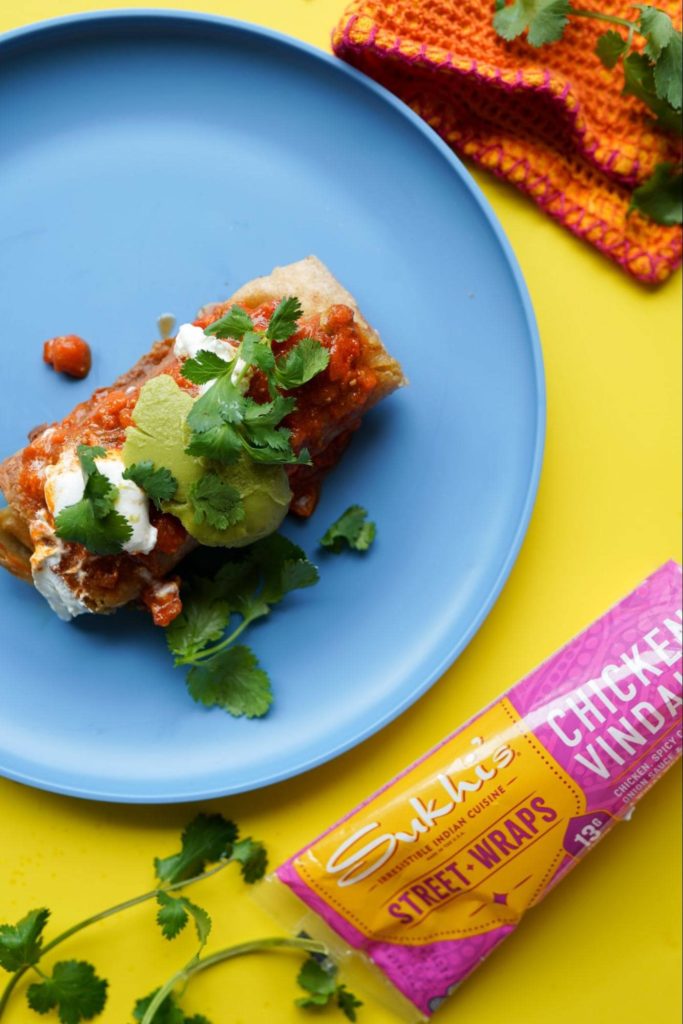 Types of Sukhi's Street Wraps
Chicken Tikka Masala Wrap
White chicken, creamy tomato sauce, basmati rice, wheat roti wrap
Sukhi's Chicken Tikka Masala Wrap will pack your chimichanga with flavor and protein. Each street wrap includes 13 grams of protein and no added antibiotics or hormones.
Chicken Vindaloo Wrap
Wheat chicken, spiced coconut sauce, basmati rice, wheat roti wrap
For our chimichangas, we prefer to use the Vindaloo wrap. This wrap includes a rich sauce made of carmelized onions. Its tang and spice pair perfectly with the Mexican flavors.
Vegetable Samosa Street Wrap
Spiced potatoes, veggies, wheat roti wrap
If you're on a plant-based diet, you can still enjoy our Chimichanga Wrap. Our Vegetable Samosa Street Wrap is filled with potatoes, peas, and other veggies, while still loading 9 grams of protein. 
Tandoori Spiced Chicken Street Wrap
Tandoori spiced chicken thigh, basmati rice
Our Tandoori Spiced Chicken Street Wrap will fill your Chimichanga Wrap with a smoky flavor. Tender chicken and roasted bell peppers will remind you of a fajita-like mixture!
Extra Tips for Your Chimichanga Wraps
To ensure your Chimichanga Wraps turn out perfectly, we've assembled a few extra tips and tricks:
Make sure the street wraps are thawed before frying to ensure they are heated on the inside and crispy on the outside
You can customize the fillings based on your preferences
Serve the Chimichanga Wraps with additional toppings such as shredded cheese, diced tomatoes, or sliced jalapenos
Chimichanga Wraps For Your Kitchen
We hope you enjoyed your recipe. You and your family can try different versions of the chimichanga with our different Street Wraps. If you didn't like your first go, you will find a flavor you love.
At Sukhi's, we offer flavorful, high-quality dishes, providing twists on classic recipes. Whether you're an adventurous foodie looking to try new flavors, a busy home cook seeking a quick and tasty meal, or someone who loves the fusion of culinary traditions– we have something for you.
For more of a challenge, follow our main dish recipes. If you're looking for something a bit easier, we recommend our Chicken Tikka Masala Pastry Bites. For a trickier dish, try our Tandoori Crusted Turkey. If you're looking for leisurely options, our refrigerated meals are delicious, easy-to-go and available to buy online.
So, get creative, customize your Chimichanga Wraps with Sukhi's Street Wraps, and explore the world of flavorful and diverse culinary experiences with us.
Chimichanga Wrap
Ingredients
2-3

Sukhi's Street Wraps

2-3

Cups

Canola Oil

For frying

1

Cup

Sour Cream

1.5

Cup

Guacamole

1

Bunch

Chopped Cilantro

1

Cup

Salsa

Either fresh or packaged

Jalapenos or hot sauce

As desired
Instructions
Remove street wraps from their packaging.

Heat oil to 360-365 F in a large dutch oven.

Microwave street wraps for a minute to slightly defrost.

Once oil is hot, use tongs to place street wraps into the dutch oven, making sure eachwrap isn't too crowded. Turn and position street wraps until golden brown and crispy.

Once done, transfer street wraps to a plate and top with sour cream, cilantro, guacamole, and salsa.