Ultimate Kathi Roll Guide
If you're a fan of Indian cuisine, chances are you've heard of the popular street food, the Kathi Roll.
They are essentially a wrap made with a thin flatbread or paratha filled with various fillings, such as marinated and grilled meats, paneer, vegetables, and chutneys, making them a widely versatile and customizable dish that is perfect for on-the-go meals!
These mouthwatering wraps are a favorite among food lovers for their delicious flavors and convenience. Whether you're a Kathi Roll enthusiast or new to this culinary delight, this article will provide you with everything you need to know, including how to make them.
What are Kathi Rolls?
Kathi Rolls (also called Frankies in Mumbai) originated in Kolkata, India, and have quickly become famous all over India and beyond. They are a wrap made with a thin layer of dough, filled with succulent fillings, and rolled into a flavorful package.
The filling can vary but typically includes proteins like chicken, lamb, or paneer (Indian cheese). It is also cooked with spices and vegetables, then grilled or pan-fried to create a crispy outside.
These rolls are known not only for their delicious taste but also for their convenience. They are often served as quick and satisfying street food, making them a popular option for on-the-go meals. They can also be served as a party appetizer, a lunchbox option, or a main course for a light and flavorful meal.
Kathi Rolls Near Me: Where to Find Them?
If you're craving some of this authentic food but aren't ready to make them, fear not!
Many Indian restaurants and food trucks worldwide offer these rolls on their menu. For easier access, our Sukhi's Street Wraps are widely available at various retailers. These frozen meals will be nice and hot after just two minutes of cooking. As our product selection may change, it's a good idea to call the store beforehand to verify availability.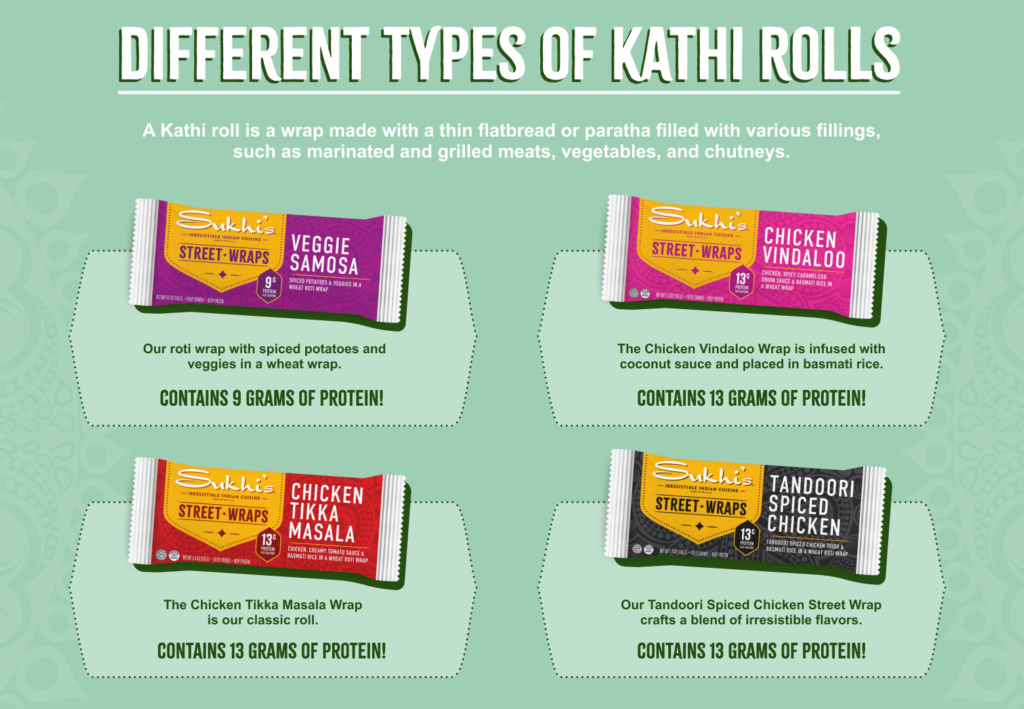 Different Types of Kathi Rolls
These rolls are also famous for their versatility. You can customize your wrap to suit different tastes and dietary preferences.
Our Sukhi's Street Wraps encompass different irresistible street wraps, all inspired by Kathi Rolls. To ensure they're a complete meal, we've added rice, making them more like a burrito.
Do you love classic rolls? You'll be right at home with our Chicken Tikka Masala Wrap. This meal comes packed with 13 grams of protein.
If you like vindaloo, you'll love our Chicken Vindaloo Wrap. This meal comes with an unconventional twist: it's filled with a popular curry, infused with coconut sauce and placed in basmati rice.
If you're a vegetarian, look no further than our Vegetable Samosa Street Wrap. This roti wrap utilizes spiced potatoes, veggies, and a wheat wrap, while still packing 9 grams of protein.
Finally, our Tandoori Spiced Chicken Street Wrap crafts a blend of irresistible flavors, while providing a whopping 13 grams of protein.
We hope that each can introduce you to the undeniable world of wraps.
Kathi Roll Ingredients
While it's convenient to find this dish at restaurants or stores, making them at home can be a cathartic challenge. Here's a simple recipe you can try in your kitchen.
Stock up with the following ingredients:
1lb boneless chicken
1tbsp ginger paste
1tbsp lemon juice
1 tbsp yogurt
1 tsp turmeric powder
1 tsp red chili powder
1 tsp cumin powder
4-6 thin flatbreads
1 large onion
1 large tomato
Fresh cilantro
Oil or ghee
Kathi Roll Recipe
Start by placing all the ingredients in a bowl and mixing them for the chicken marinade. Add the chicken pieces and let them marinate for at least 30 minutes or overnight for best results. Heat a pan or griddle over medium-high heat and brush it with oil or ghee.
Cook the marinated chicken pieces on the hot pan until they are cooked through and slightly charred, about 5-7 minutes per episode. Remove the cooked chicken from the pan and let it rest for a few minutes before slicing it into thin strips. In the same pan, warm up the flatbreads or parathas for a minute on each side until they are soft.
To assemble the rolls, spoon the cooked chicken strips on one side of the flatbread or paratha. Top it with some sliced onions, tomatoes, and fresh cilantro. Drizzle the rolls with mint chutney and tamarind chutney for added flavor. Roll up the flatbread or paratha tightly, tucking in the sides as you go to form a wrap.
Enjoy your meal. We hope the cooking experience pays off with a blast of delicious textures and flavors.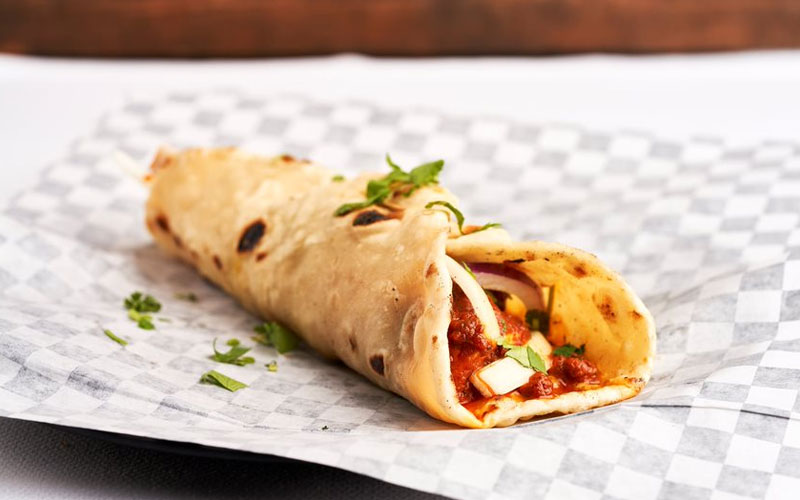 From Sukhi's Kitchen to Yours
Whether you decide to make Kathi rolls from scratch or stock some Sukhi's Street Wraps in your freezer for a quick snack or meal on the go, we hope you enjoy this wonderful dish inspired by classic Indian street food!
We have lots of recipes and tips from Sukhi's kitchen to share with you. Our blog will keep you stocked with all the culinary info you need. Explore all our favorite side dishes and the best Indian food for the holidays.
Sometimes, it's hard to find time to cook an elaborate meal with lots of unique Indian spices. Luckily, at Sukhi's, we provide easy-to-make delights to make your dinner table sing. Don't skimp on sauces. Our sauce and chutney inventory will provide you with all you need to heighten your meal.
In the meantime, keep honing your culinary skills. We hope that with enough time in the kitchen, you'll have all the knowledge you need to be a culinary expert.