Roasted Pumpkin Coconut Curry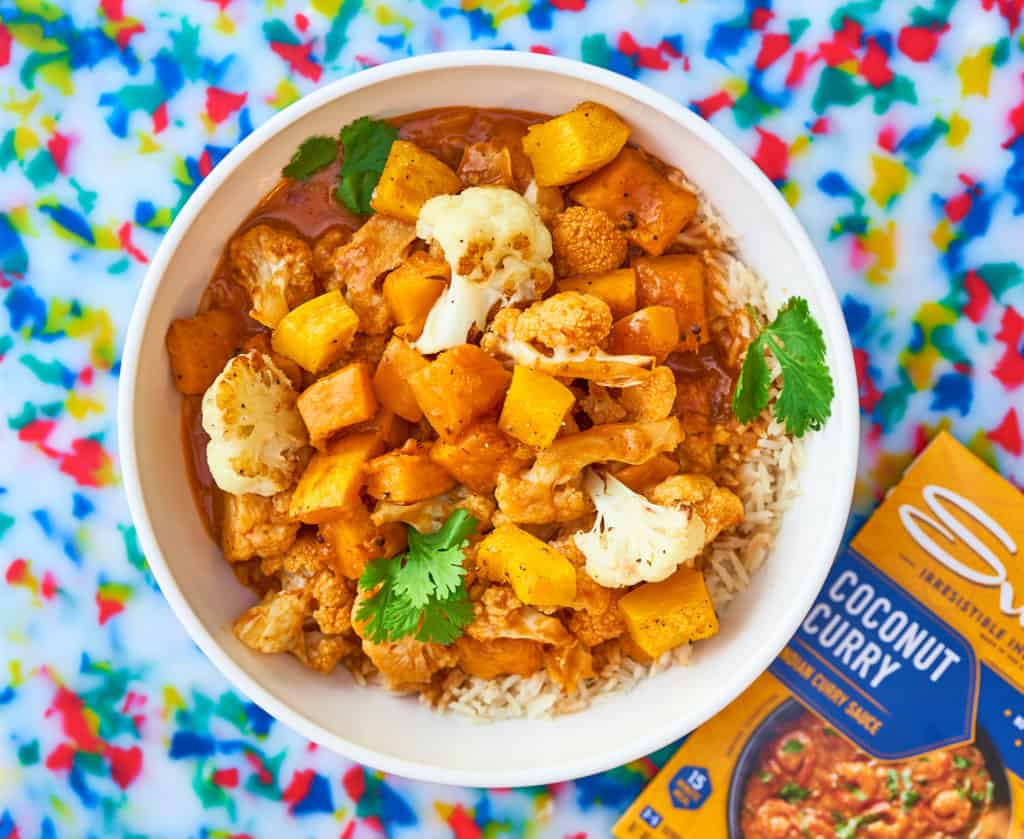 "Fall" in love with roasted pumpkin — the Sukhi's way!
As the days grow shorter and the leaves change colors, celebrate the season with our Roasted Pumpkin Coconut Curry. Baked, bite-size cubes of pumpkin (or squash) and cauliflower give this dish its signature golden-brown, autumnal flavors.
The starchy veggies mingle with creamy coconut milk and Sukhi's bright and vibrant Coconut Curry, taking on rich and decadent flavors. Serve this savory dish over a bed of steamed basmati rice, or pair it with Sukhi's sweet and spiced Mango Chutney to keep you warm and cozy through the winter and beyond.
Roasted Pumpkin Coconut Curry
Ingredients
1

package

(3 oz) Sukhi's Coconut Curry Sauce

1

small pumpkin or 1 large squash

1

medium head of cauliflower

12

oz

coconut milk

basmati rice

cooked
Instructions
Core and cube the pumpkin, removing the thick outer skin. Cut the cauliflower into large bite-sized pieces.

Add pumpkin cubes and cauliflower to a large sheet pan and coat well with olive oil, salt, and pepper.

Bake pumpkin and cauliflower for 15-20 minutes until softened and slightly browned.

In a large, deep pot, heat one package of Sukhi's Coconut Curry Sauce with 12 ounces of coconut milk until well mixed and nearly boiling.

Add the roasted veggies to the pot and cook for a few minutes until everything is coated and hot.

Serve over a bed of basmati rice or pair with Sukhi's Mango Chutney.