This crispy Indian fried chicken is a twist on classic buttermilk fried chicken. Flavored with spices like garam masala, cayenne, and turmeric, this homemade fried chicken is a family favorite!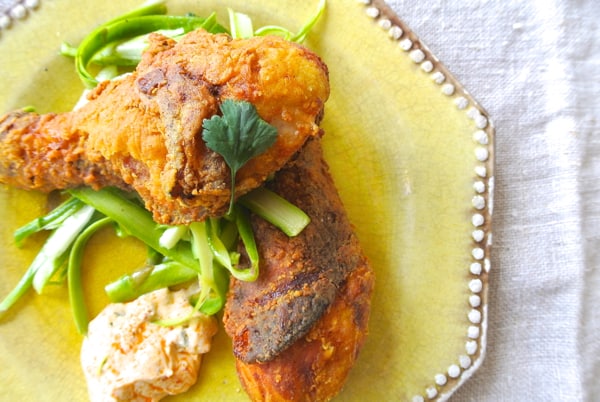 Creating This Indian Fried Chicken Recipe
Is there anything better than chicken hot out of the fryer? Believe it or not, it does get better — by spicing it up with a touch of Sukhi's. I grew up in the South and have savored a lot of amazing fried chicken, but I do like to change it up sometimes and experiment with different flavors.
When I was thinking about making an Indian fried chicken recipe, I remembered a recipe by my friend, chef and cookbook author, Suvir Saran. I've made this homemade fried chicken with him several times and love that Suvir adds turmeric and garam masala, among other spices, to the brine and the batter for both color and depth of flavor.
Make a quick dipping sauce by stirring fresh lime juice and a few tablespoons of Sukhi's Carrot or Mango Pickle into plain yogurt. Actually, any of Sukhi's chutneys or pickles would go well, so just use your favorite one!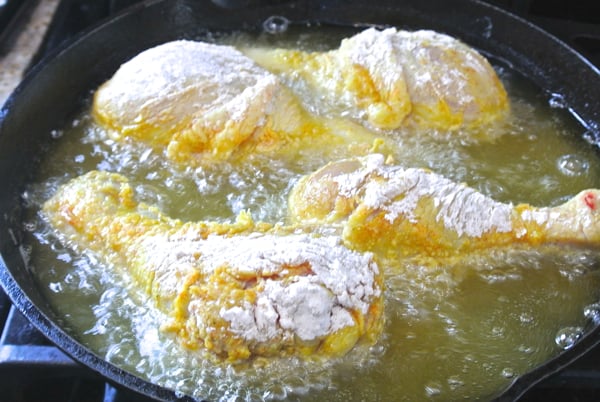 Tips on How to Make Fried Chicken
Make sure the oil is hot — If the oil is not hot enough, the chicken will soak up the grease and become soggy.  But if it's too hot, the buttermilk fried chicken will burn and not cook on the inside.  So, ideally, use a candy thermometer and heat oil to about 350°F. Keep in mind that the temperature will decrease as you add the chicken pieces, which is why you want to heat it to 350°F and fry at a temperature between 325°F to 345°F.
If you don't have a deep-fry thermometer, heat oil until just starting to shimmer on the surface. When you think it's hot enough (and before it starts to smoke), add a small piece of bread — it should bubble and rise to the surface when the oil reaches the right temperature.
Don't overcrowd the pan — Use a heavy cast iron skillet large enough to hold several pieces of chicken at once. If you crowd the pan, the oil will spill over and/or the temperature will reduce too much and the chicken will become soggy.
Cook until internal fried chicken temperature is hot enough — You need to fry the chicken until its internal temperature reaches 175ºF to 180ºF. If you don't have a meat thermometer to test this, you can also pierce the chicken with a fork to see if the juices are running clear (if they are, that means the chicken is done).
Sprinkle the fried chicken with salt — As soon as the chicken is out of the fryer, add a sprinkle of good sea salt flakes while it's hot.
How to Keep Fried Chicken Warm
To keep fried chicken warm while making more batches, tent it loosely with foil or place a cooling rack/grid in a large sheet pan and heat oven to about 200°F.  Place the cooked chicken on the rack in the oven to keep warm until ready to serve.  Try not to keep the Indian fried chicken in the oven too long, though, since you don't want it to dry out.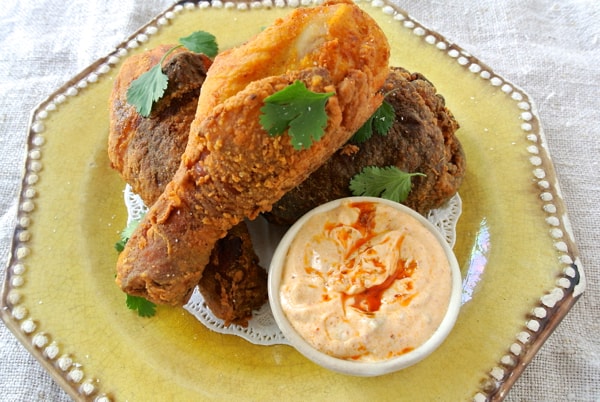 More Indian Recipes to Try: