This crispy Indian fried chicken is a twist on classic buttermilk fried chicken. Flavored with spices like garam masala, cayenne, and turmeric, this homemade fried chicken is a family favorite!
Making Masala Fried Chicken
Is there anything better than chicken hot out of the fryer? Believe it or not, there is–spicing it up with Sukhi's! 
We recommend a recipe by chef and cookbook author, Suvir Saran. Suvir adds turmeric and garam masala, among other spices, to the brine and the batter for color and depth of flavor. While we love his original recipe, we've modified it (and cut down your time in the kitchen) by using our Tikka Masala Sauce! This adds the perfect burst of flavor to traditional American fried chicken.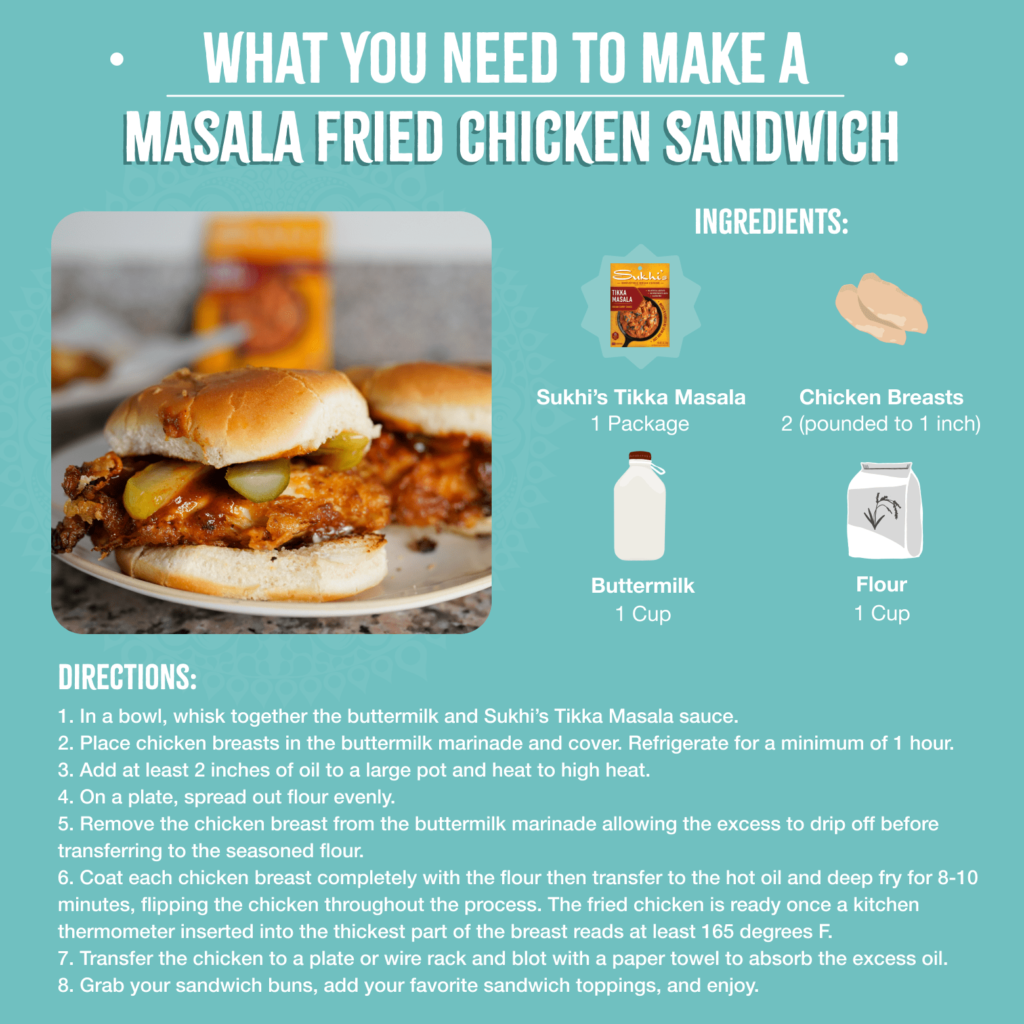 Masala Fried Chicken Sandwich Ingredients
-1 cup buttermilk
-1 package Sukhi's Tikka Masala sauce
-1 cup flour
-2 chicken breasts, pounded to 1-inch thickness
Fried Chicken Recipe
To make Tikka Masala Fried Chicken Sandwiches, start by whisking buttermilk and Sukhi's Tikka Masala sauce in a bowl. 
Marinate chicken breasts in the mixture and store, covered in the fridge for at least an hour. Add at least 2 inches of Canola oil to a large pot and heat on high. If the oil is not hot enough, the chicken will soak up the grease and become soggy. But if it's too hot, the buttermilk fried chicken will burn and not cook on the inside.  
Meanwhile, spread the flour evenly on a plate. Take the chicken breast from the buttermilk marinade, allowing it to drip off before transferring to the seasoned flour. From there, cover each chicken breast in flour before moving it to the oil to deep fry. Cook for 8-10 minutes, turning the chicken throughout.
Pay attention to your thermometer. Insert it into the thickest part of the meat. When the temperature reads 165 degrees Fahrenheit, you are done. Once you've transferred the chicken to a plate (or wire rack), we recommend blotting with paper to remove oil.
Assemble the sandwiches by placing the chicken on sandwich buns and adding your favorite toppings. We recommend pickles, onions, or tomatoes to help balance the fried chicken, along with some condiments like cilantro chutney or curry ketchup. 
Voila, enjoy your delicious masala fried chicken! 
How to Keep Fried Chicken Warm
To keep fried chicken warm while making more batches, tent it loosely with foil or place a cooling rack/grid in a large sheet pan and heat the oven to about 200°F.  
Place the cooked chicken on the rack in the oven to keep warm until ready to serve.  
Try not to keep the fried chicken in the oven too long, though, since you don't want it to dry out.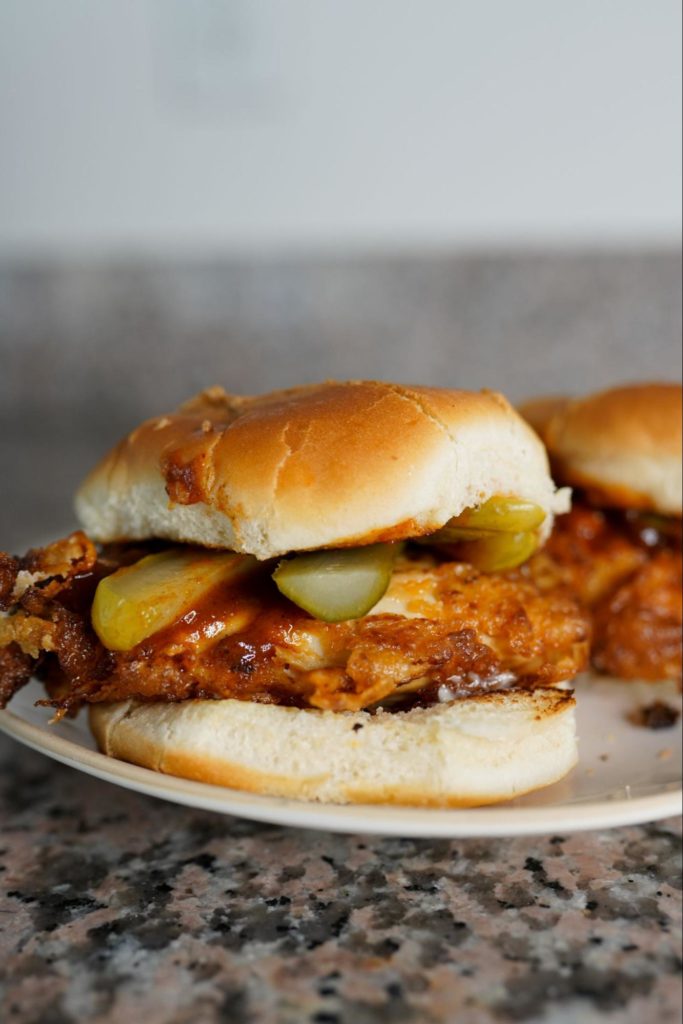 Keep Cooking with Sukhi's 
Did you enjoy this recipe? At Sukhi's, we offer all the best in Indian cuisine. 
We believe there's no greater way to learn in the kitchen than cooking yourself. Follow along with our favorite recipes to keep experimenting with bold flavors and perfecting your skills. We'll help you deck out your dinner table with our decadent main dishes or keep your plates interesting with various strong side plates. Are you on a plant-based diet? Don't worry. We've also got vegetarian options to keep you satiated. 
Dinner doesn't have to be complicated. Our pre-cooked entrees make dinner easy and rewarding. Try our classics, from our Chicken Tikka Masala to our Chicken Biryani. The more you eat, the more you'll know about our tastes. Take our curry test for a look at your flavor preferences.
We hope you enjoyed your masala fried chicken. There's a world of Indian cuisine around you. Keep exploring! 
More Indian Recipes to Try: