This grilled tandoori chicken recipe requires just 10 minutes of hands-on prep work. Serve with raita and vegetable skewers for a complete meal, plus your favorite pickles and chutneys.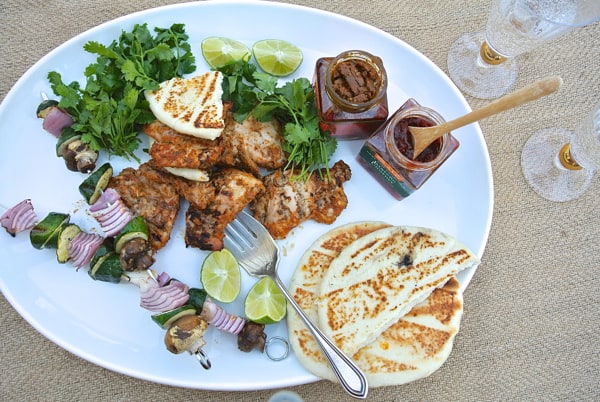 Grilled Tandoori Chicken is always a crowd pleaser. But instead of using a traditional tandoor, a very hot outdoor grill offers an easy alternative for the home cook. Many renditions of this popular dish often use artificial coloring, but Sukhi's Tandoori Marinade is all natural and gets its burst of flavor from a blend of cayenne, ginger, fenugreek, and paprika.
Just mix up Sukhi's Tandoori Marinade with yogurt and chicken — although it's equally delicious with lamb or shrimp — and skewer some vegetables as well for a complete meal. As always, we love to add Sukhi's chutney or pickles and some raita on the side.
Grilled Tandoori Chicken Ingredients
For this tandoori chicken recipe, you'll need the following:
Sukhi's Tandoori Marinade
Skinless chicken thighs
Plain yogurt
Garnishes (like fresh lime and cilantro)
How to Make Tandoori Chicken on a Grill
This grilled tandoori chicken recipe is incredibly easy. First, you'll need to cut slits in the chicken thighs (this will ensure that the tandoori marinade imparts as much flavor as possible into the meat). Toss the chicken thighs with the marinade mixture and the plain yogurt, and let it rest in the fridge for 4 hours, or overnight.
Once the chicken has had time to marinate, heat your grill to medium-high. The chicken will need to cook for roughly 7 – 8 minutes on each side. Try to turn the grilled chicken only once so that it has time to develop those lovely grill marks.
You'll know when the chicken is finished cooking when you pierce it with a fork and the juices run clear. If the juices are tinged with pink, that means it's not yet fully cooked.
While the grill is on, you might as well grill some veggies and naan to go with your tandoori chicken. Or you can keep things super simple and enjoy the grilled tandoori chicken simply with chutney and pickles, plus some fresh veggies!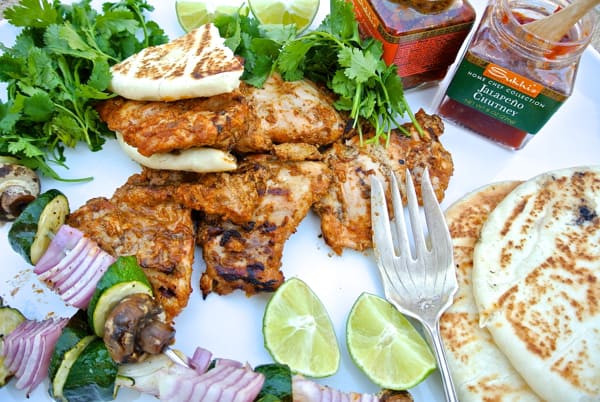 Tips for the Best Tandoori Chicken
You can use any cut of chicken you have on hand for this recipe, but you may have to adjust the grill time depending on how large the chicken pieces are.
Fresh lime juice is key when serving tandoori chicken, as the acidity cuts through the rich tandoori marinade.
Leftover tandoori chicken makes excellent leftovers and can be eaten as is, or on a sandwich or salad.
More Indian Recipes:
Grilled Tandoori Chicken
Ingredients
1

packet

Sukhi's Tandoori Marinade

2

pounds

skinless chicken, preferably thighs (or meat or seafood)

2

tbsp

plain yogurt

Garnishes: Fresh chopped cilantro, lime wedges
Instructions
Remove skin from chicken and cut deep slits into the meat. Place in a glass or non-reactive bowl with the Tandoori Marinade and yogurt. Cover and refrigerate at least 4 hours and up to overnight.

Heat grill to medium high. Cook chicken about 15 minutes, turning once or twice, or until juices run clear. Garnish with cilantro and lime and serve with naan, raita, and chutney.

Serve with: grilled naan, and Sukhi's chutneys or pickles