Nimbu Pani (Indian Spiced Lemonade)
Nimbu Pani is an Indian lemonade made with freshly squeezed lemon juice, cumin, and salt. This refreshing summer drink can easily be made into a cocktail by adding gin or vodka to your glass.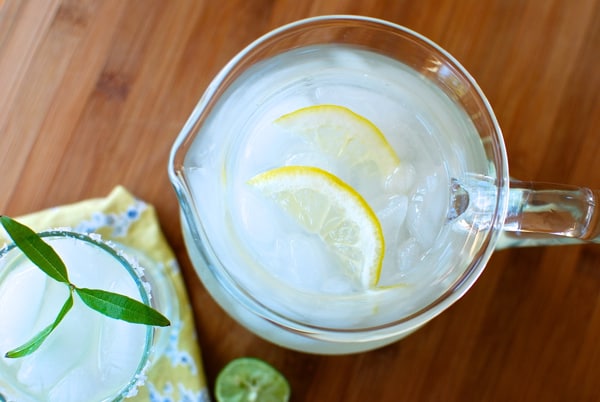 Nimbu pani is a fresh lemonade recipe that's enhanced with Indian spices like cumin and cardamom seeds. It's as easy to make as the homemade lemonade your mom made you as a kid, but it has that extra bit of flavor that you're bound to love. Nimbu pani is a great drink to bring to family dinners, potlucks, and barbecues, as it pairs well with almost any dish!
Nimbu Pani Ingredients
To make nimbu pani, you'll need the following key ingredients:
Simple syrup (water and sugar)
Freshly squeezed lemon or lime juice
Cold water
Toasted and crushed cumin seeds
Flaky sea salt
You can also garnish your beverage with fresh mint, basil, or lemon verbena leaves, but nimbu pani is delicious as is!
How to Make Nimbu Pani
Making nimbu pani at home couldn't be easier! You'll first need to make simple syrup by combining equal parts water and sugar in a saucepan and heating until the sugar is dissolved. Then, add the lemon or lime juice and cold water to a large pitcher. Add however much simple syrup you want, then stir in the cumin and sea salt if you're using them.
Pour the cold spiced lemonade into a glass and garnish as desired. You can also rim the glass with salt to amp up this drink.
Nimbu Pani Variations
To switch up the flavor of this nimbu pani, you could make a flavored simple syrup. This will subtly alter the flavor of the Indian lemonade without changing it completely. I enjoy adding cardamom seeds and lemon verbena leaves to my simple syrup, but cumin seeds would also work nicely.
And if you have leftover lemonade, you can easily transform it into popsicles. Simply pour the nimbu pani into popsicle molds or freezer-safe cups and freeze them for 90 minutes. After 90 minutes, the popsicles will be solid enough for you to add the popsicle sticks. Let the lemonade popsicles freeze overnight before enjoying them.
Tips for the Best Nimbu Pani
Instead of adding salt to the lemonade, try rimming the glass with flaky sea salt.
Pour some of the spiced lemonade into ice cube trays and freeze. Use these ice cubes in the nimbu pani to prevent it from becoming diluted.
Nimbu pani can be made with either lemon or lime juice. Just make sure to squeeze the juice yourself for the best flavor.
To turn your Indian lemonade into a cocktail, add a shot of vodka or gin into your glass and give it a good stir.
More Indian Drink Recipes:
Nimbu Pani
Nimbu Pani is an Indian lemonade made with lemon, cumin, and salt. This refreshing summer drink can easily be made into a cocktail by adding gin or vodka the your glass.
Ingredients
Nimbu Pani
simple syrup

, to taste

1

cup

lemon or lime juice

, freshly squeezed

4

cups

cold water

cumin seeds

, toasted and crushed (optional)

sea salt flakes

, for rimming glass (optional)
Garnishes
Fresh mint

, optional

Fresh lemon verbena

, optional

Fresh basil

, optional
Instructions
Make Simple Syrup
Combine 1 cup sugar and 1 cup water in a saucepan over medium-low heat. Add a squeeze of lemon juice to prevent the mixture from crystallizing. Stir and let cook just until sugar dissolves. Let cool.
Make Nimbu Pani
Combine lime or lemon juice and water. Stir in simple syrup to taste.

Run a lime or lemon wedge around rim of a glass, rim with salt and pour nimbu pani over ice cubes in glass. Serve cold and garnish with fresh mint, lemon verbena, or basil leaves, if desired.
Notes
Variations: Add cardamom seeds or fresh lemon verbena leaves to the simple syrup. 
For hard Nimbu Pani: Add gin or vodka, and a cucumber slice as garnish.
For popsicles: Pour lemonade into popsicle molds or paper cups. Freeze for at least 1 hour 30 minutes before placing sticks in the mixture. Place back in freezer until frozen.