Easy Chicken Tikka Masala
Want to know how to make an easy Chicken Tikka Masala? We've got the tips and tricks for the best Chicken Tikka Masala out there!

Origin of Chicken Tikka Masala
The origin of Chicken Tikka Masala is a bit of a long and twisted story. We covered a whole lot of it in our ultimate guide of chicken tikka masala, so we'll give you the shorter version here!
In short, we may never know where the exact beginnings of this dish due to conflicting stories of it originating in Scotland since it's basically a national dish in the UK and also originating in India.
While the origin of chicken tikka masala remains somewhat of a mystery, everyone can agree on certain parts of the recipe. Firstly, the dish involves chicken tikka and creamy tomato masala. Secondly, it's a widely celebrated dish and among the favorites of Indian cuisine.
CHICKEN TIKKA MASALA VS BUTTER CHICKEN
Even the most well-informed sometimes get chicken tikka masala confused with butter chicken! We're not all that surprised, honestly. They both have similar coloring due to the orange-colored curry and are both very popular Indian dishes on menus across the globe.
The main difference, which you probably could guess, is butter! Butter is added to make butter chicken, well, buttery for lack of better words. This ingredient makes for a creamier sauce, and by comparison, is less spicy than chicken tikka masala.
Additionally, the origin of butter chicken is very well known, unlike chicken tikka masala. 
Want an in-depth look into the difference between chicken tikka masala? Check out our ultimate guide to Chicken Tikka Masala for a deep dive!
How Do You Make Chicken Tikka Masala?
The most complicated part of the Chicken Tikka Masala cooking process is the sauce. So if you are short on time, grab Sukhis Tikka Masala Sauce to make your life easier. Sukhi's was created out of the need to obtain the complex, rich flavors of Indian cuisine without the time and energy spent in the kitchen. 
Let's go over some of chicken tikka masala's main ingredients. 
Start with delicious chicken tikka (aka boneless chunks of marinated chicken), broil it, and pour some masala/spiced curry over it. Serve over hot basmati rice with a side of naan. That's it!
Perhaps the most important thing to remember when cooking the chicken is to keep it tender and moist.  Baking it in the yogurt/spices mix helps to achieve this. Again, there is the option of speeding things up by using our tikka masala curry sauce. Just saying.
Of course, you can always buy Sukhi's chicken tikka masala as an alternative if you don't want to cook at all!
Instant Pot Chicken Tikka Masala
Crunched for time? We get it! Instant Pot to the rescue! You combine all of the ingredients and refrigerate for 30 minutes.
Turn your Instant Pot to saute and make the masala, and then add chicken. From there, set the pot to poultry and set the timer for 5 minutes. As always, wait until the release cycle is complete before opening your Instant Pot. This is when you add your half and half, salt, and butter. That's it!
Chicken Tikka Masala in a Slow Cooker
The slow cooker version of chicken tikka masala is similar to the Instant Pot but takes a bit longer. You're going to want to cook it for at least 4 hours on high or 8 hours on low. A great option if you want to come home from work to a hot and ready meal!
Tips to Chicken Tikka Masala: 
While easy to make, there are a few pro tips to consider when making chicken tikka masala. Follow these steps to ensure a rich, authentic Indian dish.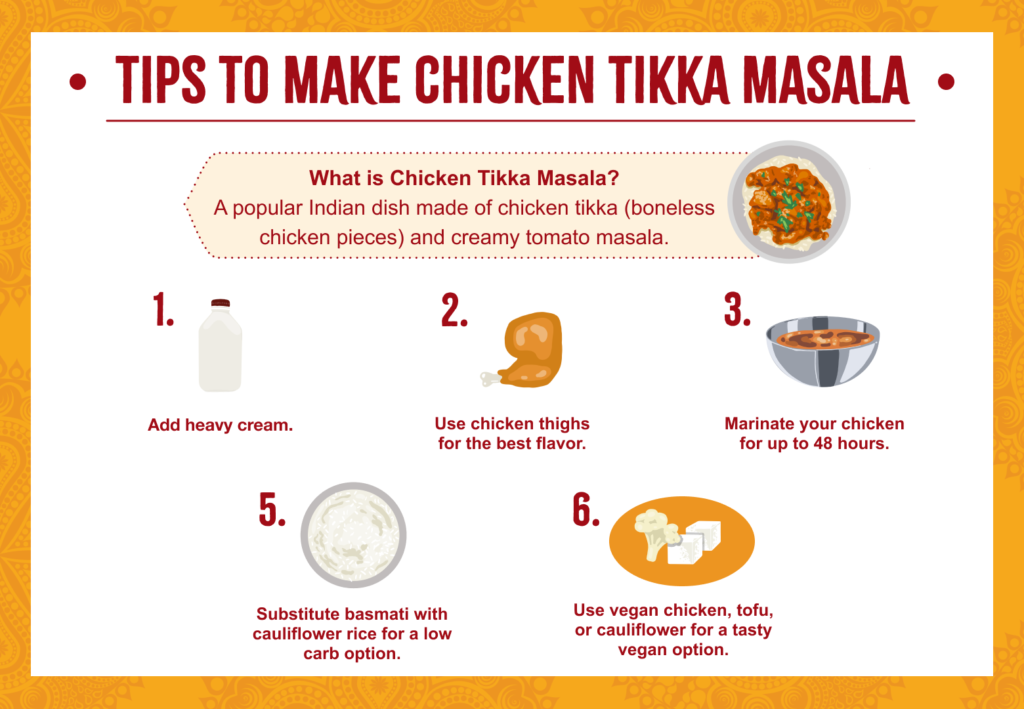 Dairy Products That Can Be Used/Added
Adding heavy cream to your chicken tikka masala makes for a very creamy dish! You can also add a little extra to diminish some of the spiciness if that's not your thing. Yogurt is also a key ingredient in this dish as a marinade for your chicken.
Chicken Breast or Chicken Thighs?
Both chicken breasts and chicken thighs are appropriate for this dish, but the thighs tend to give this recipe the best flavor. If you're going with chicken breasts, try marinating them for a little longer for the best flavor.
How Long to Marinate Chicken?
You can marinate your chicken for up to 48 hours, but it's recommended you do it for at least 30 minutes. Again, if you're using chicken breasts, use as much of that marinating time as you can.
Keto Chicken Tikka Masala
On the Keto diet? Make your very own keto chicken tikka masala! Try subbing the basmati rice with cauliflower rice for a low-carb option.
How to Make Vegan Tikka Masala
Vegan tikka masala is also super easy and only requires a few different steps. You can try using vegan chicken as a substitute for regular chicken. You can also try adding tofu or even cauliflower to your curry for a tasty vegan option.
Easy Chicken Tikka Masala Recipe
For the recipe below, we've cut out some of the hard labor for you by using Sukhi's Tikka Masala Curry Paste! If you don't feel like cooking, you can take even more of a shortcut by using Sukhi's Chicken Tikka Masala. 
Easy Chicken Tikka Masala
Want to know how to make an easy Chicken Tikka Masala? We've got the tips and tricks for the best Chicken Tikka Masala out there!
Ingredients
1

packet Sukhi's Tikka Masala Curry Sauce

1 ¼

lbs.

skinless chicken

¼

cup

heavy cream

¾

cup

water
Instructions
In a saucepan, add chicken. Sautee for 2 minutes to until the outside of the chicken is opaque.

Add Sukhi's Tikka Masala Curry Sauce. Mix well. Add water. Mix ingredients together well and simmer on medium high heat.

When Chicken is cooked, stir in cream. Bring to boil.

Once the Chicken is cooked through, turn off the heat.

Serve over rice.