Instant Pot Indian Recipes You Need To Try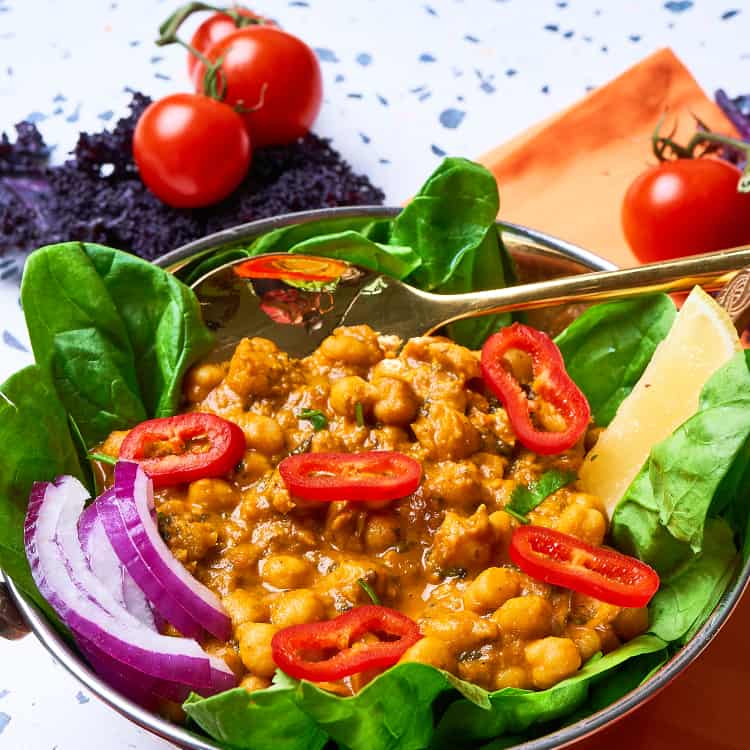 When you love Indian food, there's only one thing holding you back from eating it every night; the long and sometimes laborious process of actually cooking it! Luckily for Indian food lovers, there's now a device that allows for more delicious meals and less stressful nights in the kitchen: the Instant Pot.
Indian Instant Pot recipes take the complications out of cooking but leave all the flavors in. Pressure cookers are definitely something you should invest in if you adore Indian cuisine.
Although Indian recipes weren't originally made in pressure cookers, they sure do come in handy. Instant Pots are great for cooking tender meats, creamy curries, and a variety of other traditional dishes without any compromise.
Indian food is filled with tons of flavors waiting to be unleashed onto your palate. Unlock those flavors with one of these 6 Indian Instant Pot recipes.
6 Indian Instant Pot Recipes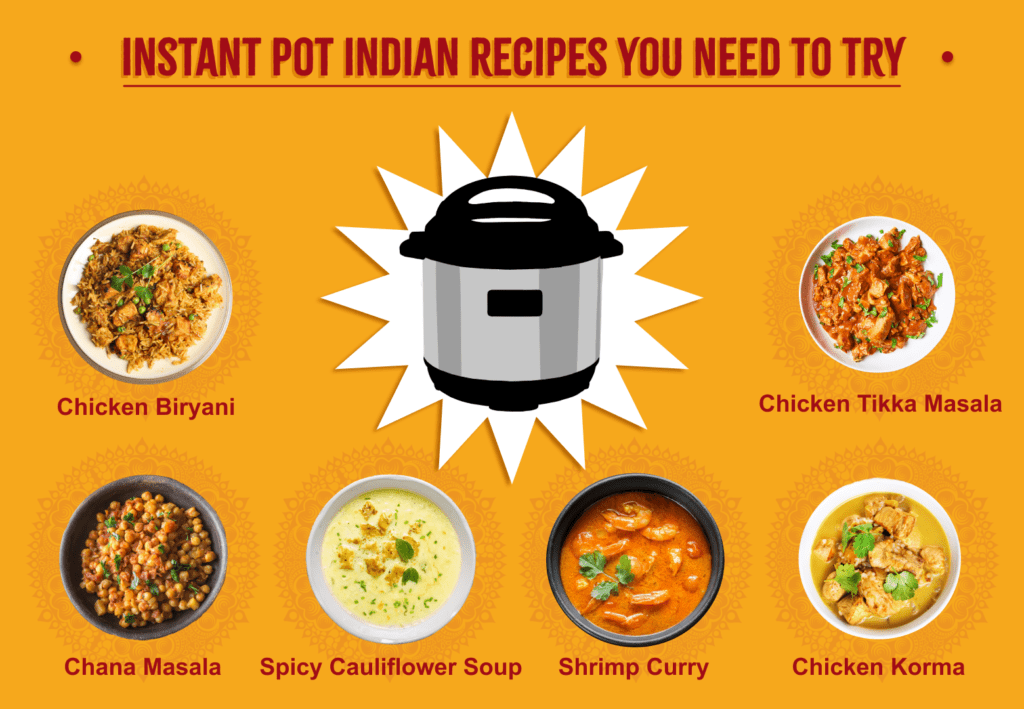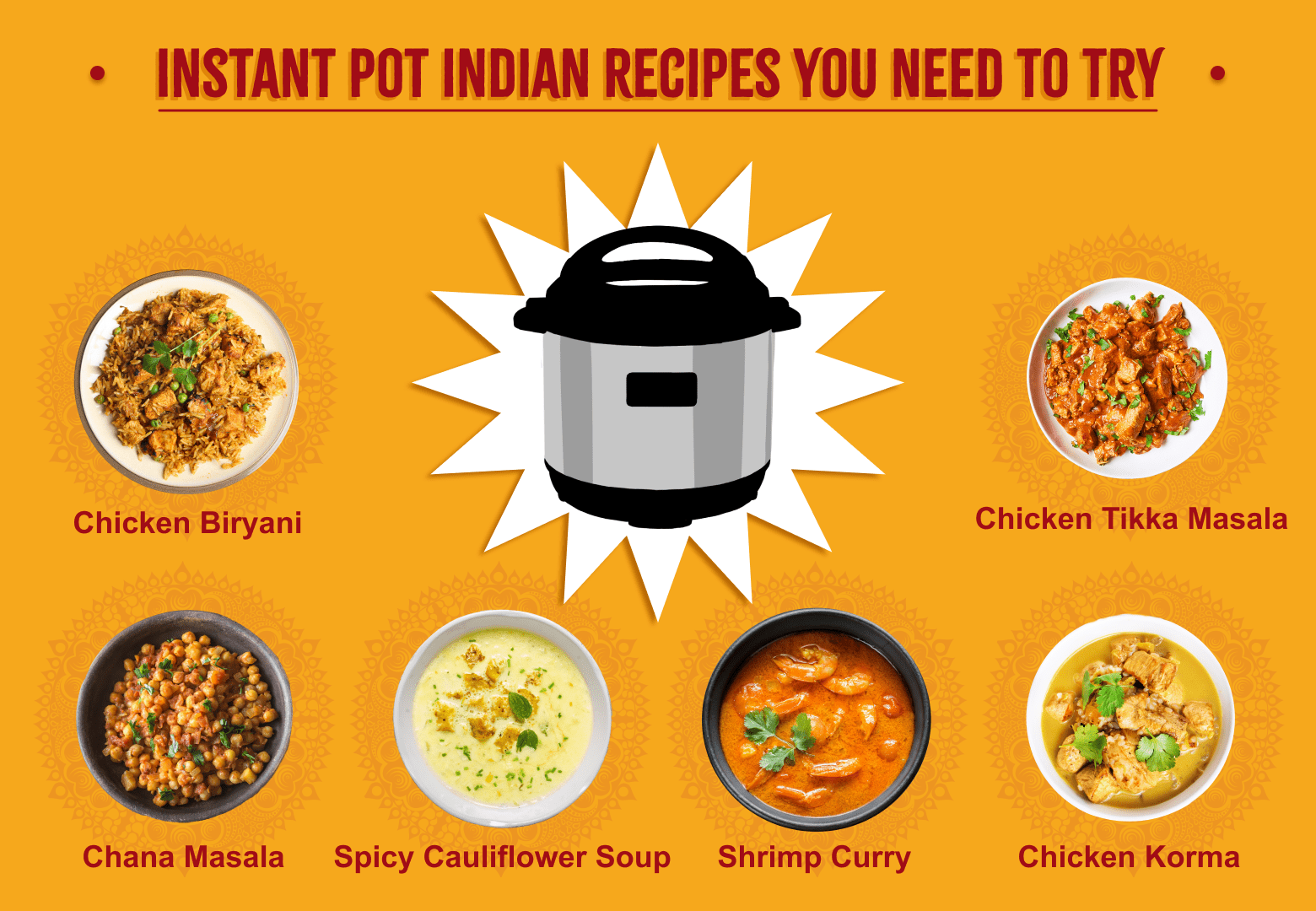 #1 Chicken Biryani
Biryani is one of the most influential dishes coming out of India. From region to region, you'll find biryani prepared in different ways, but it's a staple rice dish that often acts as the flavorful foundation for yogurt-marinated meats and vegetables.
You can prepare chicken biryani with freshly ground spices, caramelized onions, and tender chicken, all cooked over long grain basmati rice.
Tips:
Use plain whole-fat Greek yogurt for your chicken's marinade.
While your chicken is marinating, soak your rice.
Add jalapenos to your pot to make your dish extra spicy.
Cook Time: 40 mins
Measurements:
2 cups yogurt
1 onion
3 cups rice
2 pounds whole bone-in chicken
To taste herbs and spices
#2 Spicy Cauliflower Soup
If you're looking for a one-pot vegetarian meal, this is the one for you. Cauliflower soup is creamy, comforting, nutritious, and simple to make in your Instant Pot.
Throw some garlic, ginger, and onion into your pot on sautee mode. Then add a whole head of cauliflower and your favorite vegetable broth. Whip out your masala dabba to add the spices of your liking (we recommend garam masala, coriander, and turmeric) and stir it all together.
Cook everything together until the cauliflower is soft enough to be blended into your cozy soup. If desired, you can add heavy cream or coconut milk for a creamier texture.
Tips:
Add apple or sweet potato chunks to your pot if you want it to be a bit sweet.
You can garnish your soup with coconut flakes or cilantro.
Add a squeeze of lime or lemon to add a citrusy tang.
Cook Time: 20 mins
Measurements:
4 garlic cloves
1 onion
1 head cauliflower
3 cups vegetable broth
1 cup coconut milk
To taste spices and diced ginger
#3 Chana Masala
Chana Masala, also known as chole masala, or cholay, is a popular chickpea dish that you can easily prepare in an Instant Pot.
Place your Instant Pot on saute mode and add in onions, garlic, ginger, red chili powder, and salt, OR just add Sukhi's Classic Indian Curry Paste to skip all these steps. From there, you can combine your chickpeas and tomatoes into the mixture and simmer until the gravy has a smooth consistency. Then add in lemon juice and green chilis, and you're good to go!
Tips:
Top your chana masala with as much cilantro as you'd like for extra freshness.
Traditionally, chana masala is served with raw red onions that add lots of sweet flavor.
Enjoy your chana masala alone or with chapati or rice.
Cook Time: 45 mins
Measurements:
1 cup chickpeas
1 cup chopped tomatoes
½ red onion
5 cloves garlic
#4 Chicken Korma
Korma sauces are light, creamy, sweet, and mild, made to be poured over rice or served with naan. Kormas get their creamy texture and sweet taste from cashews, almonds, coconut milk, or all three. You can make a nourishing vegetable korma or a protein-packed chicken korma; whatever ingredients you're cooking with, an Instant Pot will come in handy.
You'll want to marinate your chicken in yogurt and soak your cashews or almonds in water before you start cooking. Once you're ready to get going, you'll saute onions, garlic, and ginger in ghee or oil until browned, and then add in your marinated chicken and continue to saute. While the chicken is pressure cooking, you'll blend your nut of choice into a paste and stir it into your pot. Allow everything to cook on high pressure and then serve.
Tips:
Adjust your cooking time depending on if you're using boned or boneless chicken.
Temper whole spices like bay leaf, cinnamon, cloves, and cumin seeds before sauteeing your vegetables and chicken
Cook Time: 25 mins
Measurements:
1 ½ pounds chicken legs
½ cup cashews
3 tablespoons yogurt
2 cups onions
3 tablespoons ghee
#5 Shrimp Curry
Seafood and curry, what more could you ask for? Shrimp curry is juicy, refreshing, flavorful, and one of the fastest curries to prepare, especially in an Instant Pot.
After you've sauteed onions, garlic, dried red chilies, and black mustard seeds, all you have to do is add in spices, canned tomatoes, coconut milk, and peeled shrimp. Let everything cook together in your pressure cooker for about 3 minutes, and you're ready to serve a delicious shrimp curry over basmati rice or beside naan.
Tips:
Once ready, immediately release the pressure manually to avoid overcooking your shrimp.
If you're not feeling confident about making your own sauce, use Sukhi's Coconut Curry!
You can use shrimp or prawns; just be sure to peel and devein them.
You can use diced or canned tomatoes, whichever is most convenient.
Cook Time: 5 mins
Measurements:
4 garlic cloves
1 can diced tomatoes
500 grams shrimp or prawn, cleaned and deveined
¾ cup coconut milk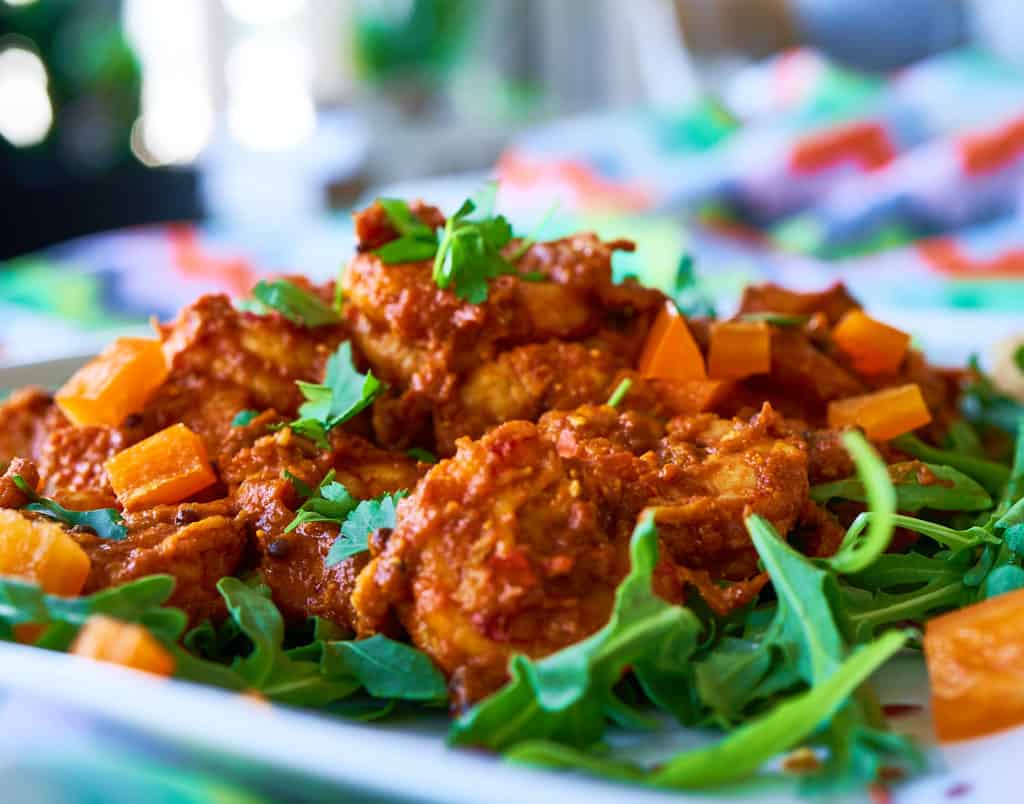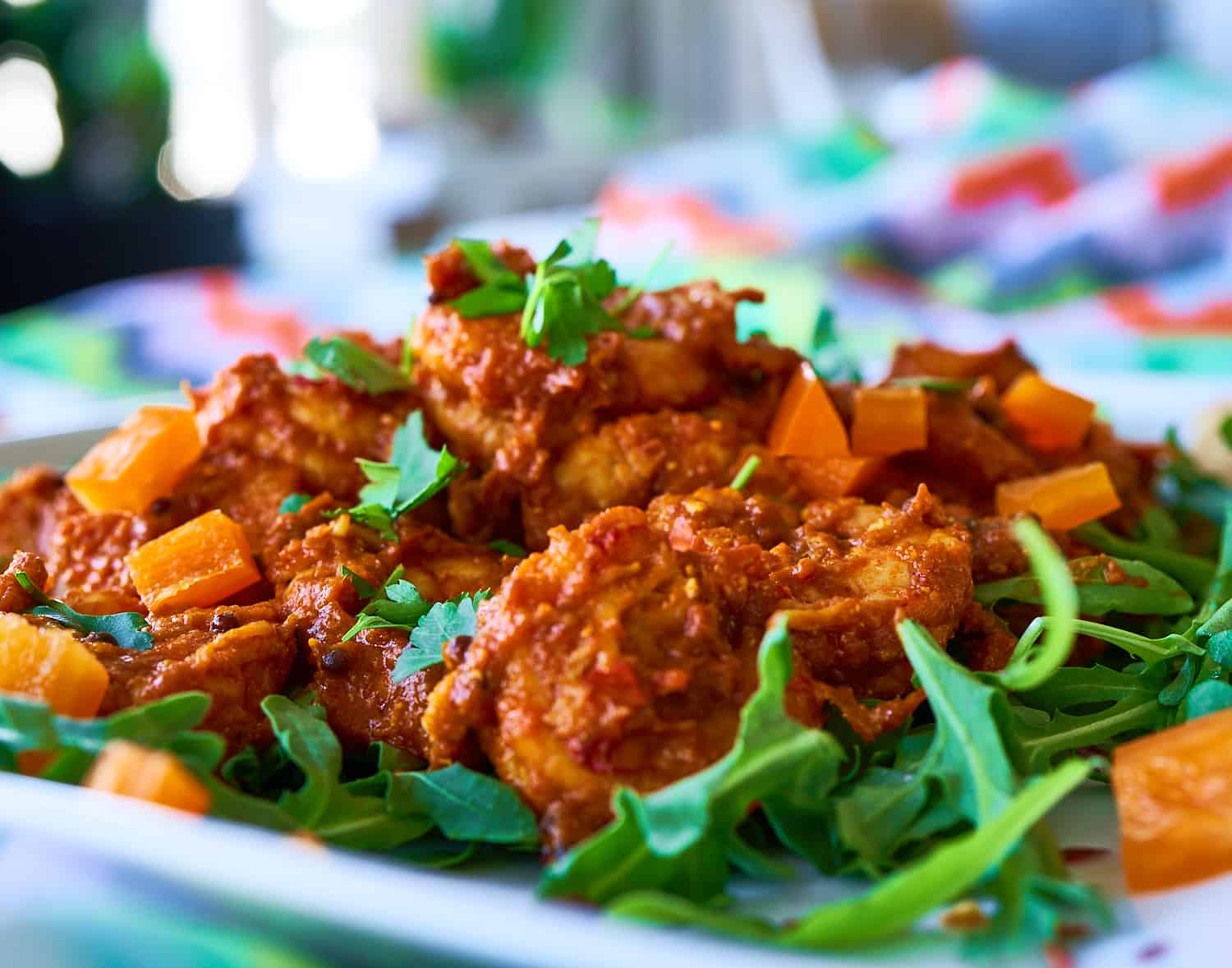 #6 Chicken Tikka Masala
Instant pot chicken tikka masala can be just as flavorful as traditional stovetop recipes but ready to eat in a fraction of the time. Instant pot tikka masala is a fan favorite for its speedy cooking times and eliminating extra dishes to be washed.
Chicken tikka masala is a rich Indian dish made with tender, boneless chicken mixed into a spice-filled curry sauce. Saute your onion, garlic, ginger, and spices in ghee or oil until fragrant. Then add in as much chicken as you'd like and let it cook until browned. You can re-lid after adding tomato sauce and let it all cook on high pressure.
Once your chicken is fully cooked through, you can uncover and add in coconut milk and let it all simmer until thickened. Feel free to stir in peas or other fast-cooking vegetables and let it cool for a few minutes before stirring in heavy cream, yogurt, or a dairy alternative. Congratulations, you've made a delicious tikka masala in your instant pot.
Tips:
Make a big batch and store extra to be reheated tomorrow for lunch.
Season your chicken with salt before cooking.
Cook Time: 50 mins
Measurements:
2 pounds boneless skinless chicken breasts
1 yellow onion
1 can no-salt-added tomato sauce
1 can light coconut milk
½ cup Greek yogurt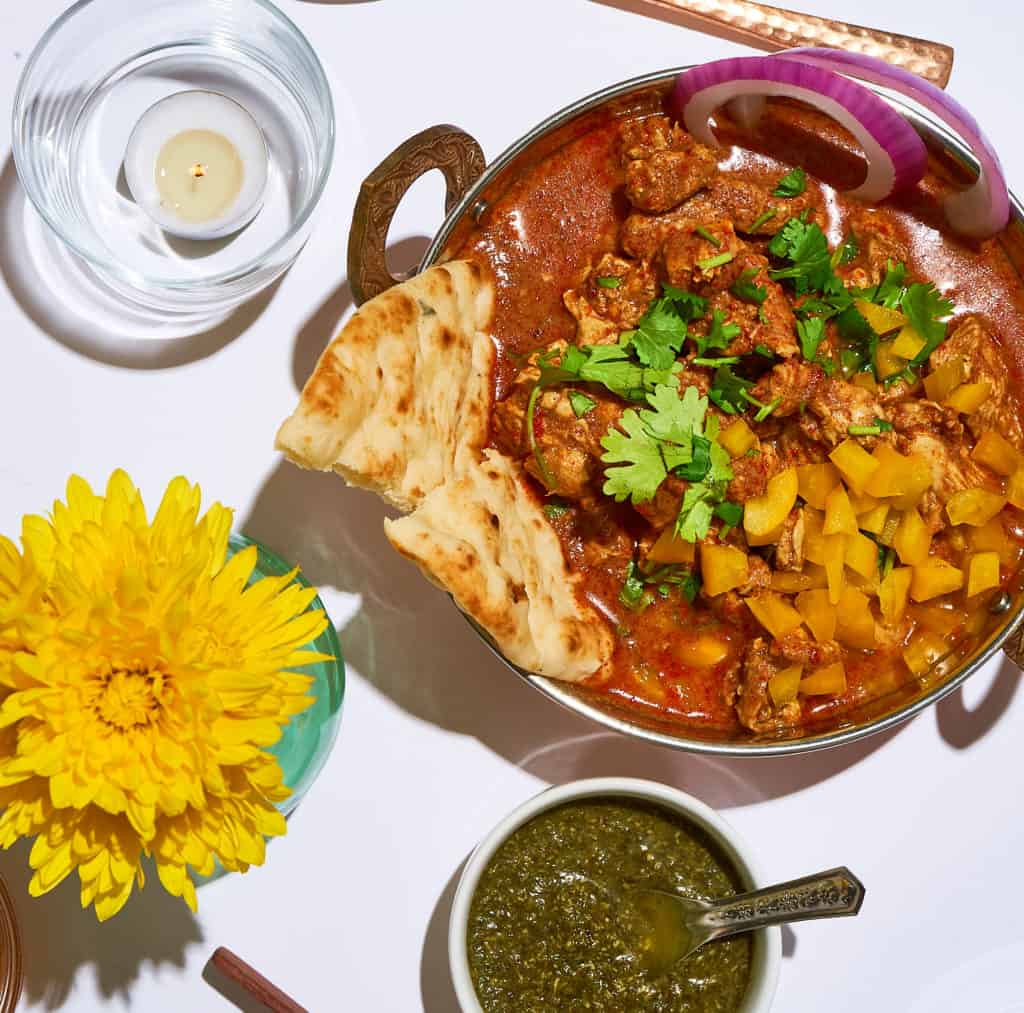 Enjoy Indian Food More Often
We all love an Instant Pot, especially when it means you can have your favorite Indian dishes in less time with more convenience. An Instant Pot is less hassle and clean up, not to mention a huge time saver.
You can usually adapt Indian recipes to work just as well in an Instant Pot, allowing you to enjoy Indian cuisine more often than before. At Sukhi's, we're all for letting more people enjoy Indian food more often and spending more time with family outside of the kitchen.
Along with Instant Pot recipes, we've cultivated a variety of products that let you satisfy your cravings with even less cooking. From our ready-to-heat chicken tikka masala recipe to our coconut curry sauce, Indian food can go from your once-in-a-while pleasure to your everyday go-to.
Find more recipes and products made by Sukhi on our site and let Indian food occupy your kitchen as much as it does your heart.