Learn how to make Rajma Masala, the famous hearty kidney bean dish of India!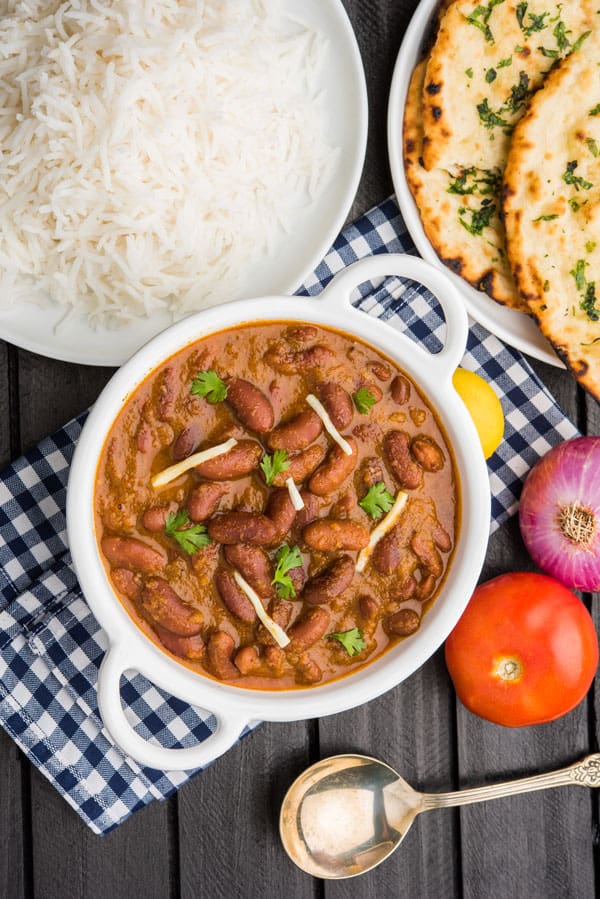 There are many delicious dishes that come from the Indian culture and Rajma Masala is high on the list! While many people believe that Rajma Masala originated in India, there's evidence that it actually originated in Mexico. According to India Today, Rajma was first grown in Mexico and carried to Europe by the Portuguese and then brought to the south-western coast of Inda. From there, it evolved into the aromatic dish we know and love today.
While the traditional recipe usually takes over 8 hours due to soaking the beans overnight, we've managed to recreate our favorite recipe in a small fraction of the time. One of my favorite things about this particular Rajma Masala recipe is that it can easily be made in under 10 minutes thanks to the Instant Pot and Sukhi's Curry Paste! You can keep it authentic while saving your time.
This particular recipe has just four ingredients and odds are you might already have most of them in your kitchen on hand. Having a delicious, authentic Indian dish for dinner can break up the monotony of your week without consuming a lot of your time.
List of topics discussed in the post:
In this post, we're talking all things Rajma Masala, including:
What is Rajma Masala

Tips to Making Best Rajma Masala

How to Make Rajma in an Instant Pot

Punjabi Rajma Recipe

Instant Pot Rajma using

Sukhi's Curry Paste

How to Serve Rajma Masala (Rajma Chawal)
What is Rajma Masala
Before we get to the nitty-gritty details, let's start by answering some of the basic questions like 'What is Rajma Masala?' Rajma Masala, also called Rajma Chawal, is a hearty red kidney bean curry dish that originated in India. What makes it so delicious? It's made with red kidney beans, a curry that acts as spicy gravy, and sometimes cilantro as a garnish.
While Rajma Masala typically refers to just the red kidney bean curry, Rajma Chawal refers to the red kidney bean curry served with rice. Which, if you break it down makes sense since 'chawal' translates to 'rice.'
I love this curry because it's thick and incorporates that spice-filled curry that we've come to love and expect from traditional Indian cuisine. It's even better the next day as the spices have really soaked into the beans! They're cooked so they almost melt in your mouth, which is perfection. It makes a great lunch or dinner and is sure to impress your family and friends.
Tips to Making the Best Rajma Masala
To make the best version of Rajma Masala, there are a few things to keep in mind. Here are a few tips to try and keep in mind when making Instant Pot Rajma Masala:
Ensure that you drain the excess water from the kidney bean can! It can create a weird taste and excess liquid in your end result.

Make sure to follow your Instant Pot safety rules! Releasing the pressure too soon or touching it before the pressure is released can be dangerous. For Instant Pot safety tips, check your Instant Pot guide or read them

here.

Using canned kidney beans is important here as you'll want to make sure they get cooked all the way through.

If you don't have cilantro for a garnish, get creative with what you have on hand! Try using fresh dill or parsley to top off your Rajma Masala.

If you're making a

traditional version

of this recipe, you'll want to soak your beans for at least 6 hours or overnight, cook them, and then add the masala for best results
How to Make Rajma in an Instant Pot
To make Rajma Masala in an Instant Pot, first, you'll need to gather all of your ingredients:
Thankfully, that part shouldn't take too long because there are only three or four ingredients that you'll need! To make Rajma in an Instant Pot, you'll open your can of beans and dump into a sieve over the sink to strain the water out. Then, transfer beans into the Instant Pot followed by Sukhi's Classic Indian Curry Paste and add your water. Close Instant Pot for pressure on sealing and put it on the Manual setting for five minutes. Quick-release and then place your Instant Pot on Saute mode for three to five minutes. Garnish with cilantro and serve with basmati rice. Enjoy!
Punjabi Rajma Recipe
If you're looking to make an authentic Punjabi Rajma recipe from scratch, then look no further than this spicy recipe by Whisk Affair. To make this recipe from scratch, you'll need:
1 cup Rajma

4 tbsp Mustard Oil

1 and 1/2 cup Onion Finely Chopped

2 tsp Ginger Garlic Paste

3/4 cup Tomato Finely Chopped

3 tbsp Tomato Puree

3 tsp Coriander Powder

1 tsp Turmeric Powder

2 tsp Kashmiri Red Chilli Powder

1/2 tsp Roasted Cumin Powder

2 tsp Amchoor Powder

1/2 tsp Garam Masala Powder

Salt to taste

2 tbsp Fresh Coriander Chopped
The entire recipe takes about 40 minutes from start to finish. You can find the full recipe and all of the instructions for Punjabi Rajma here.
How to Serve Rajma Masala (Rajma Chawal)
Now that you've made your Instant Pot Rajma Masala, it's time to serve it up hot! My favorite way is to make it Rajma Chawal and serve it with rice, particularly basmati rice. But you can use whatever rice you have or prefer! I also like to garnish it with fresh cilantro or parsley. Here are some other ways to serve your Rajma Masala:
Instant Pot Rajma Masala Recipe:
Ingredients
1

packet Sukhi's Classic Indian Curry Sauce

1

can (28 okidney beans

1

cup

water

¼

cup

cilantro

for garnish
Instructions
Open the can. Dump canned beans into a sieve over the kitchen sink.

Strain excess water from the can.

Add water.

Close instant pot for pressure on sealing.

Manual setting for 5 mins.

Quick-release.

Place Instant Pot on saute for 3-5 mins. If the curry is too thin.

Garnish with cilantro.

Serve hot over steamed basmati rice.
How do you like to serve your Instant Pot Rajma Masala? Let us know in the comments and don't forget to tag us on Instagram!
Here are some other amazing Indian recipes to try: