Want to become an Instant Pot pro? Learn everything there is to know about cooking with an Instant Pot in our new Instant Pot Guide!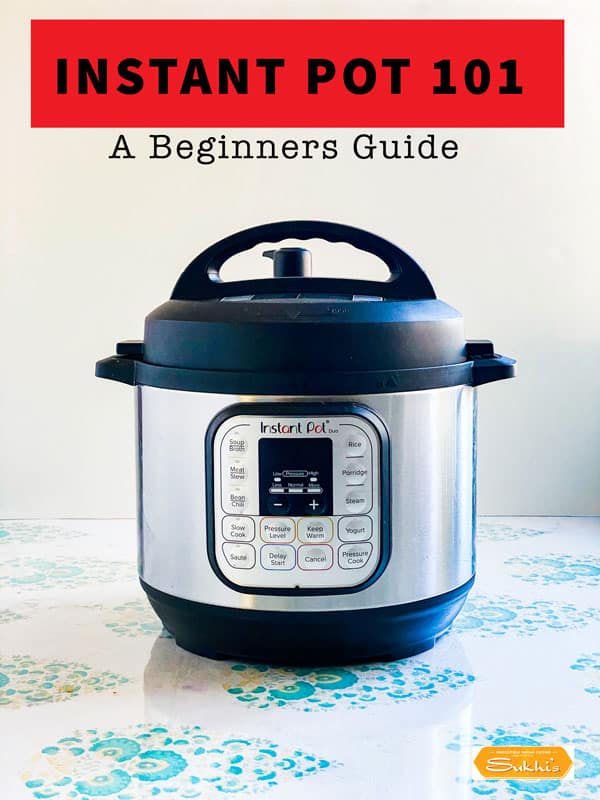 You've probably seen recipes on Pinterest that have promises like '10 Easy Instant Pot Recipes" or "5 Quick Instant Pot Dinners" by now, but what does that even look like to the novice Instant Pot User?
We're going to go over everything you need to know about cooking with an Instant Pot, including What is an Instant Pot, How to use an Instant Pot, Instant Pot Recipe Basics, and the Difference Between a Pressure Cooker and an Instant Pot.
We'll also be going over How to Cook Chicken in an Instant Pot, How to Cook Rice in an Instant Pot, How to Make Yogurt in an Instant Pot, 5 Easy Instant Pot Curries, and some ideas for Instant Pot "Dump" Meals.
What is an Instant Pot
In short, an Instant Pot is an electric multicooker. It's like a combination of a pressure cooker and a slow cooker. It's like having 6 or more cooking appliances in one appliance: pressure cooker, slow cooker, rice cooker, yogurt maker, steamer, warmer, and saute pan.
Because of the many different settings on an Instant Pot, you're able to cook an entire meal with one appliance, starting from sautéing all the way through till the end. It's less hassle and clean up, not to mention a huge time saver. What would take a roast six to eight hours to cook in a slow cooker can take as little as one hour! It's all in how you use it.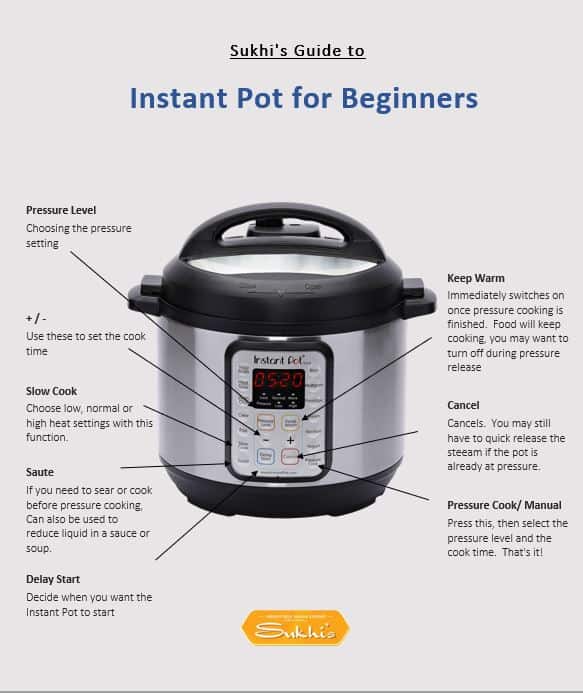 How to Use an Instant Pot
Before you use your Instant Pot, it's important to know all of its features! I like to go through the booklet that comes with the Instant Pot to learn about its features, settings, and safety tips.
Depending on your model, here are some features that your Instant Pot might include:
PRESSURE COOK/MANUAL

SOUP/BROTH

MEAT/STEW

BEAN/CHILI

CAKE

EGG

SAUTÉ

SLOW COOK

RICE

MULTIGRAIN

PORRIDGE

STEAM

STERILIZE

YOGURT

KEEP WARM
You can find out about all of the ins and outs of your exact Instant Pot model here.
Once you know about all of its features, you can decide what you'd like to make in it first! But before you break that baby up start with what is called a "water test". Read all about it here.
After the test run comes time to cook something more delicious than water! If you're going to use it for dinner, that's a different setting as opposed to say, cooking rice. A simple Google search will help you as far as cooking times if you're unsure or if your guide doesn't have that recipe in it.
Two things you should always remember before using your Instant Pot are safety tips.
The first of these is to never put your face above the steaming valve or float release valve when your Instant Pot is on. Use a utensil to release the valve or an oven mitt, but always be careful during this step!

Secondly, never open the Instant Pot lid until all of the pressure is released and the pin drops all the way down. Never try and open your Instant Pot while it's pressurized or it could end in serious injury.
And one last thing I like to have as a rule of thumb is to keep small children away from the Instant Pot. Whether that means having it at an unreachable place on the counter or blocking off kitchen access to your children while it's turned on. It can be dangerous if left unsupervised with kids around and accidents can happen in an instant!
Instant Pot Recipe Basics:
Now that you have a full rundown of the features of your Instant Pot, you're ready to learn some of the basics! These are some of the most frequently asked questions I get in regards to using an Instant Pot.
What are the best things to make in an Instant Pot?
Some of the best things to make in an Instant Pot are things that normally take a long time to put together, like soups, stews, roasts, and other dump meals.
What can you not cook in an Instant Pot:
While the Instant Pot is nice to have on hand for most meals, there are some limitations as to what you could (and should) cook in it. Some of those items you shouldn't cook in an Instant Pot, according to AOL Lifestyle, include fried foods, quick-cooking foods, creamy sauces, stir fries, bread, cookies, and steaks.
Can an Instant Pot Explode?
Put simply, yes, your Instant Pot can explode, but usually only if it's being improperly used. Some issues people have had in the past with exploding Instant Pots included manufacturing defects, clogged vents, and failed safety features. It's also noted that users can burn themselves if they overfill or underfill their Instant Pot with enough water. You can learn more here.
Can you put frozen food in an Instant Pot?
This is one of the glorious things about using an Instant Pot – no thaw time! You absolutely can put frozen food in an Instant Pot, just make sure you follow your recipe carefully to make sure everything gets cooked through properly.
What is the difference between a pressure cooker and Instant Pot:
If you already have a pressure cooker, you're probably wondering if you need an Instant Pot — and you're not alone. The main difference between a pressure cooker and an Instant Pot is the number of functions each appliance has. An Instant Pot, for example, can program meals and has automatic cooking features. Regular pressure cookers don't have this function.
Here are some of the main differences between a pressure cooker and an Instant Pot.
Pressure Cooker

More affordable

Stovetop feature will last longer than most electric models

Less buttons thus easier to learn

Great at canning food

Instant Pot

Automatic cooking program

Scheduled meals program

Multiple pressure settings

Sleek and quiet design
This infographic might come in handy if you want to understand benefits of a pressure cooker.
How to Cook Chicken in an Instant Pot:
If you're wanting to whip up a quick chicken dinner, it couldn't be easier than with the Instant Pot. In this quick and easy recipe from IFoodReal, all you need is 3lbs boneless, skinless chicken breast (thawed or frozen), water, garlic powder, salt, and black pepper to taste. With just five ingredients, you will have delicious chicken in under 25 minutes.
The rest of the instructions are recommended by

IFoodReal

:

To the Instant Pot, add water and place the trivet inside. Lay chicken breasts in a single layer (if using frozen make sure they are separated) and sprinkle with garlic powder, salt, and pepper. Toss to coat evenly with tongs or hands.

Close the lid, set pressure vent to Sealing and press Pressure Cooking on High for 10 minutes for fresh or 15 minutes for frozen chicken breasts. Display will say ON, Instant Pot will take about 10 minutes to come to pressure, you will see a bit of steam coming out from a valve, then the float valve will rise and countdown will begin.

After 10-15 minutes your chicken is ready, Instant Pot will beep and display will say OFF. Wait 5 minutes and do Quick Release by turning sealing valve to Venting position.

Open the lid and your chicken breasts are ready for meal prep, casseroles, salads, etc. Shred or cube, and save the stock at the bottom for soup.
This recipe can be stored in an airtight container for up to five days. Enjoy your chicken on a bun, with some steamed veggies, or with your favorite curry!
How to Cook Rice in an Instant Pot: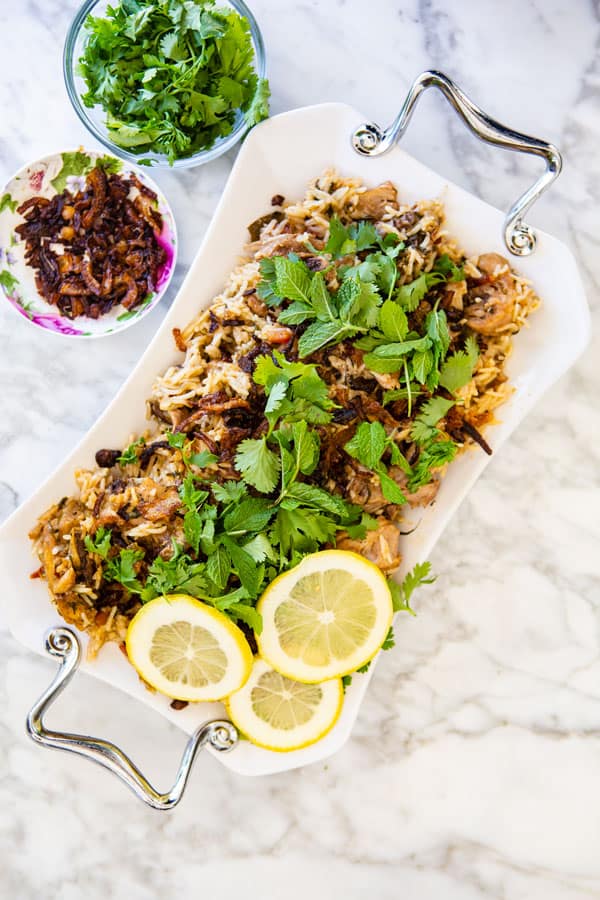 To cook rice in an Instant Pot, you need to follow the guidelines based on the type of rice you're cooking. Instant Pot recommends the following:
Basmati (white) rice: 4-8 minutes

Jasmine rice: 3-5 minutes

Brown rice (long/short): 22-28 minutes

Wild rice mix: 25-30 minutes
Once you know what you're looking at timewise, you're able to follow instructions to the perfect Instant Pot rice. Instant Pot has a recipe called the Instant Pot 1:1 Perfect Rice Recipe:
Measure out dry rice, set aside. We recommend placing directly in the inner pot. (For smaller amounts, use the

pot-in-pot method.

)

Measure out the same amount of water, then add it to Instant Pot's inner pot.

Rinse the rice, then add the wet rice to the water in the inner pot. Never fill your inner pot past the half-way mark when cooking rice.

Place the inner pot into the cooker base, then plug in your Instant Pot.

Close the lid, and set the steam release to the "Seal" position.

Select your pressure cooking time.

The "Rice" Smart Program automatically sets the time for white or parboiled rice only.

For other types of rice, use the "Manual" or "Pressure Cook" Smart Program on High and use + and – to set the correct time depending on your preferences and any local issues, like high elevation or a large amount of rice.

Turn "Keep Warm" off.

Do a natural release (NR) to release pressure from your cooker.

When the float valve has dropped, open your Instant Pot, then fluff, serve and enjoy your perfect rice.
How to make yogurt in an Instant pot:
I know what you're thinking — making yogurt in an Instant Pot sounds a little strange. While it's a tad unconventional, it's sure convenient! While it takes a long time to cook, the prep time is only 5 minutes, which is something anyone can get behind! Another plus is you only need two ingredients: ½ gallon of milk and two tablespoons of prepared yogurt with cultures.
In order to make yogurt in your Instant Pot, follow this easy recipe by A Mind "Full" Mom:
Pour milk into the inner pot of Instant Pot. Push the yogurt button until the screen reads "boil." (Usually, you will need to hit the yogurt button two times) This will take about an hour.

Once the Instant Pot beeps that the boil cycle is complete, carefully remove the lid and test the temperature. It should be around 180 degrees Fahrenheit. Let the inner pot sit in Instant Pot for 5 minutes and then remove the inner pot.

Allow the milk to cool to 105-115 degrees. This will take an hour on the countertop or about 15 minutes if you place your inner pot into an ice bath.

Gently skim off the "skin" on the yogurt and discard.

Whisk in the prepared yogurt.

Place inner pot (be sure to dry off well if you had in an ice bath), put lid on and press the yogurt button again and then adjust until the screen reads 8:00. (The pressure should also read normal–if it reads less, hit adjust again until normal is lit up.)

Once yogurt beeps that it is complete, store in glass jars or a large plastic container in the fridge.

This is a great time to freeze some yogurt for future yogurt making.
Once you've started making your own yogurt, you'll never want store-bought again!
5 Easy Instant Pot Curries
Authentic Indian cuisine has never been more attainable thanks to the Instant Pot! As much as I enjoy making Indian dishes the old fashioned way, sometimes time or a hectic schedule doesn't always allow it. Here are some of my favorite authentic, easy Instant Pot curries:
If you're in the mood for a delicious curry but are crunched on time, these recipes are sure to impress! Don't forget to clean out the Instant Pot before each use to make sure it's ready to go. There's nothing worse than trying to make a curry and having some leftover flavors in there from the last time you used it.
Instant Pot Dump Meals
One of the best parts about owning an Instant Pot is that you can cook entire meals from start to finish — just by adding the ingredients. A dump meal gets its name because that's exactly what you do to make it: dump all of the ingredients in and call it a day! Here are some of my favorite Instant Pot dump meals:
What are some of your favorite ways to use your Instant Pot? Let us know in the comments and be sure to tag us in pictures of your Instant Pot creations!