Traditional Onion Chutney Recipe
Traditional Onion Chutney is one of my most loved chutney recipes for its flavor and versatility. Today, I'm going to tell you everything you need to know about this traditional chutney recipe, including what's in onion chutney, how to make Onion Chutney, how to use chutney, and even some crucial tips for making Onion Chutney.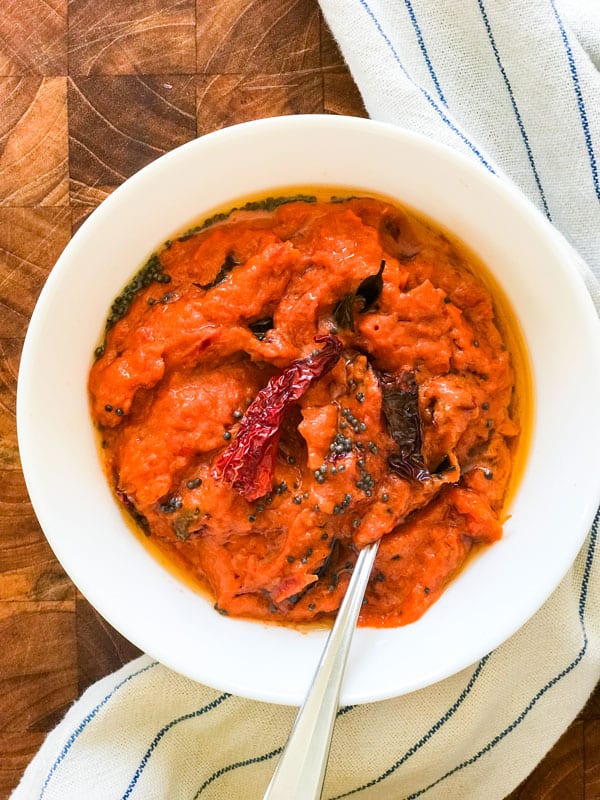 What is Chutney?
Chutney is a spiced condiment frequently paired with some of the most delicious Indian dishes. Chutney is similar to a paste or sauce that can be made sweet or savory. In fact, many people are familiar with fruit chutneys, like mango, but some of the best chutneys are herb-based, like cilantro, mint, and, in this case, onion!
Originating in India over 2,000 years ago, its texture is similar to pesto or chimichurri and it can be used in a variety of ways. Chutney is usually made with sugar, vinegar, and various spices, depending on the recipe you're using. Today, I'm going to walk you through one of my most favorite chutney recipes, Traditional Onion Chutney.
What's in Onion Chutney?
In my experience, one of the best things about Tradition Onion Chutney is the simple items used to cook it! For this recipe, you'll need one large onion, two small garlic cloves, two or three Kashmiri red chilies, oil, chana dal (Bengal gram), urad dal (split and husked black gram), tamarind, salt to taste, and water. You can use any type of oil for this recipe, but I recommend using sesame oil, sunflower oil, or peanut oil for best taste.
For the tempering portion of the recipe, all you'll need is some oil, mustard seeds, and curry leaves. You can also use a pinch of asafoetida (hing) if you have it on hand, but that ingredient is entirely optional. And that's all you'll need to make a perfect Onion Chutney!

How to Make Onion Chutney
I am a big believer of keeping the "old school" recipes close to the heart and active in the kitchen. But knwing me you must also know that I never speak for spending long hours in the kitchen either. So giving traditional a quick new twist is always my go-to. That's what I did with this recipe as well. Made it easy, simple and quick for you.
To make Onion Chutney, you start out by heating two teaspoons of oil in a pan. Lower the flame and add in 1 whole red chili, half an onion, thinly sliced, two medium sized tomatoes, chopped and my secret ingredient tomato paste, just two tablespoons. This will give your chutney a stunning red color. Saute until the tomato has melted and the onion is soft. Stir in salt, just about 1/2 teaspoon. After they're soft and coming together, add one to two Kashmiri red chilies and saute for a few seconds until you see the chilies change color and become aromatic. Be sure to saute on a low flame so that your chilies don't burn. These red chilies give a nice color but don't make the chutney spicy.
Then, you'll add in one cup of chopped onions and your chopped garlic cloves. Mix and saute on a medium-low flame until the onions turn light brown. Turn off and let the onions cool down. From there, take the onion mixture into a chutney grinder or blender and add in your tamarind and salt to taste. Add in one-fourth cup water, blend into a smooth paste, and set aside.
Next, I'm going to walk you through tempering Onion Chutney. Tempering is infusing flavors without changing the integrity of the food. To temper your Onion Chutney, start out by heating two teaspoons of oil in a pan, or a Tadka pan if you have one over a low flame. Add in your mustard seeds and let them crackle. Once the seeds crackle, add in your asafoetida (hing) and five to six curry leaves. Saute until the curry leaves become nice and crisp. Over low heat, add in your ground chutney and mix with the tempering ingredients. Enjoy!

How to Use Chutney
There are many different ways to enjoy your chutney! Since chutney is so versatile, you can use it anywhere you'd normally use a condiment, including:
On your burgers or hot dogs

On sandwiches

As a dipping sauce

On your cheese and meat platter

With naan, bread, or toast

With dumplings or empanadas

Over rice

With deep-fried snacks, like

samosas

With dosa
You can also use chutney as a marinade for your chicken, beef, or fish for a punch of your favorite chutney flavor. There are truly endless ways to eat chutney, which is why I love making it for my family.
Tips for Making Onion Chutney
While making Onion Chutney is a relatively easy process, there are a couple of areas to pay special attention to. In order to enjoy the perfect Onion Chutney, there are a few things to consider:
Make sure to keep a low flame when necessary so as to not burn your ingredients to avoid a bitter flavor in your chutney.

When salting your chutney, always start with a small amount and taste as you go so as to not over salt your mixture.

If you're not planning on eating your chutney right away, make sure to have canning jars or jam jars to preserve your creation.

Don't limit yourself to only one or two ways to eat your chutney! Explore pairing it with different foods and have fun with it.
More Easy Indian Recipes
I hope you enjoy this Traditional Onion Chutney recipe as much as I do! Once you've mastered this famous relish, try one of our other easy Indian recipes: