Classic Indian Curry Chicken Pizza
This Classic Indian Curry Pizza is all you need to kick off those "lockdown blues". Even better when Sukhi's Classic Indian Curry Sauce is there to make pizza making a breeze.
Make this pizza your own by loading it with toppings your family loves and enjoys. Turn your typical dinnertime into a fun Pizza Night!
Use our Classic Indian Curry Sauce in this recipe.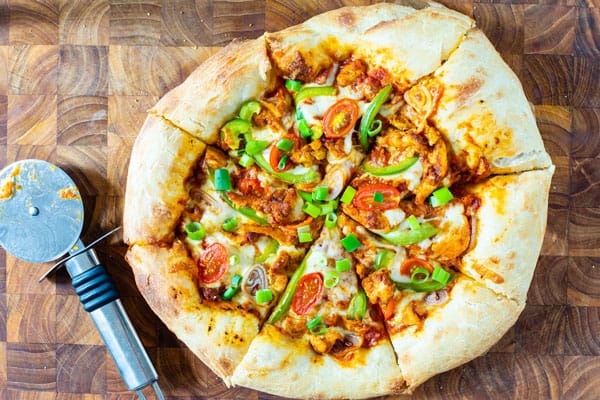 Ingredients: Makes 2 (12 inch) Pizzas
Store bought Pizza dough
1 packet Sukhi's Classic Indian Curry Sauce
½ cup jarred tomato sauce
1/2 cup chicken breast (thinly sliced or cut into small ½" cubes)
1 cup shredded mozzarella
½ bell pepper (cut into thin strips)
1/3 cup cherry tomato (halved)
¼ cup shallot (thinly sliced)
2 tablespoon olive oil
Method:
Divide Sukhi's Classic Curry Sauce into two equal portions.
Mix one portion with the tomato sauce. Set aside.
Add one portion to the chicken. Mix well. Place on a baking dish and bake in the oven for 10 mins. at 350deg. F
Dust the work station. Punch the pizza dough down on the work station and pat into a circle (approx. 12" wide)
Spread Tomato Curry sauce on the pizza leaving a one ½ inch border around the edges.
Sprinkle mozzarella cheese.
Add toppings on top. Be sure to spread the toppings around but not crowding the pizza.
Add Classic Curry Chicken on the top.
Drizzle approx. 1 tablespoon oil on the border that has no sauce or toppings.
Divide the toppings/sauce/oil equally between the two pizzas.
Place pizza in the oven and bake at 400deg. F for 20 minutes or until the base and edges are light brown.
Pull out of the oven. Cut into 6-8 slices. Enjoy!
NOTES:
To make this pizza vegetarian, substitute chicken with a plant based protein of your choice. Sukhi's Classic Indian Curry Sauce is vegan so you do not have to compromise on flavors.