Tomato Onion Chutney Recipe
Tomato Onion Chutney is one of my most loved chutney recipes for its flavor and versatility. Today, I'm going to tell you everything you need to know about this chutney, including how to use chutney, what's in tomato onion chutney, and tips on how to make this delicious condiment!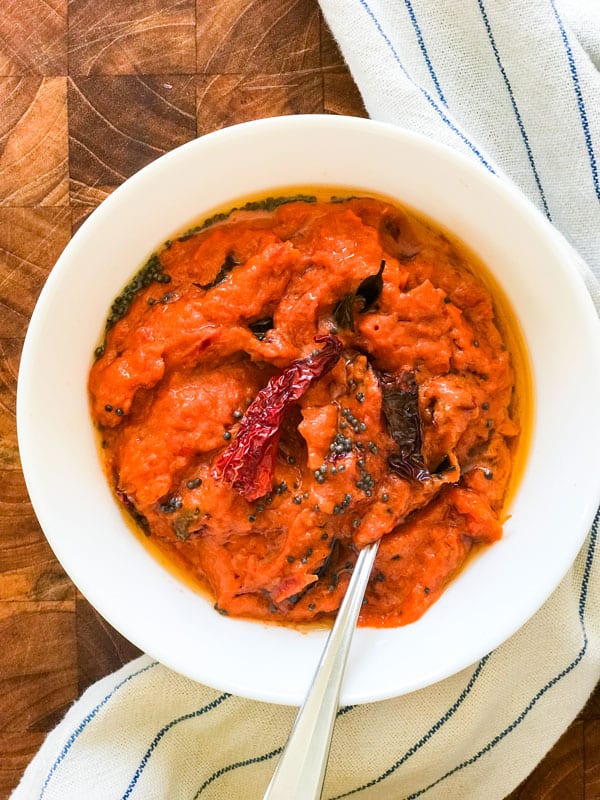 What is Chutney?
Chutney is a spiced condiment frequently paired with some of the most delicious Indian dishes. Chutney is similar to a paste or sauce that can be made sweet or savory. In fact, many people are familiar with fruit chutneys, like mango, but some of the best chutneys are herb-based, like cilantro, mint, and, in this case, onion!
Originating in India over 2,000 years ago, its texture is similar to pesto or chimichurri and can be used in various ways. Chutney is usually made with sugar, vinegar, and various spices, depending on your recipe. Today, I'm going to walk you through one of my favorite chutney recipes, Tomato Onion Chutney.
What's in Tomato Onion Chutney?
In my experience, one of the best things about Tomato Onion Chutney is the simple items used to cook it! For this recipe, you'll need onion, tomatoes, garlic cloves, two or three Kashmiri red chilies, oil, curry leaves, mustard seeds, hing powder (asafoetida), and salt to taste. For this recipe, you can use any type of oil, but I recommend using canola oil, sunflower oil, or peanut oil for best taste.
For the recipe's tempering portion, you'll need some oil, mustard seeds, and curry leaves. You can also use a pinch of asafoetida (hing) if you have it on hand, but that ingredient is entirely optional. And that's all you'll need to make a perfect Tomato Onion Chutney!

How to Make Tomato Onion Chutney
I am a big believer in keeping "old school" recipes as close to the heart and authentic as possible, but I also don't like spending long hours in the kitchen. So giving traditional a quick new twist is always my go-to. That's what I did with this recipe – made it easy for you to make. 
Tomato Onion Chutney
Ingredients
1

diced onion

yellow or white

2

dried chilies

1/4

tsp

hing powder (asafoetida)

optional

4

dried curry leaves

1

tsp

black mustard seeds

2

oz

tomato paste

2

oz

canola oil

16

oz

diced tomatoes
Instructions
Heat oil on medium/high in a medium sized pot.

Add chilies and black mustard seeds, let the seeds sputter.

Add hing powder and salt, lowering heat slightly.

Add diced onions and cook until translucent.

Add tomatoes and tomato paste and cook down until mixture thickens, or about 10 mins.

How to Use Chutney
There are many different ways to enjoy your chutney! Since chutney is so versatile, you can use it anywhere you'd normally use a condiment, including:
You can also use chutney as a marinade for your chicken, beef, or fish for a punch of your favorite chutney flavor. There are truly endless ways to eat chutney, which is why I love making it for my family.
Tips for Making Tomato Onion Chutney
While making tomato onion chutney is a relatively easy process, there are a few areas to pay special attention to. To enjoy the perfect tomato onion chutney, there are a few things to consider:
Make sure to keep a low flame when necessary so as not to burn your ingredients to avoid a bitter flavor in your chutney.

When salting your chutney, always start with a small amount and taste to avoid over-salt your mixture.

If you're not planning on eating your chutney immediately, make sure to have canning jars or jam jars to preserve your creation.

Don't limit yourself to only one or two ways to eat your chutney! Explore pairing it with different foods and have fun with it.
More Easy Indian Recipes
I hope you enjoy this Tomato Onion Chutney recipe as much as I do! Once you've mastered this famous relish, try one of our other easy Indian recipes: