Want to know how to make the best Fig Chutney? This is your one-stop-shop for fig knowledge!
Chutney is made up of various fruits, veggies, and spices to provide a tangy addition to any meal. But not all chutneys are tangy! Some are sweet, spicy, mild, and range from a thin sauce to a chunky sauce.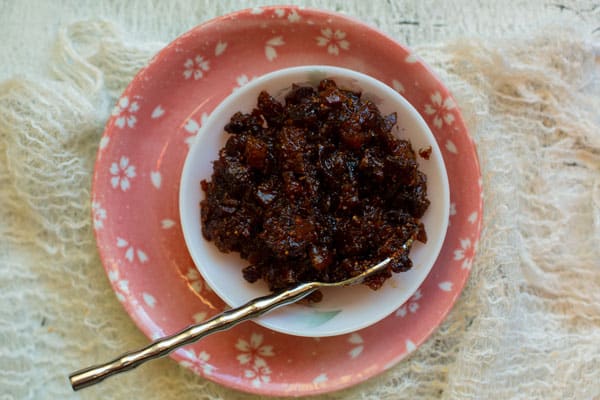 Chutneys are wildly popular in India and served with most meals to accompany curries or meats, which should come as no surprise, because the earliest, simple spiced chutneys originated in India! They can be traced back to 500 BC. The chutneys made their way to England and France in the early 1600s, and then the colonists brought them to America and Australia later on. The Indian immigrants are also credited with introducing chutneys to the Caribbean region in the 17th century. 
Fig chutney is one of the most popular kinds of chutney in India! It's rich and loaded with spices that complement and intrigue the palate. For this Fig Chutney recipe, we've partnered with Valley Fig Growers, who grow the beautiful and delicious fruits used in chutneys all around the world.
Health Benefits of Figs
Figs may taste like candy, but they have some amazing nutritional benefits! According to Healthline, just one ounce of dried figs has three grams of fiber. Even better, one large, raw fig has just 47 calories.
In addition to being low-cal, here are some of the other benefits of figs, according to Healthline:
Figs are high in calcium, which can help with osteoporosis

According to a

2005 study,

dried figs "have superior quality antioxidants"

Figs are super-rich in vitamins and minerals, including:

Vitamin A

Vitamin C

Vitamin K

B vitamins

Potassium

Magnesium

Zinc

Copper

Manganese

Iron

Fig leaves could help diabetes symptoms 

Some use figs to treat skin conditions such as eczema, vitiligo, and psoriasis

A friend to hair, figs can help strengthen and moisturize your locks, all while promoting hair growth
Of course, you should always check with your doctor before regularly adding figs into your diet. 
Fresh Figs VS Dried Figs
Do you prefer fresh figs or dried figs? It turns out, there are benefits to both! 
One of the pros of dried figs is availability. They're more widely accessible all over the world since they can be found and preserved on grocery store shelves. Fresh figs have to be in-season for you to enjoy them. Dried figs contain pectin, which can help to lower blood cholesterol. They're also high in potassium and low in sodium, so they're great at defending against hypertension. 
However, According to MedIndia, both fresh and dried figs contain valuable vitamins, minerals, and fiber and can aid in weight management (loss or gain), constipation, indigestion, diabetes, hypertension, coughing, bronchitis, and asthma. 
So, however you enjoy your figs, know that you're likely getting a wealth of health in every bite!
How to Make Fig Chutney
The good news is, making fig chutney is super simple! You need 2 cups of coarsely chopped figs, ½ cup finely chopped pecans, sugar, salt, pureed ginger, cayenne, garam masala, white vinegar, and water. 
First, add all of your ingredients to a saucepan on medium heat and bring to a boil, stirring occasionally. Then, simmer the chutney until liquids have reduced and chutney is thick and glossy, usually about 10-15 minutes. That's it! Serve it with one of many delicious pairings. 
What do you pair fig chutney with? 
Okay, so you have your chutney all made and ready to go — but now what?! The list of things you can pair with chutney goes on and on, but we've put together a list of some of our absolute favorite ways to use fig chutney.
Great addition to any cheese plate 

Oatmeal

Cream cheese & fig chutney toast

Goat cheese stuffed chicken with fig chutney 

Grilled brie topped with fig chutney 

Braised duck breast with fig chutney and orange

Leg of lamb with fig chutney 

Add as a salad topping

Venison medallions with fig chutney 

Goat cheese and fig chutney panini with arugula 
Fig Chutney Recipe
Fig chutney is one of the most popular kinds of chutney in India! It's rich and loaded with spices that complement and intrigue the palate.
Ingredients
2

cups

figs coarsely chopped

¼

cup

finely chopped pecans

½

cup

sugar

2

t

salt

2

T

pureed ginger

½

t

cayenne

¼

t

garam masala

¾

c

white vinegar

1

cup

water
Instructions
Add all ingredients to a saucepan on medium heat, bring to a boil string occasionally. Simmer chutney until liquids have reduced and chutney is thick and glossy, about 10-15 minutes. Serve and enjoy!