Mini Crustless Asparagus Quiche
These crustless asparagus quiche are made in a muffin tin and require little prep work. They keep well in the fridge, and can even be frozen for later!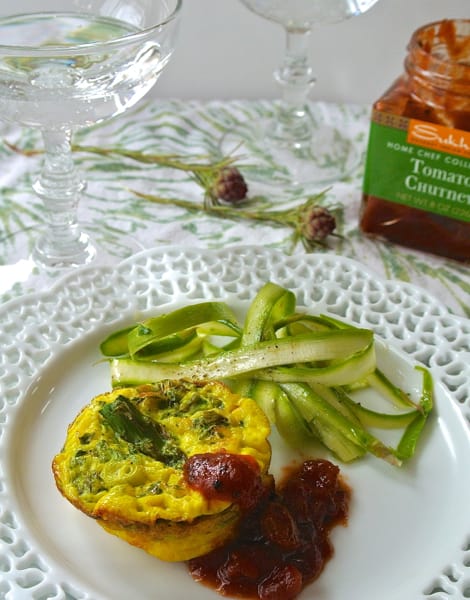 Many people mistakenly believe that homemade quiche is difficult to make. They envision themselves laboring over a buttery crust, accidentally burning the quiche, or worse. If you're someone who's intimidated by quiche, consider this crustless asparagus quiche recipe your new favorite brunch dish.
These crustless mini quiche are essentially quiche muffins. They require few ingredients (most of which are spices already in your pantry), and the prep work is minimal. Whether you're in need of a potluck recipe or simply want to treat yourself to a flavorful breakfast, these crustless asparagus quiche are for you!
Crustless Asparagus Quiche Ingredients
For this vegetarian quiche recipe, you'll need:
Asparagus tips
Eggs
Whole milk
Green onions
Fresh herbs
Spices (turmeric, salt, and cumin seeds)
Garlic
Goat cheese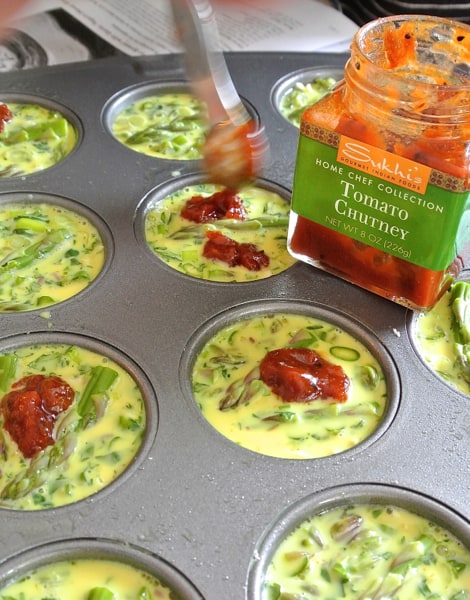 How to Make Quiche Muffins
Grease a 12-cup muffin pan with butter or oil and set aside. Chop the asparagus tips, but save a few to place on the mini quiche just before putting them into the oven. Then, combine the eggs, milk, green onions, fresh herbs, and spices in a bowl and whisk to combine.
Place a dollop of goat cheese into the bottom of each muffin cup, then pour the egg mixture over top. Spoon a little tomato chutney atop each quiche muffin and top with reserved asparagus tips. Bake the mini crustless asparagus quiche until golden brown and puffy.
Can You Freeze Quiche?
Absolutely! To freeze these mini quiche, first let them cool completely on your counter. Then freeze them in a single layer in either a freezer bag or freezer-safe container. When you're ready to eat the frozen quiche, reheat them in a 375ºF oven for 10 minutes (or until warmed through).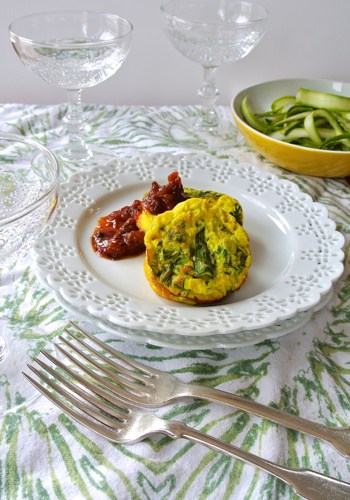 Tips for the Best Crustless Quiche Muffins
Feel free to mix up the vegetables and cheese in this mini quiche recipe. Try spring onions, carrots, broccoli, or spinach in place of asparagus. And fresh goat cheese, mozzarella, or a stronger aged Comté or Brie cheese would work nicely here as well.
You can either bake the quiches with the tomato chutney or serve the chutney on the side.
Use any mixture of fresh herbs you have on hand. Basil, cilantro, and mint would taste particularly good.
Let the crustless mini quiche cool in the muffin pan for about 10 minutes before serving.
More Easy Indian Recipes: