This grilled naan pizza recipe can easily be altered to suit your own tastes. Top it with your choice of vegetarian pizza toppings and enjoy!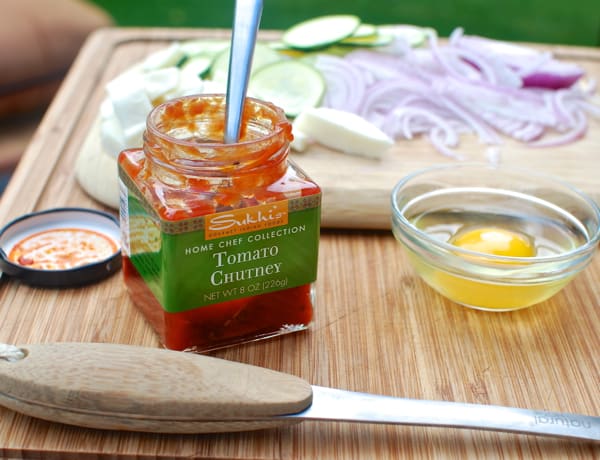 Grilled pizza gets a Sukhi's twist with prepared naan as the base, and a layer of Sukhi's tomato chutney instead of tomato sauce. The chutney adds a rich, spiced sweetness and yields a delicious and easy naan pizza recipe for summer get togethers.
Gather all your favorite veggie pizza toppings and let guests make their own pizzas. While you've got the grill going, cook up some Grilled Indian-Style Street Corn and Tandoori Chicken!
Naan Pizza Ingredients
For these grilled naan bread pizzas, you'll need:
Naan bread
Toppings of choice
For my grilled naan pizzas, I used thinly sliced zucchini and onions as my toppings, along with shredded mozzarella and egg. You can keep your personal pizzas vegetarian, or add more traditional pizza toppings like pepperoni and sausage.
If you plan on making these pizzas for guests, I suggest laying out a toppings bar so they can pick and choose what goes on top of their pizzas. This way, guests can avoid any ingredients they don't like!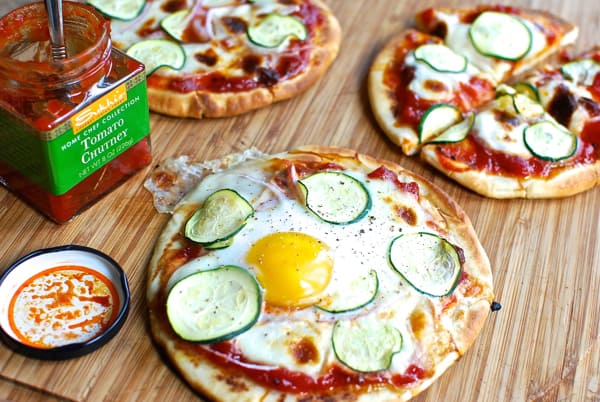 How to Make Naan Pizzas
This naan bread pizza recipe couldn't be easier! You'll first need to heat the naan on the grill for about a minute, just to warm them up. Then spread a little tomato chutney over the naan and garnish with your toppings of choice. Return the naan pizzas to the grill and close the lid. You'll need to leave the pizzas on the grill until the cheese starts bubbling and turns golden brown around the edges.
Check the naan bread pizzas intermittently to make sure they're not burning on the bottom. If the naan bread starts charring before the cheese melts, turn the heat down.
What Should I Serve with This?
To keep things super simple, pair your naan pizzas with a side salad or grilled vegetables. These pizzas are packed with flavor thanks to the tomato chutney, so you don't need to worry about making an elaborate side dish.
Tips for making these Naan Pizzas
If using fresh veggies as a pizza topping, make sure to slice them quite thinly. Otherwise they won't cook fully on the grill.
If you can't have dairy, substitute your favorite vegan cheese on these pizzas, or omit the cheese entirely. Just load up on those vegetables!
Any store-bought naan bread will work with this recipe. You can even use whole wheat naan, if desired.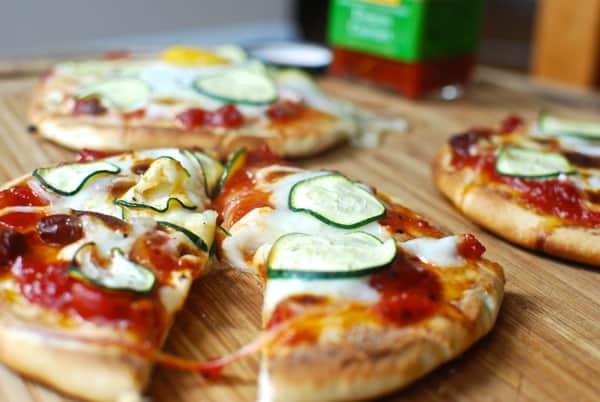 More Easy Indian Recipes:
All photos taken by Jennifer McGovern.