Indian Shrimp Curry with Sweet Corn
This Indian shrimp curry is flavored with fresh curry leaves, lemongrass, cilantro, and fresh ginger. Not to mention it's packed with fresh sweet corn!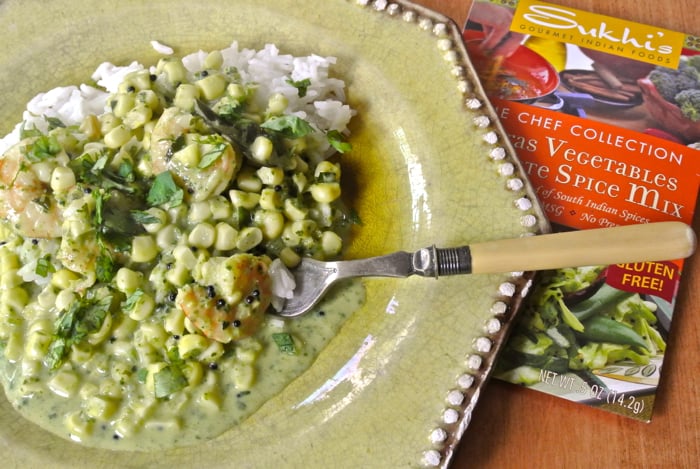 The sweetness of summer corn is highlighted when grilled, roasted, pureed into soups and even churned into ice cream, but I also love it fresh off the cob and just barely cooked (so it keeps some of its crunch) with Madras spices and plump, fresh shrimp. This recipe is inspired by Chef Suvir Saran from his new book, Masala Farm.
The Herb Paste with curry leaf is a must, but I've streamlined the recipe by substituting Sukhi's Madras Vegetable Spice Mix for some of the spices. The result is a creamy, delicious curry that's addictive. Serve with steamed rice and, if desired, warm naan for dunking into the sauce.
Indian Shrimp Curry Ingredients
For the herb paste, you'll need:
Curry leaves
Fresh ginger
Lemongrass paste
Fresh cilantro
Jalapeño or serrano chili pepper
And for the easy shrimp curry, you'll need:
Canola oil
Cumin seeds
Madras Vegetable Spice Mix
Curry leaves
Coconut milk
Heavy cream
Salt
Fresh corn
Shrimp
Fresh cilantro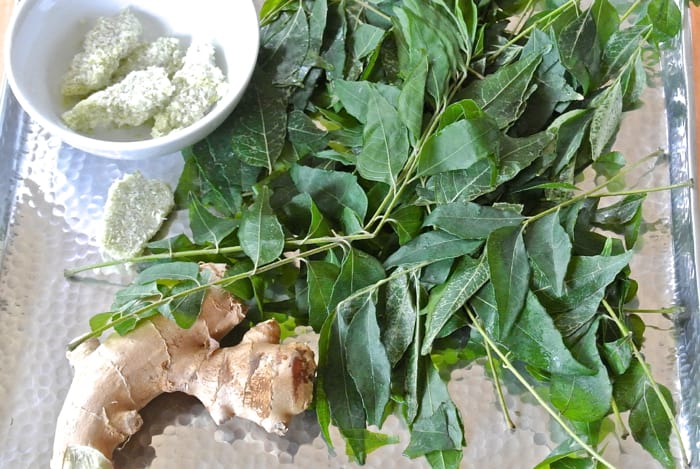 How to Make Shrimp Curry
To make this Indian shrimp curry with coconut milk, first make the herb paste by adding all the ingredients into a food processor and pulsing until smooth. Once the herb paste is made, you can start on the curry. First heat the spices in a little canola oil, then add in the herb paste and curry leaves. You want to cook all the spices just until fragrant.
Add the coconut milk and cream to the skillet and bring to a boil. Once boiling, reduce the heat and add the shrimp and sweet corn. Continue cooking until the shrimp are just cooked through. Immediately serve and garnish with fresh cilantro.
Can I Use Frozen Shrimp?
Fresh shrimp is best for this recipe, but you can use frozen raw shrimp if that's all you have. Just be sure to thaw and drain the shrimp before adding them to the hot skillet.
Can I Use Frozen Corn?
If sweet corn isn't in season, using frozen corn is fine. Just let the corn rest on your counter for a few minutes before cooking it in the curry.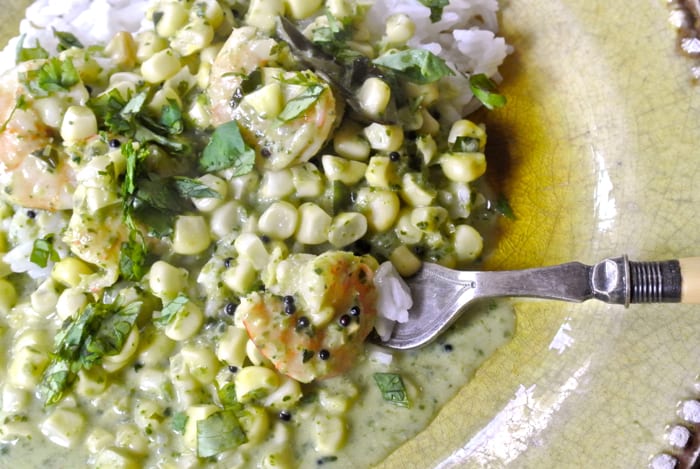 Tips for This Shrimp Curry Recipe
If you want to make this Indian shrimp curry a little healthier, use whole milk or half and half instead of heavy cream.
Make sure to shake the coconut milk before opening it to redistribute any coconut cream that's collected at the top of the can.
For a richer curry, use full-fat coconut milk. For a thinner curry, use low-fat.
More Indian Recipes: