The Breakfast Biryani Burrito: An Indian Mexican Fusion:
Indian cuisine is famous for its unique and aromatic flavors, while Mexican food is known for its vibrant and spicy taste. But what happens when these two diverse culinary worlds collide? Introducing Sukhi's Breakfast Biryani Burrito – a mouth-watering combination of Indian biryani and Mexican burrito.
If you love experimenting with different cuisines, you're in for a treat. This recipe is perfect for those who enjoy a hearty breakfast with a twist. Made with a handful of ingredients, it's easy to whip up and doesn't take much time to prepare.
So, let's begin!
The History of the Biryani
Biryani is a popular and well-loved Indian dish known for its delicious blend of aromatic spices, tender meat, and fluffy basmati rice.
The dish originated in India during the Mughal period, and it is said to have been brought to India by the Mughal emperors who ruled the country during the 16th century. The dish was initially made for the Mughal army as a one-pot meal that could be easily transported and consumed on the battlefield.
Over time, the dish became a popular delicacy among the people of India, and different regions developed their dish variations.
The Ingredients Behind the Breakfast Biryani Burrito
Traditional biryanis include meat, but vegetarian and chicken versions are popular. The key to making a delicious biryani lies in the spices.
Each biryani recipe has a unique blend of spices that gives it a distinct flavor. The most commonly used spices include cumin, coriander, turmeric, and garam masala.
The spices are often mixed with the rice and then layered with the meat or vegetables to create a mouthwatering dish. Sukhi's Chicken Biryani is an excellent example of this dish, featuring an authentic blend of spices and flavors. This pre-cooked dish is gluten-free and packed with 18 grams of protein.
How to Make a Breakfast Biryani Burrito
Now that we know what biryani is, let's explore this Mexican-Indian fusion.
The Breakfast Biryani Burrito is delicious and a great way to start your day. It's packed with protein, fiber, and essential vitamins and minerals to energize you throughout the day.
Luckily, you won't need too much to get started.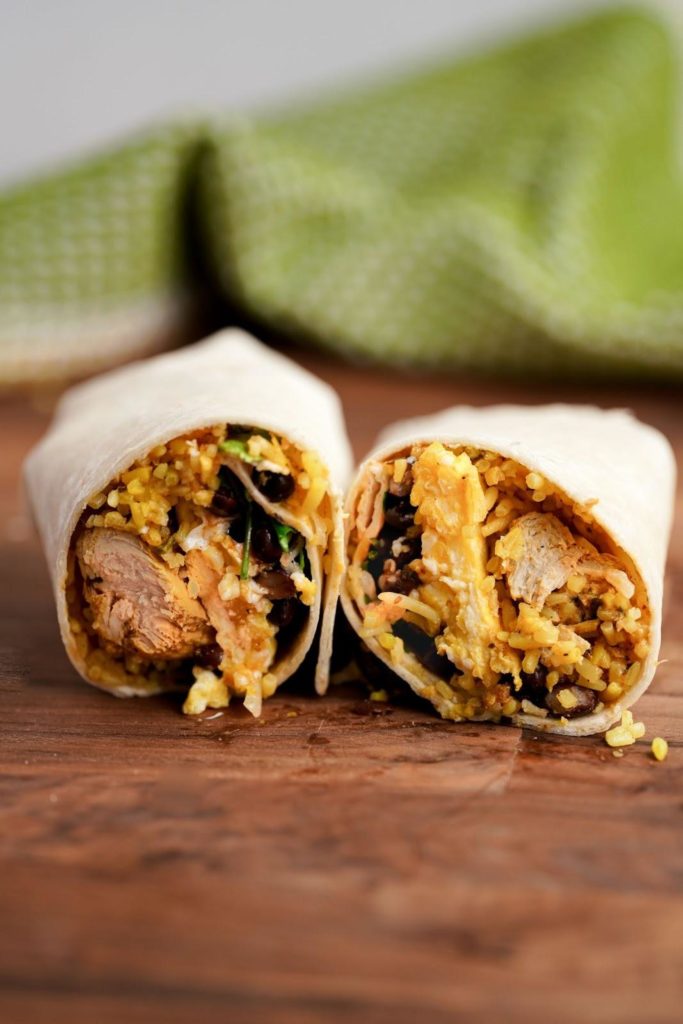 Additional Tips and Tricks
Now that you have the basic recipe for the Breakfast Biryani Burrito, here are some additional tips to help you make the perfect fusion dish:
Don't Overfill the Breakfast Biryani Burrito
When filling the burrito, make sure to fill it evenly. It's essential to leave enough room to roll the burrito tightly. This will prevent the ingredients from falling out and help the burrito hold its shape.
Experiment with Different Cheeses
Feel free to experiment with other types of cheese to give the dish a different flavor. For example, you could use cheddar, mozzarella, or pepper jack cheese.
Add Salsa or Hot Sauce for an Extra Kick
If you love spicy food, add some salsa or sauces to the burrito. It will give the dish an extra kick and take the flavors to a new level. You could even try cilantro chutney.
Other Fusion Dishes Like the Breakfast Biryani Burrito
One of Indian food's great perks is that it's endlessly customizable. Dishes can range from meat-packed to vegetarian and can blend with dozens of different spices or recipes. 
Fusion dishes provide a great opportunity of combining different culinary cultures.
Some famous examples include Korean tacos, sushi burritos, and Italian-Japanese fusion pasta dishes. Here are a few more of our favorite fusion recipes:
Cooking with Sukhi's
The Breakfast Biryani Burrito is a unique and delicious fusion dish combining the best Indian and Mexican cuisine– but it's just one step into India's rich culinary world. If you enjoyed it, keep going!
At Sukhi's, we hope to provide a spread of delicious and simple-to-make recipes. Sit back, relax, and make one of our pre-cooked frozen meals, like our Chicken Tikka Masala or Street Wraps. If you're looking for more of a challenge– dive into our recipes for our main entrees. We recommend our Chicken Vindaloo Wrap and Shrimp Fried Rice. No matter how hard the recipe is, we'll guide you through every step of the process. You'll be a culinary expert before you know it.
For all the information you need, follow our blog. We'll teach you a range of information, from the best chutney recipes to an overview of India's regional cuisines.
In the meantime, keep trying all the Indian dishes you can get your hands on. The more you eat, the more you'll learn and appreciate. Keep expanding your regional palate!
The Breakfast Biryani Burrito
Ingredients
1/2

Cup

Black Beans

1/4

Cup

Mexican Cheese

1

Cup

Sukhi's Chicken Biryani

Heated

1

Egg

Scrambled

Salsa/Hot Sauce
Instructions
Lay the tortilla out flat

Add a scoop of Sukhi's Chicken Biryani to a tortilla

Add the rest of the ingredients on top

Roll the burrito up tightly and enjoy!