Pulled Pork Sliders: A Delicious Twist
Pulled pork sliders are a popular snack, appetizer or main course, for a classic American BBQ. But if you want to add an Indian twist, look no further than our recipe.
One of the great things about pulled pork sliders is that they can be customized to suit your taste preferences. Different marinades, sauces, and toppings can create a unique flavor profile.
We use Sukhi's Tandoori Marinade for a bold flavor from a unique blend of spices. This versatile marinade will transform any cut of meat into a crowd-pleasing dish.
This article will teach you how to make the perfect Indian pulled pork slider.
Using Sukhi's Tandoori Marinade for Pulled Pork Sliders
Before we get into the nitty-gritty of the recipe, let's talk about tandoori. Tandoori is a type of cooking method, similar to grilling, that is used predominantly in North India. The process involves marinating meat or vegetables in a mix of spices and yogurt before cooking them in a tandoor, or clay oven over an open flame.
The result? A delicious, smoky flavor synonymous with Indian food.
"Tandoori" has also become a word used to describe a spice mix used for this method of cooking; akin to how BBQ sauces and spice rubs have a unique flavor profile and have become synonymous with BBQ cooking in American and other western cultures.
While having a tandoor oven in your kitchen might not be practical, you can achieve the same flavor profile with Sukhi's Tandoori Marinade. Enjoy the bold notes of garlic, paprika, cardamom, and dried mango powder for a tangy and spicy taste. We recommend using this spice mix with yogurt to create a marinade which can help tenderize the meat, making it juicy and tender – not to mention, flavorful!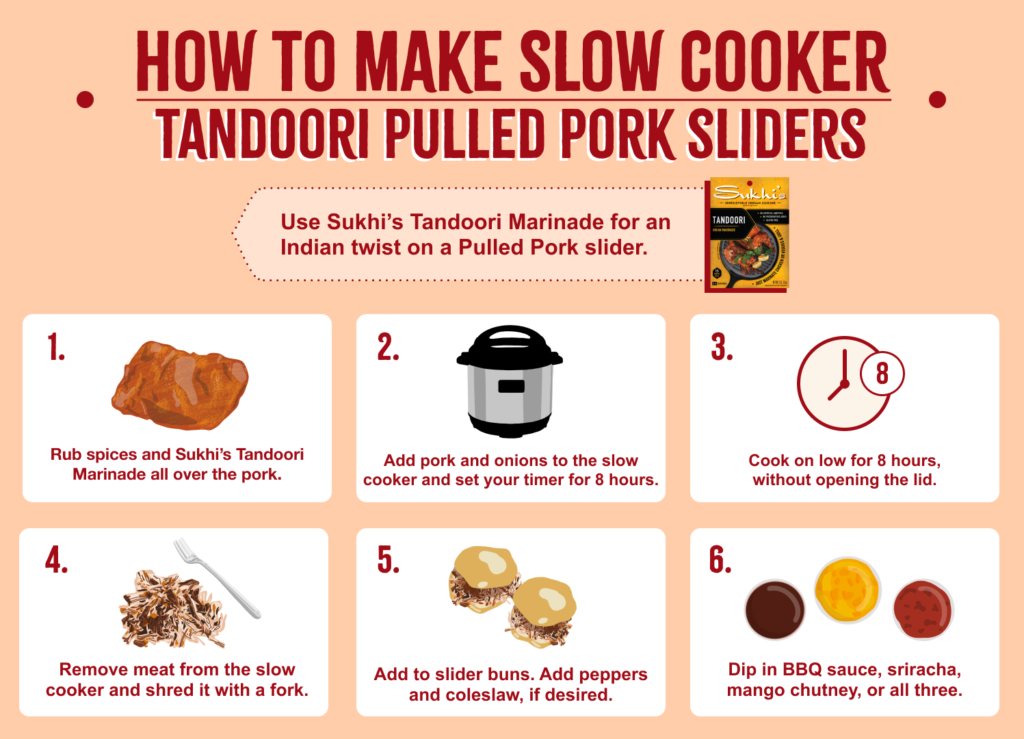 Additional Pulled Pork Sliders Tips and Tricks
Don't stop there. Here are a few tips and tricks to help you make the perfect tandoori pork sliders.
Using Tandoori Marinade
Don't skimp on the marinade. The more you use, the more flavorful the pork will be.
Let the Pork Rest
Let the pork rest for a few minutes before shredding it. This allows the juices to redistribute and makes for a juicier end product.
Swap for Chicken
Many Indians don't eat pork. For another version of this recipe, try swapping the meat for chicken. While the dish may be different, it'll welcome a whole new host of flavors!
Add more Indian Flavors
If you're looking to add even more Indian flavors to your sliders, try adding some sliced red onions, cilantro, or mint chutney. These toppings add a fresh, bright flavor that compliments the pork's richness.
Experiment with Buns
Don't be afraid to experiment with different types of buns. While we love using King's Hawaiian rolls, you can also try using brioche bread, naan bread, or even slider-sized paratha for an extra Indian touch.
A Vegetarian Twist on Pulled Pork Sliders
If you want to make a vegetarian version of these sliders, you can substitute the pork with a plant-based protein such as jackfruit or seitan. Simply follow the same recipe but use your preferred plant-based protein. You can also experiment with adding different vegetables, such as mushrooms or eggplant.
Adding a Kick of Heat
If you like a bit of heat in your food, consider adding some sliced jalapenos or green chilies to your sliders. This will add a spicy kick that complements the smoky, savory flavors of the pork. You can also add some hot sauce for an extra punch!
Making your Pulled Pork Sliders a Meal
While these sliders are delicious, you can quickly turn them into a complete meal by adding some Indian-inspired sides. Consider serving samosas, vegetable pakoras, or aloo gobi alongside the sliders. You could also serve the pulled pork with basmati rice or lemon rice for a gluten-free option and to soak up any extra sauce!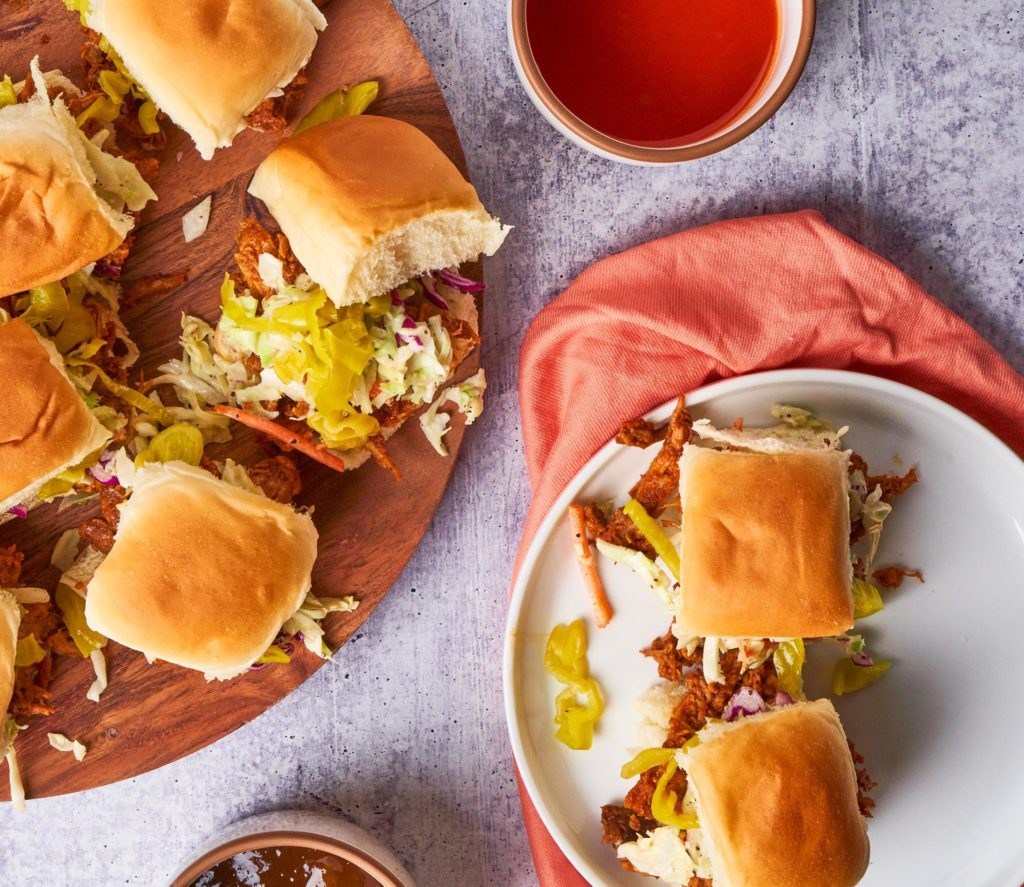 Cook On with Sukhi's
We hope you enjoyed our Tandoori Pulled Pork Sliders. Remember– in the kitchen; you can't go wrong. If you need more flavor, experiment with our different sauces. Pork sliders are versatile, so keep cooking until you find your perfect combination.
At Sukhi's, we're proud to bring the flavors of India to your kitchen in convenient, easy-to-use ways. From the rich, complex curries of Northern India to the spicy, tangy flavors of Southern India, there's something for everyone in Indian cuisine. For more fusion-styled recipes, we recommend our Dan Dan Curry Noodles and Chimichanga Wraps.
Whatever you decide to make, you will find something you and the whole family will love.
Pulled Pork Sliders
Ingredients
2

Packets

Sukhi's Tandoori Marinade

1

Jar

Sukhi's Mango Chutney

for dipping

4-6

lb

Bone-in trimmed pork shoulder

1

Large white or yellow onion

diced

1

tsp

Paprika

optional

1

tsp

Salt

1

tsp

Pepper

Pepperoncini peppers

Crunchy coleslaw

Slider buns

we're partial to King's Hawaiian Rolls
Instructions
Place diced onion on the bottom of the slow cooker and set on low

Rub spices and Sukhi's Tandoori Marinade all over the pork shoulder, and place on top of the onions

Cook on low for 8 hours, resisting the urge to open the lid as much as possible

Remove meat from the slow cooker and shred it with two forks

Add to slider buns. Add pepperoncini peppers and coleslaw, if desired

Dip in Sukhi's Mango Chutney, BBQ sauce, sriracha or all three