This guide breaks down how to cook basmati rice in just 20 minutes. It's so easy to make rice on the stovetop and budget-friendly too!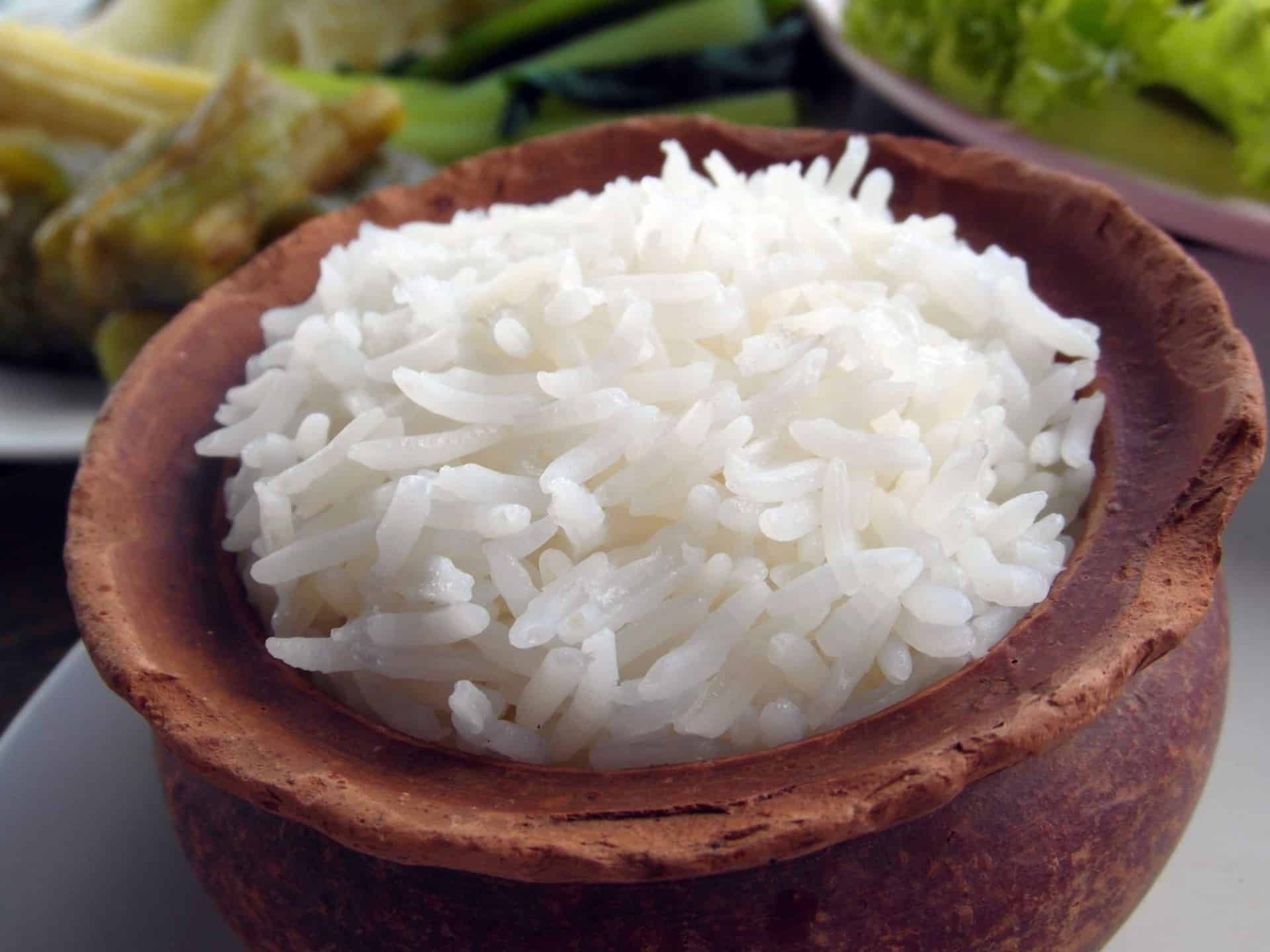 "Rice is great if you're really hungry and want to eat two thousand of something." — Mitch Hedberg
If you've never made rice on the stovetop before, you likely have a lot of assumptions about the process — that it'll take a long time to cook, that you'll burn the rice by mistake, that the rice won't taste as good as what you've had at Indian restaurants.
Cooking basmati rice at home is a quick and painless process that takes 20-25 minutes to complete. Not to mention that buying a large bag of dry basmati rice and cooking it on the stove can save you a lot of money in the long run compared to buying Instant rice packets.
In the recipe cards below, we've shared step-by-step instructions on how to cook basmati rice on the stovetop or in an Instant Pot. These recipes are foolproof and make the fluffiest rice your taste buds can imagine!
What is Basmati Rice?
The first time you buy rice in bulk at the store can be overwhelming simply because there are so many varieties to choose from. 
Basmati rice is a long-grain rice much less sticky than American white and brown rice. India produces around two-thirds of the world's basmati rice, which is why Indian food is almost always served with this special type of rice.
The word "basmati' comes from the Hindi word for "fragrant," which is fitting since basmati smells quite nutty once cooked. It pairs exceptionally well with saucy curries, as the long rice grains soak up the extra liquid.
Basmati vs Jasmine Rice
Basmati and jasmine rice look almost identical, but they're two very distinct types of rice. 
Jasmine rice originated in Thailand and is used in many Southeast Asian dishes. The main differences between the two kinds of rice are most noticeable after you've cooked them. Jasmine rice forms more clumps once cooked, whereas basmati rice grains separate and don't stick together.
Although both types of rice are delicious, you want to use traditional basmati rice when making Indian dishes. Not only will the longer grains maximize curry absorption, but they also provide a more authentic taste and experience.
Brown Basmati Rice vs White Basmati Rice
Ah, the age-old question — brown rice or white rice?
Your preference almost certainly depends on your priorities. Let's start with the nutritional element. 
Both white and basmati rice are almost entirely comprised of carbohydrates, breaking down into sugar and giving you a burst of short-term energy. However, brown rice retains the endosperm of the natural grain, meaning it qualifies as a complex carbohydrate while white rice is a simple carbohydrate.
Don't know the difference? No sweat.
Simple carbohydrates like white bread and white rice break down quickly in your stomach, giving you a rapid spike in blood sugar. On the other hand, complex carbohydrates take longer to digest, offering a more gradual rise in blood sugar while keeping you feeling full for longer. 
From a purely dietary perspective, brown rice is likely the better option. That said, nutrition isn't everything. Many people simply prefer the taste of white basmati rice due to its sweeter, less bitter taste.
Of course, you could also opt for our citrus-infused Lemon Rice, packed with peas, carrots, and lima beans.
The choice is yours.
How to Cook Basmati Rice
To make the best basmati rice, you'll need water, salt, and dried basmati rice. 
Tips for the Best Basmati Rice
You're missing out if you don't season your basmati rice with salt. Your rice will likely be dull and flavorless compared to what you were hoping for.

Only stir the rice once at the beginning of the cooking time. Stirring too much will make it sticky..

If you're cooking on the stovetop, aim for approximately a 1:2 basmati rice: water ratio. This gives the rice the perfect consistency — not too dry and crunchy, yet not too wet and watery. 

If you're using a pressure cooker like an Instant Pot, you should aim for a 1:1 basmati rice: water ratio. These devices keep steam locked in and do a much better job locking more water into the rice.

At the end of the cooking time, remove the rice from the heat and let it rest, covered, for a few minutes. This will create steam, which will make the rice extra fluffy.
More Indian Recipes:
Basmati Rice
This guide breaks down how to cook basmati rice in just 20 minutes. It's so easy to make rice on the stovetop and budget-friendly too!
Ingredients
1

cup

basmati rice

1 3/4

cup

water

1

tsp

salt
Instructions
Pour water into a deep saucepan. Bring it to a boil and add a teaspoon of salt to the water.

Wash rice grains 2 to 3 times or until the water runs clear. This removes starch from the surface of the grains and ensures fluffier rice.

Pour rinsed rice into the boiling water.

Stir once or just enough to separate the rice.*

Cover the pot, turn down heat to low-medium heat and let the rice simmer for 15 mins.

Turn off the flame and let it steam in the pan for another 5 mins. Enjoy!
Notes
*Only stir the rice once near the beginning of the cooking time. If you stir the rice too much, it'll become overly sticky. 
Instant Pot Basmati Rice
If you want a truly effort-free basmati rice recipe, then break out your Instant Pot, kick your feet up, and relax as the pressure cooker works its magic.
Ingredients
1

cup

rinsed basmati rice

1

cup

water

1

tsp

salt
Instructions
Pour water, salt, and rice into Instant Pot. Stir to mix in the salt.

Cook at High Pressure for 6 minutes and 10 minutes of Natural Release.

That's all there is to it — enjoy!