Dan Dan Curry Noodles: A Flavorful Fusion Recipe
Are you ready to elevate your noodle game? If you're a food lover who craves fresh flavors, you'll love our Dan Dan Curry noodles recipe.
We combine this classic Chinese dish with our signature Sukhi's Curry Sauce to make a whirlwind of irresistible taste.
In this article, we'll take you through step-by-step instructions to create this mouthwatering dish, along with helpful tips and variations to make it your own. Let's dive in.
The History of Dan Dan Noodles
Dan Dan Noodles (Dandan Noodles) is a popular Chinese dish from the Qing Dynasty. The dish gets its name from the traditional method of street vendors carrying noodles by a pole called "dan dan." These vendors would sell the noodles to hungry passersby.
While there are many noodle dishes originating from this region, Dan Dan is known for its unique combination of flavors, combining spice, tang, and nuttiness. It has become a comfort food in China and all around the world.
Fusing Dan Dan with Indian Cuisine
Indian cuisine is famous for its rich spices. In particular, curry is a complex blend of ingredients like coriander, cumin, turmeric, cardamom, cinnamon, cloves, and chili.
You'll find a new way to savor this classic dish by integrating these flavors with Dan Dan Noodles.
Tips and Variations for Dan Dan Curry Noodles
Here are some helpful tips and variations to customize your Dan Dan Curry Noodles.
Adjust the Spice Level
If you like it hot, add more chili oil or red pepper flakes for an extra kick. If you prefer mild, reduce the chili oil or omit it altogether.
Add Veggies
Are you looking for a few more vegetables? For added nutrition and crunch, toss in your favorites, like bok choy, bean sprouts, or bell peppers. Simply stir-fry them with the ground pork before adding the sauce.
Vegan Dan Dan Curry Noodles
If you're trying to add all veggies, you're not out of luck. These days, the culinary world offers many plant-based options. Swap the ground pork with crumbled tofu or cooked mushrooms for a delicious vegetarian version of this dish.
Experiment with Toppings
Get creative with your toppings, and try adding roasted sesame seeds, cilantro, or even a squeeze of lime juice.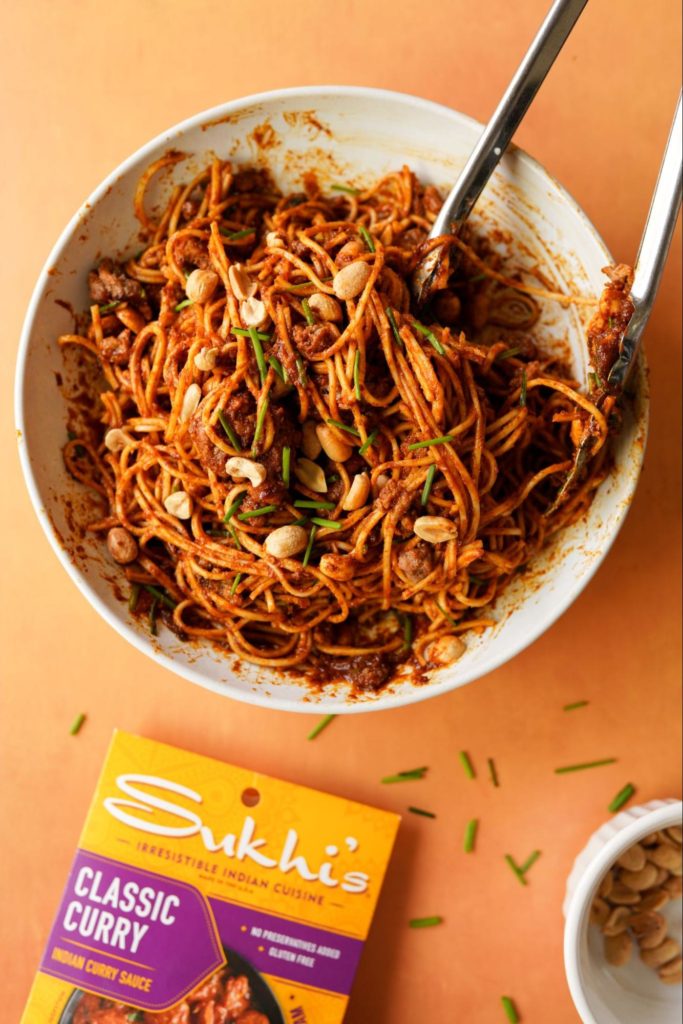 Additional Fusion Dishes
Fusion dishes can be a great way to break up your standard routine. For other delicious fusion recipes, we recommend you try the following:
Experimenting in the Kitchen with Sukhi's
Don't grow stagnant in your kitchen. The culinary world should be fun and experimental, mixing traditional recipes with new blasts of flavor.
At Sukhi's, we'll guide you through your cooking journey. For more insight into Indian Culture, we recommend exploring our site. By learning about India's different regions, you'll have a better idea of what flavors you'll find where and what's most popular around the country.
To integrate our bold flavors into other dishes, peruse our Sauces and Chutney. From Vindaloo Indian Curry Sauce to Tandoori Indian Marinade, you'll find something to fire up the tamest meal.
We hope today's recipe goes well. Don your apron, grab your Sukhi's Curry Sauce, and prepare to make your own delicious Dan Dan Curry Noodles!
Dan Dan Curry Noodles
Ingredients
1

Lbs.

Dry white noodles

1

Packet

Sukhi's Curry Sauce

8

Oz

Ground Pork

2

Tsp.

Mirin

Chilli Oil

Of your choice

2

Tsp.

Brown or white sugar

Salt and Pepper

1/2

Cup

Chopped Peanuts

Handful

Chopped Scallions

3

Tbsp

Sesame paste of peanut butter

1

Tbsp

Canola or avocado oil

1

Tbsp

Garlic powder
Instructions
Heat a pan of canola or avocado oil. Add ground pork, mirin, salt, pepper, and soy sauce. Let the ground pork brown and stop cooking once it is crispy and liquid has evaporated.

Before making the sauce, bring a pot of water to boil.

To make the sauce: Combine sesame paste or peanut butter with garlic powder, salt, pepper, chili oil, and sugar. Mix until thick and incorporated.

Once the water is boiling, cook the noodles following the instructions on the packet.

To prepare, place sauce at the bottom, followed by the noodles, the pork, and garnish with scallions and chopped peanuts.