How To Stock Up Your Kitchen For A Month
This post is a cheat sheet on how to stock up your kitchen and pantry for a month, in case of emergencies. 
Most of us are so used to a fast-paced life. Constantly moving from one place to another and then something like COVID-19 happens and the whole world literally comes to a standstill. Life suddenly becomes so different from what we are used to. Working from home, cooking most meals at home and simply going back to the basics becomes a new norm.
What do you do when you are cooking multiple meals a day at home, and when you know that the "old ways" of making trips to the grocery store every time you run out of an ingredient is not an option? I guess you go back to the basics again.
Traditionally, Indian culture has always practiced stocking up the pantry with shelf-stable items. This includes items like flours, rice, grains, spices, preserves, etc. These have always made up a large part of Indian cuisine. So today with this post we are bringing the age-old practice back and with you we will discuss how you can actually do that! Learn how to stock up your pantry so that you do not have to run to the grocery store every other day, and you are covered for at least a month.
Whole Grains and Flour:
Whole grains are hearty, healthy and shelf stable for months at a time if stored properly. So, buy them in bulk, transfer in a dry, airtight container and store in your pantry or in a cool dry spot in your house. I personally buy a 10lbs. -20lbs. bag of rice, whole wheat flour and store a bulk of it in large containers. I also transfer a pound or two into smaller jars so they are handy when I need them. Here are some whole grain items you can store:
Whole Wheat Flour
All Purpose Flour
Rice
Oats
Chickpea Flour
Pasta (different varieties)
Brown Rice and Ancient Grains (quinoa, wild rice etc.)
Beans and Lentils:
Beans, lentils, dal, pulses, whatever you want to call it, they are just great to stock up on. The benefits of beans are seemingly endless! Dals make a tasty and nutritious addition to any meal as they're high in protein and low in fat.
We wrote a whole post on Beans, Lentils and Dals which can serve as a great resource for you when deciding on which variety of beans or lentils will work best for you. Below are some examples:
Chickpeas
Kidney Beans
Mung Bean
Black Eyed Peas
Vegetables: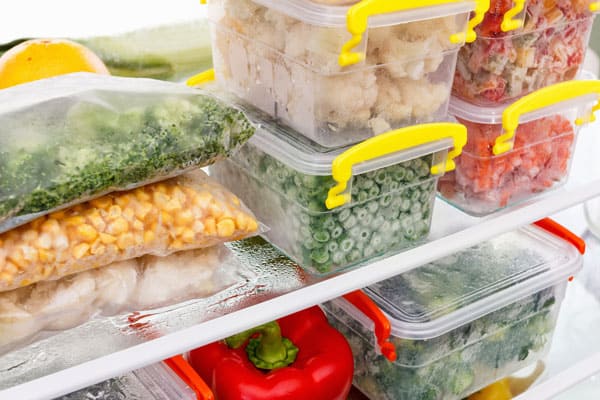 When I want to store them for a longer period of time, I store vegetables in two forms:
Shelf Stable:
Canned green beans
Canned tomato
Tomato Paste/Sauce
Canned Vegetable Soups
Root Vegetables have longer shelf life- Potatoes, Onion, Garlic, Ginger, Carrots, Parsnips, sweet potato.
Squashes like butter nut squash, spaghetti squash, acorn squash
Frozen Vegetables:
Frozen Vegetables like– Cauliflower, broccoli, peas, carrots, green beans etc.
Frozen Greens- Spinach, Chard, Mustard Greens, Fenugreek Leaves etc.
Frozen herbs- Buy herbs like cilantro, mint leaves, rosemary etc., wash them, chop and freeze in ice tray. use where you need herbs.
Protein:
Although beans are a great option at this time when buying meat regularly will be tough, there are other ways to stock up on various protein sources. Below are some other protein sources you can stock up on:
Nuts and Trail Mix
Nut Butter
Seeds (sunflower seeds, pumpkin seeds, hemp seeds, chia seeds etc)
Canned Fish
Canned Beans
Canned Chicken Or Turkey
Eggs
Fruits:
Canned fruits
Applesauce (other fruit sauces)
Fruit Leather
Dried Fruits
Frozen Fruits
Frozen Berries
Long Lasting Fruits– Pomegranate, Pineapple, Apple, Citrus fruits like Orange, Grapefruit, Lemons etc.
Pantry Items:
Apart from basic grains, beans and nuts there are other pantry items that stay good for a while. In case you want to bake fresh cookies with the kids or in mood of a change flavors. These are definitely now "survival items" but everyone craves a treat once in a while, especially in these mad times! Some pantry items I try to stock up on when I can are:
Chocolate (bars and chocolate chips of different varieties)
Cocoa Powder
Canned Olives
Shelf Stable Milk– Oat Milk, Almond Milk, Powdered Milk
Essential Spices– We have two comprehensive posts on essential Indian spices here (part 1) and here (part 2). This will help you decide which spices right for you.
Sugar
Salt
Cooking Oil (olive oil, avocado oil, mustard oil)
Condiments (ketchup, mustard)
Pickles
Canned Broth
Crackers
Refrigerator Items:
There are quite a few food items which are not really shelf-stable but store well in the refrigerator for some time. Here are a few:
Butter
Hard Cheese
Hummus
Jarred Chutney
Individual Yogurt Cups
We tried to make this list as comprehensive as possible. If you think we missed something or you'd like us to add onto this list, feel free to comment below and we will try our best to add them to this list.
Let us know how you are coping with shelter-in-place. Stay in. people, and stay safe!
Try recipes using shelf stable items: