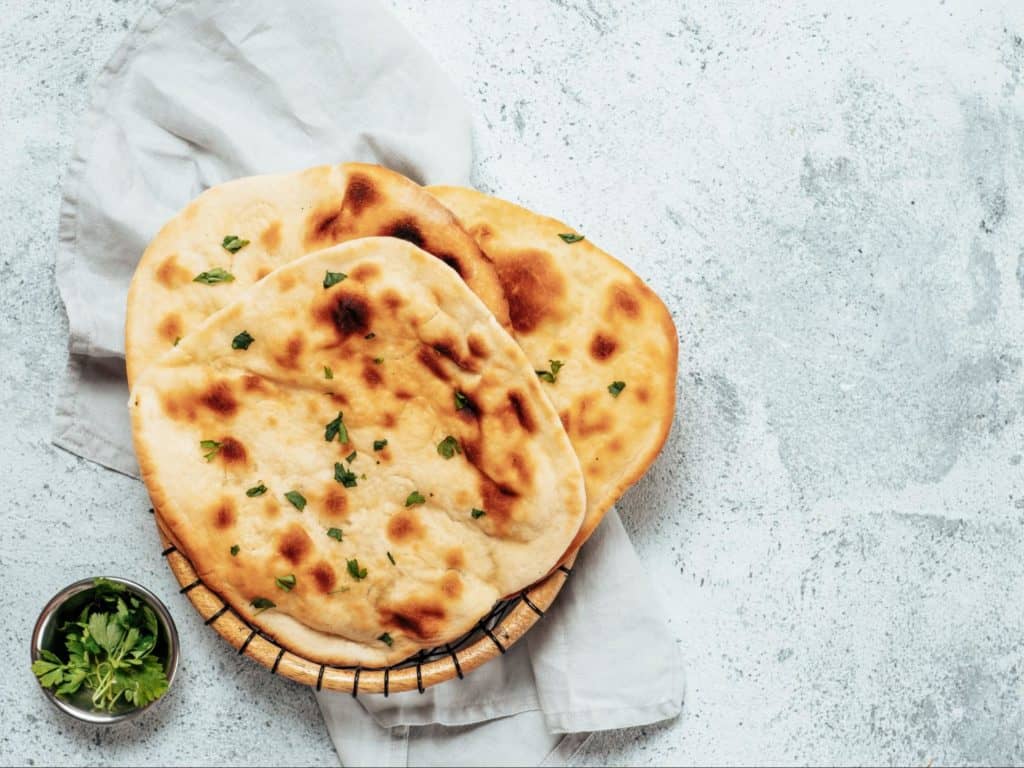 Naan is one of the few dishes known even to newbies to Indian cuisine.
Its signature crispy exterior and pillowy interior make it one of the most appreciated breads baked all across the globe.
Naan can be great on its own, but it's also a scrumptious side dish for many meat and veggie curries.
Let's learn a bit about the history and baking process of this classic leavened bread and discover some Indian entreés that can bring your homemade naan to the next level.
What is Naan?
Naan is one of the few leavened breads in Indian cuisine. It's often made from maida, a refined white flour similar in texture to many pastry flours.
After creating the dough and allowing it to rise, naan is conventionally cooked in a tandoor. This is a traditional Indian oven, a cylindrical clay drum standing upright with a small fire heating from the bottom. Tandoors can reach incredibly hot temperatures of up to 900° F and bake naan until well-charred and puffy.
Of course, you don't need a home tandoor to make a stellar naan. You'll just need a bit more time and patience as the bread bakes.
Naan often features alongside curry dishes. The fluffy bread makes a wonderful makeshift spoon for absorbing the sauce and scooping up veggies and meat.
The History of Naan
Many historians believe that naan originated from Persia and the Mughal Empire. The first appearance of naan in the historical record is in the notes of Indo-Persian poet Amir Kushrau in 1300 A.D.
The records of the Imperial Court in Delhi show that the court served naan-e-tunuk (light bread) and naan-e-tanuri (cooked in a tandoor) to their royals often as a breakfast item along with a kebab.
Due to its inclusion of yeast and kneading technique, naan has always been considered something of a delicacy in India. Throughout its history, naan was primarily featured in noble and royal households.
While it's gradually becoming more popular amongst the general population, naan is still typically eaten outside of the home at restaurants or at special events like weddings. More commonly, at home, Indian families will make an unleavened flatbread, roti or chapathi, that is made on a tava or flat pan.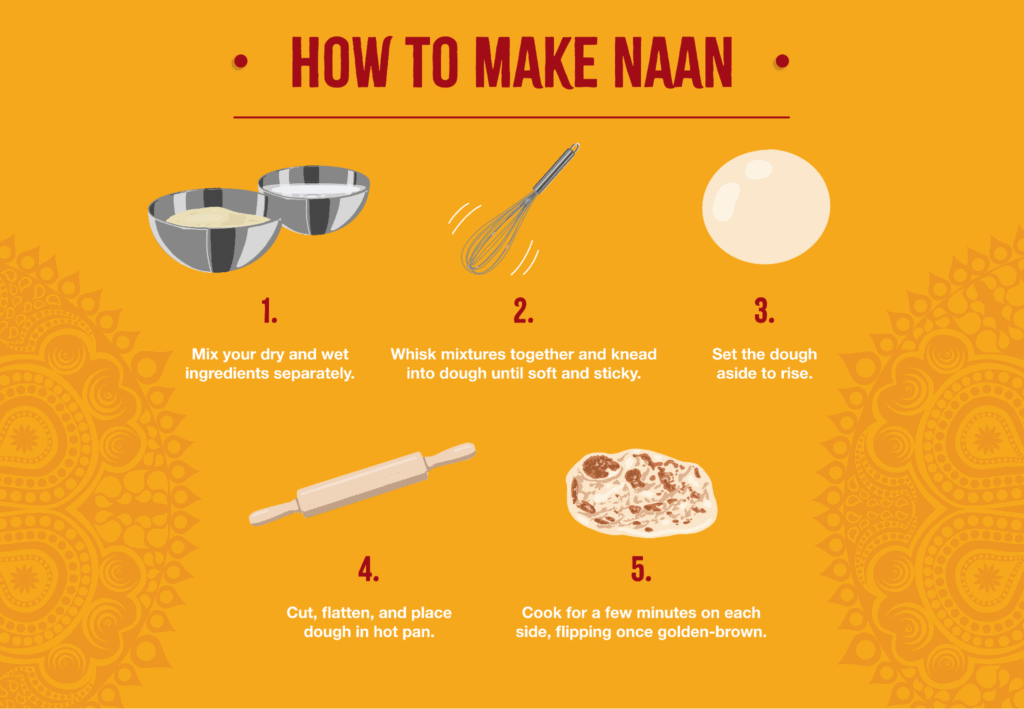 How To Make Naan
Servings: 12 naans
Prep Time: 30 Minutes
Cook Time: 20 Minutes
Total Time: 50 Minutes, plus 90 minutes of rising time
Ingredients:
4 cups all-purpose flour
2 tbsp granulated sugar
2 tsp instant dry yeast
2 tsp Kosher salt
6 tbsp plain yogurt
4 tbsp extra-virgin olive oil
1 1/2 cup warm water
4 tbsp unsalted butter
2 tbsp parsley, chopped
Instructions:
Using a large mixing bowl, whisk the flour, sugar, yeast, and salt.
In a smaller mixing bowl, whisk together the yogurt, extra-virgin olive oil, and warm water.
Combine the yogurt mixture with the dry ingredients and whisk together.
Once the dough develops a thicker consistency, coat your hands with flour. Knead the dough until it is soft and sticky.
Lightly oil a large mixing bowl. Transfer the dough and cover with a damp paper towel. Allow the dough to sit in a warm location until it has roughly doubled in size (about 90 minutes).
Pour 1 cup of flour into a small bowl. Lightly coat a clean countertop with flour and place the prepared dough on top. Dust some flour onto the dough and shape it into 12 ball-sized portions.
Use a rolling pin to flatten the dough balls into rough oval shapes.
Heat a cast-iron pan over medium-high heat. Once it's hot, place prepared naan dough ovals into the pan, one or two at a time.
Cook for a few minutes on each side, flipping once the bottom is golden-brown and blistered with bubbles.
Remove the naan from the pan and brush with ghee or butter.
Garlic Naan:
To make garlic naan, simply follow the directions above and brush on minced garlic and cilantro along with your ghee or butter. It's that simple!
There you have it! Now you know how to make naan at home in a simple, fluffy recipe sure to please your guests at your next dinner party.
This perfect naan recipe will keep in the freezer for up to 3 months. Once you have a big batch and you're ready to re-heat, simply wrap your naan in tin foil and heat in the oven at 350° F until warm and crispy.

Entreés to Pair With Your Naan
Now that you've added this classic Indian bread to your recipe repertoire, let's explore some complementary entreés to elevate your next plate of naan.
Chicken Tikka Masala
While the origins of this dish are hotly contested, it's one of the most well-known Indian dishes in the Western hemisphere.
Imagine the perfect cut of chicken dunked in a decadent, creamy sauce. Each bite releases all your favorite Indian flavors onto your taste buds,
That's exactly what you'll find in a home-cooked chicken tikka masala. A true chicken tikka masala master might marinate their meat for up to 2 days, though 2 hours or so should usually suffice.
Crafting your own masala curry requires a cabinet full of Indian spices like black cardamom, turmeric, and others.
If you don't have all those spices on hand, look towards Sukhi's Tikka Masala Curry Paste. This scintillating curry paste simplifies the cooking process, providing a delicious sauce for chicken tikka as well as an outstanding dipping sauce for your next naan creation.
If your dish isn't quite coming out how you imagine, look towards Sukhi's Chicken Tikka Masala and other ready-to-eat entreés to taste how a master does it.
Dal Makhni
This mouthwatering North Indian dish is a creamy lentil soup originating from the historic region of Punjab. Dal makhni is made from black lentils, red kidney beans, cream, butter, and fragrant spices.
Traditionally, the dish is made by simmering lentils for many hours over a coal or wood fire. This slow cooking method perfectly softens the lentils into a thick, creamy, and buttery texture.
Serve this delicious dal mahkni alongside garlic butter naan, tandoori roti, basmati rice, or jeera rice. It's a classic side dish eaten alongside meat and veggie entreés, along with naan or rice.
Palak Paneer
This next Indian dish can transform any spinach skeptic into a fanatic of the nutrient-packed leafy green.
Palak paneer pairs spinach with refreshing paneer (curdled Indian cheese), chopped onion, cream, and a whole host of scintillating Indian spices like cloves, ginger, and coriander.
It's a classic vegetarian option on any Indian restaurant menu and one of our favorites for whipping up in the Instant Pot.

Know Your Naan Inside and Out With Sukhi's
Naan is so much more than just a simple side. It's one of the fluffiest, crispiest, most breathtaking breads made all across the world. Dip it in all of your favorite Indian entreés as you explore every Indian recipe we have to offer.
On the evenings when you don't have the time or energy to cook, remember you can always take a night off. Put your feet up and enjoy your naan alongside our Chicken Tikka Masala, Chicken Vindaloo, or Roasted Tomato Curry. While you're at it, explore our naanwiches, with Chicken Tikka Masala and Veggie Turmeric flavors which are perfect for a snack or mini-meal. We even have a few breakfast flavors so you can add some spice to your morning routine!
As you're waiting for your Indian food to arrive, round out your Indian food education by reading through our blog. Learn everything there is to know about the different Indian breads and discover 8 delicious vegetarian dishes to serve alongside this fluffy naan at your next family dinner night.