#12 Easy Indian Food Recipes to Fill Out Your Table
While some might find the idea of cooking Indian food recipes daunting due to their rich array of spices and flavors, many dishes can be recreated with ease in your own kitchen, especially with the right guidance and recipes.
We've curated a list of easy Indian food recipes that are sure to become your go-to favorites.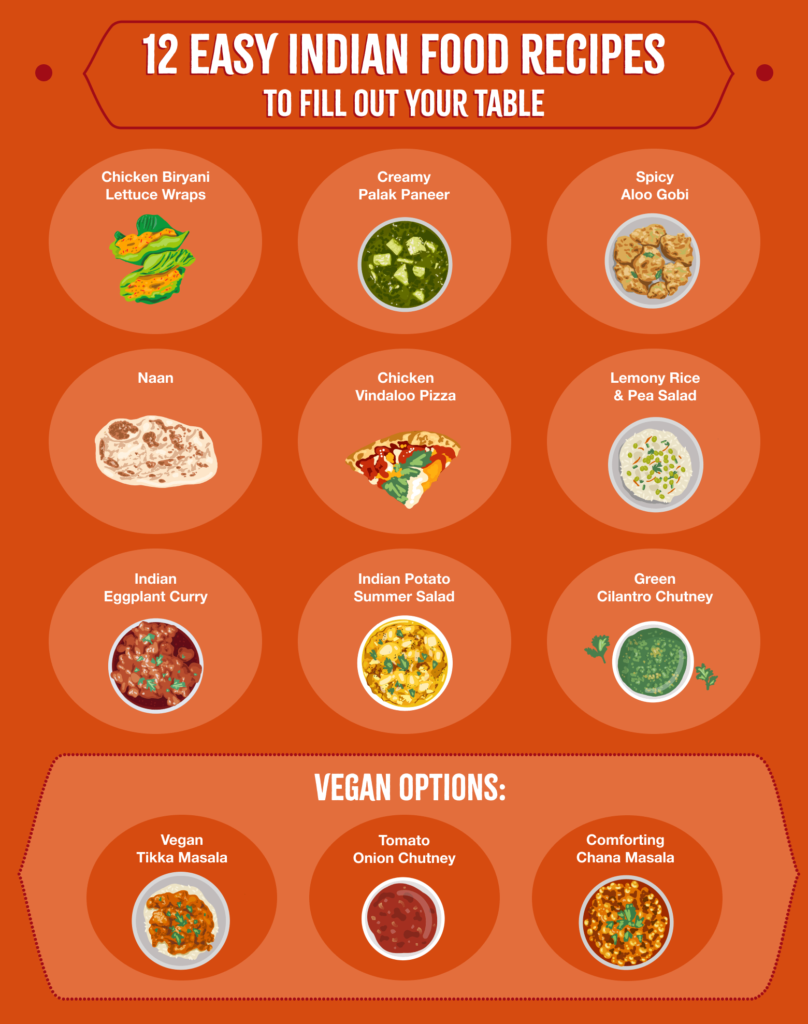 Easy Indian Food Recipes
Follow along with a few of our favorite Indian food recipes. From aromatic curries to crispy snacks, these recipes bring the warmth and comfort of Indian cooking right to your table.
#1 Chicken Biryani Lettuce Wraps
Chicken Biryani Lettuce Wraps marry the aromatic spices of Indian cuisine with the crisp freshness of Asian lettuce wraps. Tender chicken slices are cooked to perfection with a medley of Indian spices, then nestled in a bed of fragrant basmati rice.
The wraps offer a satisfying crunch and a burst of flavor, making them a delightful addition to any meal. Garnished with golden-brown sautéed onions and fresh mint leaves, these wraps are a culinary adventure not to be missed.
#2 Creamy Palak Paneer
Indulge in the velvety goodness of palak paneer, where cubes of creamy paneer are gently cooked in a luscious spinach and coconut milk sauce.
With a hint of garam masala and Indian spice blend, this dish offers a perfect balance of creamy, spicy, and wholesome.
#3 Spicy Aloo Gobi
A symphony of cauliflower florets and potato cubes, this spicy dish packs a flavorful punch.
Infused with cumin seeds, turmeric, garam masala, and Indian spice blend, it's a delightful combination of crunch and tenderness.
Served with steamed rice, it's a spicy twist on a classic Indian vegetable medley.
#4 Naan
Naan, a quintessential Indian bread, is a marvel of soft, pillowy texture and subtle, slightly charred flavor. Traditionally baked in a tandoor oven, this versatile flatbread complements a wide array of Indian dishes.
Its dough, enriched with yogurt and sometimes ghee, rises to create a fluffy interior while the outer layer achieves a delicate crispness. Whether used to scoop up curries or stuffed with fillings, naan adds a comforting and authentic touch to any Indian meal. Savor the warm, buttery goodness that defines this beloved staple of Indian cuisine.
#5 Chicken Vindaloo Pizza
Experience a culinary adventure like no other with our Chicken Vindaloo Pizza, where the bold flavors of Indian spices meet the classic Italian favorite. Succulent pieces of marinated chicken, cooked to perfection in a spicy vindaloo sauce, rest atop a crisp pizza crust.
This fusion masterpiece brings together the fiery kick of vindaloo with the comfort of melted cheese, creating a taste sensation that's both familiar and exhilarating.
Easy Vegetarian Indian Food Recipes
Looking for more veggie-based options? Keep reading. Indian food is highly customizable and we've got great plant-based meals for your table.
#6 Vegan Tikka Masala
Experience the creamy goodness of Vegan Tikka Masala. Tender tofu or chickpeas take a luxurious dip in a rich tomato sauce, infused with aromatic Indian spices.
It's a dish that's both hearty and heartwarming, proving that vegan cuisine can be every bit as comforting and flavorful. Dive into a bowl of this vegan Tikka Masala and savor the delightful fusion of taste and compassion.
#7 Tomato Onion Chutney
This zesty concoction combines the sweetness of ripe tomatoes with the sharpness of fresh onions, creating a symphony of flavors that's both tangy and rich.
Simmered to perfection with a blend of spices, this chutney is the perfect companion to dosas, idlis, or even a humble slice of bread.
#8 Comforting Chana Masala
A celebration of chickpeas, chana masala is a staple in Indian households. A medley of onions, tomatoes, and spices, including garam masala, come together to create a flavorful sauce that coats every chickpea.
Sprinkled with fresh coriander leaves, it's a hearty and wholesome dish that pairs perfectly with steamed rice or naan.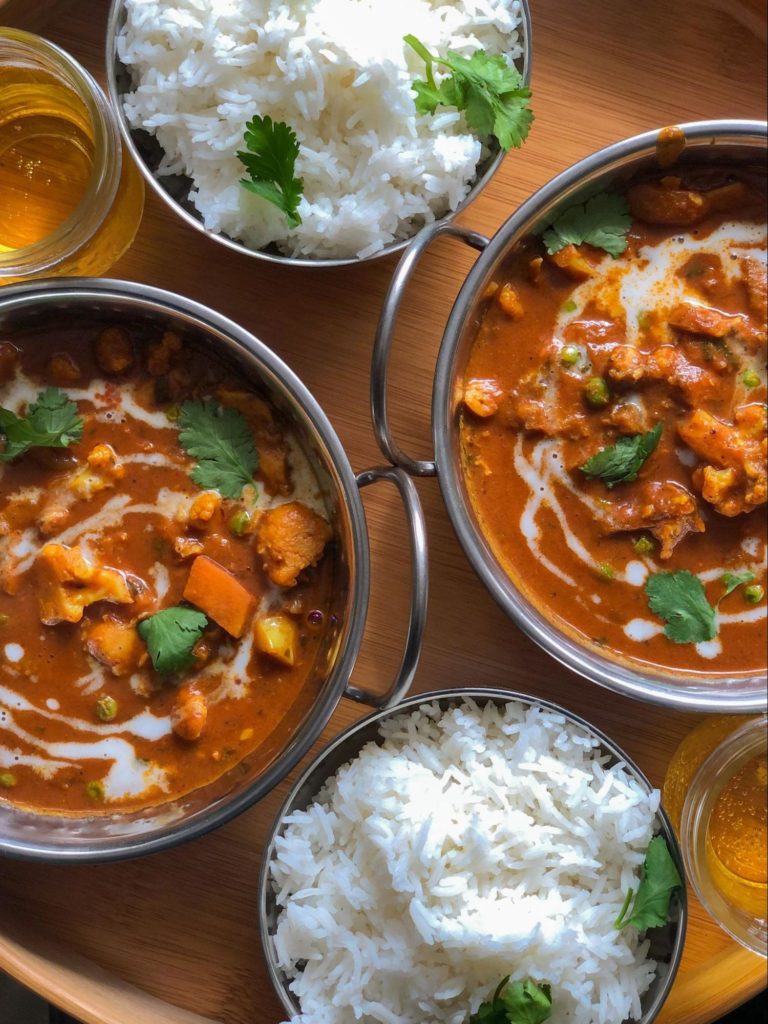 Easy Indian Food Products
Sometimes you don't want to make a meal entirely from scratch. For these occasions, try our pre-cooked entrees. Read on for a few quick-zap favorites.
#9 Chicken Tikka Masala
Chicken Tikka Masala has long been the subject of culinary fascination. Boasting 21 grams of protein per serving and made from chicken raised without added hormones or antibiotics, this dish is as nutritious as it is flavorful.
Originating from a medley of global influences but rooted in Indian culinary traditions, this creamy, aromatic entree is complemented best with Sukhi's Lemon Rice.
#10 Chicken Coconut Curry with Mango
Step into a tropical culinary journey with Chicken Coconut Curry with Mango. Infused with 22 grams of protein per serving, the chicken used is free of added hormones and antibiotics.
The flavors of South India shine in this dish, where creamy coconut milk and tangy tomatoes balance the palate. Plus, its gluten-free and halal certifications make it an excellent choice for various dietary preferences.
#11 Chicken Vindaloo
Chicken Vindaloo a fiery classic, boasts 22 grams of protein per serving and utilizes chicken that has never seen hormones or antibiotics. Rooted in the coastal Goa region, its origin story is a blend of Indian traditions and Portuguese influences.
This dish stands out with its tangy and bold fusion of vinegar, ginger, garlic, and chiles.
#12 Chicken Biryani
Chicken Biryani is a heartwarming, fragrant affair. With 18 grams of protein per serving, and chicken raised without added hormones or antibiotics, this dish speaks of wholesomeness.
A favorite across global cuisines, the combination of tender chicken and seasoned basmati rice promises comfort in every bite. The aromatic spices, including turmeric, cumin, and ginger, will transport you straight to the bustling streets of India.
Find Simple Indian Recipes with Sukhi's
With enough practice, we're certain you'll find these Indian food recipes easy. At Sukhi's we want to bring you delicious, authentic meals straight from the heart of India.
If you're looking for more on-the-go options, explore more frozen meals. If you'd like to know more about Indian culture and regions, take a tour through our blog. There's no shortage of interesting content about India!
Keep working on your cooking skills. With enough time, you'll be a master of Indian-style cooking.