Curry Naan BLT: A Delicious Afternoon Meal 
Indulge in culinary delight with our tantalizing dish, the Curry Naan BLT.
Embark on a journey of flavors as we unveil a modern twist on a classic favorite. In this delectable exploration, we delve into fusion cuisine, where traditional meets contemporary in a delightful embrace.
This BLT promises to tantalize your taste buds and elevate your lunchtime experience. Picture crisp, smoky bacon juxtaposed against the soft, pillowy texture of freshly baked naan bread.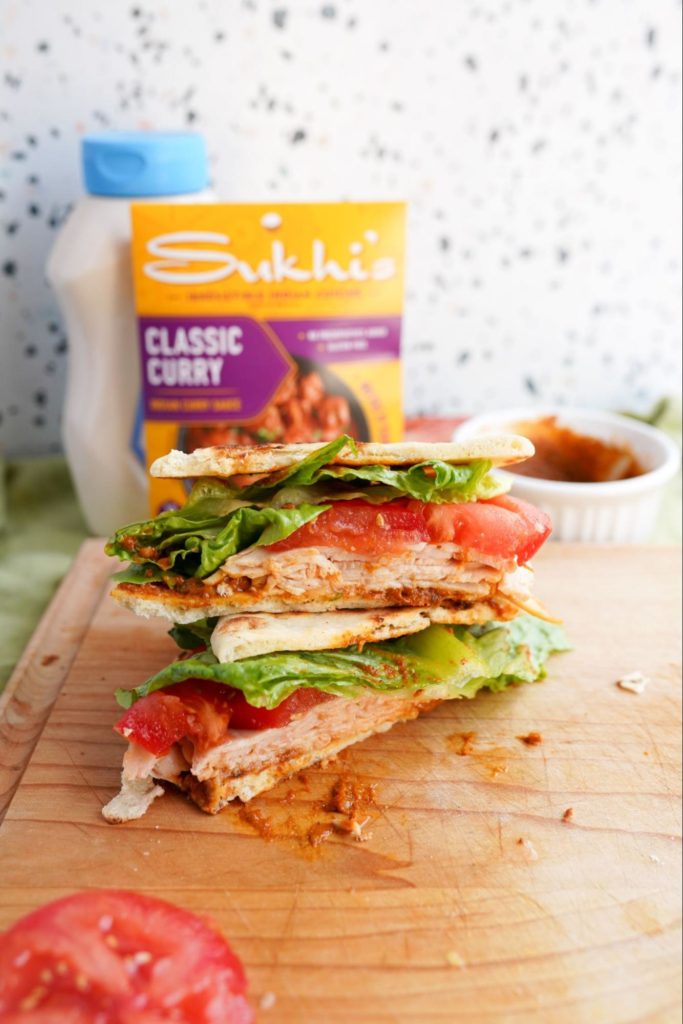 What is a Naan BLT?
There's no lunchtime meal more classic than the BLT.
The combination of crispy bacon, juicy tomatoes, and crisp lettuce nestled between toasted bread slices has been a cherished culinary experience for generations. But what happens when you infuse this timeless sandwich with the rich heritage of Indian cuisine?
The answer lies in the Naan BLT – a culinary innovation that bridges the gap between two diverse culinary traditions. The star of this reinvented dish is the naan, an Indian flatbread known for its airy texture and slightly charred exterior. By substituting the traditional bread with naan, a harmonious fusion is achieved, elevating the sandwich to a whole new level of taste and texture.
Read along to learn how to make this dish. You'll use Sukhi's Classic Curry sauce to take it to the next level.
Ingredients
1

Tomato

2

Lettuce leaves

2

Small

Naan

1/3

Cup

Mayo

1/2

Package

Sukhi's Classic Curry Sauce

3-4

Slices Turkey Deli Meat

Any Deli Meat Works
Instructions
Mix mayo and Sukhi's Classic Curry Sauce together. Set aside.

Spread your mixture of curry mayo on one side of both pieces of naan. Assemble sandwich with turkey, tomato, and lettuce.