Indian Spicy Hot Chocolate Recipe
Want to know how to make the BEST spicy hot chocolate? Of course, you do!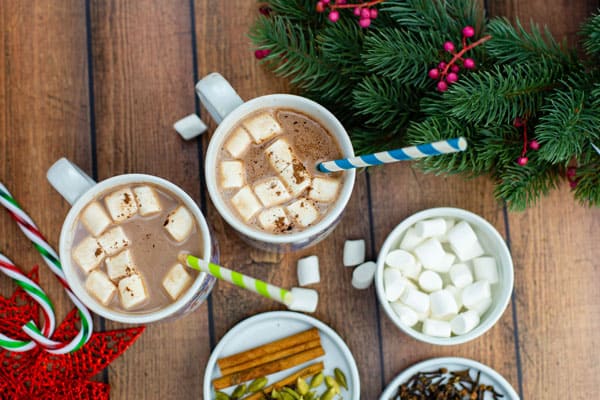 You've probably heard of Mexican hot chocolate, but have you ever heard of Indian hot chocolate?
Chocolate beverages date back as far as 1500-400BC when the Olmecs roamed the Americas, followed by the Mayans who drank cacao-based drinks made with beans from their plantations in the Chontalpa region of what is now eastern Tabasco. 
Since then, homemade hot chocolate has taken many forms. Our version of Indian hot chocolate infuses hot chocolate with spices like cinnamon and cloves for a spiced version of this world-favorite drink!
Spicy Hot Chocolate Ingredients:
While there are multiple ways to make spicy hot chocolate, we're sharing with you our take on the crowd-pleasing drink. For our recipe, you start out with 16 ounces of soy milk or any other milk of your choice, depending on personal preference. You also need two crushed green cardamom pods, one cinnamon stick, three whole cloves, two tablespoons of unsweetened cocoa powder, and two teaspoons of sugar. 
That's all you'll need; just six simple ingredients. Our recipe is perfect for two mugs of spicy hot chocolate! If you're having more guests over — or if you really love spicy hot chocolate — feel free to double the recipe!

How to Make Spicy Hot Chocolate:
In order to make spiced hot chocolate, add the milk, cardamom, cinnamon, and cloves to a medium saucepan over medium heat. You'll want to stay close by and watch over it because you should remove it from heat right before the milk begins to boil, which is usually around three minutes. Then, you cover the pot and let it steep for five minutes. 
From there, you return it to medium heat and add in your cocoa powder and sugar. Mix it well until both are dissolved. Remove from heat and pour your spiced hot chocolate through a mesh strainer into two mugs! That way, you'll avoid accidentally swallowing a chunk of clove or the cinnamon stick and you'll be left with the creamiest spicy hot chocolate!
Hot Chocolate Toppings to Try:
When it comes to topping off your spicy hot chocolate, it's up to you to be as creative as you'd like! The traditional way to drink hot chocolate is by throwing a couple of marshmallows on top. But really, anything goes here! 
Feel free to dress it up with a candy cane, whipped cream, or even a few cookies. You could also top your spiced hot chocolate with sprinkles, chocolate chips, or your favorite candy bar.
How to Warm Hot Chocolate:
If you're looking to warm up your spicy hot chocolate, there are a couple of different ways! If it's just for you, feel free to microwave the mug for about one minute. Take caution when removing the mug from the microwave as it might be hot to the touch! 
If you need to warm up your spicy hot chocolate for a holiday party, we suggesting following the same instructions, but instead of straining it into a couple of mugs, you make as much as you need and then strain it into a slow cooker. From there, turn the slow cooker on low and it should keep your hot chocolate nice and hot. Stir on occasion to ensure it keeps its consistency.  
And since you're serving it up for a party, why not make it a hot chocolate bar and have all sorts of toppings (like the ones suggested above) for guests to choose from and enjoy!
Tips for Making the Best Homemade Hot Chocolate:
Since you're making homemade hot chocolate, you obviously want it to be the best homemade hot chocolate! Here are some tips from Food52 on How to Make the Best Hot Chocolate:
Use real chocolate if you can, and if you use powder, try to get powder that's crushed from real chocolate for the best flavor

Decide how thick you want it and aim for that consistency in your ingredients

Use a quality milk with as few preservatives (if any) as possible

Decide on your chocolate ratio and run with it

Add your mix-ins (like liquor), or toppings to your delight!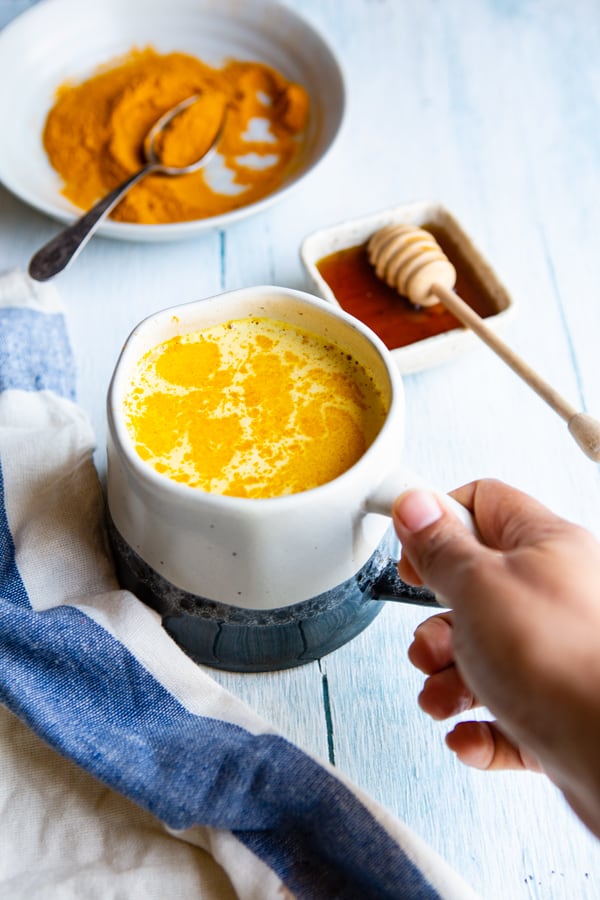 More Indian Drink Recipes:
There's plenty more where that came from! Try one of our other delicious Indian drinks, created by yours truly:
Indian Spicy Hot Chocolate Recipe
Indian hot chocolate infuses hot chocolate with spices like cinnamon and cloves for a spiced version of this world-favorite drink!
Ingredients
16

oz

Soy Milk

or any alternative Milk of your choice

2

green cardamom pods

crushed

1

stick cinnamon

3

whole cloves

2

Tablespoons

Unsweetened Cocoa powder

2

teaspoons

sugar
Instructions
Add Soy Milk, Cardamom, Cinnamon, and Cloves to a medium saucepan on medium heat

Remove from heat right before the milk begins to boil, about 3 minutes

Cover pot and steep for 5 mins

Return to medium heat add Cocoa Powder and Sugar mix well until both are dissolved.

Remove from heat and pour hot cocoa through mesh strainer into 2 mugs.

Enjoy!
Notes
Use real chocolate if you can, and if you use powder, try to get powder that's crushed from real chocolate for the best flavor