A Guide To Indian Cooking Tools
Indian cuisine is absolutely delicious, and to make it right; you need the right tools. As Sukhi says, "there are two types of people. People who love Indian cuisine and people who just haven't tried it yet." So let's get you prepared to make some delicious meals.
To make things as easy as possible, we've organized our tools by the ones you'll need to prep, cook, and serve a delicious Indian meal.
Tools For Prepping Indian Food
Before you start whipping up some magic, you're going to need some supplies to get your ingredients ready to go.
You'll need your regular kitchen knives and measuring cups, but a few other things will do you some good.
Fine Mesh Strainers
Many Indian dishes call for whole spices and seeds; you'll want to strain out the things that aren't meant to stay. A strainer also comes in handy when you're washing off the rice or lentils that make the base of many dishes you'll be preparing.
A strainer can also come in handy if you're making paneer; you'll be able to strain whey out of milk.
Garlic Press
A garlic press is a great tool to have whether you're cooking Indian food or not. Knives can get you some thin garlic, but a press can ensure it's super finely diced.
Side Tip: Garlic presses work well for mincing ginger too.
Box Grater
Although a knife does good, a box grater does better. A grater can help you make sure that your ingredients are consistent in size. Preparing Indian food can be a meticulous process, and you don't want your hard work to go to waste. Properly sized ingredients will help your dishes cook evenly and taste their best.
Sifter (Charni)
Many Indian dishes are made using dough. A good sifter (also known as a charni) will help you keep clumps out of your soft dough. A soft dough will create a delicious and perfectly textured flatbread.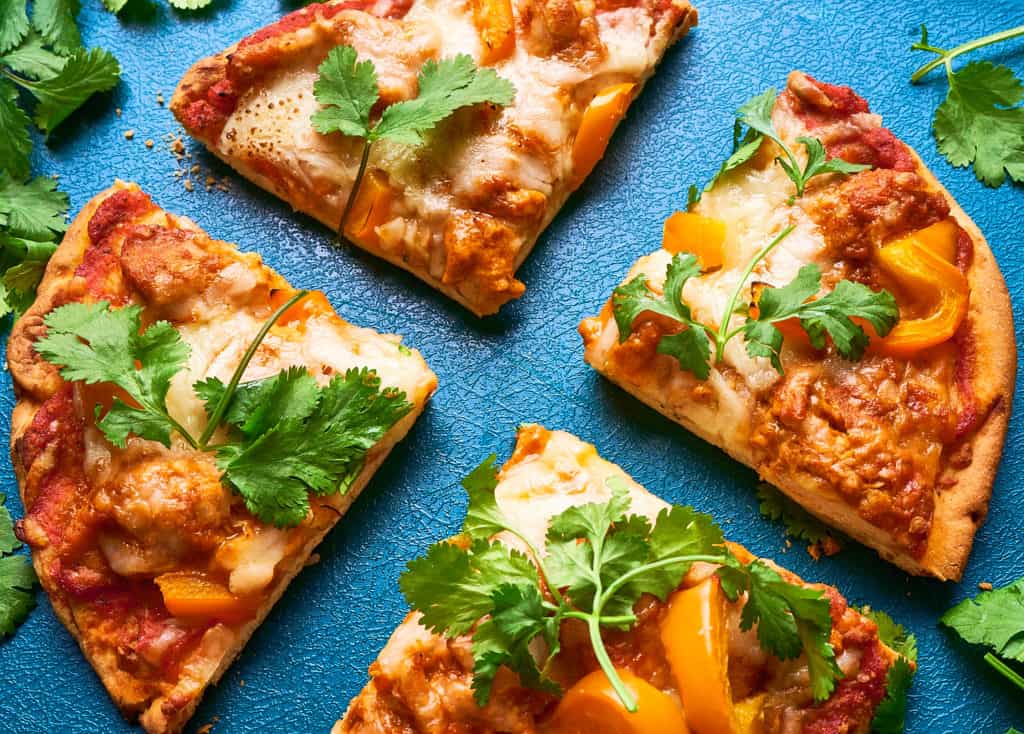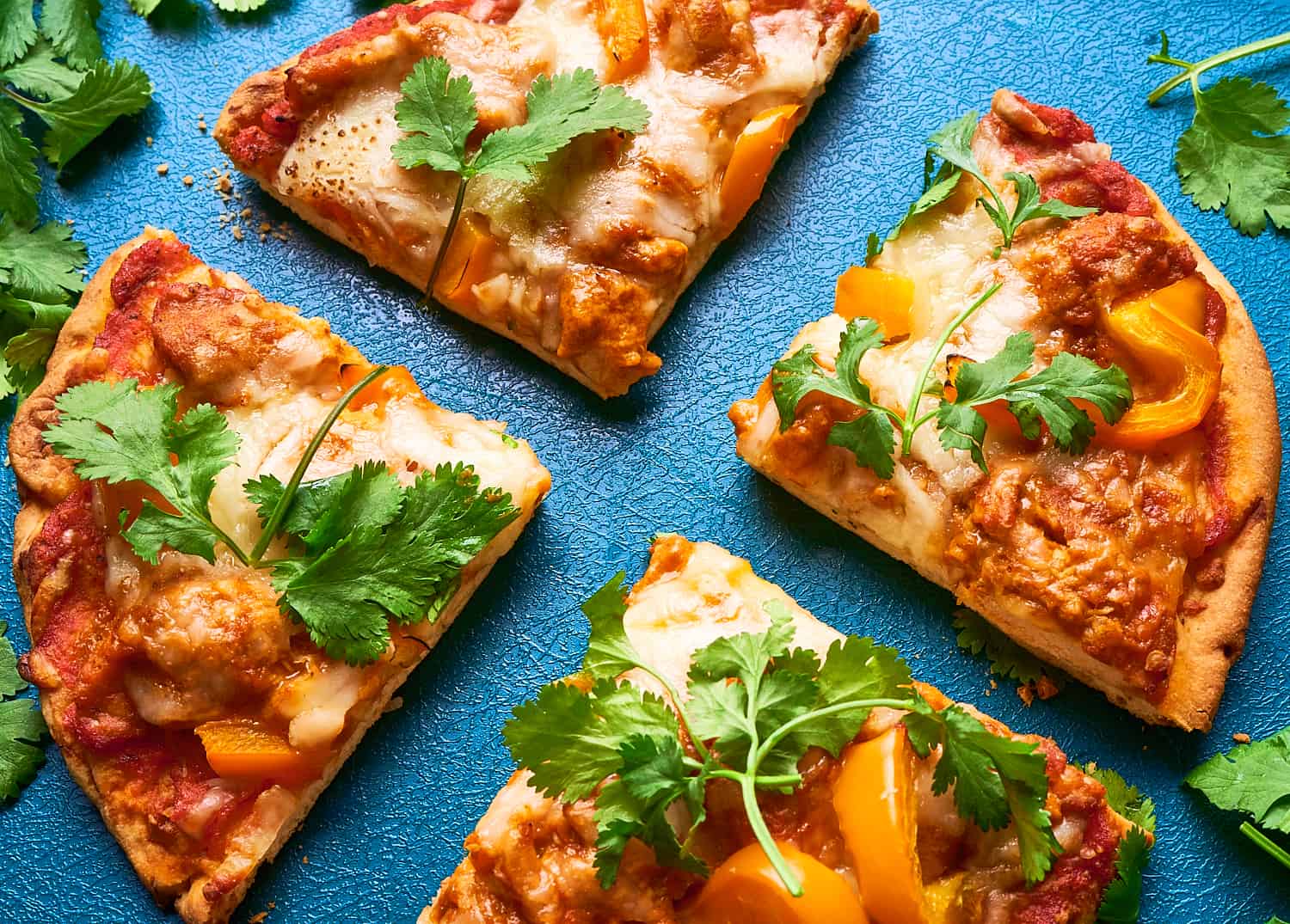 Sancha Machine
A sancha machine is a kind of manual pasta maker that is used to make several Indian snacks. Sev, chakri (chakli), and gathiya are all Indian snacks that you can serve if you're hosting a dinner party, or you can pre-prep a batch and store them away to snack on overtime.
Masala Dabba
A masala dabba is an Indian spice box used throughout the prepping and cooking process of many meals. Most are simple, circular and steel, but you can also find ornate ones passed down from generation to generation.
Within a masala dabba you'll find up to seven spices in individual compartments that are all stored under the one tin's lid. Your masala dabba allows easy access to the spices used every day in your household.
Stand Mixer
With all the doughs and batters that make up Indian cuisine, you're either going to need some strong wrists or a reliable stand mixer. A mixer will come in handy when you're in the mood to prepare fresh flatbreads or pastries from scratch.
Belan and Chakla
When you have all that delicious dough prepped and ready to go, you can roll it out on a chakla with a belan.
A chakla is a circular wooden board that's used to roll out the dough for a traditional Indian roti, but you can use it for anything you'd like to have a round shape. A belan is an Indian rolling pin; thinner than a conventional rolling pin, and tapers out on each end.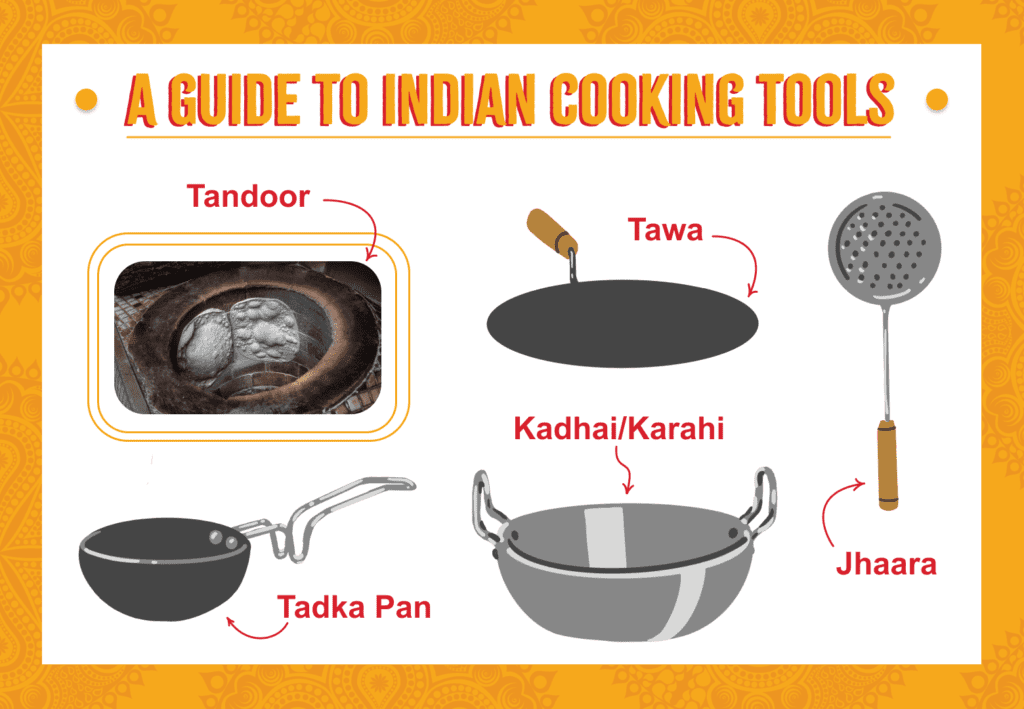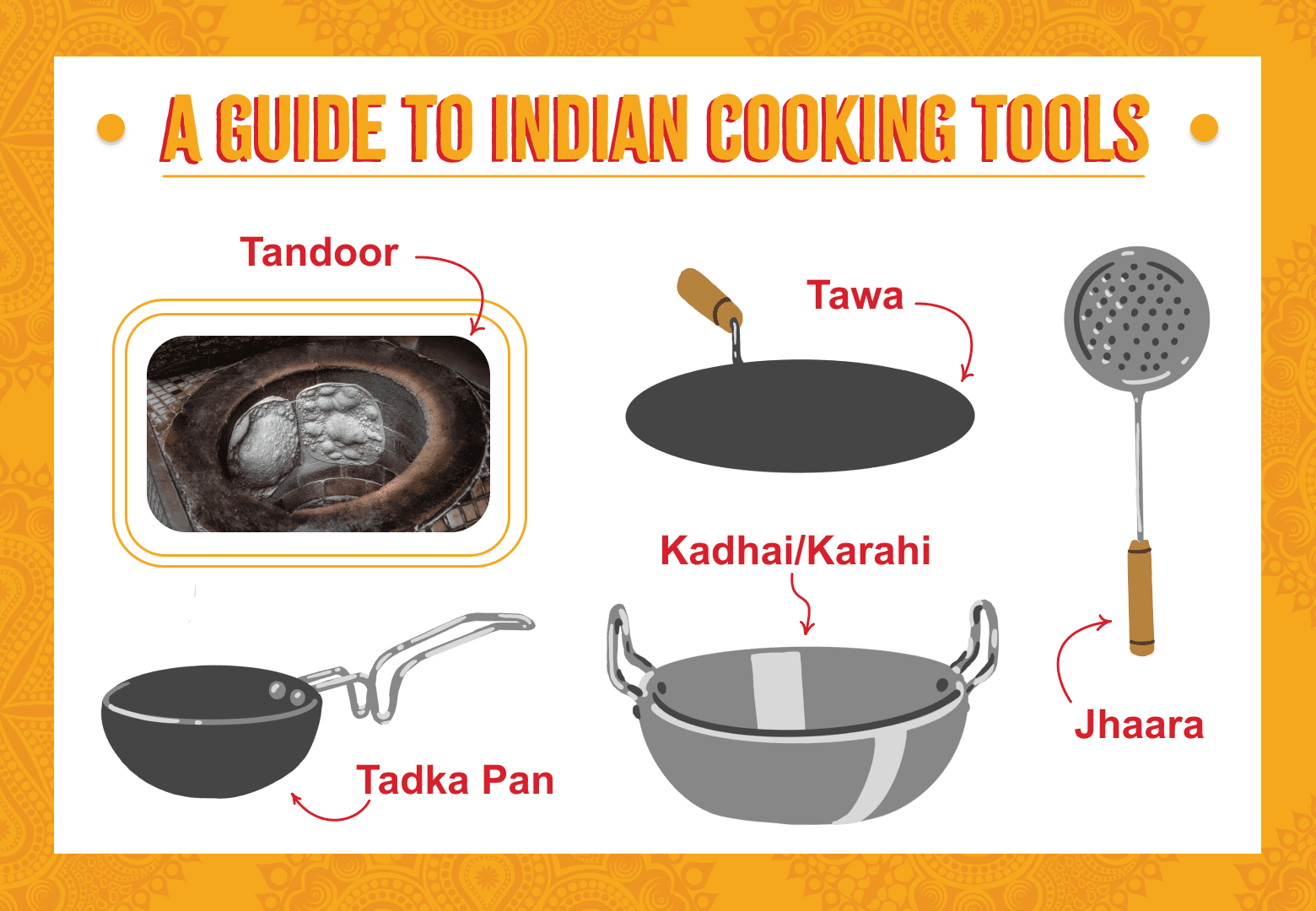 Tools For Cooking Indian Food
Now that your vegetables, spices, batters, and doughs are prepped, you can get to cooking.
Tawa
A tawa is a circular, flat pan or griddle. A tawa is similar to a crepe maker, but in an Indian kitchen, it's used to prepare roti, dosa, and other flatbreads.
Tandoor
A tandoori oven or tandoor is a large tube-shaped charcoal oven that's typically made out of metal or clay. A tandoor makes for a hefty investment, but if you find yourself wildly passionate about perfecting Indian recipes, then you may want to consider renting a tandoor or finding a gem of a property that has one. Many people opt to have a tandoor installed into their backyards since it offers high heat grilling similar to barbecue.
Tandoors make for smoky meats and crispy naan. Chop up some chicken, place it in a marinade, and stick it in the oven for the smokiest, most silky chicken tikka masala.
Tadka Pan
A tadka pan is a very tiny pan that's relatively deep and resembles a ladle. The round pan comes in handy when you want to briefly roast whole spices to put in your dals, kadhis, and more. The round shape of the pan keeps spices from jumping out and flying away. This roasting is an Indian cooking technique known as tempering.
Pressure Cooker or Instant Pot
Pressure cookers, instant pots, and slow cookers are must-haves for preparing delicious and quality Indian dishes. If anything was to be deemed the Indian cooking pot, it'd be a pressure cooker. You can undoubtedly prepare lentils and beans in a stainless steel or no-nstick sauce pan with a lid, but a pressure cooker will get the job done much faster without sacrificing quality.
Stews, curries, and rice dishes, they can all be prepared in a handy-dandy pressure cooker.
Kadhai/Karahi
A kadhai, karahi, or kadai pan is traditionally made with cast iron. The pan is similar in shape to a wok making it a great cooking tool for anything you'd traditionally use a wok for. When it comes to Indian cuisine, a kadhai is excellent for vegetable dishes and curries.
Jhaara
A lot, and we mean a lot, of Indian foods are fried. A jharra is a great tool to have when you're frying up some samosas or pakoras. Jharras are metal spoons with holes in them. The holes let you scoop up the goods from your frying pan or kadhai while straining excess oilthrough the holes.
Tools For Serving Indian Food
Now that your food is prepped, cooked, and thoughtfully prepared, you'll want to serve it in a high-quality dish that suits your fine work. You can use whatever plates, glasses, and bowls are already in your cupboards, but some Indian dinnerware would be pretty cool too.

Lassi Glass
A lassi glass is a tall, decorative tumbler, usually made of glass or brass, that's used to serve lassis or cold drinks. Lassi is a blend of dahi (yogurt), water, spices, and sometimes fruit. The brass keeps your drinks cold and refreshing.
Karahi Serving Dish
This dish is like a kadhai/karahi pan but mini and used for serving. The dish is made of metal to keep your curries and other foods warm.

Kulhad/kulhar
A kulhad or kulhar is a small handleless clay cup that's used to keep hot drinks hot and cold dinks cold. Although very cute, kulhads are typically used once and then disposed of.
Tiffin
A tiffin box, also known as a tiffin carrier or tiffin dabba, is a carrying case used to transport meals; they're fun to pack and are used to bring meals into school or the office.
Tiffins function like a lunch box, keeping meals warm and compact while on-the-go. Tiffins are sold as a set of metal or plastic containers fastened together one on top of another to hold different parts of your meal.
Get To Cooking
Now that we've hooked you up with a super concise guide on the various Indian cooking tools, you can feel like a pro as you get together some delicious dishes.
An Indian kitchen is packed with tons of spices and tools that you may already have but will use in completely different ways when preparing fish curry, garam masala, and your favorite chutney.
If you love Indian food but aren't quite ready to get all the gear and ingredients, get yourself some yummy Sukhi and avoid a bit of hassle. At Sukhi's, we offer frozen meals, snacks, naanwiches, and wraps, that you can pop in the oven or microwave for quick and delicious enjoyment. Or if you're down cooking the bases, but not the condiments, we have sauces and chutneys too.
With the right tools and the right ingredients, you can hook yourself up with some delicious flavors that you've never tried before.