Chana Dal Halwa is traditionally cooked by slow-roasting chana dal. This is a quicker, simpler (and equally delicious) take on that recipe.
Chana dal halwa is a classic dessert in Indian culture. The name halwa encompasses a range of recipes but most commonly arises as a thick paste made out of flour or lentils, and sugar. 
Traditionally, home cooks make the dish by slow-roasting chana dal with ghee, sugar, and cardamom. The result? A pudding-like dessert with a rush of rich flavor. However, the roasting process makes chana dal halwa inaccessible for everyday kitchens. 
Don't stress. Today, we'll show you our modernized take on channa dal. This recipe will speed up the cooking process while keeping all the favorite flavors.
What is Chana Dal? 
This dessert's main ingredient is chana dal: a simply split Bengal gram or a variety of chickpeas. This legume is the perfect foundation for today's delicious dessert. 
If you're not looking for dessert, this ingredient can be used in many savory recipes as well. Consider pairing chana dal with basmati or jeera rice for a tasty bite, or with roti or naan.
What is Halwa?
Halwa brings the sugary side to today's dish.  This sweet Indian pudding is a rich and decadent dessert. 
Like any Indian mithai (the Hindi name for dessert), halwa frequently appears on the table during religious festivals like Diwali and Holi. Different types of Halwa may also be served at Hindu and Sikh temples as "prasad" or religious offerings.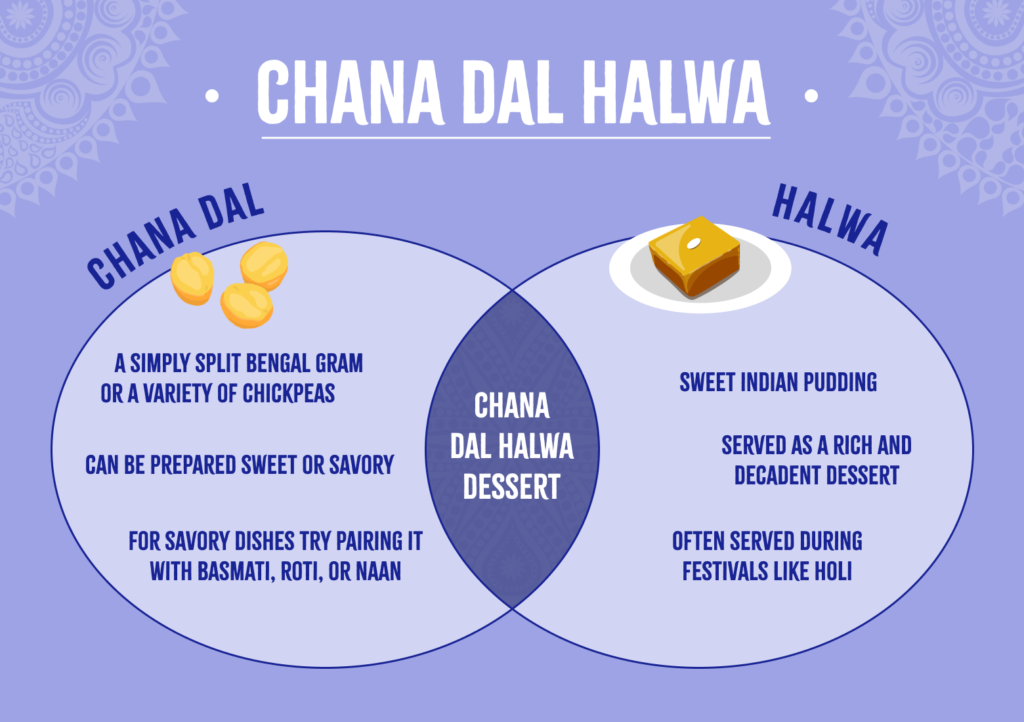 More Indian Desserts 
Don't stop with chana dal halwa. Life is short, and it's essential to treat yourself to all the  desserts you can. We've compiled a list of more of our favorite all-around treats. Enjoy– (with some moderation!)
Chana Dal Halwa and the Sweet Life
We hope we've shown you a new way to enjoy this classic treat. Between its four major regions, Indian cuisine offers a world of flavor to experience. In exploring, you may find flavors you didn't even know were possible. Treat yourself to the very best sweets and entrees. 
At Sukhi's, we hope to expand your palate and show you our favorite dishes. Follow our blog for a wealth of information– you'll be shocked to know just how much there is to learn about food. 
We'll walk you through recipes for entrees or even more desserts. Ever heard of creamy carrot and rice pudding? Your dinner table will thank you. If you're looking for an easy meal, order our pre-cooked entrees! These plates combine flavor and simplicity for an all-around good meal. With enough practice, you'll explore all the best Indian dishes with ease and experience. 
In the meantime– enjoy your chana dal halwa! Delicious. 
Chana Dal Halwa Recipe
Chana Dal Halwa is traditionally cooked by roasting chana dal and then cooking it into a pudding. This recipe is a simpler and faster, yet equally delicious version of the traditional recipe.
Ingredients
1

cup

chana dal

split black gram

1 ½

cups

water

+ extra for soaking chana dal

½

cup

ghee

¾

cup

brown sugar

1

teaspoon

cardamom powder

Slivered almonds

Golden raisins
Instructions
Soak chana dal in 3 cups of water, for 6-8 hours.

Strain water from the chana dal and transfer into a pressure cooker or Instant Pot. Add water to the Instant Pot. Cover and cook until the chana dal is cooked through.

Transfer cooked chana dal into a skillet. Cook on medium high heat, stirring continuously until the excess water has evaporated form dal, 2- 3 mins.

Turn the heat to medium low, add ghee. Cook, stirring continuously until chana dal turns golden, 8-10 mins.

Add sugar. Mix everything well together and cook for another 1-2 minutes until the sugar melts and mixes well into the halwa.

Turn off the heat. Add slivered almonds. Mix. Transfer to a serving bowl. Sprinkle on a little more almonds or pistachios. Serve warm.