Cream Cheese Pound Cake with Lime-Pistachio Glaze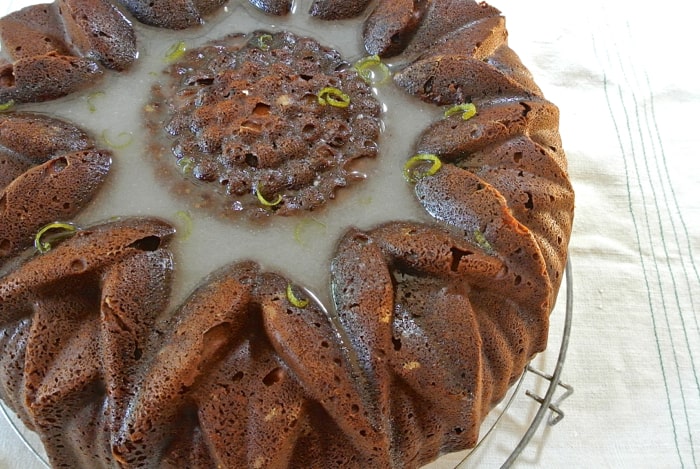 It's always nice to have at least one sure-fire dessert to offer unexpected guests or to bring to a gathering. This pound cake, rich and moist with cream cheese, which gets a lift from bright citrus flavors is my go-to pound cake. Add a pinch of cardamom for warmth and a lime-pistachio glaze for an extra bite of sweet and tangy. I added lemon and lime, but orange or grapefruit juice and zest would also be delicious. Keep in mind that all ovens are different, so baking times might vary; also, the darker your baking pan, the darker the crust. –Kim Sunée
Cream Cheese Pound Cake with Lime-Pistachio Glaze
Ingredients
1

8-ounce package

cream cheese, softened

1 1/2

cups

butter, softened

2 3/4

cups

sugar

6

large eggs

1/2

tsp

salt

1

pinch

ground cardamom (optional)

juice and zest of 1 lime or lemon

2

tsp

vanilla extract or 1/2 vanilla bean, split and scraped

4

cups

all purpose flour
For the Lime-Pistachio Glaze
1

cup

powdered sugar

about 3

tbsp

juice of 1 lime or lemon

1/4

cup

lightly toasted coarsely chopped pistachios
Instructions
Preheat oven to 350°. Grease and flour a 10-inch tube pan.

Combine cream cheese and butter together in the bowl of a heavy-duty stand mixer (or in a bowl and mix using a hand mixer) and blend, using paddle attachment, until combined. Add sugar and beat until light and fluffy. Add eggs, two at a time, blending well after each addition. Add salt, lime zest and juice, and vanilla and blend until just combined, scraping down sides as needed. Add flour a cup at a time and blend, stopping to scrape down sides, as needed. Fill prepared pan and tap pan on counter so batter evens out.

Bake for 1 hour and 20 minutes or until a tester inserted in center comes out mostly clean. Crust will be golden brown but the center will appear moist and cracked. Cool on a wire rack 5 minutes. Remove cake from pan onto wire rack. Poke holes using a toothpick and pour glaze over, top with pistachios, and let cool.

TO MAKE THE GLAZE: Combine powdered sugar with lime juice and whisk until blended.