What Is Holi? A Look into India's Festival of Colors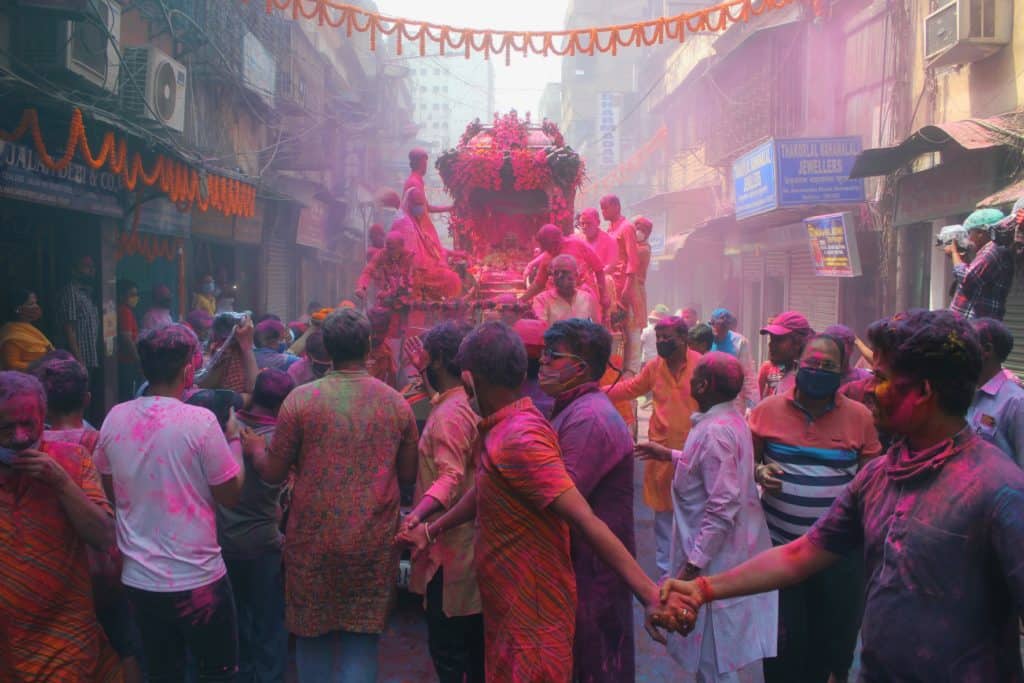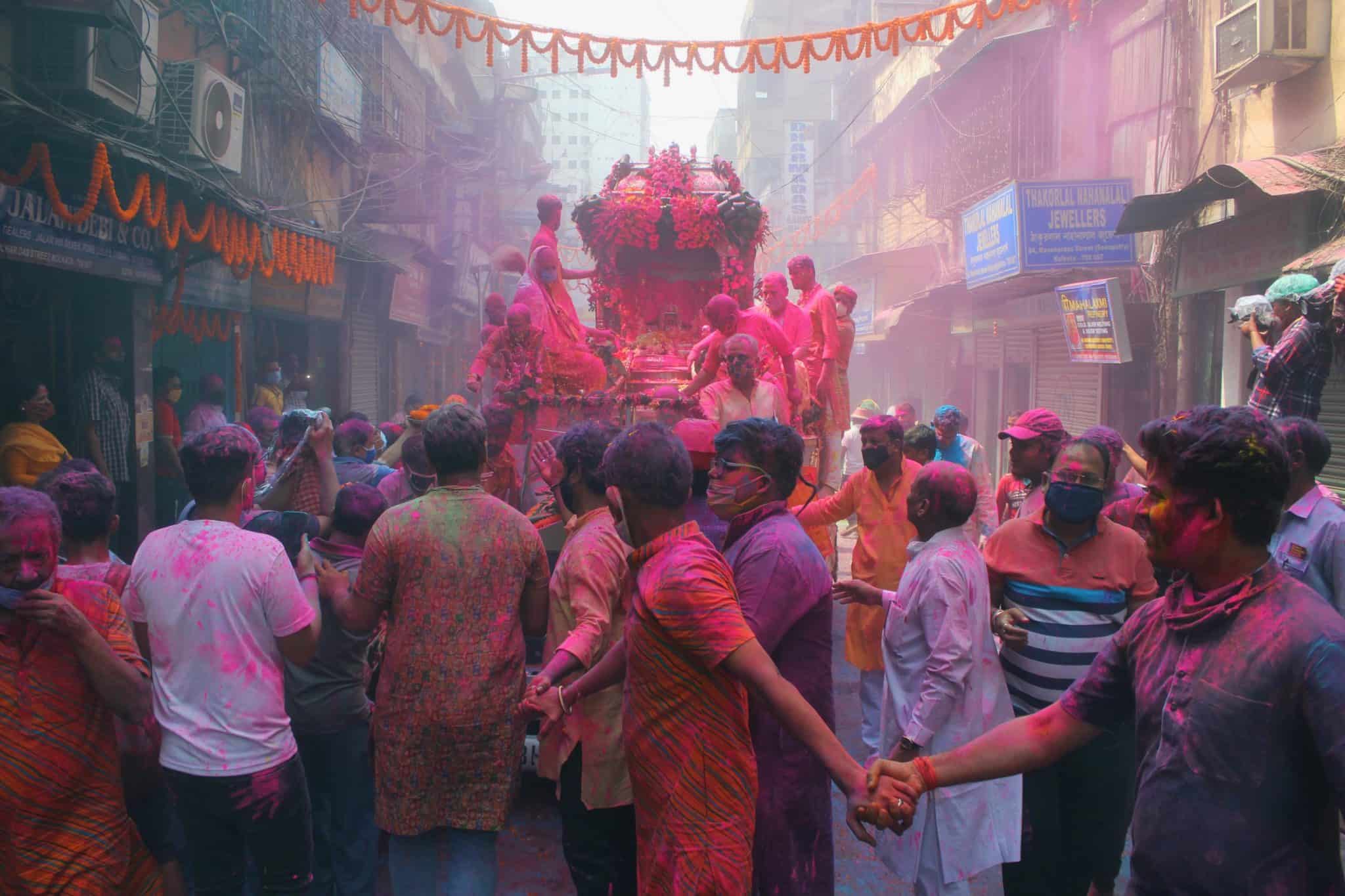 Bright colors, thankfulness, and perseverance; these are the values of Holi. Holi is a Hindu holiday brimming with positivity. On this day, Indians gather on the streets and in their homes to celebrate values deeply rooted in their culture. Not only do the festivities' lively colors brighten up the world, but the meaning behind the holiday resonates with everyone.
The Meaning Behind Holi
Holi celebrates the victory of good over evil, with origins dating back to the 4th century CE. Ancient Indian literature tells many stories of Holi's origins, but the one of Holika is most popular. The story details demoness Holika's demise when challenged by the values of the Hindu deity of preservation, Lord Vishnu. Holi is celebrated and named after Holika's death.
The festival of Holi marks the end of winter and the arrival of spring, a true representation of preservation. In some parts of India, Holi is also celebrated as one of the many Spring festivals demonstrating gratitude for a fruitful harvest season.
The celebrations start with Holika Dahan. Holika Dahan is on the night of the full moon (Purnima) in March of each year, and the color festival (Holi) takes place the following day. This year, Holika Dahan falls on March 17, and Holi is on March 18.
On the eve of Holi, the Holika Dahan ritual is performed. People gather around a bonfire (if possible) and celebrate the triumph of good through mantras and dancing. The day is used to cleanse yourself of any negativity or evil and invite in prosperity, wealth, and strength.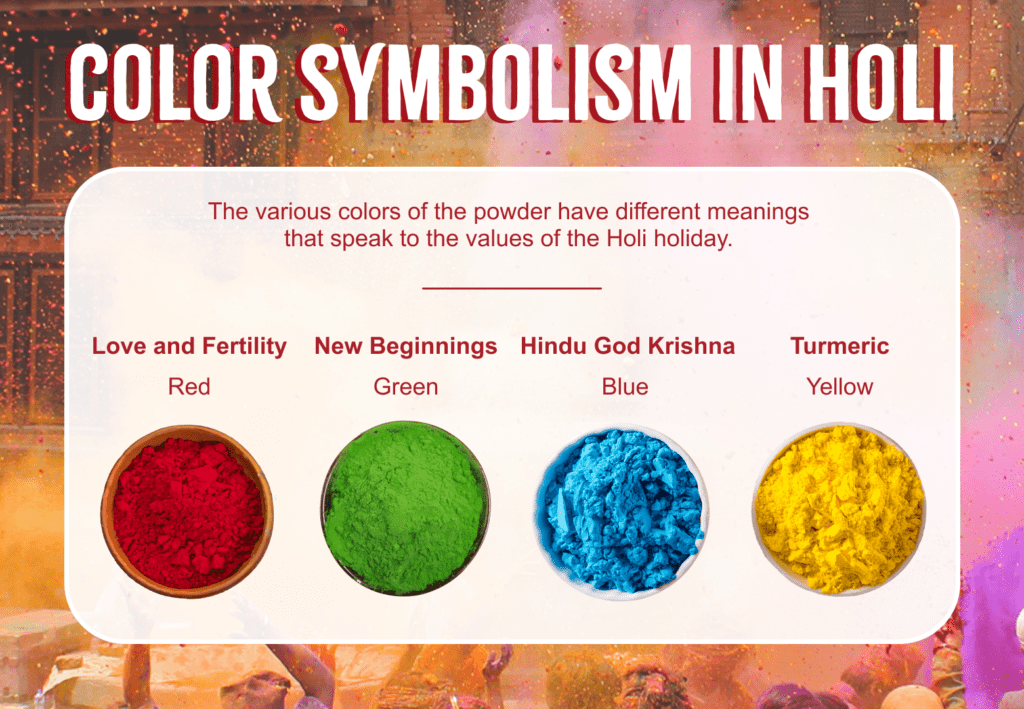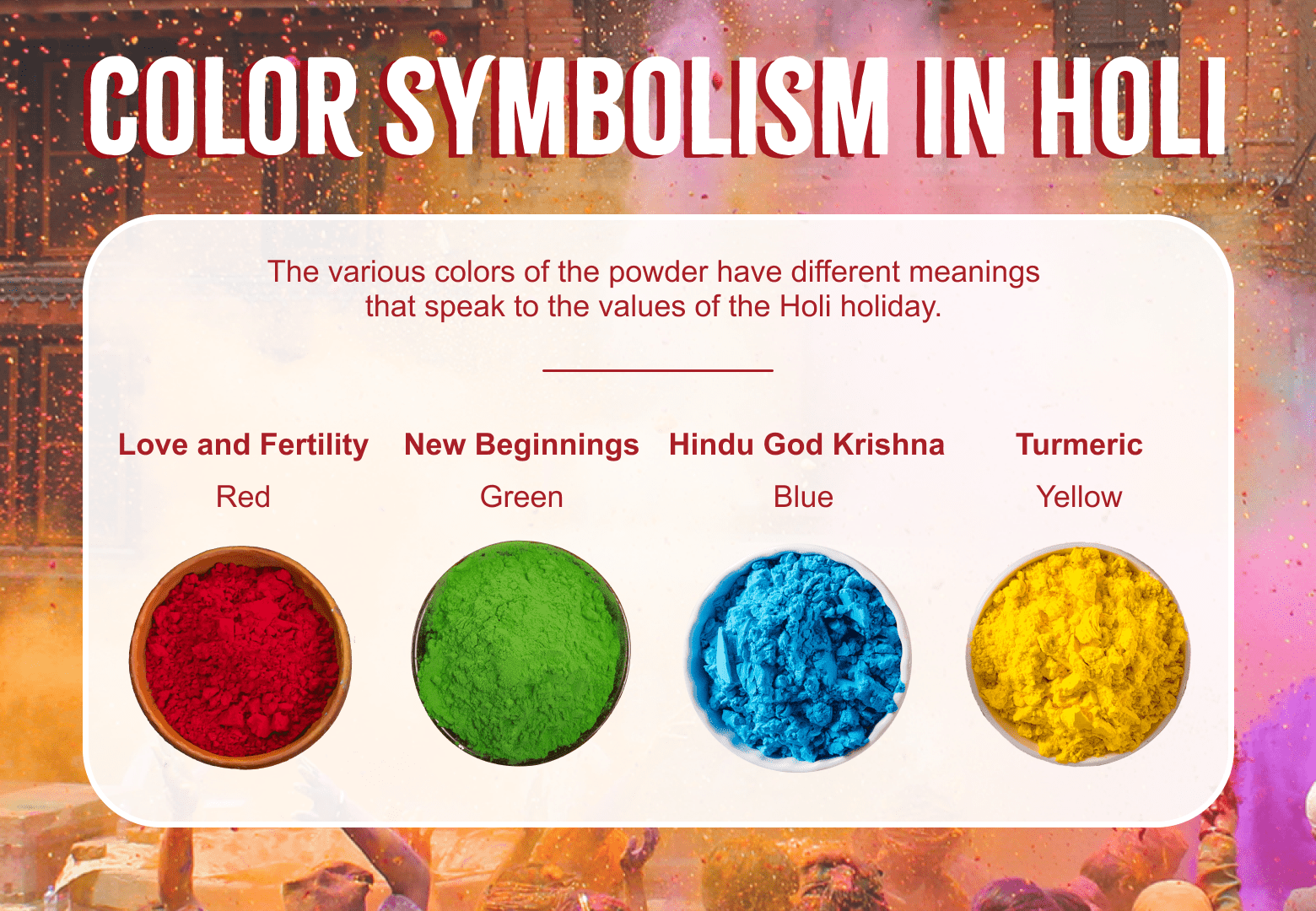 The Day of Holi
On the day of Holi, hundreds and thousands of people gather in the streets of India to celebrate. Colored powder and water balloons are thrown into the air, and water guns are used by children and even adults, allowing for even more fun.
As you can imagine, children love this holiday celebration as they get to play in the streets with their friends and neighbors and get their clothes dirty! Traditionally, old white clothes are worn so that they can show the colored powder well. As people throw colored powdered and water on each other, it signifies new beginnings, spreading goodwill, and strengthening friendships.
The various colors have different meanings that speak to the values of the Holi holiday. Red symbolizes love and fertility, yellow is the color of turmeric, blue represents the Hindu God Krishna, and green is for new beginnings. By the end of the day, the town is drenched with color, and stomachs are rumbling with hunger.
The Food of Holi
Holi in India is celebrated with many delicious delights. Sweets, pastries, beverages, and festive meals are shared among friends and family when the energy-packed day is coming to a close. The festivities are widespread, inviting every region to share their most celebratory dishes.
Although there is no staple dish like a Christmas ham or Thanksgiving Turkey, many local cuisines have their favorites to prepare and serve for the Hindu festival.
You'll find gujiyas, chaat, thandai, aloo bhuji, and chana masala in the Northern regions, and malpua, phirni, and coconut milk murukku in the South. Indian cuisine and India are ever-evolving, so you're sure to come across hybrid dishes or variations as you meet new people and celebrate in their traditions.
How Has Holi Found Its Way Around the World?
As Indians and other South Asians build new homes around the world, Holi travels with them. Keeping traditions and celebrations alive is becoming increasingly difficult as we continue to become more and more widespread, but Holi is a fun holiday that many find worth gathering for.
Despite stemming from Hinduism, Holi is celebrated by people outside of the religion as well. It's not uncommon for Muslims, Hindus, and non-religious individuals to invite each other into their homes to partake in a meal of gratitude.
The powdered colors and youthful activities that distinguish Holi draw attention from people outside of South Asian origins as well. Intrigued by the celebrations, tourists will often plan their vacations around Holi, hoping to partake. It's important that while you participate, you understand the cultural significance behind Holi; it carries great meaning to those who have celebrated the holiday beside their families for centuries.
It's a lovely experience when we can share our values, traditions, celebrations, and, most importantly, delicious meals with each other. Educating one another on who we are and what holds significance to us creates further empathy around the entire world.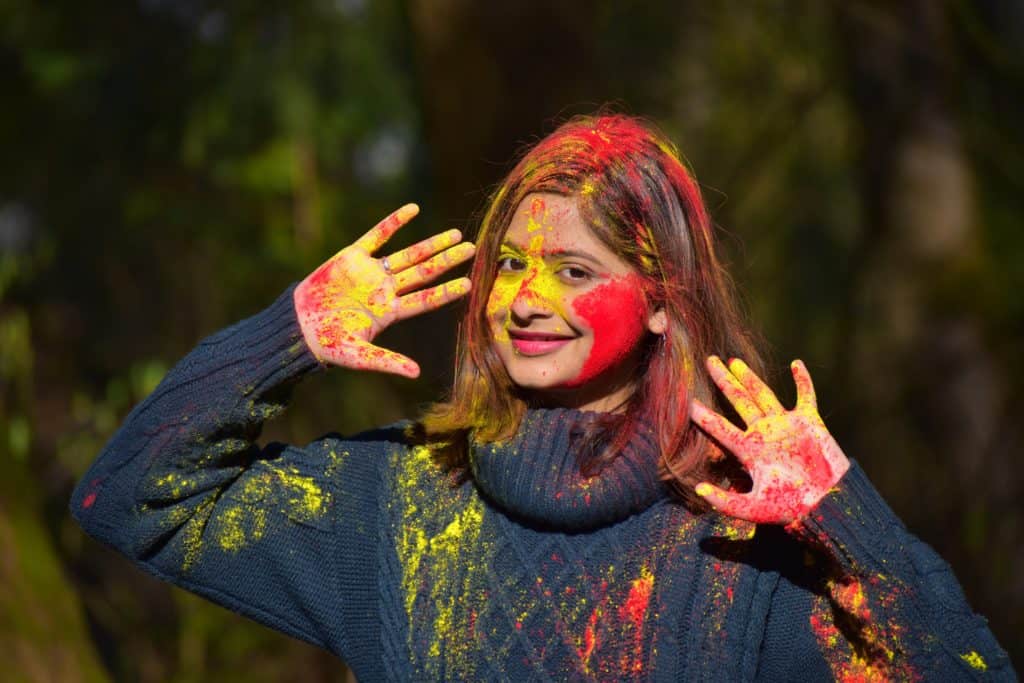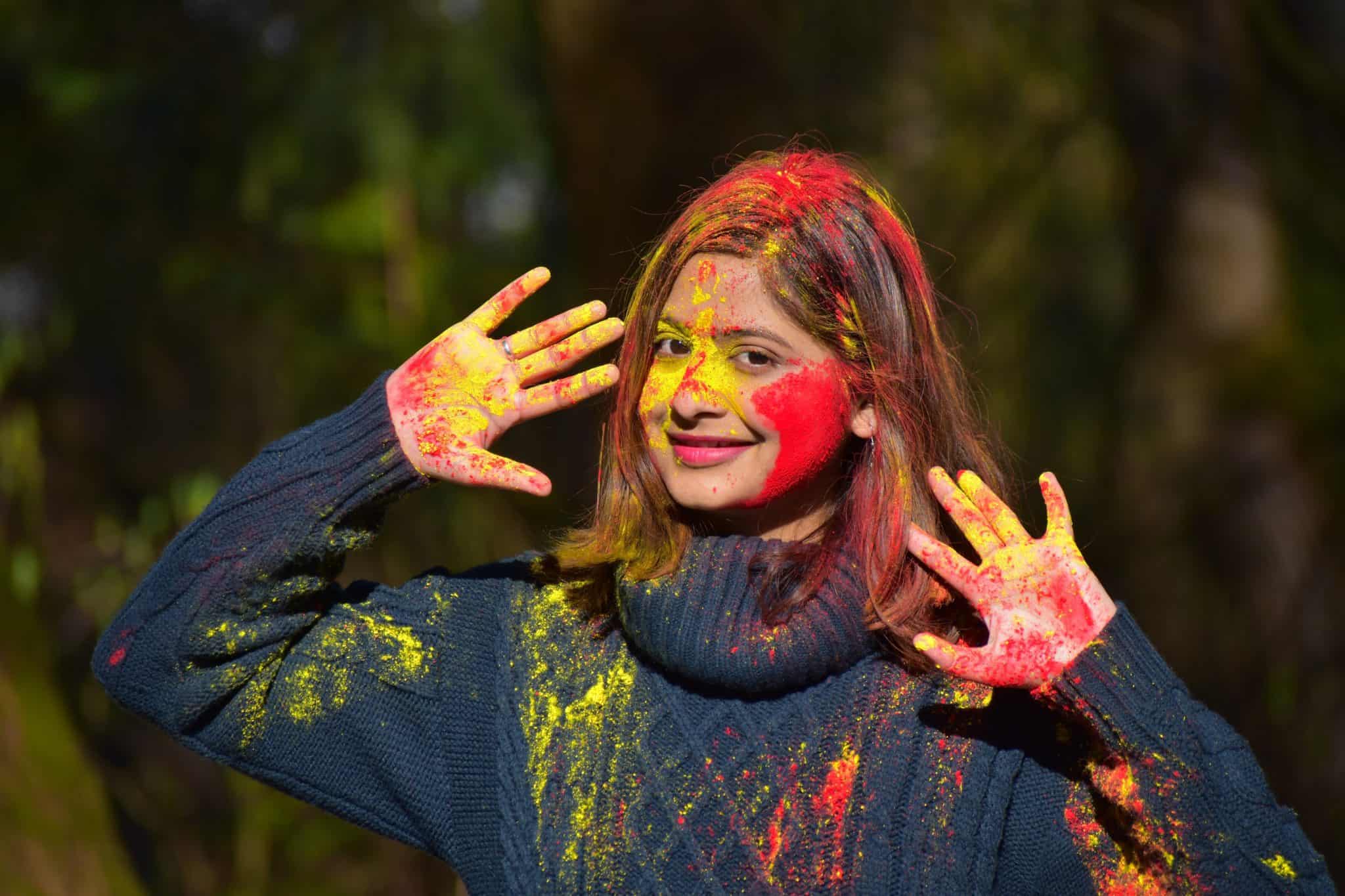 How To Celebrate Holi Yourself
Holi is about perseverance and good overcoming evil; it's a holiday that can brighten up anyone's mindset. Take the day to gather your friends and family over a delicious Indian meal and discuss how you've persevered through a winter that challenged you. Sharing can inspire each other and allow for space to express gratitude.
Reach out to your South Asian friends who celebrate Holi and ask about their festivities; perhaps you'll learn something new about them or their culture.
Last but not least, remember to get some color into your day; use flowers, spices, bright fruits and vegetables, or a more vibrant outfit than usual. You'll liven up everyone's mood and get the new season started on a good note.